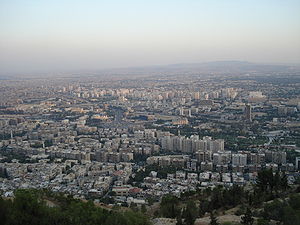 Damascus, Capital of Syria
An Israeli attack has dropped bombs in and around Syria's capital Damascus:
May 5, 2013
Israeli warplanes struck areas in and around the Syrian capital Sunday, setting off a series of explosions…
The attack, the second in three days and the third this year, signaled a sharp escalation of Israel's involvement in Syria's bloody civil war. Syrian state media reported that Israeli missiles struck a military and scientific research center near Damascus and caused casualties. Syria's Foreign Ministry condemned the attacks…
While the government tried to use the attacks to taint the rebels by linking them to Israel, the Syria's arch rival, the airstrikes still pose a dilemma for an Assad regime already battling a relentless rebellion at home. If it fails to respond, it looks weak and opens the door to such airstrikes becoming a common occurrence. But any military retaliation against Israel would risk dragging the Jewish state and its powerful army into a broader conflict…
Iran, a close ally of the Assad regime, condemned the airstrikes but gave no other hints of a possible stronger response from Tehran.

Israel has said it wants to stay out of the Syrian war, but Prime Minister Benjamin Netanyahu has repeatedly stated the Jewish state would be prepared to take military action to prevent sophisticated weapons from flowing from Syria to Hezbollah or other extremist groups.  http://www.cbsnews.com/8301-202_162-57582923/israeli-warplanes-continue-to-pound-damascus/

May 05, 2013

DUBAI, UAE — Iran called on the region to unite against Israel after a reported attack on Syria and said it was ready to train the Damascus government's army.

Israel carried out its second air strike in days on Syria early on Sunday, targeting Iranian-supplied missiles headed for Lebanon's Hezbollah, a Western intelligence source said.

Tehran on Sunday denied the attack was aimed at "its missiles destined for Hezbollah resistance fighters in Lebanon," according to the Islamic state's English-language Press TV.

Iran has supported its ally Syrian President Bashar al-Assad in his efforts to suppress a rebellion that has raged for more than two years and which Tehran and Damascus say is being waged by Western-backed "terrorists."

Iranian Foreign Ministry spokesman Ramin Mehmanparast urged countries in the region to stand against the "assault," the Fars news agency reported on Sunday.

Iranian army ground forces commander Ahmad Reza Pourdastan said on Sunday Iran was ready to support its ally.  http://www.voanews.com/content/iran-calls-for-stand-against-israel-after-syria-attack/1654869.html

May 5, 2013

Damascus, Syria (CNN) — A Syrian official called an attack Sunday on the nation's military research facility a "declaration of war" by Israel.

In an exclusive interview with CNN, Deputy Foreign Minister Faisal al Mekdad said the attack represented an alliance between Islamic terrorists and Israel.

He added that Syria would retaliate against Israel in its own time and way.  http://www.cnn.com/2013/05/05/world/meast/syria-violence/?hpt=hp_c2

May 5, 2013

(Reuters) – Israeli jets bombed Syria on Sunday, rocking Damascus for hours and sending pillars of flame into the night sky in what a Western source called a new strike on Iranian missiles bound for Lebanon's Hezbollah.

Local people reported massive explosions and internet video showed the capital's skyline lit by flashes; Syrian opponents of President Bashar al-Assad rejoiced at Israel's third raid this year, and second in 48 hours, while anger in Tehran highlighted how Syria's civil war risks spinning further beyond its borders.

Israel, while declining to confirm the strike, stressed its focus was to deny its Lebanese foes new Iranian firepower and not take sides between Assad, long seen as a toothless adversary, and rebels who have won sympathy from Israel's Western allies but who also include al Qaeda Islamists hostile to the Jewish state.

It appears to calculate that Assad will not risk forces he needs to fight the rebels by attacking a much stronger Israel.  http://www.reuters.com/article/2013/05/05/us-syria-crisis-blasts-idUSBRE94400020130505
Israel really does not want Syria to engage in a full scale war with it, but has now taken steps that Syrian President Bashar Assad will likely conclude can justify his possible future use of chemical and/or biological weapons against Israel.  Might this be how "Syria would retaliate against Israel in its own time and way"?
This bombing by Israel could be very significant as the Bible shows that the time is coming relatively soon that Damascus will be destroyed (Isaiah 17:1).   And if Israel does the destruction to fulfill Isaiah 17:1, I have long felt that it may be because Syria (and/or its ally Iran) will have used chemical, biological, emp, and/or nuclear/dirty bomb weapons against Israel.
I have long been expecting more conflict involving Syria and two months ago, I put together a video for the BibleNewsProphecy channel titled Damascus and Syria in Prophecy .
Interestingly, at least from a timing standpoint, the current edition of the Continuing Church of God's Bible News Prophecy magazine begins with the following article:
FROM THE EDITOR IN CHIEF: BOB THIEL

Damascus Will Be Destroyed

Syria is in the news on a regular basis.  The conflict began on March 15, 2011 with nationwide demonstrations which seem to have partially inspired by the so-called "Arab Spring." This escalated into violence.  Since the opposition to its President Bashar al-Assad arose in, tens of thousands have been killed.

Western leaders have consulted amongst themselves and with Russia on how to try to resolve this matter.  Some Western nations have helped arm the opposition to President Assad with a goal of a stable and truly peaceful Syria in mind.

While a stable and peaceful Syria would be a major improvement, even if that is temporarily attained, it will not remain that way.

Bible Prophecy Warns that Syria's Capital Will Be Destroyed

Both biblical and Islamic prophecy foretell of the destruction of at least parts of Syria, such as Damascus. Here is some of what Bible prophecies teach:

7 thus says the Lord God: "It shall not stand, Nor shall it come to pass. 8 For the head of Syria is Damascus (Isaiah 7:7-8).

3 Thus says the Lord: "For three transgressions of Damascus, and for four, I will not turn away its punishment, Because they have threshed Gilead with implements of iron. (Amos 1:3)

1 The burden against Damascus. "Behold, Damascus will cease from being a city, And it will be a ruinous heap. (Isaiah 17:1)

23 Against Damascus. "Hamath and Arpad are shamed, For they have heard bad news. They are fainthearted; There is trouble on the sea; It cannot be quiet. 24 Damascus has grown feeble; She turns to flee, And fear has seized her. Anguish and sorrows have taken her like a woman in labor. 25 Why is the city of praise not deserted, the city of My joy? 26 Therefore her young men shall fall in her streets, And all the men of war shall be cut off in that day," says the Lord of hosts. 27 "I will kindle a fire in the wall of Damascus, And it shall consume the palaces of Ben-Hadad." (Jeremiah 49:23-27)

Damascus has been claimed to be the "oldest continuously inhabited city" in the world.  And while some have questioned that, the reality is that Damascus has not been destroyed to the point of becoming the "ruinous heap"  since God inspired Isaiah to record that.

This destruction could come as the result of the current civil war.  And if the Assad regime uses chemical weapons and/or becomes engaged in a conflict with Israel, that could also fulfill the above.

Furthermore, because the Bible suggests that Syria will be involved in a confederation of North African and Middle Eastern nations (Ezekiel 30:1-9; Psalm 83:4-8) who will support a leader that the Bible refers to as the final King of the South (Daniel 11:40-43), this likely means that the Assad regime will have to at least change, if not completely fall, and that whatever regime replaces it, it will most likely agree to be in this prophesied confederation.  A confederation that is also prophesied to fail (which is something that all in the Middle East and North Africa will be better off realizing).  The Muslim Brotherhood has long pushed for the type of confederation that the Bible warns will involve many Arabic nations and end in the destruction of this confederation (Daniel 11:40-43; Ezekiel 30:1-9).

Islamic Prophecy

Interestingly, there are various Islamic views on an Muslim leader, sometimes called the Imam Mahdi rising up (who could be the King of the South of Daniel 11:40-43) in a time related to Syria. Here is one that suggests this Islamic leader does so after Syria has problems:

Traditions have been reported mentioning the signs for the time of the appearance of the Imam who will arise (qa'im), peace be on him, and the events which will take place before his appearance, together with the indications and features of it. Among them are: The Sufyani will come out in revolt; the Hasanid will be killed; the Abbasids will dispute over worldly kingdom…the people of Egypt will kill their ruler and destroy Syria; and three standards will dispute over it (Syria)…

The Abbasids will dispute; a voice will call from the sky; one of the villages of Syria called al-Jabiyya will be swallowed up; the Turks will occupy the region of al-Jazira; the Byzantines will attack al-Ramla; at that time there will be much conflict throughout the land until Syria is destroyed. (Kitab al Irshad Chapter: The Twelfth Imam (Peace be on him) Page (s): 541 – 548 Published by Tehrike Tersile Qura'n. Contributed by Br. Ali Abbas, abbas@seas.gwu.edu http://www.al-islam.org/masoom/bios/12thimam.html viewed 7/22/12)

So, there are biblical and Islamic prophecies suggesting destruction to at least parts of Syria and the rise of a leader in the region of the Middle East and North Africa. And while I am relying on biblical prophecy, it may be that some in the Islamic world may decide that Islamic prophecy is encouraging them to change the situation currently in Syria.

Perhaps partially because of the internal civil war in Syria, Syria's President Assad may decide that attacking Israel, probably in conjunction with support from Iran, is his best carnal option (which could include supporting Iran if it attacks Israel or Israel attacks it). Attacking Israel, however, will not be his best option (he should repent and probably leave office), though he may do that. Since the Bible suggests that Syria will support the coming final King of the South it will come to pass.

More trouble is coming to Damascus as it will be destroyed (Isaiah 17:1). An Islamic confederation that will include the land of Syria is coming (Daniel 11:40-43; Ezekiel 30:1-8; Psalm 83:4-8) is coming.

"And what I say to you, I say to all: Watch!" (Mark 13:37).
While the current attack by Israel will not destroy Damascus–yet–more trouble is coming to Damascus as it will be destroyed (Isaiah 17:1). An Islamic confederation that will include the land of Syria is coming (Daniel 11:40-43; Ezekiel 30:1-8; Psalm 83:4-8) is coming. There will be other troubles for Israel.  And the USA will not end up unscathed.
Some articles of possibly related interest may include:
Damascus and Syria in Prophecy Will Bashar Assad hold power as he has it? Does the Bible show that Damascus, the capital of Syria, will be destroyed? What will happen to Syria? Will the Syrians support the final King of the South that the Bible tells will rise up? Which scriptures discuss the rise and fall of an Arabic confederation? Does Islamic prophecy predict the destruction of Syria. This is a YouTube video.
Is There A Future King of the South? Some no longer believe there needs to be. Might Egypt, Islam, Iran, Arabs, or Ethiopia be involved? Might this King be called the Mahdi? What does the Bible say?
The Arab and Islamic World In the Bible, History, and Prophecy The Bible discusses the origins of the Arab world and discusses the Middle East in prophecy. What is ahead for the Middle East and those who follow Islam? What about the Imam Mahdi? What lies ahead for Turkey, Iran, and the other non-Arabic Muslims?
Is There an Islamic Antichrist? Is Joel Richardson correct that the final Antichrist will be Islamic and not European? Find out.
The Muslim Brotherhood and the Rise of the King of the South The Bible tells of the formation of a power of nations that are in the Middle East and North Africa that are part of the final "King of the South" (Daniel 11:40-43) The Muslim Brotherhood wishes to have an Islamic empire with basically the same nations. This YouTube video explains what to expect from such a confederation.
Anglo – America in Prophecy & the Lost Tribes of Israel Are the Americans, Canadians, English, Scottish, Welsh, Australians, Anglo (non-Dutch) Southern Africans, and New Zealanders descendants of Joseph? Where are the lost ten-tribes of Israel? Who are the lost tribes of Israel? What will happen to Jerusalem and the Jews in Israel? Will God punish the U.S.A., Canada, United Kingdom, and other Anglo nations? Why might God allow them to be punished first?
Will the Anglo-Nations be Divided and Have People Taken as Slaves? Will the lands of the United States, United Kingdom, Canada, Australia, and New Zealand be divided? What about Jerusalem? What does Bible prophecy teach? Are there non-biblical prophecies that support this idea? Who will divide those lands? Who will end up with the lands and the people? Here is a link to a video titled Will the USA and other Anglo-nations be Divided and Their People Made Slaves?
Barack Obama, Prophecy, and the Destruction of the United States-Second Edition for Second Obama Term This is a 160 page book for people truly interested in prophecies related to Barack Obama and the United States, including learning about many that have already been fulfilled (which the book documents in detail) and those that will be fulfilled in the future. It also has a chapter about a Republican choice. This book is available to order at www.barackobamaprophecy.com. The physical book can also be purchased at Amazon from the following link: Barack Obama, Prophecy, and the Destruction of the United States: Is Barack Obama Fulfilling Biblical, Islamic Catholic, Kenyan, and other America-Related Prophecies? What About Republican Leaders? Second Edition for Second Obama Term.
Barack Obama, Prophecy, and the Destruction of the United States-Second Term-Amazon Kindle edition. This electronic version is available for only US$2.99. And you do not need an actual Kindle device to read it. Why? Amazon will allow you to download it to almost any device: Please click HERE to download one of Amazon s Free Reader Apps. After you go to for your free Kindle reader and then go to Barack Obama, Prophecy, and the Destruction of the United States-Second Term-Amazon Kindle edition.