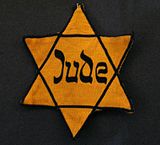 Jews in Poland has to Wear the Above Badge After Germany Invaded in WWII (Daniel Ullrich, Threedots)

A reader sent me a link to the following:
By Karl-Theodor Zu Guttenberg and John Henry Crosby TNS

Published Jan. 26, 2015

Seventy years ago Allied troops arrived at the concentration camp of Auschwitz, greeting what survivors remained and seeing for the first time an industrial killing machine of unprecedented scale and brutality. As the epicenter of the Nazi genocide, Auschwitz is synonymous with the vast network of death camps built up during the Third Reich. So it is fitting that International Holocaust Remembrance Day, established by the United Nations in 2006, takes place each year on the date of Auschwitz's liberation. It is a necessary reminder that humanity, for all its greatness, is capable of unspeakable evil.

This year's commemoration is a particularly somber one. We are confronted with the fearful reality that anti-Semitism is not only still alive but on the rise, not least in Western Europe. European Jewry has been shaken to the core by the events in Paris, and in one recent survey of Jews in the UK, a majority of those polled expressed strong doubts about the future viability of Jewish life in Europe. Similar concerns have led 7,000 French Jews in 2014 alone to seek a new home in Israel.

It is easy to feel powerless in the face of present-day anti-Semitism, terrorism, and genocide in different parts of our world. We are shocked by their continued existence. …

But anti-Semitism was not just incompatible with everything Hildebrand believed about human dignity and basic rights. It was also deeply at odds with his convictions as an ardent Catholic. And herein lies one of his lasting contributions, for he showed with almost prophetic clarity the essential incompatibility of Christianity and racism. To fellow Christians who became infected by anti-Semitism he said that "G0D is equally offended by the murder of a Jew, a socialist, or a bishop." Catholic-Jewish relations were transformed following the Second Vatican Council, due in no small measure to the groundwork prepared by Hildebrand and others who purged anti-Semitism where it had taken root within Christian thought and practice. http://www.jewishworldreview.com/0115/Dietrich_von_Hildebrand.php3#l4ijsUOIJmPEDaI7.99
I applaud Karl-Theodor zu Guttenberg and others who have the courage to speak out against anti-Semitism. Racial hatred is wrong. People should not be antisemitic.
However, throughout history, well known Eastern Orthodox, Roman Catholic, and Protestant leaders have made anti-semitic statements and encouraged hatred against the Jews.
Hopefully, Karl-Theodor zu Guttenberg's words are sincere on his part.  His written position on this could help him if he gets involved in any type of peace deal with the Israelis (e.g. the 'Peace Deal' of Daniel 9:27).
His written words could also help him should he arise to a higher position and take certain steps related to Israel in the future, even if he changes his views on this.
Some items of related interest may include:
Persecutions by Church and State This article documents some that have occurred against those associated with the COGs and some prophesied to occur. Will those with the cross be the persecutors or the persecuted–this article has the shocking answer. There is also a YouTube video sermon you can watch: The Coming Persecution of the Church.
God's Grace is For All Is being Jewish a hindrance to salvation? What about not being a descendant of Israel? What does the Bible really teach? Here is a link to a related sermon titled Race and Grace; Do you view race as God does?
The 'Peace Deal' of Daniel 9:27 This prophecy could give up to 3 1/2 years advance notice of the coming Great Tribulation. Will most ignore or misunderstand its fulfillment? Here is a link to a related sermon video Daniel 9:27 and the Start of the Great Tribulation.
John Chrysostom, Bishop of Constantinople and Antisemite This late fourth/early fifth century Bishop of Constantinople is considered to be a 'saint' and 'doctor' by the Church of Rome, Church of England, and the Eastern Orthodox, but he did not teach Christ's love.
The Similarities and Dissimilarities between Martin Luther and Herbert W. Armstrong This article clearly shows some of the doctrinal differences between in the two. At this time of doctrinal variety and a tendency by many to accept certain aspects of Protestantism, the article should help clarify why the genuine Church of God is NOT Protestant. Do you really know what the Protestant Reformer Martin Luther taught and should you follow his doctrinal example? Here is a related sermon video: Martin Luther and Herbert Armstrong: Reformers with Differences.
Might German Baron Karl-Theodor zu Guttenberg become the King of the North? Is the former German Defense Minister (who is also the former German Minister for Economics and Technology) one to watch? What do Catholic, Byzantine, and biblical prophecies suggest?
Germany's Assyrian Roots Throughout History Are the Germanic peoples descended from Asshur of the Bible? Have there been real Christians in Germanic history? What about the "Holy Roman Empire"? There is also a You-Tube video sermon on this titled Germany's Biblical Origins.
Germany in Biblical and Catholic Prophecy Does Assyria in the Bible equate to an end time power inhabiting the area of the old Roman Empire? What does prophecy say Germany will do and what does it say will happen to most of the German people? Here is a link to a video Is the USA Pushing Germany to Start WWIII?
When Will the Great Tribulation Begin? 2015, 2016, or 2017? Can the Great Tribulation begin today? What happens before the Great Tribulation in the "beginning of sorrows"? What happens in the Great Tribulation and the Day of the Lord? Is this the time of the Gentiles? When is the earliest that the Great Tribulation can begin? What is the Day of the Lord? Who are the 144,000? Here is a version of the article in the Spanish language: ¿Puede comenzar la Gran Tribulación en 2013 o 2014? ¿Es el Tiempo de los Gentiles? You can also see the English language sermon video: The Great Tribulation from the Mount of Olives.
Jerusalem: Past, Present, and Future What does the Bible say about Jerusalem and its future? Is Jerusalem going to be divided and eliminated? Is Jesus returning to the area of Jerusalem? There is also a related YouTube video you can watch titled Jerusalem To be divided and eliminated.
Anglo – America in Prophecy & the Lost Tribes of Israel Are the Americans, Canadians, English, Scottish, Welsh, Australians, Anglo-Saxon (non-Dutch) Southern Africans, and New Zealanders descendants of Joseph? Where are the lost ten-tribes of Israel? Who are the lost tribes of Israel? What will happen to Jerusalem and the Jews in Israel? Will God punish the U.S.A., Canada, United Kingdom, and other Anglo-Saxon nations? Why might God allow them to be punished first? Here is a link to the Spanish version of this article: Anglo-América & las Tribus Perdidas de Israel. Information is also in the YouTube sermons titled Where are the Ten Lost Tribes? Why does it matter? and British are the Covenant People. A short YouTube of prophetic interest may be Barack Obama and the State of the Apocalypse.
Will the Anglo-Saxon Nations be Divided and Have People Taken as Slaves? Will the lands of the United States, United Kingdom, Canada, Australia, and New Zealand be divided? What about Jerusalem? What does Bible prophecy teach? Are there non-biblical prophecies that support this idea? Who will divide those lands? Who will end up with the lands and the people? Here is a link to a video titled Will the USA and other Anglo-nations be Divided and Their People Made Slaves? Here is a related item in the Spanish language ¿Serán divididas las naciones anglosajonas?