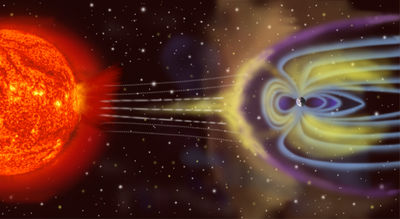 Depiction of solar particles interacting with Earth's magnetosphere
The earth was hit by its largest geomagnetic storm in three years yesterday:
Earth struck by most powerful space storm in three years
Some scientists believe that the a geomagnetic storm could possibly knock out the power grids of places like the USA for several years.
Here is something on that from my book, 2012 and the Rise of the Secret Sect:
Notice a scenario that is based on a report from the U.S. National Academy of Scientists (although the precise date seems to be speculative):

IT IS midnight on 22 September 2012 and the skies above Manhattan are filled with a flickering curtain of colourful light…Within 90 seconds, the entire eastern half of the US is without power.

A year later and millions of Americans are dead and the nation's infrastructure lies in tatters. The World Bank declares America a developing nation. Europe, Scandinavia, China and Japan are also struggling to recover from the same fateful event – a violent storm, 150 million kilometres away on the surface of the sun…

According to the NAS report, a severe space weather event in the US could induce ground currents that would knock out 300 key transformers within about 90 seconds, cutting off the power for more than 130 million people…

First to go – immediately for some people – is drinkable water…With no electricity to pump water from reservoirs, there is no more…

There is simply no electrically powered transport: no trains, underground or overground…For hospitals, that would mean about 72 hours of running a bare-bones, essential care only, service. After that, no more modern healthcare.

The truly shocking finding is that this whole situation would not improve for months, maybe years…[i]

A N.A.S.A./N.O.A.A. report indicated that the next solar cycle peak may be later, like May 2013.[ii]

---

[i] Brooks, Michael. Space storm alert: 90 seconds from catastrophe. New Scientist Monday, March 23, 2009. http://www.newscientist.com/article/mg20127001.300-space-storm-alert-90-seconds-from-catastrophe.html?full=true viewed 03/23/09
[ii] New Solar Cycle Prediction.  Red Orbit, May 29, 2009 www.redorbit.com/news/space/1697053/new_solar_cycle-predictor/ viewed 06/09/09
The most recent storm was mild in that respect, but it certainly is true that modern societies are at risk to geomagnetic storms.
Some articles that might be of assistance in understanding end-time events may include:
End of Mayan Calendar 2012–Might 2012 Mean Something?There is a Mayan calendar prediction for change in 2012. 2012 changes were also centuries ago predicted by the Hopi Native Americans. Do Mayan/Hindu/Hopi/Buddhist/New Age/Nostradamus prophecies have any value here? Why might Satan have inspired this date? Does the Dresden codex show destruction of the earth by flood? Can the great tribulation start before 2012?
Does God Have a 6,000 Year Plan? What Year Does the 6,000 Years End? Was a 6000 year time allowed for humans to rule followed by a literal thousand year reign of Christ on Earth taught by the early Christians? When does the six thousand years of human rule end?
Can the Great Tribulation Begin in 2010, 2011, or 2012? Can the Great Tribulation begin today? When is the earliest that the Great Tribulation can begin? What is the Day of the Lord?