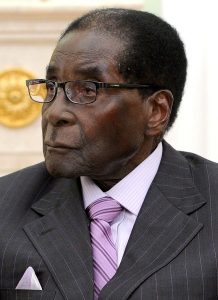 Robert Mugabe (www.kremlin.ru)

The military in Zimbabwe took actions against various ones, including its nation's president:
November 15, 2017
HARARE, Zimbabwe — Zimbabwe's military took control of the country early Wednesday and detained its longtime leader, President Robert Mugabe, capping a political showdown over Mugabe's apparent attempts to install his wife as his successor.

In a televised announcement after tanks and troops rolled into the capital, Harare, a general insisted that it was "not a military takeover."

Despite the assurances, the events bore all the hallmarks of a coup, with military vehicles stationed around the city, the army taking over the television station and a uniformed general issuing a statement.

Army Gen. Constantino Chiwenga made the move as the struggle over who will succeed the country's increasingly frail 93-year-old leader came to a head. Mugabe has ruled since he led the country to independence from white minority rule in 1980.

Mugabe is one of the oldest and longest-ruling leaders to come out of Africa's struggle against co­lo­ni­al­ism and the emergence of new nations across the continent. His rule, however, has also become increasingly erratic, and he is blamed by many for devastating the once-prosperous country.  …

Zimbabwe was once a wealthy breadbasket for the whole region, but its economy and especially the prosperous agriculture sector have suffered in recent years. The currency has collapsed, and at one point the country was experiencing devastating hyperinflation with denominations of the Zimbabwe dollar counted in the trillions. https://www.washingtonpost.com/world/zimbabawe-military-takes-over-the-country-says-president-mugabe-is-safe/2017/11/15/086865c2-c9d2-11e7-b0cf-7689a9f2d84e_story.html?utm_term=.5de282ad1a3e
November 15, 2017JOHANNESBURG — 

South Africa's president says longtime Zimbabwean leader Robert Mugabe is "confined to his home" in what appears to be a military-backed effort to oust him after 37 years in power.

President Jacob Zuma, who chairs the Southern African Development Community (SADC), said in a statement he spoke early Wednesday to President Robert Mugabe "who indicated that he was confined to his home, but said that he was fine. South Africa is also in contact with the Zimbabwean Defense Force."

The developments are a reaction to Mugabe's unpopular moves earlier this month, in which he fired his deputy, Emmerson Mnangagwa, and indicated he was planning to replace the ousted vice president with the first lady.

Tanks rolled through the capital, Harare, on Tuesday, a day after the head of Zimbabwe's armed forces, General Constantino Chiwenga, warned he would "step in" unless Mugabe stopped trying to purge the ruling ZANU-PF party of Mnangagwa supporters.

Dozens have been arrested since the vice president was fired on November 5. Zimbabwe's ruling party accused Chiwenga of "treasonable conduct" after that statement.

Not a takeover, army claims

Soldiers took over state television early Wednesday.

"We wish to make this abundantly clear this is not a military takeover of government," army spokesman Major General SB Moyo said."What the Zimbabwe defense forces is doing is to pacify a degenerating political, social and economic situation in our country, which if not addressed may result in violent conflict."

Zimbabwe's ruling party said on social media that Mnangagwa will return. His whereabouts are currently unknown, though he is rumored to be in South Africa.

"Last night the first family was detained and are safe, both for the constitution and the sanity of the nation this was necessary," said a tweet early Wednesday sent from the @zanu_pf handle, "Neither Zimbabwe nor ZANU are owned by Mugabe and his wife. Today begins a fresh new era and comrade Mnangagwa will help us achieve a better Zimbabwe." https://www.voanews.com/a/zimbabwe-president-confined-home-after-military-action/4115867.html
Whether the successor of Robert Mugabe will help Zimbabwe is an open question.
Zimbabwe was once known as Rhodesia. When my wife and I visited South Africa back in 1985, we met a woman who had left Rhodesia/Zimbabwe after Robert Mugabe had been in power for some time. She told of thievery and other acts supported by the government and she complained about what was happening there.
Zimbabwe has been an economic mess for many years. Notice a news article posted here just over a year ago:
October 28, 2016

After becoming the most famous case of hyperinflation in modern history roughly ten years ago, Zimbabwe is about to have another go at conjuring paper money out of thin air. …

Some economists estimate that Zimbabwe's hyperinflation peaked at more than 500 BILLION percent– an incomprehensible figure unless you've lived through it.

In 2009 it all ended. The government stopping printing money, and Zimbabwe became a 'hard currency' economy.

US dollars, euros, pounds, South African rand, and even Chinese renminbi have been circulating here ever since; merchants and consumers basically use whatever currency they can to engage in transactions.

Essentially there is no Zimbabwe dollar anymore.

But that hasn't solved any of the country's problems.

In the late 1990s, Zimbabwe's GDP was roughly $30 billion. Today it's just $13.5 billion, than $1,000 per capita. …

But apparently these politicians have memories like goldfish. Because their grand solution now is to go back to the roaring 2000s and start printing money again.

They're calling them "bond notes", and as you can imagine, the government has already promised that they'll exercise restraint and print these new bond notes in very limited quantities.

Of course, that's the same thing they said 15 years ago.

And it's the same thing that every government and central bank says when they embark on an initiative to print money.

This is such typical thinking, and sadly not limited to Zimbabwe

People in power across the world, including in North America and Europe, rely on this incredibly limited playbook.

They think they can engineer prosperity by going into debt and conjuring money out of thin air.

They think they can legislate and regulate their way to a quality healthcare or education system.

And when the majority of their initiatives fail, or even have the exact opposite effect as intended, they don't learn from their mistakes.

They simply print more money, pass more laws, and go deeper into debt. http://www.valuewalk.com/2016/10/zimbabwe-hyperinflation/
As that pointed out, the West has done the same thing. And actually, the USA has done this more than anyone else on the planet.
The diluting of the value of coinage/currency is condemned in the Bible:
4 Take away the dross from silver (Proverbs 25:4a).
22 Your silver has become dross, Your wine mixed with water. (Isaiah 1:22)
25 I will turn My hand against you, And thoroughly purge away your dross, And take away all your alloy. (Isaiah 1:25)
18 "Son of man, the house of Israel has become dross to Me; they are all bronze, tin, iron, and lead, in the midst of a furnace; they have become dross from silver. 19 Therefore thus says the Lord God: 'Because you have all become dross, therefore behold, I will gather you into the midst of Jerusalem. 20 As men gather silver, bronze, iron, lead, and tin into the midst of a furnace, to blow fire on it, to melt it; so I will gather you in My anger and in My fury, and I will leave you there and melt you. 21 Yes, I will gather you and blow on you with the fire of My wrath, and you shall be melted in its midst. 22 As silver is melted in the midst of a furnace, so shall you be melted in its midst; then you shall know that I, the Lord, have poured out My fury on you.'" (Ezekiel 22:18-22)
Dross is a cheaper metal that is normally placed inside a covering of a precious metal like silver. Governments began to do this thousands of years ago when they had financial problems. Putting dross into silver cheapens currency. Dross makes something appear different than it is. Printing excess paper notes is a modern form of dross. It dilutes the money supply.
That has not been good for Zimbabwe, and it will end disastrously for nations like the USA which have done this electronically (cf. Habakkuk 2:6-8).
While the right type of leader could physically assist Zimbabwe for a time (cf. Daniel 4:27), what it, and other nations need, is national repentance and the Kingdom of God.
Some items of possibly related interest may include:
Africa: Its Biblical Past and Prophesied Future What does the Bible teach about Africa and its future? Did the early Church reach Africa? Will God call all the Africans? A related online sermon is also available: Africa: Its biblical past, present, and future. A video of possible interest is: Nairobi Conference: All About Love.
CCOGAfrica channel. This has messages from African pastors in African languages such as Kalenjin, Kiswahili, Embu, and Dholuo.
CCOGAFRICA.ORG This is a website targeted towards those in Africa.
US Dollar being challenged by Gold-Petro-Yuan The US dollar has been the world's primary reserve currency for decades. Is this about to change? What is going on with the Chinese yuan and oil and gold? What do the BRICS nations want? What did Venezuela do? Do the Europeans want to dislodge the US dollar as the world's primary reserve currency? Does US debt play any role? Does the Bible tell us what will happen to the USA and its dollar? What happens if the USA loses its status? Will gold outlast the US dollar? Dr. Thiel addresses those issues and more. This is a video.
The End of US Dollar Dominance Is the USA losing its economic status? What about the petro-gold-yuan? A related video is also available: US Dollar being challenged by Gold-Petro-Yuan.
America's Day of Reckoning 2017 Dollar Collapse? Economist James Dale Davidson says that a financial bloodbath will hit the USA and there is nothing that Washington can do to stop it. He claims that at least 57 nations have gotten together to dethrone the US dollar as the world's reserve currency. He claims this can happen any day or in a few months. He mentions China, Russia, the AIIB, and gold. He claims his track record in predicting massive shifts in the past should assure people that he is right about this. He claims that there will be massive unemployment, near elimination of social security benefits, and more. Is James Dale Davidson possibly right on any of this? Dr. Thiel goes over many of his claims and explains what the Bible shows related to the coming collapse of the US dollar. This is a video.
Collapse of the Euro and Dollar? War in 2020? Larry Edelson of Money and Markets described aspects of current economic difficulties and explained why he felt matters would get a lot worse. He said war, like World War III, could break out as early as 2020. What did he call the 'granddaddy of all cycles"? Will matters go as he said? What does the Bible teach? Dr. Thiel provides biblical insights that secular sources often miss. This is a video.
When Will the Great Tribulation Begin? 2017, 2018, or 2019? Can the Great Tribulation begin today? What happens before the Great Tribulation in the "beginning of sorrows"? What happens in the Great Tribulation and the Day of the Lord? Is this the time of the Gentiles? When is the earliest that the Great Tribulation can begin? What is the Day of the Lord? Who are the 144,000? Here is a version of the article in the Spanish language: ¿Puede comenzar la Gran Tribulación en 2016 o 2017? ¿Es el Tiempo de los Gentiles? You can also see the English language sermon videos: The Great Tribulation from the Mount of Olives and Can the Great Tribulation begin before 2020? A shorter video is: Will the Great Tribulation Start in 2017?
The Times of the Gentiles Has there been more than one time of the Gentiles? Are we in it now or in the time of Anglo-America? What will the final time of the Gentiles be like? A related sermon is available and is titled: The Times of the Gentiles.
Two Horned Beast of Revelation and 666 Who is 666? This article explains how the COG views this, and compares this to Ellen White. Here is a link to a prophetic video Six Financial Steps Leading to 666?
The Mark of Antichrist What is the mark of Antichrist? What have various ones claimed? Here is a link to a related sermon What is the 'Mark of Antichrist'?
Mark of the Beast What is the mark of the Beast? Who is the Beast? What have various ones claimed the mark is? What is the 'Mark of the Beast'?
Does God Have a 6,000 Year Plan? What Year Does the 6,000 Years End? Was a 6000 year time allowed for humans to rule followed by a literal thousand year reign of Christ on Earth taught by the early Christians? Does God have 7,000 year plan? What year may the six thousand years of human rule end? When will Jesus return? 2024 or 20xx? There is also a video titled The 6000 Year Plan: Is the end of humanity's reign almost up?
The Snowden Leaks are Leading to the Destruction of the USA Can what happened with the leaks of what the NSA has done help the USA to be taken over? What does the Bible teach that seems to be related to this? Here is a related YouTube video titled Are the Snowden NSA leaks leading to the destruction of the USA?
The Plain Truth About Gold in Prophecy. How Should a Christian View Gold? What do economists and the Bible teach about gold? Gold and silver may drop in value. Inflation/deflation? What do Christians need to know about gold?
Anglo – America in Prophecy & the Lost Tribes of Israel Are the Americans, Canadians, English, Scottish, Welsh, Australians, Anglo-Saxon (non-Dutch) Southern Africans, and New Zealanders descendants of Joseph? Where are the lost ten-tribes of Israel? Who are the lost tribes of Israel? What will happen to Jerusalem and the Jews in Israel? Will God punish the U.S.A., Canada, United Kingdom, and other Anglo-Saxon nations? Why might God allow them to be punished first? Here is a link to the Spanish version of this article: Anglo-América & las Tribus Perdidas de Israel. Information is also in the YouTube sermons titled Where are the Ten Lost Tribes? Why does it matter? and British are the Covenant People. A short YouTube of prophetic interest may be Barack Obama and the State of the Apocalypse.
Just What Do You Mean — Repentance? Do you know what repentance is? Have you truly repented? Repented of what? Herbert W. Armstrong wrote this as a booklet on this important subject.
When You Sin: Do You Really Repent? This is an article by Charles F. Hunting. A related sermon is Confess to God and truly repent.
The Gospel of the Kingdom of God This free online pdf booklet has answers many questions people have about the Gospel of the Kingdom of God and explains why it is the solution to the issues the world is facing. Here are links to three related sermons: The World's False Gospel, The Gospel of the Kingdom: From the New and Old Testaments, and The Kingdom of God is the Solution.