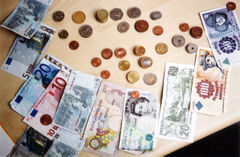 World Currencies
Saw an interesting item on money printing and 50 year cycles:

The US Treasury has been printing paper dollars, backed by nothing but paper and ink, for more than 40 years. That's a bad habit. And yet, the greenback is still with us and it is still the reserve currency. So it looks like this particular bad habit has produced no harm. And that is absolutely true, provided you don't mind paying $4.33 for the same Big Mac that cost 50 cents in 1971.

That's right, the price of a Big Mac has soared 866% since the year President Nixon severed the dollar's convertibility into gold. Your California editor ate a Big Mac yesterday and it was very good, but not 866% better than the Big Mac he used to eat after his Little League games in 1971.

"We live in a technological golden age," asserts Jim Grant, editor of Grant's Interest Rate Observer, "but in a monetary and fiscal Dark Age…Science and technology may hurtle forward, but money and banking race backward."

The proof of Grant's assertion: A 1971-vintage dollar has lost an astonishing 88.5% of its value. That's a bad habit. Revoking Constitutional rights is also a bad habit. So is fanning class warfare. So is militarizing local police departments. So is expanding the role of government in the private sector. So is manipulating interest rates in the name of "monetary policy."

Incredibly, all of these bad habits are unfolding at the same time. Right now. Right before our eyes. And yet, our national "lung function" feels entirely normal. So does our eyesight and our hearing and every other vital sign. We feel completely healthy…even as we are becoming terminally ill.

But these bad habits — these incremental changes for the worse — produce their bad consequences so slowly that almost no one will notice them…until it is too late to prevent them. No one knows, of course, the exact date that "too late" might arrive. But according to the research of Peter Turchin, the US is drawing near to an ominous timeframe.

Specifically, Turchin says the United States is approaching a period of violent upheaval. He bases his prediction on a field of study called, "cliodynamics," which identifies significant behavioral patterns in a nation's history. US behavior, according to Turchin, operates on a 50-year pattern.

Turchin did not pull the 50-year number out of the air. He compiled copious historical data about major violent incidents in US history between 1780 and 2010 and concluded that a cycle of violence repeats itself every 50 years in America.

"Circa 1870, the North fought the South in the Civil War," livescience.com explains. "Half a century later, around 1920, worker unrest, racial tensions and anti-Communist sentiment caused another nationwide upsurge of violence. Then, 50 years later, the Vietnam War and Civil Rights Movement triggered a third peak in violent political, social and racial conflict.

"Why 50-year cycles?" livescience.com asks. "After a period of sustained violence, [Turchin explains], citizens begin to 'yearn for the return of stability and an end to fighting.'…The prevailing social mood swings toward stifling the violence at all costs, and those who directly experienced the civil violence maintain the peace for about a human generation — 20 or 30 years. But the stability doesn't last. Eventually, 'the conflict-scarred generation dies off or retires, and a new cohort arises.'…As a result, periods of intense conflict tend to recur with a period of roughly two generations (40-60 years)."

"My model suggests," says Turchin, "that the next [peak in violence] will be worse than the one in 1970 because demographic variables such as wages, standards of living and a number of measures of intra-elite confrontation are all much worse this time…After the last eight years or so, notice how the discourse in our political class has become fragmented. It's really unprecedented for the last 100 years. So basically by all measures, there are social pressures for instability that are much worse than 50 years ago." The Daily Reckoning Presents Ignoring the Effects of 40 Years of Money Printing , August 11, 2012)
Those in the USA have only had a small foretaste of the type of inflation that increasing the money supply while increasing unsecured debt will cause.
Now the above article gave carnal reasons, which may be applicable, for 50 year cycles.  Interestingly, one of the biblical restrictions on capitalism was the jubilee, which was to occur every 50 years.
It not only eliminated debts, it gave back ancestral lands (which tended to stop excessive real estate speculation) and tended to encourage people to take better care of the land (if the land is to be part of one's family in perpetuity, people would be more careful with it).
Here is what the Bible itself teaches about it:
8 'And you shall count seven sabbaths of years for yourself, seven times seven years; and the time of the seven sabbaths of years shall be to you forty-nine years. 9 Then you shall cause the trumpet of the Jubilee to sound on the tenth day of the seventh month; on the Day of Atonement you shall make the trumpet to sound throughout all your land. 10 And you shall consecrate the fiftieth year, and proclaim liberty throughout all the land to all its inhabitants. It shall be a Jubilee for you; and each of you shall return to his possession, and each of you shall return to his family. 11 That fiftieth year shall be a Jubilee to you; in it you shall neither sow nor reap what grows of its own accord, nor gather the grapes of your untended vine. 12 For it is the Jubilee; it shall be holy to you; you shall eat its produce from the field.

13 'In this Year of Jubilee, each of you shall return to his possession. 14 And if you sell anything to your neighbor or buy from your neighbor's hand, you shall not oppress one another. 15 According to the number of years after the Jubilee you shall buy from your neighbor, and according to the number of years of crops he shall sell to you. 16 According to the multitude of years you shall increase its price, and according to the fewer number of years you shall diminish its price; for he sells to you according to the number of the years of the crops. 17 Therefore you shall not oppress one another, but you shall fear your God; for I am the Lord your God. (Leviticus 25:8-17)

25 'If one of your brethren becomes poor, and has sold some of his possession, and if his redeeming relative comes to redeem it, then he may redeem what his brother sold. 26 Or if the man has no one to redeem it, but he himself becomes able to redeem it, 27 then let him count the years since its sale, and restore the remainder to the man to whom he sold it, that he may return to his possession. 28 But if he is not able to have it restored to himself, then what was sold shall remain in the hand of him who bought it until the Year of Jubilee; and in the Jubilee it shall be released, and he shall return to his possession.

29 'If a man sells a house in a walled city, then he may redeem it within a whole year after it is sold; within a full year he may redeem it. 30 But if it is not redeemed within the space of a full year, then the house in the walled city shall belong permanently to him who bought it, throughout his generations. It shall not be released in the Jubilee. 31 However the houses of villages which have no wall around them shall be counted as the fields of the country. They may be redeemed, and they shall be released in the Jubilee. 32 Nevertheless the cities of the Levites, and the houses in the cities of their possession, the Levites may redeem at any time. 33 And if a man purchases a house from the Levites, then the house that was sold in the city of his possession shall be released in the Jubilee; for the houses in the cities of the Levites are their possession among the children of Israel. 34 But the field of the common-land of their cities may not be sold, for it is their perpetual possession. (Leviticus 25:25-34)

40 As a hired servant and a sojourner he shall be with you, and shall serve you until the Year of Jubilee. 41 And then he shall depart from you — he and his children with him — and shall return to his own family. He shall return to the possession of his fathers. (Leviticus 25:40-41)

47 'Now if a sojourner or stranger close to you becomes rich, and one of your brethren who dwells by him becomes poor, and sells himself to the stranger or sojourner close to you, or to a member of the stranger's family, 48 after he is sold he may be redeemed again. One of his brothers may redeem him; 49 or his uncle or his uncle's son may redeem him; or anyone who is near of kin to him in his family may redeem him; or if he is able he may redeem himself. 50 Thus he shall reckon with him who bought him: The price of his release shall be according to the number of years, from the year that he was sold to him until the Year of Jubilee; it shall be according to the time of a hired servant for him. 51 If there are still many years remaining, according to them he shall repay the price of his redemption from the money with which he was bought. 52 And if there remain but a few years until the Year of Jubilee, then he shall reckon with him, and according to his years he shall repay him the price of his redemption. 53 He shall be with him as a yearly hired servant, and he shall not rule with rigor over him in your sight. 54 And if he is not redeemed in these years, then he shall be released in the Year of Jubilee — he and his children with him. 55 For the children of Israel are servants to Me; they are My servants whom I brought out of the land of Egypt: I am the Lord your God. (Leviticus 25:47-55)

2 And they said: "The Lord commanded my lord Moses to give the land as an inheritance by lot to the children of Israel, and my lord was commanded by the Lord to give the inheritance of our brother Zelophehad to his daughters. 3 Now if they are married to any of the sons of the other tribes of the children of Israel, then their inheritance will be taken from the inheritance of our fathers, and it will be added to the inheritance of the tribe into which they marry; so it will be taken from the lot of our inheritance. 4 And when the Jubilee of the children of Israel comes, then their inheritance will be added to the inheritance of the tribe into which they marry; so their inheritance will be taken away from the inheritance of the tribe of our fathers. (Numbers 36:2-4)

16 'If a man dedicates to the Lord part of a field of his possession, then your valuation shall be according to the seed for it. A homer of barley seed shall be valued at fifty shekels of silver. 17 If he dedicates his field from the Year of Jubilee, according to your valuation it shall stand. 18 But if he dedicates his field after the Jubilee, then the priest shall reckon to him the money due according to the years that remain till the Year of Jubilee, and it shall be deducted from your valuation. 19 And if he who dedicates the field ever wishes to redeem it, then he must add one-fifth of the money of your valuation to it, and it shall belong to him. 20 But if he does not want to redeem the field, or if he has sold the field to another man, it shall not be redeemed anymore; 21 but the field, when it is released in the Jubilee, shall be holy to the Lord, as a devoted field; it shall be the possession of the priest.

22 'And if a man dedicates to the Lord a field which he has bought, which is not the field of his possession, 23 then the priest shall reckon to him the worth of your valuation, up to the Year of Jubilee, and he shall give your valuation on that day as a holy offering to the Lord. 24 In the Year of Jubilee the field shall return to him from whom it was bought, to the one who owned the land as a possession. (Leviticus 27:16-24)
Essentially, the jubilee was a reset for society and a new chance for those who had not handled their finances as well as others may have. And since it was supposed to be observed once every 50 years, most people who did not die in childhood would have experienced it once or even twice in their lifetime (yes, even three times was possible).
As far as the meaning of the term translated as jubilee, notice the following:
The translation "Jubilee year" results from a mistaken application of cognates (similar words in different languages). In the original Hebrew, the year was called the "year of the horn," or, in Hebrew, "the year of the yovel." The Latin for yovel is iobileus, which just happens to sound like the Latin word iubileus, connected to the verb iubilare, "to celebrate." The English "Jubilee year" comes from the Latin.http://www.huffingtonpost.com/dr-joel-hoffman/five-mistakes-bible-translation_b_1129620.html
Some have suggested that because the jubilee is not observed, that this is perhaps why there tends to be major economic problems every 50-60 or so years. Notice the following:
"Kondratieff long wave cycle (K-wave) was originally used to explain long wave economic cycles. Its originator Nickolai Kondratieff was a Russian economist (1892-1938) in Stalin's Agricultural Academy and Business Research Institute ("Long Waves in Economic Life" – originally published in German in 1926). Kondratieff's major premise was that capitalist economies displayed long wave cycles of boom and bust ranging between 50-60 years in duration. Kondratieff's study covered the period 1789 to 1926 and was centered on prices and interest rates."

"The

50-60 year cycle of catastrophe and renewal

had been observed and recorded by the ancient Mayans of Central America and by the ancient Israelites. Further studies have discovered similar long economic waves from the period of the ancient Greeks and Romans. Kondratieff identified four distinct phases the economy goes through. They are a period of inflationary growth, followed by stagflation, then deflationary growth and finally depression."

http://www.gold-eagle.com/editorials_02/chapmand062902.html

See also:

http://en.wikipedia.org/wiki/Kondratiev_wave
How often the children of Israel ever really observed "the year of the yovel" is a question, but there is no question that the modern descendants of Israel have not observed it for many centuries. Hence, this seems to have been an overlooked or even despised portion of the word of God. Yet, notice a warning in Isaiah 30:12-13 to the descendants of Israel:
12 Therefore thus says the Holy One of Israel:

"Because you despise this word, And trust in oppression and perversity, And rely on them, 13 Therefore this iniquity shall be to you Like a breach ready to fall, A bulge in a high wall, Whose breaking comes suddenly, in an instant.
The modern descendents of Israel more and more seem to despise the word of God and to accept practices of oppression (including not following biblical laws related to debt and land distribution) and perversity.
While I do not endorse all the goals and objectives of the Occupy movement, it is a fact that biblical approaches to debt are not part of the laws of any nation currently on earth. But this will change after the return of Jesus Christ and the establishment of His kingdom.
One last comment. I received a couple of emails from someone a few months ago who claimed that the 50 year biblical jubilee would begin on October 8, 2011. He was upset that I and the Living Church of God would not proclaim that. I told him we did not believe that this was the end of the jubilee period. One of the reasons is that since we believe God has a 6,000 plan for humankind that should be up within a decade or so, since 6,000 years is divisible by 50, we do not believe that 2011-2012 could be the year of jubilee.
Some articles of possibly related interest may include:
Does God Have a 6,000 Year Plan? What Year Does the 6,000 Years End? Was a 6000 year time allowed for humans to rule followed by a literal thousand year reign of Christ on Earth taught by the early Christians? Does God have 7,000 year plan? What year may the six thousand years of human rule end? When will Jesus return? 2018 or 2019?
The Gospel of the Kingdom of God was the Emphasis of Jesus and the Early Church Did you know that? Do you even know what the gospel of the kingdom is all about? True religion should be based upon the true gospel.
Did The Early Church Teach Millenarianism? Was the millennium (sometimes called chiliasm) taught by early Christians? Who condemned it. Will Jesus literally reign for 1000 years on the earth? Is this time near?
Anglo – America in Prophecy & the Lost Tribes of Israel Are the Americans, Canadians, English, Scottish, Welsh, Australians, Anglo Southern Africans, and New Zealanders descendants of Joseph? Who are the people of the Netherlands at least partially descended from? Where are the lost ten-tribes of Israel? Who are the lost tribes of Israel? What will happen to Jerusalem and the Jews in Israel?