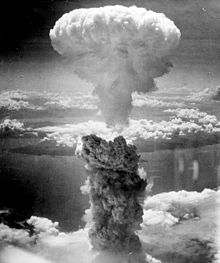 Nagasaki Nuclear Bomb (1945)
Tomorrow is the 69th anniversary of the nuclear bombing of Nagasaki.  The United States dropped an atomic bomb on the city of Hiroshima on August 6, 1945, killing about 140,000 people. On August 9, Nagasaki was hit by a second nuclear bomb that killed about 70,000. http://www.voanews.com/content/nagasaki-marks-68th-anniversary-of-us-atomic-bombing/1726475.html
There truly was massive devastation in both Nagasaki and Hiroshima.
While the goal of many of the Japanese is to wipe out weapons of mass destruction, Japan stated last month that it has modified its interpretation of its Constitution (see Japan changes to allow it to increase, as well as be more open, about its military developments) and may some day make nuclear weapons of its own.
Bible prophecy warns that more wars and destruction are coming (Daniel 11:39-44; Revelation 13:4) and that there will be false declarations (1 Thessalonians 5:3) and hopes for peace (Romans 3:10-18).
Furthermore regarding future destruction, notice the following:
33 I will scatter you among the nations and draw out a sword after you; your land shall be desolate and your cities waste (Leviticus 26:33).
And while God did allow the Assyrians to scatter the children of Israel in the Old Testament, they did not then destroy their cities. Thus, the "cities becoming waste" prophecy is still waiting to be fulfilled. This is likely to impact the descendants of Ephraim and Manasseh (the Anglo-nations). Nuclear and other high-tech weapons (as well as emp, electromagnetic pulse, bombs) are modern ways to make land desolate and cities waste.
Further notice:
23 'The whole land is brimstone, salt, and burning; it is not sown, nor does it bear, nor does any grass grow there, like the overthrow of Sodom and Gomorrah, Admah, and Zeboiim, which the Lord overthrew in His anger and His wrath.' 24 All nations would say, 'Why has the Lord done so to this land? What does the heat of this great anger mean?' 25 Then people would say: 'Because they have forsaken the covenant of the Lord God of their fathers, which He made with them when He brought them out of the land of Egypt; 26 for they went and served other gods and worshiped them, gods that they did not know and that He had not given to them. 27 Then the anger of the Lord was aroused against this land, to bring on it every curse that is written in this book. 28 And the Lord uprooted them from their land in anger, in wrath, and in great indignation, and cast them into another land, as it is this day.' 29 "The secret things belong to the Lord our God, but those things which are revealed belong to us and to our children forever, that we may do all the words of this law. (Deuteronomy 29:23-29).
The whole land being "brimstone, salt, and burning" is consistent with a nuclear type of attack.
Jesus said that the time was coming when "there will be great tribulation, such as has not been since the beginning of the world until this time, no, nor ever shall be. And unless those days were shortened, no flesh would be saved; but for the elect's sake those days will be shortened' (Matthew 24:21-22). That is consistent with a nuclear war and probably something worse.
However, the good news of the Kingdom of God is that Jesus will return and put a stop to the type of nuclear devastation that happened in Nagasaki 68 years ago and the devastation that will happen during the Great Tribulation:
29 "Immediately after the tribulation of those days the sun will be darkened, and the moon will not give its light; the stars will fall from heaven, and the powers of the heavens will be shaken. 30 Then the sign of the Son of Man will appear in heaven, and then all the tribes of the earth will mourn, and they will see the Son of Man coming on the clouds of heaven with power and great glory. (Matthew 24:29-30)

6…And His name will be called
Wonderful, Counselor, Mighty God,
Everlasting Father, Prince of Peace.
7 Of the increase of His government and peace
There will be no end,
Upon the throne of David and over His kingdom,
To order it and establish it with judgment and justice
From that time forward, even forever.
The zeal of the Lord of hosts will perform this. (Isaiah 9:6-7)

1 Now I saw a new heaven and a new earth, for the first heaven and the first earth had passed away. Also there was no more sea. 2 Then I, John, saw the holy city, New Jerusalem, coming down out of heaven from God, prepared as a bride adorned for her husband. 3 And I heard a loud voice from heaven saying, "Behold, the tabernacle of God is with men, and He will dwell with them, and they shall be His people. God Himself will be with them and be their God. 4 And God will wipe away every tear from their eyes; there shall be no more death, nor sorrow, nor crying. There shall be no more pain, for the former things have passed away." (Revelation 21:1-4)
Nagasaki and Hiroshima are reminders to the world about how devastating modern warfare can be and that humankind needs a better way. Real peace is coming. And that peace will also include affecting those in Japan.
Some articles (and books) of possibly related interest may include:
Japan, Its Biblical Past and Future, Part 1: Any Witness? Where did the Japanese people come from? Have they had any witness?
Japan, Its Biblical Past and Future, Part 2: Prophecy Japan in prophecy. What is prophesied for Japan? Will God save the Japanese?
The Gospel of the Kingdom of God was the Emphasis of Jesus and the Early Church Did you know that? Do you even know what the gospel of the kingdom is all about? You can also see a YouTube video sermon The Gospel of the Kingdom.
Just What Do You Mean the Kingdom of God? A booklet that was written by Herbert Armstrong answers questions about the Kingdom.
Jesus: The Son of God and Saviour Who was Jesus? Why did He come to earth? What message did He bring? Is there evidence outside the Bible that He existed? Here is a YouTube sermon titled Jesus: Son of God and Saviour.
Anglo – America in Prophecy & the Lost Tribes of Israel Are the Americans, Canadians, English, Scottish, Welsh, Australians, Anglo (non-Dutch) Southern Africans, and New Zealanders descendants of Joseph? Where are the lost ten-tribes of Israel? Who are the lost tribes of Israel? What will happen to Jerusalem and the Jews in Israel? Will God punish the U.S.A., Canada, United Kingdom, and other Anglo nations? Why might God allow them to be punished first? A video of possible interest may be Will Will USA Spying Help the Beast Power?
Will the Anglo-Nations be Divided and Have People Taken as Slaves? Will the lands of the United States, United Kingdom, Canada, Australia, and New Zealand be divided? What about Jerusalem? What does Bible prophecy teach? Are there non-biblical prophecies that support this idea? Who will divide those lands? Who will end up with the lands and the people? Here is a link to a video titled Will the USA and other Anglo-nations be Divided and Their People Made Slaves?
When Will the Great Tribulation Begin? 2013, 2014, or 2015? Can the Great Tribulation begin today? What happens before the Great Tribulation in the "beginning of sorrows"? What happens in the Great Tribulation and the Day of the Lord? Why do many say a peace deal will be in place before the Great Tribulation begins. Is this the time of the Gentiles? When is the earliest that the Great Tribulation can begin? What is the Day of the Lord? Who are the 144,000? See also the video The Great Tribulation Will Not Begin Before 2017.
Barack Obama, Prophecy, and the Destruction of the United States-Second Edition for Second Obama Term This is a 160 page book for people truly interested in prophecies related to Barack Obama and the United States, including learning about many that have already been fulfilled (which the book documents in detail) and those that will be fulfilled in the future. It also has a chapter about a Republican choice. This book is available to order at www.barackobamaprophecy.com. The physical book can also be purchased at Amazon from the following link: Barack Obama, Prophecy, and the Destruction of the United States: Is Barack Obama Fulfilling Biblical, Islamic Catholic, Kenyan, and other America-Related Prophecies? What About Republican Leaders? Second Edition for Second Obama Term.
Barack Obama, Prophecy, and the Destruction of the United States-Second Term-Amazon Kindle edition. This electronic version is available for only US$2.99. And you do not need an actual Kindle device to read it. Why? Amazon will allow you to download it to almost any device: Please click HERE to download one of Amazon s Free Reader Apps. After you go to for your free Kindle reader and then go to Barack Obama, Prophecy, and the Destruction of the United States-Second Term-Amazon Kindle edition.