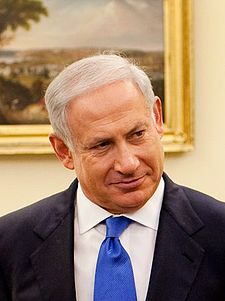 Israel's Prime Minister is telling the world that Iran is a threat and it should not deceive itself about Iran:
Netanyahu blasts world's 'self-deception' on Iran as intercepted weapons unveiled

March 10, 2014

EILAT, Israel –  Israeli Prime Minister Benjamin Netanyahu blasted the international community's "self-deception" regarding Iran as defense officials unveiled an arsenal of weapons the Islamic Republic is accused of trying to smuggle into Gaza.  http://www.foxnews.com/world/2014/03/10/israel-says-confiscated-gaza-bound-rockets-had-100-mile-range/

March 10, 2014

JERUSALEM — Israel has displayed weapons from an intercepted ship it says were being sent from Iran to militants in the Gaza Strip — a charge denied by Tehran.

Israeli Prime Minister Benjamin Netanyahu displayed the arms at a news conference Monday in the Red Sea port of Eilat. Flanked by senior defense officials, Netanyahu accused the world of standing by while the Iranian government arms Gaza militants who threaten millions of Israelis.

"There are those who would prefer that we not hold this news conference here today," he said. "They feel uncomfortable that we show what is really happening inside Iran. They prefer that we continue to nurture the illusion that Iran has changed direction. They are not prepared to recognize that Iran, a brutal regime, has not abandoned its deep involvement in terrorism, its systematic efforts to undermine peace and security throughout the Middle East and its ambition to destroy Israel."

But, he said, the facts we are showing on this platform prove the exact opposite.

Israel announced the weapons discovery last week after boarding a Panamanian-flagged ship in the Red Sea. The government distributed videos of its soldiers unloading the weapons from containers from the ship. It said the arms were hidden under sacks of cement that originated in Iran.

The Israeli government said it seized 40 M-302 rockets, 181 large mortar shells and 400,000 rounds of Kalashnikov bullets.  It said the rockets have a range up to 160 kilometers, which mean they could reach most urban centers in Israel.

Israel said the arms were made in Syria and flown to Iran where they were loaded onto the ship headed for Port Sudan.  They were then to be transported overland via Egypt and smuggled into Gaza.

The governments of Iran and Sudan have denied the charge.  An official of the Hamas group that controls Gaza, Taher al-Nono, called it a big lie.

He said this is a silly claim and futile fabrication aimed at justifying the blockade of the Gaza Strip.  In reality, he said, Gaza is blockaded and they are talking about a ship that was found in the Red Sea thousands of kilometers away.

Israel has maintained a naval and land blockade against Gaza since Hamas seized power seven years ago.  Gaza residents have used smuggling tunnels from Egypt's Sinai desert to bring in food, construction supplies as well as arms.

Egypt's military-backed government has destroyed many tunnels since it seized power eight months ago but some reportedly continue to operate.

Iran and six world powers have negotiated a temporary agreement aimed at ending Iran's alleged nuclear weapons program in exchange for an easing of sanctions against it. Israel has sharply criticized the negotiations, saying Iran has no intention of abandoning its program. http://www.voanews.com/content/israel-displays-arms-it-says-were-destined-for-gaza/1868202.html

March 10, 2014

Since the operation, which took place during Netanyahu's visit to the United States, Israel has waged an extensive campaign to present Iran's "true face" — reinforcing the point that Israeli officials have been making for months as Western powers have negotiated with Iran over its nuclear program.

But, said Netanyahu, the world wasn't interested.

Not only have international condemnations of the arms shipment been "few and feeble," Netanyahu said, but at the same time "handshakes and smiles" were seen in Tehran as European policy chief Catherine Ashton met with Iranian Foreign Minister Mohammad Javad Zarif.

Netanyahu accused the international community of "hypocrisy against Israel," keeping largely silent following the exposure of the arms ship but readily issuing "blunt and sharp" denunciations of Israel.

"Not only is this hypocrisy morally wrong, it is also dangerous," Netanyahu said, making the point that this time Iran's illicit cargo was rockets threatening Israel, but next time it could be nuclear weapons targeting the world. He urged the world to wake up "before it's too late." http://www.latimes.com/world/worldnow/la-fg-wn-netanyahu-iran-rockets-20140310,0,166843.story#ixzz2vay7qa00
Much of the world has been hypocritical in its treatment of Israel, and often more so towards it than many other nations.  But Israel also has its own problems.
That being said, Israel's Prime Minister believes that Iran is a threat.  He believes Iran absolutely is developing nuclear weapons and that it wants to use them against Israel. Iran, itself, has repeatedly stated that it wants to eliminate the nation of Israel. Iran has also made it clear that it wants to rule the Arab peoples and all Islam.  Iran has also been one of many nations knowingly persecuting people that profess Christ.  It has military ambitions and wants to rule all of the Middle East and Islamic world.
Despite its ambitions, Iran will not succeed in eliminating Israel or ruling over all the Arabs.  Yet, Iran is a threat that should be taken seriously.
As regular readers of the COGwriter news page are aware, I have been warning for some time that a regional war involving Iran, Israel, the USA, and/or Syria seems likely. And Israel and Iran keep taking steps which may help it get ready for such a war (Isaiah 22:6-13).
Since Iran, however, is NOT really south of Jerusalem–it is pretty much straight east–it will not be the final King of the South of Bible prophecy (cf. Daniel 11:40-43; though it may support such a king per certain interpretations of the peoples listed in Ezekiel 30:1-9). Because of that, I have tended to believe that Iran may somehow get "neutralized" before this final king rises up. A serious attack by the USA and/or Israel may neutralize Iran and much of its influence. It also may take a regional war for the seven-year confirmation of the deal in Daniel 9:27 to come about. It is also possible that sanctions and other factors could lead to enough civil unrest in Iran to derail it; we will wait and see.
My reading and re-reading of Bible prophecy simply does not show that Iran will be a major player in Daniel 11:21-44 nor the deal of Psalm 83:4-8 (Arabs, Turks, and Europeans are).
"Neutralizing" Iran would allow most of the other Islamic states (like Saudi Arabia and Egypt) to continue to exist (Syria might not do well per Isaiah 17:1) and allow for the rising of the prophesied King of the South to rise up (revolution in Iran, is also another possibility, for its "neutralization").
Leaders in the USA and Israel have sometimes suggested that they may intervene and attack Iran. But if the USA and/or Israel do hit Iran, Iran would likely not fare well.  However, that does not mean that Israel and/or the USA would not suffer. Israel seems prophesied to possibly be hit by Iran per Isaiah 22:6-13. Benjamin Netanyahu's various public statements against Iran may increase the desire of some in the Iranian leadership to do so.
Israel's Prime Minister has made many statements that suggests that when he feels he needs to, he does, some day, intend to attack Iran over the nuclear matter. This is a matter those of us who follow prophecy should watch.
Some items of possibly related interest may include:
Iran in Prophecy Is Iran in Bible prophecy? If so, what does the Bible teach? What names, other than Persia, may be used to describe Iran? There is also a YouTube video titled Iran in Prophecy. Here is a related video Iran In Prophecy.
Is the Future King of the South Rising Up? Some no longer believe there needs to be a future King of the South. Might Egypt, Islam, Iran, Arabs, or Ethiopia be involved? Might this King be called the Mahdi or Caliph? What does the Bible say? A YouTube video of related interest may be: The Future King of the South is Rising.
The Arab and Islamic World In the Bible, History, and Prophecy The Bible discusses the origins of the Arab world, discusses Turkey and Iran, and discusses the Middle East in prophecy. What is ahead for the Middle East and those who follow Islam?
Jerusalem To be divided and eliminated Many want Jerusalem. Who does the Bible teach will control Jerusalem? Will the Jews be forced out of Jerusalem and many made captive? What did Jesus teach about this? Are nations even now considering providing the prophesied armies to surround Jerusalem? What is Jerusalem Day? What is Nakba Day? What events should Christians watch in Jerusalem as signs that the Great Tribulation will begin? What is the solution to Jerusalem? This is a video.
Jerusalem: Past, Present, and Future What does the Bible say about Jerusalem and its future? Is Jerusalem going to be divided and eliminated? Is Jesus returning to the area of Jerusalem? There is also a related YouTube video you can watch titled Jerusalem To be divided and eliminated.
Anglo – America in Prophecy & the Lost Tribes of Israel Are the Americans, Canadians, English, Scottish, Welsh, Australians, Anglo-Saxon (non-Dutch) Southern Africans, and New Zealanders descendants of Joseph? Where are the lost ten-tribes of Israel? Who are the lost tribes of Israel? What will happen to Jerusalem and the Jews in Israel? Will God punish the U.S.A., Canada, United Kingdom, and other Anglo-Saxon nations? Why might God allow them to be punished first? Here is a link to the Spanish version of this article: Anglo-América & las Tribus Perdidas de Israel. Information is also in the YouTube sermons titled Where are the Ten Lost Tribes? Why does it matter? and British are the Covenant People. A short YouTube of prophetic interest may be Barack Obama and the State of the Apocalypse.
Who is the King of the West? Why is there no End-Time King of the West in Bible Prophecy? Is the United States the King of the West?
When Will the Great Tribulation Begin? 2014, 2015, or 2016? Can the Great Tribulation begin today? What happens before the Great Tribulation in the "beginning of sorrows"? What happens in the Great Tribulation and the Day of the Lord? Is this the time of the Gentiles? When is the earliest that the Great Tribulation can begin? What is the Day of the Lord? Who are the 144,000? Here is a version of the article in the Spanish language: ¿Puede comenzar la Gran Tribulación en 2013 o 2014? ¿Es el Tiempo de los Gentiles? You can also see the English language video The Great Tribulation Will Not Begin Before 2017.
Barack Obama, Prophecy, and the Destruction of the United States-Second Edition for Second Obama Term This is a 160 page book for people truly interested in prophecies related to Barack Obama and the United States, including learning about many that have already been fulfilled (which the book documents in detail) and those that will be fulfilled in the future. It also has a chapter about a Republican choice. This book is available to order at www.barackobamaprophecy.com. The physical book can also be purchased at Amazon from the following link: Barack Obama, Prophecy, and the Destruction of the United States: Is Barack Obama Fulfilling Biblical, Islamic Catholic, Kenyan, and other America-Related Prophecies? What About Republican Leaders? Second Edition for Second Obama Term.
Barack Obama, Prophecy, and the Destruction of the United States-Second Term-Amazon Kindle edition. This electronic version is available for only US$2.99. And you do not need an actual Kindle device to read it. Why? Amazon will allow you to download it to almost any device: Please click HERE to download one of Amazon s Free Reader Apps. After you go to for your free Kindle reader and then go to Barack Obama, Prophecy, and the Destruction of the United States-Second Term-Amazon Kindle edition.