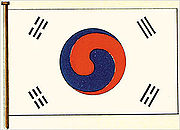 Flag of Korea, 1889
North Korea continues to agitate and threaten and concern South Korea:
March 11, 2013

South Korea and US begin military drills as North Korea threatens war

SEOUL, South Korea –  North and South Korea staged dueling war games Monday as threatening rhetoric from the rivals rose to the highest level since North Korea rained artillery shells on a South Korean island in 2010…

Pyongyang has piled threat on top of threat, including vows to launch a nuclear strike on the U.S. and to scrap the nearly 60-year-old armistice that ended the Korean War. Seoul has responded with tough talk of its own and has placed its troops on high alert…

Among other threats in the past week, North Korea has warned Seoul of a nuclear war on the divided peninsula and said it was cancelling nonaggression pacts.

South Korean and U.S. officials have been closely monitoring Pyongyang's actions and parsing its recent rhetoric, which has been more warlike than usual…

Pinkston said there is little chance of fighting breaking out while war games are being conducted, but he added that he expects North Korea to follow through with a somewhat mysterious promise to respond at a time and place of its own choosing. http://www.foxnews.com/world/2013/03/11/south-korea-and-us-begin-military-drills-as-north-korea-threatens-war/#ixzz2NExO7XH4

March 11, 2013

Over the past week, newspapers here in the South have turned Pyongyang's threats into front-page spreads: its promises of "pre-emptive nuclear strikes", "all-out war" and withdrawal from the 60-year-old Armistice Agreement that ended the Korean War…

South Korea's Unification Ministry admits the mood has shifted. "Overall, there's a heightened sense of alert this time," a spokeswoman said.

Not just because of the "more belligerent rhetoric" coming from Pyongyang, but because of the actions accompanying them.

North Korea's launch of a long-range rocket in December, its apparently successful nuclear test in February and the fresh UN sanctions imposed on it this month have all added to the sense of tension on the peninsula…

South Koreans are hearing some strong language from their own government too.  The country's new president, Park Geun-hye, who was sworn into office just two weeks ago, has vowed to respond strongly to any provocation.

Her government has said it will target not only the source of any attack, but also the North's top command.  http://www.bbc.co.uk/news/world-asia-21738115
The promise by North Korea " to respond at a time and place of its own choosing" suggests that it may be seriously considering terrorist actions–and that could not only affect South Korea, but perhaps even the USA.
An in another move, North Korea has decided to stop having twice daily telephone conversations with South Korea:
SEOUL — South Korean officials say Pyongyang seems to have made good on a threat to sever the hotline at the Panmunjom truce village as South Korea and the United States commence a joint military exercise Monday.  The North is responding to the exercise by claiming it will abrogate the 1953 Armistice Agreement and threatening a preemptive nuclear strike.

As more than 13,000 American and South Korean military personnel began the Key Resolve annual joint drill, no one on the northern side of the de-militarized zone answered the routine daily 9 am hotline telephone call from the South.

The two sides have a protocol of phone contact twice daily.

A Unification Ministry spokesman says South Korea did not bother to try again to make the regular 4 p.m. call Monday.

Last week, North Korea announced it was severing the communications link, established in 1971.

South Korean officials say this is the sixth time the North has cut the line, the most recent occasion in 2010.  http://www.voanews.com/content/us-south-korea-begin-annual-military-drills-amid-threats-from-north-korea/1619027.html
North Korean politicians have often been playing a dangerous game with their country and their people, and it seems that they wish to escalate their warring rhetoric even more.
While North Korea is not prophesied to take over the USA (Europe is per Daniel 11:39, etc.), as I wrote in the past, it certainly is possible that it may decided to actually launch one or more missiles at the USA in the future.
Jesus spoke of a time of wars and sorrows PRIOR to the start of the Great Tribulation.
Notice Mark's account of the beginning of sorrows:
5 And Jesus, answering them, began to say: "Take heed that no one deceives you. 6 For many will come in My name, saying, 'I am He,' and will deceive many. 7 But when you hear of wars and rumors of wars, do not be troubled; for such things must happen, but the end is not yet. 8 For nation will rise against nation, and kingdom against kingdom. And there will be earthquakes in various places, and there will be famines and troubles. These are the beginnings of sorrows (Mark 13:5-8).
A nuclear missile hitting the USA and/or nuclear terrorism (including possibly a "dirty bomb") would be consistent with this prophesied time of troubles.
Some articles of possibly related interest would include the following:
Korea in Prophecy, Any Witness? Does God have a plan for the Koreans? Is Korea mentioned in any prophecies? Will Koreans be among the first in the Kingdom of God? 한국의 언어로 : 한국 예언, 모든 증인에?
Asia in Prophecy What is Ahead for Asia? Who are the "Kings of the East"? What will happen to nearly all the Chinese, Russians, Indians, Koreans, and others of Asia? China in prophecy, where? Who has the 200,000,000 man army related to Armageddon?
Barack Obama, Prophecy, and the Destruction of the United States-Second Edition for Second Obama Term This is a 160 page book for people truly interested in prophecies related to Barack Obama and the United States, including learning about many that have already been fulfilled (which the book documents in detail) and those that will be fulfilled in the future. It also has a chapter about a Republican choice. This book is available to order at www.barackobamaprophecy.com. The physical book can also be purchased at Amazon from the following link: Barack Obama, Prophecy, and the Destruction of the United States: Is Barack Obama Fulfilling Biblical, Islamic, Catholic, Kenyan, and other America-Related Prophecies? What About Republican Leaders? Second Edition for Second Obama Term.
Barack Obama, Prophecy, and the Destruction of the United States-Second Term-Amazon Kindle edition. This electronic version is available for only US$2.99. And you do not need an actual Kindle device to read it. Why? Amazon will allow you to download it to almost any device: Please click HERE to download one of Amazon s Free Reader Apps. After you go to for your free Kindle reader and then go to Barack Obama, Prophecy, and the Destruction of the United States-Second Term-Amazon Kindle edition.