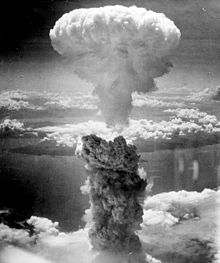 Nagasaki Nuclear Bomb (1945)
North Korea's top leader again threatened the United States of America with the possibility of a preemptive nuclear attack:
March 29, 2013
Tens of thousands of North Koreans held a huge rally Friday, in support their leader's threat of a possible military strike against the United States.

Soldiers, workers and students marched through Kim Il Sung square in Pyongyang.  The North's leader, Kim Jong Un, was not present.

The rally came after Kim Jong Un ordered preparations for rocket strikes on the U.S. mainland and American military bases in South Korea, Guam and Hawaii.

The North's official Korean Central News Agency said the leader put his rocket units on standby Friday, after an emergency meeting with top army commanders.  He said the "time has come to settle accounts" with the United States.

A South Korean military source said in an interview with VOA that an increased movement of soldiers and vehicles had been detected at North Korean rocket sites.  http://www.voanews.com/content/north-koreans-rally-to-support-threat-of-military-strike/1630983.html
29 March 2013
The White House says North Korean threats to train rocket fire on the U.S. only deepen the country's isolation from the world.North Korean leader Kim Jong Un warned Friday that his rocket forces were ready, quote, "to settle accounts with the U.S." The threat came after nuclear-capable American B-2 bombers dropped dummy munitions during routine joint military drills with South Korea.  http://www.cbsnews.com/8301-202_162-57577052/white-house-warns-north-korea-on-isolationist-actions/
March 29, 2013
It is 12 years since former US president George W. Bush named North Korea as one of the "Axis of Evil", yet Kim Jong-un still appears to bear a grudge.A map detailing Mr Kim's "US Mainland Strike Plan" was released by the Communist dictatorship on Friday.

A South Korean news organisation, NK News, published a composite image with a map of America overlaying the original. It claimed that Mr Bush's home state of Texas was, possibly, in North Korea's sights.

Three other US targets appeared to have clear strategic value: Washington, DC, America's capital; California, its most populous state; and Hawaii, a key US military outpost in the Pacific.  http://www.yalibnan.com/2013/03/29/north-korea-targets-george-w-bushs-home-state-of-texas/
LATE UPDATE:  North Korea made another announcement:
SEOUL, March 30 (Reuters) – North Korea said on Saturday it was entering a "state of war" with South Korea in a continuing escalation of tough rhetoric against Seoul and Washington after coming under international sanctions for its nuclear test.

"From this time on, the North-South relations will be entering the state of war and all issues raised between the North and the South will be handled accordingly," a statement carried by the North's official KCNA news agency said.  http://www.huffingtonpost.com/2013/03/29/north-korea-state-of-war_n_2982025.html?icid=maing-grid10%7Chtmlws-main-bb%7Cdl2%7Csec1_lnk3%26pLid%3D291326
The North Korean politicians have often been playing a dangerous game with their country and their people, and it seems that they wish to escalate their warring rhetoric even more.  But, of course, the USA helped fanned the flames a bit yesterday when it sent B-2 stealth bombers to the region (see Syria, North Korea, the USA, and Ronald Weinland).  As far as those in North Korea rallying for a fight with the USA, let state that a lot of state support is orchestrated by North Korea, and I will leave it at that for now.
While North Korea is not prophesied to take over the USA (Europe is per Daniel 11:39, etc.), as I wrote in the past, it certainly is possible that it may decided to actually launch one or more missiles at the USA in the future.
Jesus spoke of a time of wars and sorrows PRIOR to the start of the Great Tribulation.
Notice Mark's account of the beginning of sorrows:
5 And Jesus, answering them, began to say: "Take heed that no one deceives you. 6 For many will come in My name, saying, 'I am He,' and will deceive many. 7 But when you hear of wars and rumors of wars, do not be troubled; for such things must happen, but the end is not yet. 8 For nation will rise against nation, and kingdom against kingdom. And there will be earthquakes in various places, and there will be famines and troubles. These are the beginnings of sorrows (Mark 13:5-8).
A nuclear missile hitting the USA and/or nuclear terrorism would be consistent with this prophesied time of troubles.  And the threats from North Korea are consistent with "rumors of war" as well.
Both Iraq's Saddam Hussein and Libya's Muammar Gaddafi thought that they could be brash and defiant successfully. And while they were for some time, they later found out that they were mistaken. The top leadership of North Korea may end up regretting what it has been doing as well.
But that does not mean that the USA itself may not possibly also suffer if North Korea actually carries out its threat.
Some articles of possibly related interest would include the following:
Korea in Prophecy, Any Witness? Does God have a plan for the Koreans? Is Korea mentioned in any prophecies? Will Koreans be among the first in the Kingdom of God? 한국의 언어로 : 한국 예언, 모든 증인에?
Asia in Prophecy What is Ahead for Asia? Who are the "Kings of the East"? What will happen to nearly all the Chinese, Russians, Indians, Koreans, and others of Asia? China in prophecy, where? Who has the 200,000,000 man army related to Armageddon?
Prophecies of Barack Obama? Reasons why Barack Obama is apocalyptic and reasons why Barack Obama is not the Antichrist. This article includes many biblical and non-biblical prophecies, from around the world, that seem to discuss Barack Obama. Did Nostradamus predict Barack Obama dealing with the Antichrist?  Might Barack Obama set the stage for the kings of the North and South as at least one Shiite prophecy suggests?  Read it and decide for yourself if President Obama seems to be fulfilling various prophecies.