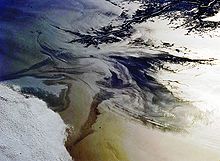 Horizon Oil Spill
US President Obama is to view some of the damage related to the oil spill today:
Obama heads to Gulf Coast a second time as oil spill's impact grows

By Joel Achenbach, David A. Fahrenthold and William Branigin

Washington Post Staff Writer
Friday, May 28, 2010; 9:05 AM As President Obama prepared to visit Louisiana Friday to assess a growing environmental disaster on the Gulf Coast, the chief executive of BP pointed to progress in combating a five-week-old oil spill in the Gulf of Mexico but said it would take another two days to know whether the latest effort has been successful.

Appearing on morning news shows, BP chief Tony Hayward said the company would resume pumping heavy mud Friday afternoon into a blown-out, gushing oil well about a mile below the surface in a technique known as "top kill." BP began the top-kill operation Wednesday afternoon in a risky attempt to cap the well.

Haywood said on CNN that a live video feed of the broken well showed that the material now gushing from it is mud, which he called "good news" in efforts to plug the leaking oil. But he said engineers would not know for another 48 hours whether the top-kill method has worked, and he retracted his early prediction that environmental damage would be largely avoided.

"This is clearly an environmental catastrophe," Hayward said. "There's no two ways about it. . . . It's clear we are dealing with a very significant environmental crisis and catastrophe."…
http://www.washingtonpost.com/wp-dyn/content/article/2010/05/28/AR2010052801495.html
The silence of wildlife in the affected regions suggest that the environmental impact of this disaster are significant.  This will affect the fishing industry, food supply, wildlife, and tourism.
While I do not at all wish to minimize the impact this environmental disaster will have on the Gulf Coast, it is the economic implications that I wish to focus on today.
This morning, at 11:35 am EDT, I am scheduled to appear on The Don Sherwood radio show on 1340 am in Lake Worth, Florida (it can be listened to on the internet from their website, which is http://www.wpbr1340am.com/) to discuss this.
If I get a chance, I will try to explain that as bad as the environmental disaster is, it will pale in comparison to what will happen to the USA in a few years according to biblical prophecy.
The fact that President Obama has suspended certain oil drilling in Alaska, and California Governor Schwarzenegger has dropped his plans to support more drilling of the California Coast (which used to be a major industry near where I live) means that the economic impact of this oil spill will basically insure that less oil drilling will be done in the USA.  Here are some of the ramifications of that:
The USA will not become energy independent.
The USA will not be able to significantly eliminate its trade deficits.
The USA will have less tax revenues.
Some States of the USA will have more financial problems.
Southern California will have more financial problems.
The USA will not be able to pay off its national debt.
The USA will likely increase its debt.
The USA will more quickly get to the prophesied "appointed time" of "the end" where its creditors will rise up against it and the USA will be no more.
Regarding that last item, notice the following prophecy, which was written thousands of years ago, and which is specifically for the end time:
3 For the vision is yet for an appointed time; But at the end it will speak, and it will not lie. Though it tarries, wait for it; Because it will surely come, It will not tarry…
6 "Will not all these take up a proverb against him, And a taunting riddle against him, and say, 'Woe to him who increases
What is not his–how long? And to him who loads himself with many pledges'? 7 Will not your creditors rise up suddenly? Will they not awaken who oppress you? And you will become their booty. 8 Because you have plundered many nations, All the remnant of the people shall plunder you (Habakkuk 2:3,6-8).
The above will be fulfilled, and the USA is already the most indebted nation of all time.  And it appears that it will get even worse.
Now, I am not saying that this one disaster marks the end of America.
But what I am saying is that on top of everything that has been going on the past several years (and thus, I am NOT limiting this to the Obama Administration, though it has greatly accelerated the process), the Horizon Gulf oil spill is another indicator that the USA is headed closer to its destruction, which is prophesied to happen after its creditors rise up against it. Thus, the economic impact of the Gulf oil spill is likely to be greater than almost everyone is publicly admitting.
Some articles of possibly related interest may include:
Anglo – America in Prophecy & the Lost Tribes of Israel Are the Americans, Canadians, British, Scottish, Welsh, Australians, Anglo-Southern Africans, and New Zealanders descendants of Joseph? Where are the lost ten-tribes of Israel? Who are the lost tribes of Israel? Will God punish the U.S.A., Canada, United Kingdom, and other Anglo nations? Why might God allow them to be punished first?
Prophecies of Barack Obama? Eight reasons why Barack Obama is apocalyptic and eight reasons why Barack Obama is not the Antichrist. This article includes many biblical and non-biblical prophecies, from around the world, that seem to discuss Barack Obama. Did Nostradamus predict Barack Obama dealing with the Antichrist?  Might Barack Obama set the stage for the kings of the North and South as at least one Shiite prophecy suggests?  This is the longest and most complete article on this page on Barack Obama prophecies. Read it and decide for yourself if President Obama seems to be fulfilling various prophecies.
Barack Obama, Prophecy, and the Destruction of the United States Some claim that Barack Obama is the prophesied "son of Kenya", based up an early 20th century writing.
Can the Great Tribulation Begin in 2010, 2011, or 2012? Can the Great Tribulation begin today? What happens before in the "beginning of sorrows"? What happens in the Great Tribulation and the Day of the Lord? When is the earliest that the Great Tribulation can begin? What is the Day of the Lord?
2012 and the Rise of the Secret Sect This is a link related to a book by Bob Thiel (COGwriter). This also has YouTube videos. This book documents and explains hundreds of prophecies. And since it was published, at least eleven have already started to come to pass.
2012 y el surgimiento de la secta secreta Nuevo libro del Dr. Thiel en Español.
2012 und das Auftreten der geheimen Sekte (German Edition) 2012 Buch von Dr. Thiel in deutscher Sprache.