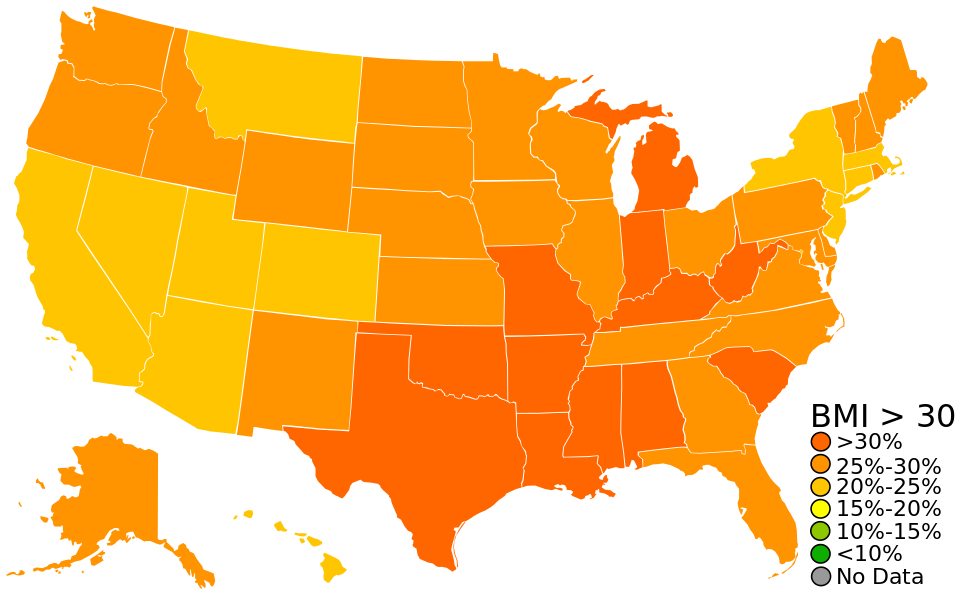 Estimated obesity rates in USA by state, 2011
Despite massive spending related to the health and fitness industries, few American meet health guidelines:
March 22, 2016

Only 2.7 percent of adults nationwide have all four basic healthy characteristics, a new study found.

The report, completed by researchers at Oregon State University and other universities, examined if adults were successful in four areas that fit typical advice for a "healthy lifestyle"– moderate exercise, a good diet, not smoking and having a recommended body fat percentage. Fulfilling those characteristics reflects a lower risk of cardiovascular disease, cancer, type 2 diabetes and other health problems, according to a news release from Oregon State. …

Other findings from the study included:

71 percent of adults didn't smoke
38 percent of adults ate a healthy diet
10 percent had a normal body fat percentage
46 percent were sufficiently active

http://www.oregonlive.com/health/index.ssf/2016/03/only_27_percent_of_us_adults_l.html
Here is some of what the press release from Oregon State University states:
Part of the value of this study, the researchers said, is that the results are based on a large study group, 4,745 people from the National Health and Nutrition Examination Survey. It also included several measured behaviors, rather than just relying on self-reported information.

Measurements of activity were done with an accelerometer, a device people wore to determine their actual level of movement, with a goal of 150 minutes of moderate-to-vigorous activity a week. Blood samples were done to verify a person was a non-smoker. Body fat was measured with sophisticated X-ray absorptiometry, not just a crude measurement based on weight and height. A healthy diet was defined in this study as being in about the top 40 percent of people who ate foods recommended by the USDA.

The lifestyle characteristics were then compared to "biomarkers" of cardiovascular health. Some are familiar, such as blood pressure, cholesterol and glucose levels. Others are more sophisticated, such as C-reactive protein, fasting triglycerides, homocysteine and other data that can provide evidence of cardiovascular risk.

Many people, of course, accomplished one or more of the four basic lifestyle goals, such as not smoking or being adequately active. The most striking finding was how few people accomplished all the goals.

"I would expect that the more healthy lifestyles you have, the better your cardiovascular biomarkers will look," Smit said.

Indeed, the researchers found that having three or four healthy lifestyles, compared to none, generally was associated with better cardiovascular risk biomarkers, such as lower serum cholesterol and homocysteine levels.  Having at least one or two healthy lifestyle characteristics, compared to none, was also associated with better levels of some cardiovascular risk biomarkers.

Among the other findings of the research:

Although having more than one healthy lifestyle behavior is important, specific health characteristics may be most important for particular cardiovascular disease risk factors.
For healthy levels of HDL and total cholesterol, the strongest correlation was with normal body fat percentage.
A total of 71 percent of adults did not smoke, 38 percent ate a healthy diet, 10 percent had a normal body fat percentage, and 46 percent were sufficiently active.
Only 2.7 percent of all adults had all four healthy lifestyle characteristics, while16 percent had three, 37 percent had two, 34 percent had one, and 11 percent had none.
Women were more likely to not smoke and eat a healthy diet, but less likely to be sufficiently active.
Mexican American adults were more likely to eat a healthy diet than non-Hispanic white or black adults.
Adults 60 years and older had fewer healthy characteristics than adults ages 20-39, yet were more likely to not smoke and consume a healthy diet, and less likely to be sufficiently active.

More research is needed, experts say, to identify ways to increase the adoption of multiple healthy lifestyle characteristics among adults.

This study was published in the Mayo Clinic Proceedings and was done in collaboration with researchers from the University of Mississippi and the University of Tennessee-Chattanooga. The lead author was Paul Loprinzi, who graduated from OSU and who's now at the University of Mississippi. http://oregonstate.edu/ua/ncs/archives/2016/mar/us-adults-get-failing-grade-healthy-lifestyle-behavior
But it is worse than most believe. There are other factors that were overlooked like exposure to pollutants, consuming synthetic 'nutrients,' gmo consumption, and violating the Ten Commandments.  So, the percentage of Americans meeting 'health guidelines' is indeed very low.
The Bible itself warns about obesity, getting fat, and excessive eating.
Notice some of what Moses and Jeremiah wrote:
15 You grew fat, you grew thick,
You are obese!
Then he forsook God who made him,
And scornfully esteemed the Rock of his salvation.
16 They provoked Him to jealousy with foreign gods;
With abominations they provoked Him to anger. (Deuteronomy 32:15-16)

11 "Because you were glad, because you rejoiced,
You destroyers of My heritage,
Because you have grown fat like a heifer threshing grain,
And you bellow like bulls,
12 Your mother shall be deeply ashamed;
She who bore you shall be ashamed.
Behold, the least of the nations shall be a wilderness,
A dry land and a desert. (Jeremiah 50:11-12)
Many eat GMO corn (its label does not state otherwise, which in the USA means the corn source is almost always genetically-modified). When further processed it is 'fortified' with synthetic vitamins. Many meat eaters consume animals that are biblically unclean (see also The New Testament Church and Unclean Meats).
Nearly all 'vitamins' that Americans take are synthetic, and most minerals they take in supplements are ground-up rocks processed with industrial acids. Bad diet and synthetic 'nutrients' lead to health problems. There are reasons that the USA spends more than other nations on health, yet lags behind other nations in terms of having healthy residents.
Furthermore, the Bible warns about eating things that are not really food:
2 Why do you spend money for what is not bread,
And your wages for what does not satisfy?
Listen carefully to Me, and eat what is good (Isaiah 55:2).
Refined processed "breads," refined and artificial sweeteners, chemical additives, and some other items commonly associated with junk foods and hydrogenated fats would seem to be consistent with that warning.
What should you eat? You should eat real food and be careful about your quantities.
2…Listen carefully to Me, and eat what is good (Isaiah 55:2).
People should try to eat real, not artificial, foods. More and more studies have confirmed this, yet because of corporate greed (pushing ultra-processed foods) and personal lusts (consuming excessive amounts of ultra-processed foods), apparently most calories Americans consume are from ultra-processed sources.
Another problem is that Americans eat too much.  The Bible warns against this:
18 "If a man has a stubborn and rebellious son who will not obey the voice of his father or the voice of his mother, and who, when they have chastened him, will not heed them, 19 then his father and his mother shall take hold of him and bring him out to the elders of his city, to the gate of his city. 20 And they shall say to the elders of his city, 'This son of ours is stubborn and rebellious; he will not obey our voice; he is a glutton and a drunkard.' 21 Then all the men of his city shall stone him to death with stones; so you shall put away the evil from among you, and all Israel shall hear and fear. (Deuteronomy 21:18-21)

20 Do not mix with winebibbers, Or with gluttonous eaters of meat;  21 For the drunkard and the glutton will come to poverty (Proverbs 23:20-21)
Yet most Americans, including those I speak with in Southern California, simply do not believe they eat too much.  And this includes many overweight ones.
But notice that the Bible warns against eating bad foods and eating too much.  And also notice that at least two curses are associated with this.  Curses of destruction and poverty.
Poverty and destruction will come to the peoples of the United States.  And, likely, famine as well (Matthew 24:7-8) before the start of the Great Tribulation–a time of trouble for the USA and its Anglo-allies.
Notice something else Isaiah and Jeremiah were inspired to write:
6 Therefore the Lord, the Lord of hosts,
Will send leanness among his fat ones;
And under his glory
He will kindle a burning
Like the burning of a fire.  (Isaiah 10:16)

28 They have grown fat, they are sleek;
Yes, they surpass the deeds of the wicked;
They do not plead the cause,
The cause of the fatherless;
Yet they prosper,
And the right of the needy they do not defend.
29 Shall I not punish them for these things?' says the Lord.
'Shall I not avenge Myself on such a nation as this?' (Jeremiah 5:28-29)
Famine and food shortages are coming.  As is the end of the USA and its Anglo-descended allies.  National repentance, which does not seem likely at this stage, is the only hope.  But individuals themselves can turn to God.  And although obesity is a multi-factorial problem, all who are overweight, even the irreligious, can eat less and make better food choices.
Americans are among the most obese people in the world. And its processed food industry has reached many parts of the world.
The Bible says that bodily exercise can help a little (1 Timothy 4:8), yet most Americans do not get enough physical activity.
Although smokers are a minority, it is still unhealthy to smoke (see also Should Christians Smoke Tobacco or Marijuana?).
The American and Anglo-Saxon descended nations are not setting the right example when it comes to diet and obesity and this does not bode well for them in the future (Proverbs 12:24; Daniel 11:39).
Some items of possibly related interest may include:
American foods that gross out foreigners A study done in the Fall of 2014 found out which foods that non-USA Americans considered weird or gross that Americans eat. This video discusses those foods, ingredients in some of those foods, and warns against consuming 'that which is not bread' (Isaiah 55:2). Dr. Thiel also warns about synthetic vitamins and some of the issues associated with them. He also discusses something promoted by the late Seventh-day Adventist, Dr. John Harvey Kellogg.
Obesity, processed foods, health risks, and the Bible Does the Bible warn about the consequences of being obese? Is overeating dangerous? Is gluttony condemned? What diseases are associated with eating too much refined foods?
Eating Right, Eating Too Much, and Prophecy Are there disadvantages to being overweight? Is junk food really bad for you? Does the Bible discuss overeating and/or obesity? Is overeating having an effect on the US military? What are the ramifications of personal and national health for overeating? What should you eat? This is a sermonette-length YouTubevideo.
Should Christians Smoke Tobacco or Marijuana?  Is smoking a sin? What does the Bible teach? What have COG leaders written? Can smokers change? What about marijuana?
Marijuana: Should a Christian Get High? There is increasing acceptance of the use of marijuana. How should Christians view this? Here is a related video titled How Should a Christian View Marijuana?
GMOs and Bible Prophecy What are GMOs? Since they were not in the food supply until 1994, how could they possibly relate to Bible prophecy? Do GMOs put the USA and others at risk? Here is a related YouTube video GMO Risks and the Bible.
Chimeras: Has Science Crossed the Line? What are chimeras? Has science crossed the line? Does the Bible give any clues?
Ten Simple Rules that Lead to Health Herbert Armstrong gives his opinions on this.
Does God Heal Today? What does the Bible teach? Herbert Armstrong tries to explain this.
UK Study Supports Daniel Diet Daniel and his companions looked better eating more vegetables and avoiding strange meats. Has modern science confirmed this?
The New Testament Church, History, and Unclean Meats Are foods considered to have been unclean in the Old Testament considered to be food in the New Testament? This article discusses this from the perspective of the New Testament. It also has a list of clean and unclean animals. It also answers the question, is pork healthy or is pork dangerous? There is also a sermon-length video on this: Christians and Unclean Meats; a short video is also available: Did Jesus declare all animal flesh food?
The Ten Commandments Reflect Love, Breaking them is Evil Some feel that the ten commandments are a burden. Is that what Jesus, Paul, Peter, James, and John taught? For a more detailed discussion of the first four commandments, please see the video The Ten Commandments: Loving God. For a more detailed discussion of the last six commandments, please see: The Ten Commandments: Loving Your Neighbor. Here is a link to a related article in Mandarin Chinese 十条诫命显示爱,违反诫命的就是邪恶的
Was the Commandment to Love the Only Command? Some have stated that John's writings teach this, but is that what the Bible really says?
The Ten Commandments and the Early Church Did Jesus and the Early Church keep the ten commandments? What order were they in? Here are quotes from the Bible and early writings. A related sermon is titled: Christians and the Ten Commandments.
Anglo – America in Prophecy & the Lost Tribes of Israel Are the Americans, Canadians, English, Scottish, Welsh, Australians, Anglo-Saxon (non-Dutch) Southern Africans, and New Zealanders descendants of Joseph? Where are the lost ten-tribes of Israel? Who are the lost tribes of Israel? What will happen to Jerusalem and the Jews in Israel? Will God punish the U.S.A., Canada, United Kingdom, and other Anglo-Saxon nations? Why might God allow them to be punished first? Here is a link to the Spanish version of this article: Anglo-América & las Tribus Perdidas de Israel. Information is also in the YouTube sermons titled Where are the Ten Lost Tribes? Why does it matter? and British are the Covenant People. A short YouTube of prophetic interest may be Barack Obama and the State of the Apocalypse.
Will the Anglo-Saxon Nations be Divided and Have People Taken as Slaves? Will the lands of the United States, United Kingdom, Canada, Australia, and New Zealand be divided? What about Jerusalem? What does Bible prophecy teach? Are there non-biblical prophecies that support this idea? Who will divide those lands? Who will end up with the lands and the people? Here is a link to a video titled Will the USA and other Anglo-nations be Divided and Their People Made Slaves? Here is a related item in the Spanish language ¿Serán divididas las naciones anglosajonas?
Barack Obama, Prophecy, and the Destruction of the United States-Second Edition for Second Obama Term This is a 160 page book for people truly interested in prophecies related to Barack Obama and the United States, including learning about many that have already been fulfilled (which the book documents in detail) and those that will be fulfilled in the future. It also has a chapter about a Republican choice. This book is available to order at www.barackobamaprophecy.com. The physical book can also be purchased at Amazon from the following link: Barack Obama, Prophecy, and the Destruction of the United States: Is Barack Obama Fulfilling Biblical, Islamic Catholic, Kenyan, and other America-Related Prophecies? What About Republican Leaders? Second Edition for Second Obama Term.
Barack Obama, Prophecy, and the Destruction of the United States-Second Term-Amazon Kindle edition. This electronic version is available for only US$2.99. And you do not need an actual Kindle device to read it. Why? Amazon will allow you to download it to almost any device: Please click HERE to download one of Amazon s Free Reader Apps. After you go to for your free Kindle reader and then go to Barack Obama, Prophecy, and the Destruction of the United States-Second Term-Amazon Kindle edition.