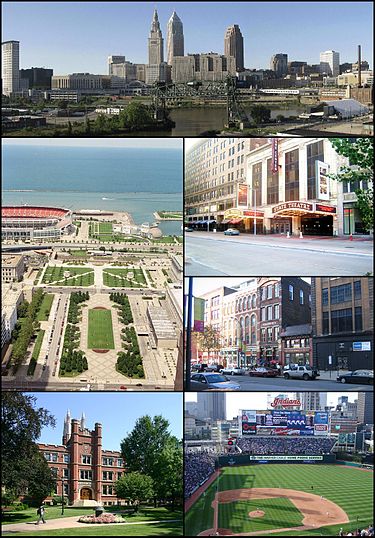 Cleveland (Wikipedia montage)
Unrest and protests have hit Cleveland:
May 24, 2015

A white Cleveland police officer who fired through the windshield of a suspect's car at the end of a 137-shot volley of gunfire that killed the two black occupants was cleared of criminal charges Saturday, sparking angry protests and leading the Justice Department to pledge to "review all available legal options." …

Late Saturday, about 150 protesters marched down the middle of downtown Cleveland, temporarily blocking intersections as they chanted anti-police slogans.

The protesters, who were marching behind a large banner that said "Stop murder by police," passed by large crowds leaving a Cleveland Indians game and made downtown vehicle and pedestrian traffic even more congested.

Police tweeted they arrested a male for assault after he threw an object through a window, and the Northeast Ohio Media Group reported that three people were arrested near the Quicken Loans Arena , while officers showed protesters cans of pepper spray as they approached those being arrested. Some police were wearing riot gear.  http://www.foxnews.com/us/2015/05/24/verdict-reached-for-cleveland-patrolman-charged-in-deaths-suspects-amid-137/

Brelo was found not guilty of two counts of manslaughter in the deaths of Timothy Russell and Malissa Williams, who were gunned down after a high-speed chase in November 2012.

Thirteen cops fired a total of 137 shots, but Brelo was the only one charged in the shooting. Five supervisors were also indicted on charges of dereliction of duty. http://www.cleveland.com/metro/index.ssf/2015/05/cleveland_mayor_police_chief_t.html
When I read the verdict Saturday, I wondered if there would be protests and problems in Cleveland, and obviously there now has been.
Anyway as I have written before, I do not condone the use of excessive force by the government nor violent protests against the government. Multiple wrongs do not make a right and violence begets violence. After Jesus was being mistreated by semi-governmental authorities, one of His followers attempted to use a sword to try to change the situation. Notice what Jesus said:
52 Then said Jesus unto him, Put up again thy sword into his place: for all they that take the sword shall perish with the sword. (Matthew 26:52, KJV)
Vengeance belongs to God:
17 Repay no one evil for evil. Have regard for good things in the sight of all men. 18 If it is possible, as much as depends on you, live peaceably with all men. 19 Beloved, do not avenge yourselves, but rather give place to wrath; for it is written, "Vengeance is Mine, I will repay," says the Lord. (Romans 12:17-19, NKJV)
What is needed is peace:
9 Blessed are the peacemakers, For they shall be called sons of God. (Matthew 5:9)
As far as violence goes, the Bible also shows that God is against violence and that destruction will come because of it:
23 'Make a chain,
For the land is filled with crimes of blood,
And the city is full of violence.
24 Therefore I will bring the worst of the Gentiles,
And they will possess their houses;
I will cause the pomp of the strong to cease,
And their holy places shall be defiled. (Ezekiel 7:23-24)

1 But know this, that in the last days perilous times will come: 2 For men will be lovers of themselves, lovers of money, boasters, proud, blasphemers, disobedient to parents, unthankful, unholy, 3 unloving, unforgiving, slanderers, without self-control, brutal, despisers of good (2 Timothy 3:1-3)

28 And even as they did not like to retain God in their knowledge, God gave them over to a debased mind, to do those things which are not fitting; 29 being filled with all unrighteousness, sexual immorality…30…violent, proud, boasters,…31…unmerciful; 32 who, knowing the righteous judgment of God, that those who practice such things are deserving of death, not only do the same but also approve of those who practice them. (Romans 1:28-32)

8…And the violence of the land and the city, And of all who dwell in it. (Habakkuk 2:8)
In my view, some protesters and some in the government turn too quickly to violence.
Some items of possibly related interest may include:
God's Grace is For All Is being Jewish a hindrance to salvation? What about not being a descendant of Israel? What does the Bible really teach? Here is a link to a related sermon titled Race and Grace; Do you view race as God does?
Military Service and the Churches of God: Do Real Christians Participate in Carnal Warfare or Encourage Violence? Here are current and historical perspectives on a matter which show the beliefs of the true church on military participation. Is war proper for Christians? A related sermon would be: Christians, Violence, and Military Service.
Christian Soldiers How are Christians to be like soldiers? How are they to be different?
Anglo – America in Prophecy & the Lost Tribes of Israel Are the Americans, Canadians, English, Scottish, Welsh, Australians, Anglo-Saxon (non-Dutch) Southern Africans, and New Zealanders descendants of Joseph? Where are the lost ten-tribes of Israel? Who are the lost tribes of Israel? What will happen to Jerusalem and the Jews in Israel? Will God punish the U.S.A., Canada, United Kingdom, and other Anglo-Saxon nations? Why might God allow them to be punished first? Here is a link to the Spanish version of this article: Anglo-América & las Tribus Perdidas de Israel. Information is also in the YouTube sermons titled Where are the Ten Lost Tribes? Why does it matter? and British are the Covenant People. A short YouTube of prophetic interest may be Barack Obama and the State of the Apocalypse.
Will the Anglo-Saxon Nations be Divided and Have People Taken as Slaves? Will the lands of the United States, United Kingdom, Canada, Australia, and New Zealand be divided? What about Jerusalem? What does Bible prophecy teach? Are there non-biblical prophecies that support this idea? Who will divide those lands? Who will end up with the lands and the people? Here is a link to a video titled Will the USA and other Anglo-nations be Divided and Their People Made Slaves? Here is a related item in the Spanish language ¿Serán divididas las naciones anglosajonas?
The Ten Commandments Reflect Love, Breaking them is Evil Some feel that the ten commandments are a burden. Is that what Jesus, Paul, Peter, James, and John taught?