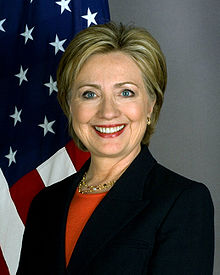 Hillary Clinton while US Secretary of State

World News Daily has the following related to an interview with Rodger Stone regarding Bill and Hillary Clinton:
Hillary covered up Bill's rapes, sex with 'underage girls'

…Q&A is with Roger Stone, a seasoned political operative and pundit…

WND: Recently in Politico, you described your forthcoming book, "The Clintons' War on Women,"as "The definitive expose' on Bill, Hillary and Chelsea Clinton. Raw, shocking and true." …

ROGER STONE: The mainstream media have suppressed the shocking truth about the Clintons and the way they have climbed over the backs of innocent women, men and children in their quest for power and wealth. Most people who read this book will learn shocking facts for the first time. Clinton's apologists will try to dismiss it as "old news." News is not "old" to those who never heard it. The book is not about Whitewater or Monica Lewinsky and Bill Clinton and a cigar. It is the true story of serial rape, intimidation, violence, terror tactics, drugs, lies, greed, cover-up and ambition. It's blunt, ugly and shocking. It's the definitive expose on Bill, Hillary and Chelsea Clinton. Bill and Hillary Clinton are the penicillin-resistant syphilis of our political system.

WND: Can you tell readers (or at least hint) at some of the headlines this book is likely to generate?

ROGER STONE: Bill Clinton's record of serial rape and how Hillary ran the terror campaign to intimidate his victims into silence or sign false denials. How Bill Clinton viciously bit the lower lips of his multiple rape victims as a signature bid to remain silent. Which co-president really gave the "go" order in Waco that killed 76 people, mostly women and 26 children? Bill's abandoned African-American son and the non-existent DNA test reported by the Washington Post that supposedly exonerated Bill. A close-up look at the Clinton's relationship with pedophile Jeff Epstein.  http://www.wnd.com/2015/09/hillary-covered-up-bills-rapes-sex-with-underage-girls/#MSz7ul86sHGrd4C8.99
Since the book The Clintons' War on Women is not out yet, obviously I have not read it, so cannot comment too much about the specific allegations it makes.
What I can say is that Bill Clinton is a serial womanizer and he and Hillary did make a deal.  Notice something from my book Hillary Clinton, Prophecy, and the Destruction of the United States:
Benghazi, Integrity, and the Deal with Bill

The Benghazi matter happened while Hillary Clinton was Secretary of State and resulted in the deaths of four American officials. Here is something related to her about that:

Former Secretary of State Hillary Clinton said…that the "biggest regret" from her time as the nation's top diplomat was the 2012 attack on Americans in Benghazi.

During a question-and-answer session at a meeting of the National Automobile Dealers Association, Clinton called the loss of four Americans in the attacks "a terrible tragedy" and a "great personal loss" (Dann C. Hillary Clinton talks Benghazi, Gates, 2016. NBC, January 27, 2014)

Some feel that Hillary Clinton was responsible for not taking action when she possibly could of, while others disagree.  She passed the blame on others and on the general risk of being in the State Department (Clinton, Hard Choices, pp. 382-415). A Congressional report in November 2014 seems to have cleared her of the more serious charges related to it (Dilanian K. House intel panel debunks many Benghazi theories. Denver Post, November 22, 2014). Since then, another investigation was started.

Irrespective of her responsibility related to Benghazi, she does have some integrity problems.

Of course, other U.S.A. leaders have had integrity problems. For example, the first U.S. President George Bush broke his promise, "Read my lips, no new taxes." Bill Clinton lied about his affair with Monica Lewinski.  Barack Obama broke his promise, "if you like your health care plan, you can keep your health care plan"(see Gore D. Fact check: If you like your health plan, you can keep it 2-year deal. USA Today, November 1l, 2013). No one should bear false witness.

Her boss when she worked on Watergate, Bernard Nussbaum, said Hillary was prone to temper tantrums (and that she insisted back in the 1970s that Bill Clinton would become President–see Baker P, Chozick A. Hillary Clinton's History as First Lady: Powerful, but Not Always Deft. New York Times, December 5, 2014).It is alleged that Hillary produced false documents in that job and was fired from it because of integrity issues (Fader C. Fact Check: Was Hillary Clinton fired from Watergate investigation? Florida Times Union, March 8, 2014).

Speaking of documents, in 2015, Hillary Clinton was involved in something that could be called 'Emailgate.' While Secretary of State, she used a personal email account and failed to use an official State department email account for government business as is advised (Holland S. Democrats scramble to defend Hillary Clinton over email flap. Reuters, March 3, 2015). Some wondered if her purpose was to hide certain information (Holland S. Democrats scramble to defend Hillary Clinton over email flap. Reuters, March 3, 2015).

Hillary Clinton long has had political aspirations. Some of those aspirations included her husband, and some have clearly included her.  Notice a deal that she and her husband made:

Bill Clinton says he made a deal with his wife Hillary that after she supported his political career for 26 years, he would do the same whatever career she chose ( Bill and Hillary Clinton's 52-year deal. BBC, July 17, 2014).

It makes one wonder if, perhaps, this arrangement or some similar understanding is at least part of why she put up with the Monica Lewinski and other reported adulterous matters involving her husband. (Thiel B. Hillary Clinton, Prophecy, and the Destruction of the United States. Nazarene Books, 2015, pp. 31-32)
My book also discusses Travelgate, Whitewater, Email-gate, Monica Lewinsky, and other established controversies involving concerns about the behavior and integrity of Bill and/or Hillary Clinton.
Currently, emailgate and factors related to her integrity gaps seem to be hurting Hillary Clinton in the polls:
September 8, 2015
The story most people have been telling about the candidacy of Hillary Clinton is this: Once the dominant figure in the Democratic primary race, she's seen her approval ratings slide — thanks largely to her response to the State Department e-mail issue. That's created space for Sen. Bernie Sanders (I-Vt.) to claw into contention, as he continues to eat into her lead. http://www.washingtonpost.com/news/the-fix/wp/2015/09/08/hillary-clinton-hits-a-new-low-in-the-polls-but-this-time-its-not-bernie-sanderss-fault/
September 8, 2015
A second intelligence review of two emails that Hillary Rodham Clinton received on her personal email account as secretary of state has found that they contained highly classified information, The New York Times reported.
The Times, citing unnamed senior intelligence officials, reported late Monday that the review concluded the emails were "Top Secret" when they were sent to Clinton in 2009 and 2011. One concerned North Korea's nuclear weapons program, the newspaper said. http://www.nbcnews.com/politics/2016-election/second-review-finds-classified-material-was-hillary-clinton-email-report-n423201
September 8, 2015
The CIA and the National Geospatial-Intelligence Agency "concluded that the emails were 'Top Secret,' the highest classification of government intelligence, when they were sent to Mrs. Clinton in 2009 and 2011," The New York Times reported Monday evening.

The Clinton camp immediately struck back, saying it disagreed with the conclusion of the intelligence review. http://www.csmonitor.com/USA/USA-Update/2015/0908/CIA-Hillary-Clinton-s-emails-contained-Top-Secret-information
The media often has let the Clintons get away with denials and we will see how this email issue plays out.
Hillary Clinton is pro-abortion, pro-homosexual, and pro-ecumenical, with a twist. She tends to believe that religions should agree with her (http://www.patheos.com/blogs/progressivesecularhumanist/2015/04/hillary-clinton-religious-beliefs-must-be-changed-to-achieve-social-justice/#sthash.u8Q6OrVv.dpuf).
She wants religious views changed so that people will embrace abortion, homosexuality, and other immoral positions that Christians should condemn.  She also has long had integrity issues.
Whether or not Hillary Clinton becomes the next President of the United States, the USA needs national repentance, otherwise it is doomed.
It is almost impossible to believe that the next USA president would call for meaningful repentance before the USA is hit with more massive problems. The USA needs the return of Jesus Christ and the Kingdom of God.
Several items of possibly related interest may include:
Anglo – America in Prophecy & the Lost Tribes of Israel Are the Americans, Canadians, English, Scottish, Welsh, Australians, Anglo-Saxon (non-Dutch) Southern Africans, and New Zealanders descendants of Joseph? Where are the lost ten-tribes of Israel? Who are the lost tribes of Israel? What will happen to Jerusalem and the Jews in Israel? Will God punish the U.S.A., Canada, United Kingdom, and other Anglo-Saxon nations? Why might God allow them to be punished first? Here is a link to the Spanish version of this article: Anglo-América & las Tribus Perdidas de Israel. Information is also in the YouTube sermons titled Where are the Ten Lost Tribes? Why does it matter? and British are the Covenant People. A short YouTube of prophetic interest may be Barack Obama and the State of the Apocalypse.
Can you see the 'Handwriting on the Wall'? Thousands of years ago, King Belshazzar saw a hand appear at a big party he was hosting. The hand wrote Mene, Mene, Tekel, Upharsin. Shortly after the Prophet Daniel explained it, his empire was taken over and King Belshazzar died. Is this applicable today? Are there signs right before our eyes that show that the end is coming to the United States and its Anglo-descended allies. Do abortions, sexual immorality, celebrity pornography, and increased debt mean anything? What does the Bible show?
Hillary Clinton in Prophecy Prophecy, Hillary Clinton? Are there prophecies that Hillary Clinton may fulfill? Are there any prophecies that she has already helped fulfill? Could Hillary Clinton be apocalyptic? Could Hillary Clinton be the final Antichrist? A video of related interest is titled Hillary Clinton and Bible Prophecy.
Should a Christian Vote? This article gives some of the Biblical rationale on this subject. Would Jesus vote for president/prime minister? Is voting in the Bible? This is a subject Christians need to understand.
When Will the Great Tribulation Begin? 2015, 2016, or 2017? Can the Great Tribulation begin today? What happens before the Great Tribulation in the "beginning of sorrows"? What happens in the Great Tribulation and the Day of the Lord? Is this the time of the Gentiles? When is the earliest that the Great Tribulation can begin? What is the Day of the Lord? Who are the 144,000? Here is a version of the article in the Spanish language: ¿Puede comenzar la Gran Tribulación en 2014 o 2015? ¿Es el Tiempo de los Gentiles? You can also see the English language sermon video: The Great Tribulation from the Mount of Olives.
Abortion, the Bible, and a Woman's Right to Choose Do you know what the Bible teaches on this? Has the Roman Catholic Church allowed abortions? What about the real Church of God? Some may also, or instead, wish to view the YouTube video Abortion, the Bible, and US Debt.
Pornography: A scourge on society Is pornography harmless fun? Does the Bible teach anything about it? What are the views of some involved with it? Here is a link to a YouTube video Pornography: Harmless Fun or a Scourge on Society?
British and American Moral Decay Public nudity is becoming more prevalent in the Anglo-Saxon lands. What are some of the consequences?
Cross-dressing and other assaults against your children. What should you do? Is there an agenda to turn your children and/or grandchildren away from biblical morality and towards practices promoted by homosexuals? What does the Bible teach about cross-dressing? What should parents do? If there is an agenda, what has been going on? There is also a YouTube video on this, titled Cross dressing and Other Assaults Against Your Children.
The Bible Condemns Homosexuality "Same-sex marriage" for "gays" and lesbians is becoming more acceptable to many. What does the Bible teach about homosexuality? Can homosexuals change?
Just What Do You Mean — Repentance? Do you know what repentance is? Have you truly repented? Repented of what? Herbert W. Armstrong wrote this as a booklet on this important subject.
The Gospel of the Kingdom of God was the Emphasis of Jesus and the Early Church Did you know that? Do you even know what the gospel of the kingdom is all about? You can also see a YouTube video sermon The Gospel of the Kingdom.
Just What Do You Mean the Kingdom of God? A booklet that was written by Herbert Armstrong answers questions about the Kingdom.
Hillary Clinton, Prophecy, and the Destruction of the United States This is a 188 page book for people truly interested in prophecies related to Hillary Clinton and the United States, including learning about many that have already been fulfilled and those that will be fulfilled in the future. It also discusses Republicans. The physical book can be purchased at Amazon from the following link: Hillary Clinton, Prophecy, and the Destruction of the United States: Is Hillary Clinton Fulfilling Biblical, Islamic Catholic, Hopi, and other America-Related Prophecies? $11.99.
Hillary Clinton, Prophecy, and the Destruction of the United States-Amazon Kindle edition. This electronic version of the 188 page print edition is available for only US$3.99. And you do not need an actual Kindle device to read it. Why? Amazon will allow you to download it to almost any device: Please click HERE to download one of Amazon s Free Reader Apps. After you go to for your free Kindle reader and then go to Hillary Clinton, Prophecy, and the Destruction of the United States-Amazon Kindle edition.