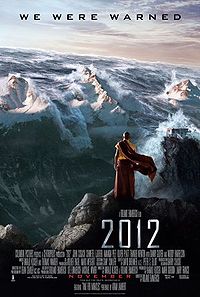 Got emails from two different sources on steps being taken because of the Mayan December 21, 2012 date.  The first relates to Russia:
12/3/12 A chilling report written by newly appointed Defense Minister Sergei Shoigu circulating in the Kremlin today states that the permanent deployment of the 200th Motorized Infantry Brigade by the Northern Fleet to the border of Norway last week is meant to insure that Russia is able to "seize and control" the Svalbard Global Seed Vault located on the Norwegian island of Spitsbergen near the town of Longyearbyen in the remote Arctic Svalbard archipelago in the event our world faces a "global apocalypse."

According to one Western news source reporting on this unprecedented deployment of Russian military forces: "The 200th Motorized Infantry Brigade includes not only infantry units, but also coastal missile defense and artillery forces, air-mobile infantry, and light armor units. The Northern Fleet's naval infantry forces will also be placed under the 200th's tactical command giving it an amphibious assault capability. This last aspect is indicative that the general mission of the 200th is expeditionary warfare; projecting military power over border frontiers and across bodies of water behind border frontiers or on nearby islands."

The Svalbard Global Seed Vault is an attempt to provide insurance against the loss of seeds in what are called genebanks, as well as provide a refuge for seeds in the case of large-scale regional or global crises. The seed vault is managed under terms spelled out in a tripartite agreement between the Norwegian government, the Global Crop Diversity Trust (GCDT) and the Nordic Genetic Resource Center (NordGen).
The above is ridiculous.  Since the world will not end on December 21/22, 2012, Russia has not needed to take any such steps related to that date (and whether it really did or not is not absolutely certain, to me at least).  While there may be problems on that date, or other dates this month, the world will not end this month.  As mentioned before, I posted Ten 'End of the World Predictions' That Will Be Proven False This Month.
The second email has to do with a town in France:
Doomsday French mountain to be closed 'on day the world ends'

A mountain in the French Pyrenees that doomsday cultists claim will be the only place still standing after the end of the world, slated December 21, is to be closed to visitors to avoid pandemonium on its peak.
The French town is called Pic de Bugarach and I have reported about it a few times (here is a link to my last post about it: 'Mayan Place of Safety' Restricting Access).
Essentially, since the area is isolated and the odd fact that some consider the village of Bugarach is in "sacred mountains," the original 189 residents there have been concerned that people looking for a place of safety from a flood that will not happen would descend upon it and overwhelm the local population. It has been getting a lot of visitors who are checking it out, just in case they wish to flee there. Earlier this year, it was reported that perhaps 100,000 consider Pic de Bugarach to be a place of safety for 2012 (see 100,000 Apparently Consider Pic de Bugarach a 2012 'Place of Safety').
Now, unless the French village is bombed or some major disaster strikes it, I believe it will survive December 21, 2012 and be fine on December 22, 2012 (though possibly a bit crowded). Yet, I believe that the same is true for Los Angeles, India, the Vatican, and other places.
Why?
Because the world will not end in a flood (Genesis 9). Nor is there an alien spaceship in Pic de Bugarach.
People do not need to live in fear that their county will be destroyed in a worldwide flood (though local flooding is always possible, as are earthquakes, solar disturbances, etc.).  The Bible is clear that the world will not be destroyed by a flood.
However, it is likely that when the world does not end in a flood, that on December 22, 2012 scoffers will rise up and discount all prophecy. Because of misinterpretations of 2012 and certain media, hype, many will doubt Bible prophecy. Notice that the Apostle Peter warned about this:
1 Beloved, I now write to you this second epistle (in both of which I stir up your pure minds by way of reminder), 2 that you may be mindful of the words which were spoken before by the holy prophets, and of the commandment of us, the apostles of the Lord and Savior, 3 knowing this first: that scoffers will come in the last days, walking according to their own lusts, 4 and saying, "Where is the promise of His coming? For since the fathers fell asleep, all things continue as they were from the beginning of creation." 5 For this they willfully forget: that by the word of God the heavens were of old, and the earth standing out of water and in the water, 6 by which the world that then existed perished, being flooded with water. 7 But the heavens and the earth which are now preserved by the same word, are reserved for fire until the day of judgment and perdition of ungodly men.

8 But, beloved, do not forget this one thing, that with the Lord one day is as a thousand years, and a thousand years as one day. 9 The Lord is not slack concerning His promise, as some count slackness, but is longsuffering toward us, not willing that any should perish but that all should come to repentance.

10 But the day of the Lord will come as a thief in the night, in which the heavens will pass away with a great noise, and the elements will melt with fervent heat; both the earth and the works that are in it will be burned up. 11 Therefore, since all these things will be dissolved, what manner of persons ought you to be in holy conduct and godliness, 12 looking for and hastening the coming of the day of God, because of which the heavens will be dissolved, being on fire, and the elements will melt with fervent heat? (2 Peter 3:1-13)
Though the world will not end, scoffers will likely become more vocal in the next several weeks.
So, no, we do not need to take steps today to prepare for the end of the world and return of Jesus Christ on December 21/22, 2012, but yes Jesus will return and the world as we know it will end. But that will not be for years from now.
Some items of possibly related interest may include:
End of Mayan Calendar 2012–Might 2012 Mean Something? Are there Mayan calendar predictions for change in 2012? Changes were centuries ago predicted by the Hopi Native Americans. Do Mayan/Hindu/Hopi/Buddhist/New Age/Nostradamus prophecies have any value here? Why might Satan have inspired this date? Does the Dresden codex show destruction of the earth by flood? Can the great tribulation start before 2012? How might Barack Obama and Julia Gillard be involved in 2012? Have predictions written by Bob Thiel related to Barack Obama and Julia Gillard began to come to pass?
2012 and the Rise of the Secret Sect This is a link related to a book by Bob Thiel (COGwriter). This link also has YouTube videos. This book documents and explains hundreds of prophecies. And since it was published, world events have aligned with at least 24 predictions in the book and many more will to come to pass. Those who purchase the book at the www.thesecretsect.com website receive a lengthy bonus report documenting world events that aligned with the book.
2012 and the Rise of the Secret Sect (English Kindle edition). This is the 2nd edition of the book, released in January 2012, and includes a summary of many of the predictions that world events have aligned with since the book originally came out in September 2009.
2012 y el surgimiento de la secta secreta 2012 libro del Dr. Thiel en Español.
2012 und das Auftreten der geheimen Sekte (German Edition) 2012 Buch von Dr. Thiel in deutscher Sprache. 2012 und das Auftreten der geheimen Sekte (German Kindle Edition)
2012 e o Surgimento da Seita Secreta (Portuguese Edition) 2012 livro do Dr. Thiel em português. Este livro documenta e explica centenas de profecias. E desde que foi publicado pela primeira vez, pelo menos 24 já começaram a acontecer.
2012 e o Surgimento da Seita Secreta (2 ª Edição em português do Brasil): Um Guia Revolucionário de Sobrevivência Espiritual e Física para 2012-2020 (Portuguese Edition) 2012 livro do Dr. Thiel. 2 ª edição em português do Brasil. Este livro documenta e explica centenas de profecias. E desde que foi publicado pela primeira vez, pelo menos 24 já começaram a acontecer.2012 e o Surgimento da Seita Secreta (KINDLE Edição em português do Brasil) 2 ª edição.-Kindle.
Russia: Its Origins and Prophesied Future Russia in prophecy. Where do the Russians come from? What about those in the Ukraine? What is prophesied for Russia and its allies? What will they do to the Europeans that supported the Beast in the end?
Is Russia the King of the North? Some claim it is. But what does the Bible teach?
There is a Place of Safety for the Philadelphians. Why it May Be Petra This article discusses a biblical 'place of safety' and includes quotes from the Bible and Herbert W. Armstrong on this subject–thus, there is a biblically supported alternative to the rapture theory.
This is PETRA! This is a 1962 Good News article by the late Dr. Hoeh.