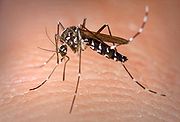 Superbugs and others pests cause disease and death:
August 25, 2012…

JUAREZ–As health officials in Texas work to control West Nile virus, those along the border must keep an eye on another illness spread by mosquitoes—Dengue fever.

Preliminary testing in the border city Juarez indicates the presence of mosquitoes carrying Dengue fever.

The disease prevalent in parts of Mexico with a tropical climate but until now had not been seen this far north.

The mosquitoes caught in traps set out weekly in both El Paso and Juarez help officials identify which breeds of mosquitoes are in the area and if they're carrying any diseases.

"Remember some mosquitoes can travel up to a mile and some mosquitoes can travel up to five miles so they'll be able to cross that border pretty quick," said Danny Soto, code enforcement supervisor with the city of El Paso Environmental Services Department.  http://www.khou.com/news/Mosquitoes-carrying-Dengue-Fever-spotted-futher-north-on-the-border–167389585.html

Washington Post – Aug 24, 2012 excerpt…

It's an especially tight corner that hospital physicians find themselves in. Ten years ago, the Centers for Disease Control and Prevention reported that 1.7 million annual hospital-borne infections in the United States caused 99,000 deaths. The CDC is now updating those figures.

In a recent survey of infectious disease specialists, Spellberg said, 60 percent reported encountering infections resistant to every antibiotic.

"That's the real crisis," said Henry Masur, chief of NIH's Critical Care Medicine Department, who last year watched six patients die from the bacterium Klebsiella pneumoniae when even colistin, that old warhorse, stopped working.
Although about one third of the above number die in automobile accidents in the USA, many do not realize the current effect of certain pestilences have on mortality (plus many more are made miserable by them each year).
In our area, the West Nile virus is starting to appear, as I saw a news report on that earlier this week.
Notice part of the reason for terror and pestilences:
14 'But if you do not obey Me, and do not observe all these commandments,
15 and if you despise My statutes, or if your soul abhors My judgments, so that you do not perform all My commandments, but break My covenant,
16 I also will do this to you:
I will even appoint terror over you, wasting disease and fever which shall consume the eyes and cause sorrow of heart.
And you shall sow your seed in vain, for your enemies shall eat it.
17 I will set My face against you, and you shall be defeated by your enemies.
Those who hate you shall reign over you, and you shall flee when no one pursues you. (Leviticus 26:14-17)

21 'Then, if you walk contrary to Me, and are not willing to obey Me, I will bring on you seven times more plagues, according to your sins.
22 I will also send wild beasts among you, which shall rob you of your children, destroy your livestock, and make you few in number;
and your highways shall be desolate.

23 'And if by these things you are not reformed by Me, but walk contrary to Me,
24 then I also will walk contrary to you, and I will punish you yet seven times for your sins.
25 And I will bring a sword against you that will execute the vengeance of the covenant;
when you are gathered together within your cities I will send pestilence among you;
and you shall be delivered into the hand of the enemy.   (Leviticus 26:21-25)
Superbugs of various kinds may be part of the pestilences that the Bible warned about for the end times. Jesus taught:
7…And there will be famines, pestilences, and earthquakes in various places. 8 All these are the beginning of sorrows. (Matthew 24:6-8)
We seem to be in the time Jesus called "the beginning of sorrows."  There have been "earthquakes in various places" this year. However, what will be coming will be worse (see ).
As Jesus said:
37 And what I say to you, I say to all: Watch! (Mark 13:36-37)
Three articles of related interest may include:
Fourth Horseman of the Apocalypse What is the pale horse of death and pestilences? What will it bring and when?
The Ten Commandments Reflect Love, Breaking them is Evil Some feel that the ten commandments are a burden. Is that what Jesus, Paul, Peter, James, and John taught?
Anglo – America in Prophecy & the Lost Tribes of Israel Are the Americans, Canadians, British, Scottish, Welsh, Australians, Anglo-Southern Africans, and New Zealanders descendants of Joseph? Where are the lost ten-tribes of Israel? Who are the lost tribes of Israel? Will God punish the U.S.A., Canada, United Kingdom, and other Anglo nations? Why might God allow them to be punished first?
Can the Great Tribulation Begin in 2012, 2013, or 2014? Can the Great Tribulation begin today? When is the earliest that the Great Tribulation can begin? What happens in the "beginning of sorrows"? What is the Day of the Lord?