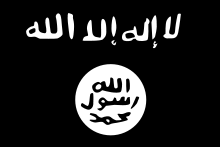 Al-Shabaab Flag (A Somalia-based group linked to terrorism)

Because of fears of terrorism from Al Qaeda and/or other terrorists, the USA announced that it will extend the closure of various embassies in the Middle East, North Africa, and Asia, and close 4 additional embassies.
5 August 2013

What started as an unprecedented move to close almost two dozen diplomatic posts for a day has broadened to week-long closures for most of them as the United States mulls the threat of a possible attack…

Originally, officials decided to close 22 embassies and consulates this past Sunday — a day when they would normally be open for business.

But Sunday afternoon, the State Department extended embassy and consulate closures in 15 of the locations through Saturday, and added four other posts — all in Africa — to the list. This brings the total to 19…The statement, however, does not address why then it added four additional posts…CNN has agreed to a request from an Obama administration official not to publish or broadcast additional details because of the sensitivity of the information.  http://www.cnn.com/2013/08/05/politics/us-embassies-close/

WASHINGTON — America's military, diplomatic, and intelligence apparatus is on high alert amid a terror threat that prompted the closing of many U.S. embassies and a worldwide travel warning. The security focus comes during an otherwise quiet week in Washington with Congress starting a month-long recess.

President Barack Obama is getting regular briefings and updates from his national security team, including the chairman of the Joint Chiefs of Staff, General Martin Dempsey. "There is a significant threat stream, and we are responding to it. It is an al-Qaida affiliated threat," he said.

U.S. embassies and consulates are closed across the Muslim world, including in Egypt, where American citizens are taking precautions.

U.S. officials have provided few details about any imminent terrorist plots or specific intelligence they have received.  http://www.voanews.com/content/washington-week-obama-focused-terror-threat/1723367.html

The State Department announced Sunday afternoon that 19 diplomatic posts will remain shuttered through Saturday, underscoring the level of concern by U.S. security officials about the potential danger…

Sen. Richard J. Durbin, Illinois Democrat, said that more than 25 of the country's embassies around the world are particularly vulnerable…

"We need to know and realize we're living in an increasingly dangerous world, and this specific threat that we've been briefed on over and over again has reached a new level," Mr. Durbin said.

The U.S. posts that will remain closed for the week include embassies and consulates in Jordan, Egypt, Saudi Arabia, Kuwait, Yemen, Libya and Somalia.  http://www.washingtontimes.com/news/2013/aug/4/al-qaeda-terror-threat-serious-congressmen-and-sen/#ixzz2b6WON5f5
Part of the current USA concerns are related to recent prison breaks that freed many considered to be terrorists.
Terrorism was prophesied long ago.  Notice the following scriptures:
14 'But if you do not obey Me, and do not observe all these commandments,
15 and if you despise My statutes, or if your soul abhors My judgments, so that you do not perform all My commandments, but break My covenant,
16 I also will do this to you:
I will even appoint terror over you, wasting disease and fever which shall consume the eyes and cause sorrow of heart.
And you shall sow your seed in vain, for your enemies shall eat it.
17 I will set My face against you, and you shall be defeated by your enemies.
Those who hate you shall reign over you, and you shall flee when no one pursues you.

18 'And after all this, if you do not obey Me, then I will punish you seven times more for your sins.
19 I will break the pride of your power; I will make your heavens like iron and your earth like bronze.
20 And your strength shall be spent in vain; for your land shall not yield its produce, nor shall the trees of the land yield their fruit. (Leviticus 26:14-20)

25 The sword shall destroy outside; There shall be terror within (Deuteronomy 32:25)

12 "Cry and wail, son of man;
For it will be against My people,
Against all the princes of Israel.
Terrors including the sword will be against My people;
Therefore strike your thigh.

13 "Because it is a testing,
And what if the sword despises even the scepter?
The scepter shall be no more," (Ezekiel 21:12-13)

12 Behold, these are the ungodly,
Who are always at ease;
They increase in riches.
13 Surely I have cleansed my heart in vain,
And washed my hands in innocence.
14 For all day long I have been plagued,
And chastened every morning.

15 If I had said, "I will speak thus,"
Behold, I would have been untrue to the generation of Your children.
16 When I thought how to understand this,
It was too painful for me —
17 Until I went into the sanctuary of God;
Then I understood their end.

18 Surely You set them in slippery places;
You cast them down to destruction.
19 Oh, how they are brought to desolation, as in a moment!
They are utterly consumed with terrors.  (Psalms 73:12-19)

25 Because you disdained all my counsel,
And would have none of my rebuke,
26 I also will laugh at your calamity;
I will mock when your terror comes,
27 When your terror comes like a storm,
And your destruction comes like a whirlwind,
When distress and anguish come upon you.  (Proverbs 1:25-27)
Jesus foretold troubles as part of the beginning of sorrows:
8 For nation will rise against nation, and kingdom against kingdom. And there will be earthquakes in various places, and there will be famines and troubles. These are the beginnings of sorrows. (Mark 13:8)

3 When He opened the second seal, I heard the second living creature saying, "Come and see." 4 Another horse, fiery red, went out. And it was granted to the one who sat on it to take peace from the earth, and that people should kill one another; and there was given to him a great sword. (Revelation 6:3-4)
Terrorism and attempts at it certainly qualify as troubles. Terrorism is not over.
Without national repentance the USA is doomed. Since the USA seems to be going more into sin nationally, that type of national repentance seems unlikely. Yet, personal repentance is still possible. Do you see the winds of change in the USA and elsewhere?
Some items of possibly related interest may include:
Anglo – America in Prophecy & the Lost Tribes of Israel Are the Americans, Canadians, British, Scottish, Welsh, Australians, Anglo-Southern Africans, and New Zealanders descendants of Joseph? Where are the lost ten-tribes of Israel? Who are the lost tribes of Israel? Will God punish the U.S.A., Canada, United Kingdom, and other Anglo nations? Why might God allow them to be punished first?
Will the Anglo-Nations be Divided and Have People Taken as Slaves? Will the lands of the United States, United Kingdom, Canada, Australia, and New Zealand be divided? What about Jerusalem? What does Bible prophecy teach? Are there non-biblical prophecies that support this idea? Who will divide those lands? Who will end up with the lands and the people? Here is a link to a video titled Will the USA and other Anglo-nations be Divided and Their People Made Slaves?
Who is the King of the West? Why is there no End-Time King of the West in Bible Prophecy? Is the United States the King of the West?
Protestant and Church of God views of the United States in Bible Prophecy Is the USA mentioned in Bible prophecy? Some Protestants say yes, while others say no. What does the Bible really teach? Learn the truth about this. Is The United States Mentioned In Bible Prophecy?
Barack Obama, Prophecy, and the Destruction of the United States-Second Edition for Second Obama Term This is a 160 page book for people truly interested in prophecies related to Barack Obama and the United States, including learning about many that have already been fulfilled (which the book documents in detail) and those that will be fulfilled in the future. It also has a chapter about a Republican choice. This book is available to order at www.barackobamaprophecy.com. The physical book can also be purchased at Amazon from the following link: Barack Obama, Prophecy, and the Destruction of the United States: Is Barack Obama Fulfilling Biblical, Islamic Catholic, Kenyan, and other America-Related Prophecies? What About Republican Leaders? Second Edition for Second Obama Term.
Barack Obama, Prophecy, and the Destruction of the United States-Second Term-Amazon Kindle edition. This electronic version is available for only US$2.99. And you do not need an actual Kindle device to read it. Why? Amazon will allow you to download it to almost any device: Please click HERE to download one of Amazon s Free Reader Apps. After you go to for your free Kindle reader and then go to Barack Obama, Prophecy, and the Destruction of the United States-Second Term-Amazon Kindle edition.
What is the Meaning of Life? Who does God say is happy? What is your ultimate destiny? Do you really know? Does God actually have a plan for YOU personally? There is also a video titled What is the meaning of your life?
Just What Do You Mean — Repentance? Do you know what repentance is? Have you truly repented? Repented of what? Herbert W. Armstrong wrote this as a booklet on this important subject.
Do Christians Sin? This is an article by Herbert W. Armstrong.
Overcoming Sin What is sin? How are Christians suppose to overcome it? Here is also a link to a video titled How to Overcome Sin.
How to Prevent Sin This is an article by Herbert W. Armstrong.
Just What Do You Mean Conversion? Many think that they are converted Christians. But are they? Would you like to know more about conversion. Herbert W. Armstrong wrote this as a booklet on this important subject.
False Conversion Have you really been converted? Herbert W. Armstrong wrote this article on this important subject.
All About Water Baptism What is baptism? Would you like to know more about it. Herbert W. Armstrong wrote this as a booklet on this important subject. As far as early history, see also Baptism and the Early Church.
God's Grace is For All Is being Jewish a hindrance to salvation? What about not being a descendant of Israel? What does the Bible really teach?