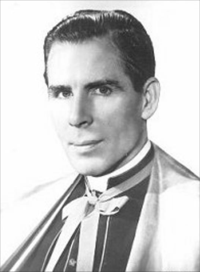 Archbishop Fulton Sheen
The late Catholic Archbishop Fulton Sheen was known for his preaching and especially his work on television and radio, has been declared 'venerable,' and is currently a candidate for Roman sainthood:
Venerable Fulton John Sheen (born Peter John Sheen, May 8, 1895 – December 9, 1979) was an American bishop (later archbishop) of the Catholic Church known for his preaching and especially his work on television and radio. His cause for canonization as a saint was officially opened in 2002. In June 2012, Pope Benedict XVI officially recognized a decree from the Congregation for the Causes of Saints stating that he lived a life of "heroic virtues" – a major step towards beatification – so he is now referred to as "Venerable". (Fulton J. Sheen, Wikipedia, viewed 06/22/15)
Here is a quote from him:
Archbishop Fulton Sheen (1950) We are living in the days of the Apocalypse–the last days of our era…. The two great forces of the Mystical Body of Christ and the Mystical Body of Antichrist are beginning to draw up the battle lines for the catastrophic contest. (Flynn T & L. The Thunder of Justice. Maxkol Communications, Sterling (VA), 1993, p. 20)
When he stated that, the Philadelphia era of the Church of God had started to rise up (the most faithful representation of the "body of Christ"), the Vatican officially came out against the millennial doctrine, and the one who is likely to be the final Antichrist may have been born (and one who was going to, in a major way, support a doctrine of Antichrist had certainly been). The stages for the final confrontation, which should occur in the 21st century, had taken place.
Here is a quote that mentions Archbishop Sheen:
Father O'Connor quotes from Holy Scripture, the stunning prophecies of St. Vincent Ferrer, Pope St. Pius X, St. Francis of Assisi, St. John Eudes, Sr. Lucy of Fatima, Pope Pius XII and Bishop Fulton J. Sheen. Father explains how God will and is punishing the world for sin, and that the Fathers of the Church all wrote that the False Prophet would be a Catholic Bishop who will become an invalid anti-pope while the real Pope dies a cruel death in exile. (REIGN OF THE FALSE PROPHET. Catholic Treasures. Audio ITEM #20104. http://www.catholictreasures.com/cartdescrip/20104.html 03/02/09)
Notice that the Catholic O'Conner indicated that Archbishop Sheen supported the idea that an anti-pope would rise up.
And that is a position that I also share. But he also seemed to promote the coming false ecumenical movement.
Fulton Sheen was a big believer in Mary being a factor in uniting the world to follow an ecumenical religion that would call itself Catholic in the end times. Here are some of his comments related to followers of Islam:
It is our firm belief that…Islam…will be converted to Christianity…It is our belief that this will not happen through direct teaching of Christianity, but through a summoning of the Muslims to a veneration of the Mother of God. (Sheen, Fulton Archbishop. The World's First Love. Reprint, Ignatius Press, 1996, p. 201)
He also wrote he believed that the apparition in 1917 Fatima, Portugal:
…chose to be known as "Our Lady of Fatima" as a pledge and sign of hope for the Muslim people… so that they one day would accept…(Ibid, p. 203)
Archbishop Sheen felt that a Marian "miracle" would be a factor in Muslims and others coming together and become end time Catholics in the Day of Wrath (Dies Irae):
And as Mary revealed herself in that first Miracle of the Sun, so may we look forward to another revelation of her power when the world has its next rehearsal for the Dies Irae. (Ibid, p. 274)

I would caution all as apparitions, like Fatima (the site of the claimed "Miracle of the Sun"), were not actually appearances of Mary.
Pope Francis appears to be the most 'Marian' pontiff, at least in my lifetime, and this may be a factor in Fulton Sheen becoming a Church of Rome saint.
Presuming Fulton Sheen does get the final designation of sainthood by the Church of Rome, more will expect that a "Marian miracle" will be real, presuming some related apparition many will claim to be Mary shows up.
Some items of possibly related interest may include:
Pope Francis: Could this Marian Focused Pontiff be Fulfilling Prophecy? Pope Francis has taken many steps to turn people more towards his version of 'Mary.' Could this be consistent with biblical and Catholic prophecies? This article documents what has been happening. There is also a video version titled Pope Francis: Could this Marian Focused Pontiff be Fulfilling Prophecy?
Why Should American Catholics Fear Unity with the Orthodox? Are the current ecumenical meetings a good thing or will they result in disaster? Is doctrinal compromise good? Here is a link to a related video Should you be concerned about the ecumenical movement?
Will the Interfaith Movement Lead to Peace or Sudden Destruction? Is the interfaith movement going to lead to lasting peace or is it warned against? A video sermon of related interest is: Will the Interfaith Movement lead to World War III? and a video sermon is also available: Do You Know That Babylon is Forming?
Fatima Shock! What the Vatican Does Not Want You to Know About Fatima, Dogmas of Mary, and Future Apparitions. Whether or not you believe anything happened at Fatima, if you live long enough, you will be affected by its ramifications (cf. Isaiah 47; Revelation 17). Fatima Shock! provides concerned Christians with enough Catholic-documented facts to effectively counter every false Marian argument.
Fatima Shock! YouTube Dr. Thiel highlights a few points of why no one would support Fatima, etc. as discussed in the documented book Fatima Shock!
Did The Early Church Teach Millenarianism? Was the millennium (sometimes called chiliasm) taught by early Christians? Who condemned it? Will Jesus literally reign for 1000 years on the earth? Is this time near? A related sermon is titled The Millennium.
Does God Have a 6,000 Year Plan? What Year Does the 6,000 Years End? Was a 6000 year time allowed for humans to rule followed by a literal thousand year reign of Christ on Earth taught by the early Christians? Does God have 7,000 year plan? What year may the six thousand years of human rule end? When will Jesus return? 2024 or 20xx? There is also a video titled The 6000 Year Plan: Is the end of humanity's reign almost up? Here is a link to the article in Spanish: ¿Tiene Dios un plan de 6,000 años?
The Philadelphia Church Era was predominant circa 1933 A.D. to 1986 A.D. The old Radio Church of God and old Worldwide Church of God, now the remnant of that era is basically the most faithful in the Church of God, like who hold to the beliefs and practices of the Continuing Church of God.