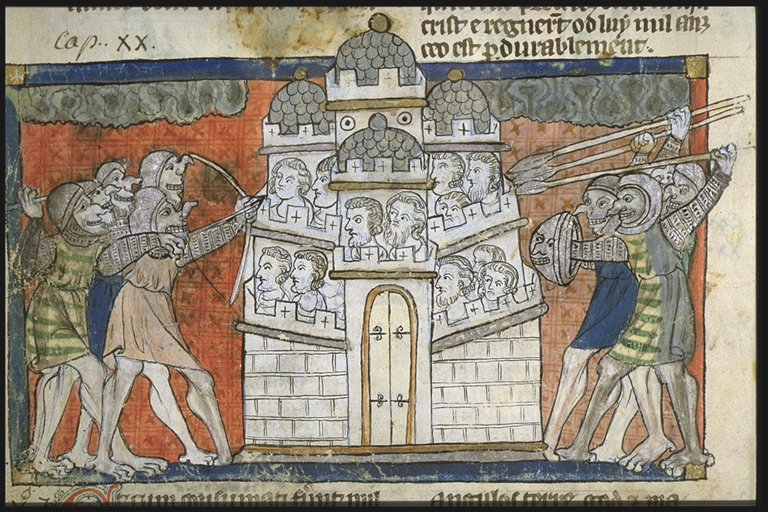 19th Century Depiction of Gog & Magog battle (Wikipedia)

US President Donald Trump tweeted that the US is prepared to take action related to the drone strikes that damaged oil facilities in Saudi Arabia:
Saudi Arabia oil supply was attacked. There is reason to believe that we know the culprit, are locked and loaded depending on verification, but are waiting to hear from the Kingdom as to who they believe was the cause of this attack, and under what terms we would proceed!

— Donald J. Trump (@realDonaldTrump) September 15, 2019

Trump says US locked and loaded in response to drone attack

September 16, 2019

WASHINGTON (AP) — Tensions are flaring in the Persian Gulf after President Donald Trump said the U.S. is "locked and loaded" to respond to a weekend drone assault on Saudi Arabia's energy infrastructure that his aides blamed on Iran.

The attack, which halved the kingdom's oil production and sent crude prices spiking, led Trump to authorize the release of U.S. strategic reserves should they be necessary to stabilize markets. …

A U.S. official said all options, including a military response, were on the table, but added that no decisions had been made. The official spoke on the condition of anonymity to discuss the internal deliberations.

Iran called the U.S. claims "maximum lies" and threatened American forces in the region. The attack dimmed hopes for potential nuclear talks between Trump and Iranian President Hassan Rouhani at the U.N. General Assembly this week.

The U.S. government produced satellite photos showing what officials said were at least 19 points of impact at two Saudi energy facilities, including damage at the heart of the kingdom's crucial oil processing plant at Abqaiq. Officials said the photos show impacts consistent with the attack coming from the direction of Iran or Iraq, rather than from Yemen to the south.

Iraq denied that its territory was used for an attack on the kingdom. U.S. officials said a strike from there would be a violation of Iraq's sovereignty.

The U.S. officials said additional devices, which apparently didn't reach their targets, were recovered northwest of the facilities and are being jointly analyzed by Saudi and American intelligence. The officials, who spoke on condition of anonymity to discuss intelligence matters, did not address whether the drone could have been fired from Yemen, then taken a round-about path, but did not explicitly rule it out.

The attacks and recriminations are increasing already heightened fears of an escalation in the region, after a prominent U.S. senator suggested striking Iranian oil refineries in response to the assault, and Iran warned of the potential of more violence.

"Because of the tension and sensitive situation, our region is like a powder keg," said Iranian Brig. Gen. Amir Ali Hajizadeh. "When these contacts come too close, when forces come into contact with one another, it is possible a conflict happens because of a misunderstanding."

Actions on any side could break into the open a twilight war that's been raging just below the surface of the wider Persian Gulf in recent months. Already, there have been mysterious attacks on oil tankers that America blames on Tehran, at least one suspected Israeli strike on Shiite forces in Iraq, and Iran shooting down a U.S. military surveillance drone. https://www.apnews.com/b5e55c91023441d8a05ff95a9fd2d6eb
Here is a link to what was posted on this page related to that drone attack: 'Yemen Rebels Claim Drone Attacks on Saudi Oil Facility' 'Drone strikes knock out half of Saudi oil capacity'.
Breaking Israel News reported the following related to the situation with Yemen and prophecy:
September 16, 2019

Yemen is First Battleground in Gog and Magog

Rabbi Yekutiel Fish,  an expert in Jewish mysticism who blogs in Hebrew under the title 'Sod Chashmal,' noted that events were unfolding precisely according to the verse in Isaiah concerning the War of Gog and Magog.

I will say to the North, "Give back!" And to the South, "Do not withhold! Bring My sons from afar, And My daughters from the end of the earth Isaiah 43:6

The word translated as 'back' is תֵימָן, which can also be translated as Yemen.

"The war between Iran and America, which is the sons and daughters from far away, will begin in Yemen," Rabbi Fish said. "This will be the first stage in the multi-national War of Gog and Magog." …

"But the war will not begin until after the Israeli elections," Rabbi Fish said. "The issues concerning the rule in Israel need to be completed before the war. But the war will certainly appear, and much sooner than anyone thinks." https://www.breakingisraelnews.com/137270/yemens-attack-saudi-arabia-fulfills-isaiahs-prophecy-gog-magog-prophecy/
Yekutiel Fish is wrong. This is NOT "the first stage in the multi-national War of Gog and Magog" as he asserted.
Breaking Israel News has a history of pointing to fringe Jewish leaders who misunderstand the Gog and Magog prophecies. Notice something from earlier this Summer:
Iran Threatens to Destroy Israel in 30 Minutes: Does this Confirm Prophecy of a Speedy Gog and Magog?

July 3, 2019

On that day, when Gog sets foot on the soil of Yisrael—declares Hashem—My raging anger shall flare up. Ezekiel 38:18 (The Israel Bible™)

A senior Iranian official threatened Israel but revised his threat from seven minutes until total obliteration, to half an hour. This raised the question of precisely how long the War of Gog and Magog will last.

It was reported in Mehr news on Monday that Mojtaba Zolnour, the chairman of the Iranian parliament's National Security and Foreign Policy Commission, threatened Israel with retaliation that would entirely destroy the country.

"If the U.S. attacks us, only half an hour will remain of Israel's lifespan," Zolnour said on Monday, according to Mehr. …

Iran is over 1,100 miles from Israel. Intercontinental ballistic missiles travel at approximately 3.5 miles per second. Based on these figures, a nuclear-capable ICBM from Iran would arrive in Israel 5-7 minutes after being fired. In this case, Zolnour's threat of destroying Israel in half an hour seems realistic. Of course, this is only true if Israel does not utilize its robust anti-missile capabilities. …

A tradition from the Vilna Gaon (a prominent 18th century Torah authority) teaches that the war of Gog and Magog will last 12 minutes. According to a 20th-century interpretation, "A third of the world will die, a third will suffer from plague and a third will survive."

This 18th-century prophecy of a 12-minute war was surprising, as it came several hundred years before the advent of nuclear weapons. Conventional wars necessarily last much longer and such a quick war was inconceivable at the time.

Rabbi Pinchas Winston, prefaced his comments by thanking the Iranians for giving Israel an additional 23 minutes.

"The type of war we are discussing is a multinational conflict of extreme proportions in the Middle East which focuses on Israel," Rabbi Winston said to Breaking Israel News. "This clearly fulfills the requirements of Gog and Magog meaning that it could possibly be the war preceding the arrival of the Messiah. But we will recognize it as the War of Gog and Magog by its unprecedented and unexpected aspects. As it is, everything moves much faster now than it ever has before. A large-scale war will be inhumanly quick." https://www.breakingisraelnews.com/132663/iran-threatens-destroy-israel-30-minutes-does-comply-with-prophecy-speedy-gog-magog/
No, neither the development of advanced centrifuges nor the rapid capacity of modern nuclear weapons confirms Ezekiel 38. Yet, those that could be related to Isaiah 22:1-14, which looks to discuss damage to Israel from Iran and Syria.
Is the Ezekiel 38 war with Gog and Magog about to start?
No.
Let us look at what the Bible actually teaches.
This war is in Ezekiel 38, so let's start with its first 7 verses:
1 Now the word of the Lord came to me, saying, 2 "Son of man, set your face against Gog, of the land of Magog, the prince of Rosh, Meshech, and Tubal, and prophesy against him, 3 and say, 'Thus says the Lord God: "Behold, I am against you, O Gog, the prince of Rosh, Meshech, and Tubal. 4 I will turn you around, put hooks into your jaws, and lead you out, with all your army, horses, and horsemen, all splendidly clothed, a great company with bucklers and shields, all of them handling swords. 5 Persia, Ethiopia, and Libya are with them, all of them with shield and helmet; 6 Gomer and all its troops; the house of Togarmah from the far north and all its troops — many people are with you.

7 "Prepare yourself and be ready, you and all your companies that are gathered about you; and be a guard for them.
Verses 1-7 talk about a group getting ready to battle. Various nations such as Russia, Iran, Asians, and others are included here.
What does the Bible actually teach about the timing? Notice the next two verses from Ezekiel 38:
8 After many days you will be visited. In the latter years you will come into the land of those brought back from the sword and gathered from many people on the mountains of Israel, which had long been desolate; they were brought out of the nations, and now all of them dwell safely. 9 You will ascend, coming like a storm, covering the land like a cloud, you and all your troops and many peoples with you."
Verses 8-9 refer to a regathering of Israel. Why do certain prophecy watchers say that it is for now?
In addition to misapplications of scripture by some rabbinical writers, some Protestants believe that the creation of the nation of Israel in 1948 fulfills verse 8. Yet, this is not really the fulfillment for several reasons (watch also the video Israel, 1948, and Prophecy).
One reason is that even today most Jews do not live in the nation of Israel. The Jewish diaspora is scattered throughout the world. But the other reason is that many do not realize that there are multiple millions of the descendants of Israel that are not of the tribe of Judah. The Bible shows that Israel split into the kingdoms of Judah and Israel after the reign of Solomon and that later the ten tribes that were part of Israel (cf. 1 Kings 11:31,35; 12:16-17; 12:20-23) were carried into captivity (2 Kings 17:21-23). Those tribes represent hundreds of millions of people currently alive, and as there are less than 6,000,000 Jews in Israel, most simply have not been regathered (more information on the tribes of Israel is in the article Anglo – America in Prophecy & the Lost Tribes of Israel).
Furthermore, pay close attention to the part of verse 8 about people dwelling safely. That is NOT the case in Israel today.
Additionally, notice verses 10-13:
10 'Thus says the Lord God: "On that day it shall come to pass that thoughts will arise in your mind, and you will make an evil plan: 11 You will say, 'I will go up against a land of unwalled villages; I will go to a peaceful people, who dwell safely, all of them dwelling without walls, and having neither bars nor gates' — 12 to take plunder and to take booty, to stretch out your hand against the waste places that are again inhabited, and against a people gathered from the nations, who have acquired livestock and goods, who dwell in the midst of the land. 13 Sheba, Dedan, the merchants of Tarshish, and all their young lions will say to you, 'Have you come to take plunder? Have you gathered your army to take booty, to carry away silver and gold, to take away livestock and goods, to take great plunder?'"'
Israel has its walls and "iron dome" and military weaponry. Notice that it is against a 'peaceful people' in unarmed villages that the prince of Rosh is going against. This cannot happen until AFTER the return of Jesus. Furthermore, there simply is not a plan to take a lot of gold and silver out of Israel right now by the power of the far north, nor does the current nation of Israel have enough of it to likely justify an attack for that purpose (unless perhaps some hidden gold/silver mines or remaining treasure of David).
Notice the following:
Israel holds no gold reserves at all, according to a Bank of Israel spokesman. (Kopf S. Jerusalem of Gold. Jerusalem Post, February 16, 2011. http://www.jpost.com/Jerusalem-Report/Israel/Jerusalem-of-Gold viewed 07/21/14)

Israel Gold Reserves

1950 – 2018 | Monthly | USD mn | CEIC Data

Israel's Gold Reserves was reported at 0.000 USD mn in Feb 2019. https://www.ceicdata.com/en/indicator/israel/gold-reserves accessed 09/16/19
According to Index Mundi, the nation of Israel was not among the top 48 producers of silver in the world, so its supply of this would also seem to be limited–it also confirmed that Israel does not have gold reserves (though there is some gold and silver in coins, etc. in Israel). Israel in the early 21st century is NOT the target of Ezekiel 38.
Notice also that Ezekiel was further inspired to write:
14 "Therefore, son of man, prophesy and say to Gog, 'Thus says the Lord God: "On that day when My people Israel dwell safely, will you not know it? 15 Then you will come from your place out of the far north, you and many peoples with you, all of them riding on horses, a great company and a mighty army. 16 You will come up against My people Israel like a cloud, to cover the land. It will be in the latter days that I will bring you against My land, so that the nations may know Me, when I am hallowed in you, O Gog, before their eyes." (Ezekiel 38:14-17)
So, a power from the far north, which would seem to have to be Russian-led as it is the only major military power in the far north now, and may be the only one also in the future, will come. But again, notice that this happens when Israel is dwelling safely.
Notice the following observation by the old Worldwide Church of God:
The events of Ezekiel 38 and 39 are without question still future – for the "latter days" (38: 16) and "latter years" (38:8). Moreover, Ezekiel 38:14 describes the time setting as being "in that day when my people of Israel dwelleth safely." This is certainly not the situation in the State of Israel to- day! The Israel described by Ezekiel is a nation that dwells in security, in unwalled villages, totally unprepared for war (38:8, 11, 14). (Southeast Asia in Prophecy. Ambassador College Press, 1985)
And while Ezekiel 38 does mention Russia and Iran, the tiny nation of Israel is not now a "land of unwalled villages" with "a peaceful people who dwell safely" (Ezekiel 38:10-11). We are not particularly close to the fulfillment of Ezekiel 38. Those who believe otherwise are in error.
Notice now Revelation 20:7-10:
7 Now when the thousand years have expired, Satan will be released from his prison 8 and will go out to deceive the nations which are in the four corners of the earth, Gog and Magog, to gather them together to battle, whose number is as the sand of the sea. 9 They went up on the breadth of the earth and surrounded the camp of the saints and the beloved city. And fire came down from God out of heaven and devoured them.
The above clearly takes place after the millennium is over.
That battle is NOT for our time, although earlier this year I heard at least one of the Messianic persuasion claim it was.
Some Protestant prophecy watchers believe that Iran will soon align with Russia to invade Israel in order to fulfill Ezekiel 38. However, since that prophecy is not fulfilled in this age (it is for the 'latter days,' which comes well after Jesus returns), that is not the case. Some others have also claimed that the 'Bible Code' tells of it for this age. That is also not the case. Related to that the Continuing Church of God put together the following videos on our Bible News Prophecy YouTube channel:
Is what is going on with Russia, Iran, and Syria predicted in the Bible Code? Is Rabbi Matityahu Glazerson's interpretation of the year and passages in Deuteronomy 4 correct? Is a 'cruel taskmaster from Iran prophesied to rule Israel? Is Joel Richardson's view of Ezekiel 38 correct? Is Russia the power in the 'far north' of Ezekiel 38? Is Russia the prophesied King of the North? What will happen to Iran? Does the Bible teach that Damascus, Syria will be destroyed. Dr. Thiel answers these questions and more.
In April and September 2018, there were meetings involving top leaders of Russia, Iran, Syria, and Turkey. Some Protestant prophecy watchers have suggested that the meeting of these leaders could be a prelude to what is known as the Gog and Magog war as discussed in Ezekiel 38. Some have claimed that this battle must take place before 'Armageddon' and before Jesus returns. Some have wondered if the Gog/Magog war is Armageddon. Some believe that the existence of the modern State of Israel means the fulfillment of Ezekiel 38 is soon. Is that possible? Does the modern state of Israel currently meet the criteria needed for Ezekiel 38 to be fulfilled? While many agree that the lands occupied by Russia and Iran are involved, are assertions about Turkey being identified as Togarmah possible or in serious error? Will the Gog/Magog war be soon or is it for a time far into the future? Dr. Thiel addresses these issues and more.
Here is a link to our sermonette video: Russia, Iran, Syria, & the Bible (Code). Here is a link to the sermonette video: Ezekiel 38 Gog and Magog War: Is it Soon?
Now Iran does face risks in this age.
Notice the following prophecy which indicates at least part of Iran's destruction before the latter days:
34 The word of the Lord that came to Jeremiah the prophet against Elam, in the beginning of the reign of Zedekiah king of Judah, saying, 35 "Thus says the Lord of hosts:

'Behold, I will break the bow of Elam,
The foremost of their might.
36 Against Elam I will bring the four winds
From the four quarters of heaven,
And scatter them toward all those winds;
There shall be no nations where the outcasts of Elam will not go.
37 For I will cause Elam to be dismayed before their enemies
And before those who seek their life.
I will bring disaster upon them,
My fierce anger,' says the Lord;
'And I will send the sword after them
Until I have consumed them.
38 I will set My throne in Elam,
And will destroy from there the king and the princes,' says the Lord.

39 'But it shall come to pass in the latter days:
I will bring back the captives of Elam,' says the Lord." (Jeremiah 49:34-39)
So, while Ezekiel 38 is not for now, Iran is subject to some destruction in this age. If Iran overplays its hand, which it looks like it will do, it will one day experience what Jeremiah warned about. The USA may well be a factor in that–and the USA is subject to damage from Iran.
Despite prophesied problems, ultimately, however, those in Iran will have an opportunity for salvation, after the start of the latter days, as verse 39 above is an allusion to.
God is love (1 John 4:8,16). God intends to gather and resurrect the Iranians and offer them salvation (see also Universal OFFER of Salvation, Apokatastasis: Can God save the lost in an age to come? Hundreds of scriptures reveal God's plan of salvation). A salvation that nearly all will accept as nearly all the Persians/Iranians who ever lived will be in the Kingdom of God. A kingdom without fear or death or sorrow. A glorious kingdom. And that is the prophesied future for nearly all of the Persians as well as the Jews.
God has a plan for those in Iran and it is better than what most there seem to believe (cf. 1 Corinthians 2:9).
Some items of possibly related interest may include:
Iran in Prophecy Is Iran in Bible prophecy? If so, what does the Bible teach? What names, other than Persia, may be used to describe Iran? There is also a YouTube video titled Iran In Prophecy.
Syria and the start of World War 3 On April 14, 2018, Syrians were awoken by the sounds of about 120 missiles/bombs sent against areas of their country. The United States of America, United Kingdom, and France launched this attack related to claims of chemical weapons use earlier that week. Will Syria's capital one day be destroyed as prophesied in Isaiah chapter 17? If so, could this be before the start of the Great Tribulation? Are there prophecies about Syrians and the UK and USA? Is this attack against Syria leading to WWIII between the USA/UK/France and Russia/Syria/Iran? Is there an Arabic power that will rise up and be destroyed before the Great Tribulation as Tim McHyde has written related to Psalm 83? Is Ezekiel 38/39 about to be fulfilled? Who is the biblical King of the North and the biblical King of the South? Will the Beast power destroy the USA and its Anglo-Saxon descended allies (like the UK, Canada, Australia, & New Zealand)? Could this be WWIII and the start of the Great Tribulation? What is the prophetic sequence of events according to Jesus and Daniel the prophet? Dr. Thiel addresses all of these matters and more. This is a video.
Damascus and Syria in Prophecy Will Bashar Assad hold power as he has it? Does the Bible show that Damascus, the capital of Syria, will be destroyed? What will happen to Syria? Will the Syrians support the final King of the South that the Bible tells will rise up? Which scriptures discuss the rise and fall of an Arabic confederation? Does Islamic prophecy predict the destruction of Syria.
Ezekiel 38: For Russia & Iran in Our Day? Is Ezekiel 38 about to be fulfilled? A related video is available titled Ezekiel 38: For Russia, Ukraine, & Iran Now? Another could be Russia, Iran, Syria, & the Bible (Code).
Is the Future King of the South Rising Up? Some no longer believe there needs to be a future King of the South. Might Egypt, Islam, Iran, Arabs, or Ethiopia be involved? Might this King be called the Mahdi or Caliph? What does the Bible say? A YouTube video of related interest may be: The Future King of the South is Rising.
The Muslim Brotherhood and the Rise of the King of the South The Bible tells of the formation of a power of nations that are in the Middle East and North Africa that are part of the final "King of the South" (Daniel 11:40-43) The Muslim Brotherhood wishes to have an Islamic empire with basically the same nations. This YouTube video explains what to expect from such a confederation.
Why Terrorism? Is Terrorism Prophesied? What does the Bible teach? Which nations may be affected? Here is a link to a related sermon: Terrorism, Christianity, and Islam.
The Arab and Islamic World In the Bible, History, and Prophecy The Bible discusses the origins of the Arab world and discusses the Middle East in prophecy. What is ahead for the Middle East and those who follow Islam? What about the Imam Mahdi? What lies ahead for Turkey, Iran, and the other non-Arabic Muslims? An item of possibly related interest in the Spanish language would be: Líderes iraníes condenan la hipocresía de Occidente y declaran que ahora es tiempo para prepararse para el Armagedón, la guerra, y el Imán Mahdi.
The Prophesied 'Islamic' Confederation Where is an Islamic caliphate prophesied? Will one happen? Should you be concerned about it? A related video is Will an Arabic Calphiphate Destroy the West?
The 'Peace Deal' of Daniel 9:27 This prophecy could give up to 3 1/2 years advance notice of the coming Great Tribulation. Will most ignore or misunderstand its fulfillment? Here is a link to a related sermon video Daniel 9:27 and the Start of the Great Tribulation.
How Will Middle East Peace be Brought About? Can humans bring peace to the Middle East? Here is a link to a related video: Middle East Peace? When?
When Will the Great Tribulation Begin? 2019, 2020, or 2021? Can the Great Tribulation begin today? What happens before the Great Tribulation in the "beginning of sorrows"? What happens in the Great Tribulation and the Day of the Lord? Is this the time of the Gentiles? When is the earliest that the Great Tribulation can begin? What is the Day of the Lord? Who are the 144,000? Here is a version of the article in the Spanish language: ¿Puede comenzar la Gran Tribulación en 2018 o 2019? ¿Es el Tiempo de los Gentiles? You can also see the English language sermon videos: The Great Tribulation from the Mount of Olives and Can the Great Tribulation begin before 2020? A shorter and newer video is: Might the Great Tribulation start in 2019?
The Times of the Gentiles Has there been more than one time of the Gentiles? Are we in it now or in the time of Anglo-America? What will the final time of the Gentiles be like? A related sermon is available and is titled: The Times of the Gentiles.
Armageddon Who is involved and when will this gathering happen? Here is also a video from Dr. Thiel, from Tel Megiddo in Israel: Armageddon. Other videos include: Armageddon Will it come on Trump's watch?, Iraq, Armageddon, & Prophecy, Freemasonry, Armageddon, and Rome, Is China paving roads to Armageddon?, and Jordan, Petra, and Armageddon.
Is Russia the King of the North? Some claim it is. But what does the Bible teach? Here is a link to a video, also titled Is Russia the King of the North?
The Eurasian Union, the Kings of the East, and Bible Prophecy Is there a Eurasian union that will be formed? Is one being formed right now? Are any leaders working on that in the 21st century? Does the Bible teach that there will be a Eurasian union? If some type of Eurasian union is formed, who might it benefit and who will it destroy? A related video would be Is The Eurasian Union Rising?
Anglo – America in Prophecy & the Lost Tribes of Israel Are the Americans, Canadians, English, Scottish, Welsh, Australians, Anglo-Saxon (non-Dutch) Southern Africans, and New Zealanders descendants of Joseph? Where are the lost ten-tribes of Israel? Who are the lost tribes of Israel? What will happen to Jerusalem and the Jews in Israel? Will God punish the U.S.A., Canada, United Kingdom, and other Anglo-Saxon nations? Why might God allow them to be punished first? Here is a link to the Spanish version of this article: Anglo-América & las Tribus Perdidas de Israel. Information is also in the YouTube sermons titled Where are the Ten Lost Tribes? Why does it matter? and British are the Covenant People. A short YouTube of prophetic interest may be: Are Chinese threats against Australia for real?
Will the Anglo-Saxon Nations be Divided and Have People Taken as Slaves? Will the lands of the United States, United Kingdom, Canada, Australia, and New Zealand be divided? What about Jerusalem? What does Bible prophecy teach? Are there non-biblical prophecies that support this idea? Who will divide those lands? Who will end up with the lands and the people? Here is a link to a video titled Will the USA and other Anglo-nations be Divided and Their People Made Slaves? Here is a related item in the Spanish language ¿Serán divididas las naciones anglosajonas?
Evangelical support for Donald Trump's Jerusalem policy BBC asked, "Why do US evangelicals support Trump's Jerusalem policy?" BBC provided quotes from some believing it has to do with the 'last days' while others saying that is not the reason. Hal Lindsey's book, 'The Late Great Planet Earth' is one of the sources pointed to. In this video, Dr. Thiel addresses scriptures related to Jerusalem as well as prophetic ones. He goes over the common 'fig tree' interpretation, belief about a 'Third Temple,' and statements about animal sacrifices. He explains biblical statements on those subjects as well as the views of certain modern Jewish organizations. This is a video.
Jerusalem, Donald Trump, and Prophecy On December 6, 2017, US President Donald Trump fulfilled a campaign promise related to the recognition of Jerusalem as Israel's capital. This brought anger, protests, and rockets from some Palestinians. It also brought condemnation from European allies–it has been claimed to be disruptive and even catastrophic. The Palestinian President (Mahmoud Abbas) said that this pronouncement eliminated the USA as being a fair mediator for a peace deal. Others have claimed that Donald Trump is an end time Cyrus and his pronouncement will lead to a Third Temple in Jerusalem. Is there ever going to be a peace deal? If so, will Europeans be part of it? Is Donald Trump a 'Cyrus.' Do the Jews require a Third Temple for sacrifices? Dr. Thiel answer those questions and more in this video.
Donald Trump in Prophecy Prophecy, Donald Trump? Are there prophecies that Donald Trump may fulfill? Are there any prophecies that he has already helped fulfill? Is a Donald Trump presidency proving to be apocalyptic? Two related videos are available: Donald: 'Trump of God' or Apocalyptic? and Donald Trump's Prophetic Presidency.
Trump Presidency Magic 8 Ball or Bible Prophecy? BBC reported that one might as well use a 'Magic Eight-Ball' to try to predict what will happen in the remaining time of Donald Trump's presidency. What is a 'Magic Eight-Ball'? Dr. Thiel not only explains that, but also briefly goes over 10 biblically-based warnings he wrote would happen if Donald Trump were elected that have already began to come to pass. He also goes over something he wrote back in 2008 that the Trump presidency is also helping lead to fulfillment. Should you trust Bible prophecy or not? Dr. Thiel says that Bible prophecy can be trusted, despite the view of skeptics and others that either overlook or despise the Bible. This is a video.
Donald Trump and America's Apocalypse This 188 page book is for people truly interested in prophecies related to Donald Trump and the United States, including learning about several that have already been fulfilled and those that will be fulfilled in the future. The physical book can be purchased at Amazon for $12.99 from the following link: Donald Trump and America's Apocalypse.
Donald Trump and America's Apocalypse-Kindle Edition This electronic version of the 188 page print edition is available for only US$3.99. And you do not need an actual Kindle device to read it. Why? Amazon will allow you to download it to almost any device: Please click HERE to download one of Amazon s Free Reader Apps. After you go to for your free Kindle reader and then go to Donald Trump and America's Apocalypse-Kindle Edition.
Universal OFFER of Salvation, Apokatastasis: Can God save the lost in an age to come? Hundreds of scriptures reveal God's plan of salvation Will all get a fair chance at salvation? This free book is packed with scriptures showing that God does intend to offer salvation to all who ever lived–the elect in this age, and the rest in the age to come. Here is a link to a related sermon series: Universal Offer of Salvation 1: Apocatastasis, Universal Offer of Salvation 2: Jesus Desires All to be Saved, Mysteries of the Great White Throne Judgment (Universal Offer of Salvation part 3), Is God Fair, Will God Pardon the Ignorant?, Can God Save Your Relatives?, Babies, Limbo, Purgatory and God's Plan, and 'By the Mouth of All His Holy Prophets'.
The Gospel of the Kingdom of God This free online pdf booklet has answers many questions people have about the Gospel of the Kingdom of God and explains why it is the solution to the issues the world is facing. Here are links to three related sermons: The World's False Gospel, The Gospel of the Kingdom: From the New and Old Testaments, and The Kingdom of God is the Solution.