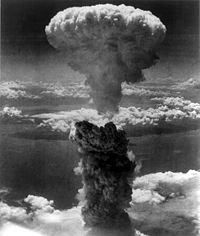 Nagasaki Bomb

The world community tried to send Iran a message today, but Iran says it will basically ignore it:
VIENNA (Reuters) – U.N. nuclear watchdog governors voted on Friday to rebuke Iran for building a uranium enrichment plant in secret but Tehran dismissed the move as "intimidation" which would poison its negotiations with world powers…

Iranian Ambassador Ali Asghar Soltanieh called the resolution, which also urged Iran to immediately freeze the Fordow enrichment project hidden inside a mountain bunker, a "hasty and undue" step devoid of legal basis…

"The great nation of Iran will never bow to pressure and intimidation vis a vis its inalienable right to peaceful uses of nuclear energy," he said.

"We will not implement any word of it because this is a politically motivated gesture against the Iranian nation."  http://www.reuters.com/article/worldNews/idUSTRE5AQ1BZ20091127
It is certainly possible that Israel may decide that this UN condemnation is the only justification they need to launch some type of preemptive strike against Iran's nuclear sites.
And, apparently to prepare for this, Iran recently held military exercises to see how it would respond if a nation like Israel tried to do that.
The Bible teaches, "
And the way of peace they have not known" (Romans 3:17).
Three articles of possibly related interest may include:
Is There A Future King of the South? Some no longer believe there needs to be. Might Egypt, Islam, Iran, Arabs, or Ethiopia be involved? What does the Bible say?
The Arab World In the Bible, History, and Prophecy The Bible discusses the origins of the Arab world and discusses the Middle East in prophecy. What is ahead for the Middle East and those who follow Islam?  What role might non-Arab Iran play?
The Gospel of the Kingdom of God was the Emphasis of Jesus and the Early Church Did you know that? Do you even know what the gospel of the kingdom is all about? True religion should be based upon the true gospel.