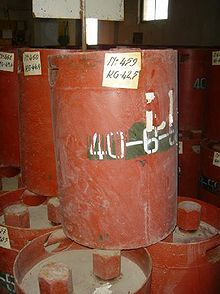 Chemical Weapons Canisters
The USA is publicly admitting that it appears that Syria seems to have used chemical weapons.  The USA is now attempting to try to figure out what it wants to do about this:
26 April 2013

WHITE HOUSE — President Barack Obama says the world cannot stand by and permit any use of chemical weapons, and says the United States will work with international partners to vigorously investigate evidence in hand so far.

In remarks before his meeting with Jordan's King Abdullah, President Obama said the U.S. now has "some evidence" with "varying degrees of confidence" that chemical weapons have been used in Syria.

He said a range of questions remain about how and when such weapons may have been used.  The U.S. will pursue a vigorous investigation in consultation with partners and the United Nations, moving as effectively and quickly as possible.

Obama said the U.S. and partners must act prudently and make assessments deliberately, but said the world cannot stand by and permit the use of chemical weapons.

"All of us, not just in the United States but around the world, recognize how we cannot stand by and permit the systematic use of weapons like chemical weapons on civilian populations," said President Obama.

Obama mentioned the danger of chemical weapons falling into the hands terrorists, which he said adds increased urgency to the Syrian situation.

As to whether his "red line" has been crossed, he said his message has been clear.

"For the Syrian government to utilize chemical weapons on its people, crosses a line that will change my calculus, and how the United States approaches these issues," he said.

At the same time,  Obama said preliminary evidence is "not an on or off switch" for potential action, but an ongoing challenge for the U.S. and international community which must gather further evidence.

Earlier, White House spokesman Jay Carney said Mr. Obama is keeping all options on the table, including military force, while the investigation into chemical weapons use proceeds to firmly establish that a 'red line' has been crossed.  http://www.voanews.com/content/britainus-concerned-by-possible-chemical-weapons-use-in-syria/1649268.html

.
26 April 2013

Yesterday, Defense Secretary Chuck Hagel revealed that, after investigating the matter, "the U.S. intelligence community assesses with some degree of varying confidence that the Syrian regime has used chemical weapons on a small scale in Syria." The chemical sarin, according to the administration, appears to have been used in two separate Syrian attacks, in Damascus and Aleppo, last month.

Immediately, a handful of lawmakers on both the left and the right demanded action from the administration, insisting that the so-called "red line" has been crossed and that action must follow. But in a scenario rife with suboptimal choices, the White House has signaled a caution in its path forward, demanding "airtight" evidence of an attack and its perpetrators before becoming increasingly entwined in a high-risk and potentially costly intervention.

"The risk is getting caught in Syria for a decade," said Steven Cook, the Hasib J. Sabbagh Senior Fellow for Middle Eastern Studies at the Council on Foreign Relations, in an interview with CBSNews.com. "There's concern about getting caught up in someone else's civil war."…

Anthony Cordesman, the Arleigh A. Burke Chair in Strategy at the Center for Strategic and International Studies, argues the president is wise to dismiss internal political jockeying.

"Let's be honest, this is a highly political issue. The people who want intervention in Syria are going to rush out to say, we must intervene because this is a 'red line.' But simply saying we've crossed the 'red line' and then not presenting a realistic course of action is a little like crying wolf – it doesn't mean anything," he told CBSNews.com. "Declaring that this is a critical 'red line' without being able to define the actions to be taken [once we cross it], putting pressure on the administration without really considering whether you have enough of a justification to get support and world opinion — that's politics but it's terrible strategy."  http://www.cbsnews.com/8301-250_162-57581597/what-are-obamas-options-on-syria/
Syria has, in the past, admitted to having both chemical and biological weapons.  While Syria could not win a straight war with the USA, if it release biological weapons in the USA, this could hurt the USA.  And a "street war" is Syria would be costly in lives and economically.
Both biblical and Islamic prophecy tell of the destruction of Syria's capital Damascus. Here is some of what Bible prophecies teaches:
7 thus says the Lord God: "It shall not stand, Nor shall it come to pass. 8 For the head of Syria is Damascus (Isaiah 7:7-8)

3 Thus says the Lord: "For three transgressions of Damascus, and for four, I will not turn away its punishment, Because they have threshed Gilead with implements of iron. (Amos 1:3)

1 The burden against Damascus. "Behold, Damascus will cease from being a city, And it will be a ruinous heap. (Isaiah 17:1)

23 Against Damascus. "Hamath and Arpad are shamed, For they have heard bad news. They are fainthearted; There is trouble on the sea; It cannot be quiet. 24 Damascus has grown feeble; She turns to flee, And fear has seized her. Anguish and sorrows have taken her like a woman in labor. 25 Why is the city of praise not deserted, the city of My joy? 26 Therefore her young men shall fall in her streets, And all the men of war shall be cut off in that day," says the Lord of hosts. 27 "I will kindle a fire in the wall of Damascus, And it shall consume the palaces of Ben-Hadad." (Jeremiah 49:23-27)
Since the Bible also suggests that Syria will support the coming final King of the South (Daniel 11:40-43; Ezekiel 30:1-8) and a change in or from the Assad regime will be necessary for this to happen–and it will come to pass. Syria's Assad will either change, break his prior public commitment to not step down or go into exile, or die.
The main opposition to the Shi'ite Muslim President Assad is related to the primarily Sunni "Muslim Brotherhood" (a group that wants a confederation similar that foretold in biblical prophecy).  The USA, directly and indirectly, has supported the Muslim Brotherhood in places like Syria, Libya, Tunisia, Somalia, and even Egypt.
The Muslim Brotherhood is mainly a Sunni Muslim group.  Most in North Africa, the Arabian peninsula, Turkey, and Jordan are Sunni Muslims.  Iran, President Assad's closest ally, is mainly Shi'a Muslim.  Syria's Assad and Iran may cooperate if the USA is involved in an attack against one or both of them–but they will not really fare well.
Despite its President Assad, most people in Syria are Sunni Muslim.  Ultimately, Syria will support a coming King of the South, which at this moment looks like it will be a Sunni Muslim dominated group as  the nations listed in the coming King of the South confederation (Daniel 11:40-43; Ezekiel 30:1-8) are currently dominated by Sunni Muslims.  Syria will not be left out of this confederation, hence a change in Syria is coming.
Whether or not the USA more directly intervenes militarily, Syria will change.
"And what I say to you, I say to all: Watch!" (Mark 13:37).

Some articles of possibly related interest may include:
Damascus and Syria in Prophecy Will Bashar Assad hold power as he has it? Does the Bible show that Damascus, the capital of Syria, will be destroyed? What will happen to Syria? Will the Syrians support the final King of the South that the Bible tells will rise up? Which scriptures discuss the rise and fall of an Arabic confederation? Does Islamic prophecy predict the destruction of Syria. This is a YouTube video.
Is There A Future King of the South? Some no longer believe there needs to be. Might Egypt, Islam, Iran, Arabs, or Ethiopia be involved? Might this King be called the Mahdi? What does the Bible say?
The Arab and Islamic World In the Bible, History, and Prophecy The Bible discusses the origins of the Arab world and discusses the Middle East in prophecy. What is ahead for the Middle East and those who follow Islam? What about the Imam Mahdi? What lies ahead for Turkey, Iran, and the other non-Arabic Muslims?
Is There an Islamic Antichrist? Is Joel Richardson correct that the final Antichrist will be Islamic and not European? Find out.
The Muslim Brotherhood and the Rise of the King of the South The Bible tells of the formation of a power of nations that are in the Middle East and North Africa that are part of the final "King of the South" (Daniel 11:40-43) The Muslim Brotherhood wishes to have an Islamic empire with basically the same nations. This YouTube video explains what to expect from such a confederation.
Anglo – America in Prophecy & the Lost Tribes of Israel Are the Americans, Canadians, English, Scottish, Welsh, Australians, Anglo (non-Dutch) Southern Africans, and New Zealanders descendants of Joseph? Where are the lost ten-tribes of Israel? Who are the lost tribes of Israel? What will happen to Jerusalem and the Jews in Israel? Will God punish the U.S.A., Canada, United Kingdom, and other Anglo nations? Why might God allow them to be punished first?
Barack Obama, Prophecy, and the Destruction of the United States This is a 160 page book for people truly interested in prophecies related to Barack Obama and the United States, including learning about many that have already been fulfilled (which the book documents in detail) and those that will be fulfilled in the future. It also has a chapter about a Republican choice. This book is available to order at www.barackobamaprophecy.com. The physical book can also be purchased at Amazon from the following link: Barack Obama, Prophecy, and the Destruction of the United States: Is Barack Obama Fulfilling Biblical, Islamic, Catholic, Kenyan, and other America-Related Prophecies?
Barack Obama, Prophecy, and the Destruction of the United States–Amazon Kindle edition. This electronic version is available for only US$2.99. And you do not need an actual Kindle device to read it. Why? Amazon will allow you to download it to almost any device: Please click HERE to download one of Amazon's Free Reader Apps. After you go to for your free Kindle reader and then go to Barack Obama, Prophecy, and the Destruction of the United States–Amazon Kindle edition.)