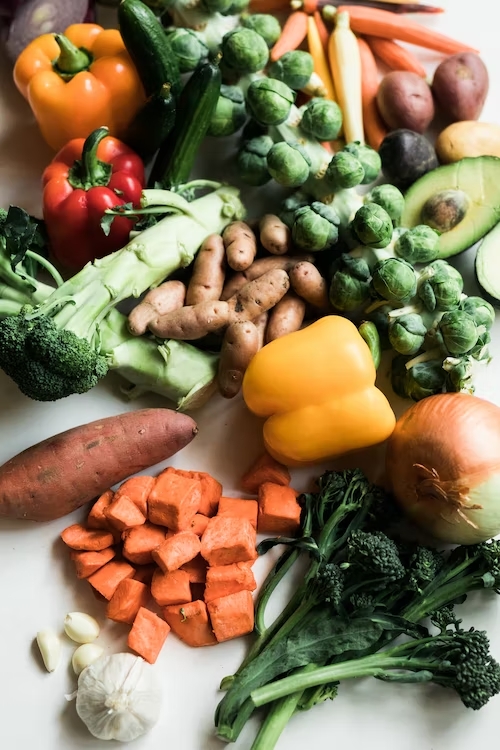 Vegetables (Unsplash photo)

There are reports of vegetable shortages in Europe as well as in parts of Asia:
This is why the fruit and vegetable shelves in your European supermarkets are partially empty currently

March 8, 2023

Have you noticed that some supermarkets across Europe currently have partially empty fruit and vegetable shelves?

There are three reasons for that.

First: In Almeria, southern Spain (that's where most of the European goods come from), it was first too warm, then too cold, resulting in massive crop failures.

Second: Some major greenhouses in Holland experienced a complete crop failure because of the high energy prices (heating them would not have been worthwhile).

Third: That leaves North Africa, but there were problems there too. Flooding, cold temperatures and cancelled ferries have caused significant supply problems in Moroccan fruits and veggies.

The article about Holland's greenhouses states:

'Nowhere in the world are the yields of many types of vegetables as high as here. Wouter van den Bosch harvests 35 to 40 kilograms of green peppers per square meter. That's around five times as much as farmers in the Almeria region can produce, the center of Spanish vegetable cultivation.

'But the Dutch greenhouse miracle has a weak point. It eats enormous amounts of energy. Above all gas. Almost nine percent of all national natural gas consumption goes into greenhouses.' https://strangesounds.org/2023/03/this-is-why-the-fruit-and-vegetable-shelves-in-your-european-supermarkets-are-partially-empty-currently.html

As Johor floods push up prices of Malaysia produce, Singapore vegetable sellers turn to other sources

March 8, 2023

SINGAPORE: With the floods in Johor affecting the prices of produce in Malaysia, vegetable sellers in Singapore are turning to other sources while waiting out the bad weather.

Wet market stall owners CNA spoke to on Tuesday (Mar 7) said that not only have their Malaysian suppliers raised prices, but the amount of stock available has also been dwindling because of the bad weather. https://www.channelnewsasia.com/singapore/vegetable-prices-singapore-malaysia-johor-floods-supply-3333321
Vegetables are good for people (watch Let's Talk About Food), yet we are seeing shortages and price inflation.
The USA, too, is experiencing food issues and food price inflation:
March 7, 2023
Total packaged food retail sales increased 10.2% over a four-week period that ended on February 25, according to the latest tracking by Nielsen. The growth was supported by a 11.3% increase in food prices that easily offset a 1% decline in volume. The gain was an acceleration from the prior retail sales month increase of 8.4% for the good category. https://seekingalpha.com/news/3944966-food-inflation-is-still-a-big-wildcard-these-stocks-could-see-a-benefit

So, people in the USA paid more for food and got less than before.
We are still seeing food price inflation in many parts of the world.
How bad might it get for the West? The old Worldwide Church of God published the following:
The black horseman's future ride will reduce the proud faces of white America, Europe, and the British Common wealth into the blackened skin of starvation such as now afflicts the vast majority of mankind. (Alexander G. The Four Horsemen of the Apocalypse. Ambassador College Press, Pasadena (CA), 1973, p. 31)
And, of course, the USA and the West are not the only areas of the world facing food price inflation.
That being said, overall in Western lands, like the USA, we are seeing less and less diversity in foods.
Droughts, floods, rising fertilizer costs, rising energy costs, governments printing up money (and various other governmental policies), Russia's 'special military operation' into Ukraine, etc. are all current factors in food shortages and food price inflation.
Jesus, in both the 24th chapter of Matthew and the Book of Revelation in chapter 6, list a sequence of events including war, famine, and pestilences.
Here is some of what Jesus said:
6 And you will hear of wars and rumors of wars. See that you are not troubled; for all these things must come to pass, but the end is not yet. 7 For nation will rise against nation, and kingdom against kingdom. And there will be famines, pestilences, and earthquakes in various places. 8 All these are the beginning of sorrows. (Matthew 24:6-8)
Famines and civil unrest, such as what Michael Snyder predicted for 2023 are consistent with Jesus' words.
That being said, we are getting to the end of the 6,000 years that God has allowed humans to rule themselves, which will soon be followed by the 1,000-year reign of Christ. Pray for Jesus to return and God's Kingdom to come (Matthew 6:10).
Notice that the ride of third horseman of the Apocalypse results in scarcity, inflation, and famine. Revelation 6:5-6 indicates that there will be food, but that it will be quite expensive (food-price inflation).
5 When He opened the third seal, I heard the third living creature say, "Come and see." So I looked, and behold, a black horse, and he who sat on it had a pair of scales in his hand. 6 And I heard a voice in the midst of the four living creatures saying, "A quart of wheat for a denarius, and three quarts of barley for a denarius; and do not harm the oil and the wine." (Revelation 6:5-6)
Some will thus die as they will not be able to afford it, while others will survive but struggle.
We also put together the following video:
There are reports about food price inflation around the world. While it is worsening in many areas, some believe it will improve in 2023. Instead, could prices continue to rise in 2023 and get much worse in 2024 and thereafter? What are the causes of food price inflation? Is there any connection between weather, government policies, fertilizer prices, energy costs, economic sanctions and food price inflation? What are we seeing in reports from the United Kingdom, Hungary, and South Africa? What about impacts from Russia's 'special military operation' into Ukraine? Could EU and/or USA policies be effecting any of this? Is the 'black horse' the one associated with famine, food shortages, and food price inflation in the Book of Revelation? Are there any physical lessons we can learn from ants according to the Book of Proverbs? What are some spiritual steps we should take according to Jesus? Dr. Thiel and Steve Dupuie address these matters and more.
Here is a link to our video: 3rd Horseman of the Apocalypse and Food.
One of the things the scriptures teach is that massive food inflation is coming.
We are already seeing signs of it.
As far as what should you do about it, physically you should prepare and realize more is coming (see als0 Physical Preparation Scriptures for Christians).
Spiritually, all should heed what Jesus said about these times:
34 "But take heed to yourselves, lest your hearts be weighed down with carousing, drunkenness, and cares of this life, and that Day come on you unexpectedly. 35 For it will come as a snare on all those who dwell on the face of the whole earth. 36 Watch therefore, and pray always that you may be counted worthy to escape all these things that will come to pass, and to stand before the Son of Man." (Luke 21:34-36)
Do not be part of those who will not be ready. Take the proper spiritual steps–remember most Christians, according to Jesus will not (cf. Revelation 3:14-22).
Some items of possibly related interest may include:
Is God Calling You? This booklet discusses topics including calling, election, and selection. If God is calling you, how will you respond? Here is are links to related sermons: Christian Election: Is God Calling YOU? and Predestination and Your Selection; here is a message in Spanish: Me Está Llamando Dios Hoy? A short animation is also available: Is God Calling You?
Christian Repentance Do you know what repentance is? Is it really necessary for salvation? Two related sermons about this are also available: Real Repentance and Real Christian Repentance.
There is a Place of Safety for the Philadelphians. Why it May Be Near Petra This article discusses a biblical 'place of safety,' Zephaniah 2 to 'gather together,' and includes quotes from the Bible and Herbert W. Armstrong on fleeing to a place–thus, there is a biblically supported alternative to the rapture theory. Two sermon-length videos of related interest are available Physical Protection During the Great Tribulation and Might Petra be the Place of Safety?  Here is something related in the Spanish language: Hay un lugar de seguridad para los Filadelfinos. ¿Puede ser Petra?
Christian Health Matters Should Christians be concerned about their health? Does the Bible give any food and health guidelines? Here are links to two related sermons: Let's Talk About Food and Let's Talk About Health.
Physical Preparation Scriptures for Christians. We all know the Bible prophecies famines. Should we do something? Here is a version in the Spanish language Escrituras sobre Preparación física para los Cristianos. Here is a link to a related sermon: Physical preparedness for Christians.
Four Horsemen of the Apocalypse What do each of the four horseman of the Apocalypse represent? Have they began their ride? Did Jesus discuss the any of this? Might their rides coincide with the "beginning of sorrows? Do they start their ride prior to the Great Tribulation? Did Nostradamus or any other 'private prophets' write predictions that may mislead people so that they may not understand the truth of one or more of the four horseman? There is also a related YouTube video titled Sorrows and the Four Horsemen of the Apocalypse.
Fourth Horseman of the Apocalypse What is the pale horse of death and pestilences? What will it bring and when? Here is a link to a related sermon: Fourth Horseman, COVID, and the Rise of the Beast of Revelation. Some shorter related videos may include Amphibian Apocalypse: Threat to Humans? and Zombie Deer Disease is Here! Are the 10 Plagues on Egypt Coming? Here is a version of the article in Spanish: El cuarto jinete de Apocalipsis, el caballo pálido de muerte y pestilencia.
Weather Blessings and Sorrows Are weather problems a warning? What should be done? What does the Bible teach about weather? What about floods, droughts, heat, earthquakes, tornadoes, and solar storms? Here is a related YouTube video Does God Use Weather? A related item in the Spanish language would be Bendiciones y maldiciones del clima.
4. The Thyatira Church Era was predominant circa 1050 A.D. to circa 1600 A.D. The Church during the Inquisition. It claimed succession from the apostles. Here is a link toa related sermon: Thyatira, Succession, and Jezebel.
5. The Sardis Church Era was predominant circa 1600 A.D. to circa 1933 A.D. Discusses some early history of the Seventh Day Baptists, Seventh-day Adventists, CG7-Salem, Jerusalem 7DCG, and COG-7th Day-Denver. Here are two historical sermons: Sardis Church Era: Beginnings, Doctrines, and Leaders and Sardis: SDBs, SDAs, & CG7s.
6. The Philadelphia Church Era was predominant circa 1933 A.D. to 1986 A.D. The old Radio Church of God and old Worldwide Church of God, now the remnant of that era is basically the most faithful in the Church of God, like who hold to the beliefs and practices of the Continuing Church of God.
7. The Laodicean Church Era has been predominant circa 1986 A.D. to present. The Laodiceans are non-Philadelphians who mainly descended from the old WCG or its offshoots.  They do not properly understand the work or biblical prophecies and will face the Great Tribulation if they do not repent. One video of related interest is 50+ Laodicean Prophetic Errors. See also Do You Hold to Any of These Laodicean Prophetic Errors?
Does God Have a 6,000 Year Plan? What Year Does the 6,000 Years End? Was a 6000 year time allowed for humans to rule followed by a literal thousand year reign of Christ on Earth taught by the early Christians? Does God have 7,000 year plan? What year may the six thousand years of human rule end? When will Jesus return? 2031 or 20xx? There is also a video titled 6000 Years: When will God's Kingdom Come? Here is a link to the article in Spanish: ¿Tiene Dios un plan de 6,000 años?
When Will the Great Tribulation Begin? 2023, 2024, or 2025? Can the Great Tribulation begin today? What happens before the Great Tribulation in the "beginning of sorrows"? What happens in the Great Tribulation and the Day of the Lord? Is this the time of the Gentiles? When is the earliest that the Great Tribulation can begin? What is the Day of the Lord? Who are the 144,000? Here is a version of the article in the Spanish language: ¿Puede la Gran Tribulación comenzar en el 2020 o 2021? ¿Es el Tiempo de los Gentiles? A related video is: Great Tribulation: 2026 or 2027? A shorter video is: Can the Great Tribulation start in 2022 or 2023? Notice also: Can Jesus return in 2023 or 2024? Here is a video in the Spanish language: Es El 2021 el año  de La Gran Tribulación o el Grande Reseteo Financiero.
The Gospel of the Kingdom of God This free online pdf booklet has answers many questions people have about the Gospel of the Kingdom of God and explains why it is the solution to the issues the world is facing. It is available in hundreds of languages at ccog.org. Here are links to four kingdom-related sermons:  The Fantastic Gospel of the Kingdom of God!, The World's False Gospel, The Gospel of the Kingdom: From the New and Old Testaments, and The Kingdom of God is the Solution.