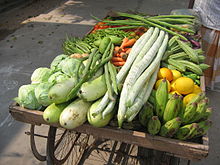 Voice of America (VOA) is warning of higher food prices because of the drought in California:
California Drought Will Lead to Higher Food Prices

FRESNO COUNTY, CALIFORNIA — California is a major farming state, and a serious drought is hurting its farmers and raising the likelihood of higher food prices throughout the United States. In the state's Central Valley water-starved farms are cutting production.

Last year was the driest on record in California, and this year may be just as dry.

Some reservoirs are empty and the Sierra mountain snow pack, which melts and fills rivers in the springtime, is at dangerously low levels — just one quarter of normal.

Farmers warn of another "Dust Bowl" — referring to the drought and dust storms that ravaged American farmlands in the 1930s.

California produces nearly half of the United States' fruits and vegetables, and much of it comes from the state's sprawling Central Valley.

Dan Errotabere is a third generation farmer who grows tomatoes, walnuts, garlic and other crops in Fresno County. The federal agency that controls the water released from dams and the river system has cut his water supplies to zero.

"The last couple of years, dry years, coupled with severe environmental restrictions, has now presented us with a zero allocation year," said Errotabere.

More than 200,000 hectares of prime farmland may go unplanted in the Central Valley. Errotabere will let more than 20 percent of his farm lie fallow and lay off 10 of 25 workers.

"Right now, we're completely depending on wells to finish these crops off, but I'm going to be fallowing [not planting on] 1,200 acres [485 hectares] of our operation. There won't be anything growing on there," he said.

Even years with good rainfall have seen reduced water allocations, as federal and state officials supply water to the Sacramento River Delta, home of delta smelt and other endangered species.

Errotabere — and other farmers — say the water system is mismanaged and that his high-efficiency drip irrigation system offers little help without supplies of water.

Ryan Jacobsen of the Fresno County Farm Bureau said the shortage is forcing hard decisions. "The severity of this drought will be seen for possibly a decade to come because of the effects it's going to have on permanent crops and the likelihood that many of these permanent crops may have to come out of the ground."

Those permanent crops include citrus, walnuts and grapes.

The effects have not hit the nation's consumers yet, but inevitably they will, as shortages lead to higher prices.

Jon Murga of Fresco Community Markets in Los Angeles said politicians need to come up with an answer to the water crisis.

"Because that, at this moment, seems to me to be the most important thing that we need to be addressing. Long term, short term, intermediate term, however you choose to look at it," said Murga.

Murga said rising food costs in California will affect the entire country. And since California is a major exporter of food, it also will affect markets overseas.  http://www.voanews.com/content/california-drought-will-lead-to-higher-food-prices/1870748.html
The drought situation in California is severe.  While some feel that the politicians can solve all of this, without repentance they cannot.  The USA needs to turn to God as is recorded in the Book of Amos:
7 "I also withheld rain from you,
When there were still three months to the harvest.
I made it rain on one city,
I withheld rain from another city.
One part was rained upon,
And where it did not rain the part withered.
8 So two or three cities wandered to another city to drink water,
But they were not satisfied;
Yet you have not returned to Me,"
Says the Lord.

"I blasted you with blight and mildew. (Amos 4:7-9)
As the above shows, the Bible teaches that God uses weather problems to warn people to repent.
Although years ago, the people of the State of California voted to outlaw homosexual marriage, the political leaders in that state would not even defend that law in court in the final analysis as they wanted it overturned.
Why is this relevant?
People who advocate acceptance of homosexuality as harmless may also wish to notice something else that God had the Prophet Amos write would happen some time after the drought and weather problems:
11 "I overthrew some of you,
As God overthrew Sodom and Gomorrah,
And you were like a firebrand plucked from the burning;
Yet you have not returned to Me,"
Says the Lord.

12 "Therefore thus will I do to you, O Israel;
Because I will do this to you,
Prepare to meet your God, O Israel!"   (Amos 4:11-12)
God overthrew Sodom and Gomorrah for their pride and acceptance of homosexuality.  If the Anglo-nations do not repent of the direction that they are going, they will be overthrown relatively soon (see also Anglo – America in Prophecy & the Lost Tribes of Israel).  Politicians who profess to believe the Bible need to take a stand against those who advocate homosexuality and other behaviors that the Bible condemns.
Notice also the following about heat:
23 'The whole land is brimstone, salt, and burning; it is not sown, nor does it bear, nor does any grass grow there, like the overthrow of Sodom and Gomorrah, Admah, and Zeboiim, which the Lord overthrew in His anger and His wrath.' 24 All nations would say, 'Why has the Lord done so to this land? What does the heat of this great anger mean?' 25 Then people would say: 'Because they have forsaken the covenant of the Lord God of their fathers…(Deuteronomy 29:23-25)
What will happen to the Anglo-lands actually will be worse that what happened to Sodom:
6 The punishment of the iniquity of the daughter of my people
Is greater than the punishment of the sin of Sodom,
Which was overthrown in a moment,
With no hand to help her! (Lamentations 4:6)
Why is it worse? Notice:
9 Those slain by the sword are better off Than those who die of hunger; For these pine away, Stricken for lack of the fruits of the field. 10 The hands of the compassionate women Have cooked their own children; They became food for them In the destruction of the daughter of my people. 11 The Lord has fulfilled His fury,He has poured out His fierce anger. He kindled a fire in Zion, And it has devoured its foundations. 12 The kings of the earth,And all inhabitants of the world, Would not have believed That the adversary and the enemy Could enter the gates of Jerusalem — 13 Because of the sins of her prophets And the iniquities of her priests,Who shed in her midst The blood of the just. 14 They wandered blind in the streets; They have defiled themselves with blood, So that no one would touch their garments. 15 They cried out to them,"Go away, unclean!Go away, go away, Do not touch us!"When they fled and wandered, Those among the nations said, "They shall no longer dwell here." 16 The face of the Lord scattered them;He no longer regards them. The people do not respect the priests Nor show favor to the elders. 17 Still our eyes failed us,Watching vainly for our help;In our watching we watched For a nation that could not save us. 18 They tracked our steps So that we could not walk in our streets. Our end was near; Our days were over,For our end had come. 19 Our pursuers were swifter Than the eagles of the heavens. They pursued us on the mountains And lay in wait for us in the wilderness. 20 The breath of our nostrils, the anointed of the Lord, Was caught in their pits, Of whom we said, "Under his shadow We shall live among the nations." (Lamentations 4:9-20)
The reason that it is worse is that many of the people who survive starve and those that do not will be pursued and made be made slaves (for more details see Will the Anglo-Nations be Divided and Have People Taken as Slaves?).
Interestingly, it is not just the Anglo-descended lands that will have droughts and be overthrown for sins like homosexuality. Notice what is also prophesied to happen to end time Babylon:
38 A drought is against her waters, and they will be dried up. For it is the land of carved images, And they are insane with their idols. 39 "Therefore the wild desert beasts shall dwell there with the jackals, And the ostriches shall dwell in it. It shall be inhabited no more forever, Nor shall it be dwelt in from generation to generation. 40 As God overthrew Sodom and Gomorrah And their neighbors," says the Lord, "So no one shall reside there, Nor son of man dwell in it. (Jeremiah 50:38-40)
So, both Amos and Jeremiah tied the warning of a drought in with later being over thrown like Sodom and Gomorrah–and remember the Bible says that Sodom and Gomorrah were overthrown as examples for those who would go after "strange flesh" (2 Peter 2:6).  More about homosexuality can be found in the article The Bible Condemns Homosexuality.
The Bible, of course, warns of food shortages and pestilences. Nearly 2000 years ago, Jesus taught:
7…And there will be famines, pestilences, and earthquakes in various places. 8 All these are the beginning of sorrows. (Matthew 24:7-8)
We seem to be in the time Jesus called "the beginning of sorrows."  Notice a message related to the third horseman of Revelation:
5 When He opened the third seal, I heard the third living creature say, "Come and see." So I looked, and behold, a black horse, and he who sat on it had a pair of scales in his hand. 6 And I heard a voice in the midst of the four living creatures saying, "A quart of wheat for a denarius, and three quarts of barley for a denarius; and do not harm the oil and the wine."  (Revelation 6:5-6)
Food inflation is prophesied.  Not only in the Bible, but now also in the news.  Will weather problems cause people to turn to God? Or will they be determined to continue to turn further away from biblical morality?
The sorrows and troubles are just beginning and will get much worse. Hopefully, people will wake up. While God may end the droughts, the Bible shows that He sometimes does use weather as a warning. Various lands, in my view, are being warned.
Some items of possibly related interest may include:
Does God Use Weather? Are weather calamities totally random? Does God control the weather? What does the Bible say? Are there biblical prophecies for weather blessings and weather curses? Are those affected by hurricanes, tornadoes, tsunamis, droughts, and floods necessarily worse sinners than those not as affect? Does God use weather to try to get people to change or repent? This is a video.
Weather Blessings and Sorrows Are weather problems a warning? What should be done?
Four Horsemen of the Apocalypse What do each of the four horseman of the Apocalypse represent? Have they began their ride? Did Jesus discuss the any of this? Might their rides coincide with the "beginning of sorrows? Do they start their ride prior to the Great Tribulation? Did Nostradamus or any other 'private prophets' write predictions that may mislead people so that they may not understand the truth of one or more of the four horseman? There is also a related YouTube video titled The Four Horsemen of the Apocalypse.
Just What Do You Mean — Repentance? Do you know what repentance is? Have you truly repented? Repented of what? Herbert W. Armstrong wrote this as a booklet on this important subject.
When You Sin: Do You Really Repent? This is an article by Charles F. Hunting. A related sermon is Confess to God and truly repent.
GMOs and Bible Prophecy What are GMOs? Since they were not in the food supply until 1994, how could they possibly relate to Bible prophecy? Do GMOs put the USA and others at risk? Here is a related YouTube video GMO Risks and the Bible.
When Will the Great Tribulation Begin? 2014, 2015, or 2016? Can the Great Tribulation begin today? What happens before the Great Tribulation in the "beginning of sorrows"? What happens in the Great Tribulation and the Day of the Lord? Is this the time of the Gentiles? When is the earliest that the Great Tribulation can begin? What is the Day of the Lord? Who are the 144,000? Here is a version of the article in the Spanish language: ¿Puede comenzar la Gran Tribulación en 2013 o 2014? ¿Es el Tiempo de los Gentiles? You can also see the English language video The Great Tribulation Will Not Begin Before 2017.
Physical Preparation Scriptures for Christians. We all know the Bible prophecies famines. Should we do something?
Anglo – America in Prophecy & the Lost Tribes of Israel Are the Americans, Canadians, English, Scottish, Welsh, Australians, Anglo-Saxon (non-Dutch) Southern Africans, and New Zealanders descendants of Joseph? Where are the lost ten-tribes of Israel? Who are the lost tribes of Israel? What will happen to Jerusalem and the Jews in Israel? Will God punish the U.S.A., Canada, United Kingdom, and other Anglo-Saxon nations? Why might God allow them to be punished first? Here is a link to the Spanish version of this article: Anglo-América & las Tribus Perdidas de Israel. Information is also in the YouTube sermons titled Where are the Ten Lost Tribes? Why does it matter? and British are the Covenant People. A short YouTube of prophetic interest may be Barack Obama and the State of the Apocalypse.
Will the Anglo-Saxon Nations be Divided and Have People Taken as Slaves? Will the lands of the United States, United Kingdom, Canada, Australia, and New Zealand be divided? What about Jerusalem? What does Bible prophecy teach? Are there non-biblical prophecies that support this idea? Who will divide those lands? Who will end up with the lands and the people? Here is a link to a video titled Will the USA and other Anglo-nations be Divided and Their People Made Slaves? Here is a related item in the Spanish language ¿Serán divididas las naciones anglosajonas?
Does God Have a 6,000 Year Plan? What Year Does the 6,000 Years End? Was a 6000 year time allowed for humans to rule followed by a literal thousand year reign of Christ on Earth taught by the early Christians? Does God have 7,000 year plan? What year may the six thousand years of human rule end? When will Jesus return? 2021 or 20xx? There is also a video titled The 6000 Year Plan: Is the end of humanity's reign almost up?
Barack Obama, Prophecy, and the Destruction of the United States-Second Edition for Second Obama Term This is a 160 page book for people truly interested in prophecies related to Barack Obama and the United States, including learning about many that have already been fulfilled (which the book documents in detail) and those that will be fulfilled in the future. It also has a chapter about a Republican choice. This book is available to order at www.barackobamaprophecy.com. The physical book can also be purchased at Amazon from the following link: Barack Obama, Prophecy, and the Destruction of the United States: Is Barack Obama Fulfilling Biblical, Islamic Catholic, Kenyan, and other America-Related Prophecies? What About Republican Leaders? Second Edition for Second Obama Term.
Barack Obama, Prophecy, and the Destruction of the United States-Second Term-Amazon Kindle edition. This electronic version is available for only US$2.99. And you do not need an actual Kindle device to read it. Why? Amazon will allow you to download it to almost any device: Please click HERE to download one of Amazon s Free Reader Apps. After you go to for your free Kindle reader and then go to Barack Obama, Prophecy, and the Destruction of the United States-Second Term-Amazon Kindle edition.