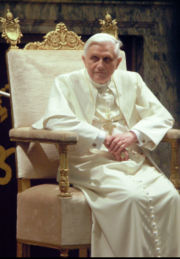 Pope Benedictus XVI
A rumor about the pope is in the news:
The Pope will die within a year: Vatican 'assassination fears' revealed

The Pope will die within the next 12 months, a senior Vatican figure has reportedly claimed amid fears of an assassination plot.

Vatican dismisses report of plot to kill the pope as 'ramblings'

Published February 10, 2012| NewsCore

ROME — The Vatican moved quickly Friday to dismiss newspaper reports of a plot to kill the pope.

"These are clearly ramblings, which are not at all taken seriously. This is madness," Federico Lombardi, the director of the Vatican press office, said in a hurriedly-released statement.

Italian media went into a frenzy Thursday night after Italian newspaper Il Fatto Quotidiano published a front-page account of a note sent to Benedict XVI by retired Colombian Cardinal Castrillon, Sky Italia TG24 reported.

The note, written in German, tells of an alleged conversation in which the Archbishop of Palermo, Cardinal Romeo, during a visit to China, claimed the pope was in great danger and an attack was feared within 12 months. Romeo also apparently named the pope's probable successor as Cardinal Scola, the current Archbishop of Milan.

Romeo told the ANSA news agency Friday that the words credited to him were "entirely without basis."

http://www.foxnews.com/world/2012/02/10/vatican-dismisses-report-plot-to-kill-pope-as-ramblings/?test=latestnews&icid=maing-grid10%7Chtmlws-main-bb%7Cdl6%7Csec1_lnk3%26pLid%3D134498#ixzz1m0Fu5svd
There are a variety of rumors about the pope, and at his age he may not have too much longer to live.  Others that I have wondered who could be the next pope include the French Bishop Marc Stenger and the possibly more ecumenical Cardinal Kurt Koch.  Cardinal Angela Scola's name has come up before as a possibility.
While many within the professing "Christian" world want ecumenical unity, I would suggest that Catholics, Eastern Orthodox, and also Protestants should open up their Bibles and see the warnings about a coming ecumenical religion (cf. Revelation 13:4-8).  Catholic, Byzantine, and biblical prophecy all have warnings about where this will lead. And although some of the Catholic and Byzantine ones have a positive view towards this ecumenism, others are negative, and the Bible clearly is negative.
Certain non-biblical private Catholic prophecies suggest that the next pope could be the last one and he could be an antipope.  Based upon where we are likely to be in relationship to the end of the 6,000 years in God's apparent 7,000 year plan, this seems to suggest that the final pontiff could certainly be the next one.
Some items of potentially related interest include the following:
Does God Have a 6,000 Year Plan? What Year Does the 6,000 Years End? Was a 6000 year time allowed for humans to rule followed by a literal thousand year reign of Christ on Earth taught by the early Christians? Does God have 7,000 year plan? What year may the six thousand years of human rule end? When will Jesus return? 2019 or?
Catholic Prophecies: Do They Mirror, Highlight, or Contradict Biblical Prophecies? People of all faiths may be surprised to see what various Roman and Orthodox Catholic prophets have been predicting as many of their predictions will be looked to in the 21st century.
End of Mayan Calendar 2012–Might 2012 Mean Something? Are there Mayan calendar predictions for change in 2012? Changes were centuries ago predicted by the Hopi Native Americans. Do Mayan/Hindu/Hopi/Buddhist/New Age/Nostradamus prophecies have any value here? Why might Satan have inspired this date? Does the Dresden codex show destruction of the earth by flood? Can the great tribulation start before 2012? How might Barack Obama and Julia Gillard be involved in 2012?  Have predictions written by Bob Thiel related to Barack Obama and Julia Gillard began to come to pass?
Why Should American Catholics Should Fear Unity with the Orthodox? Are the current ecumenical meetings a good thing or will they result in disaster?
Orthodox Must Reject Unity with the Roman Catholics Will unification make the Orthodox better? What about end time Babylon? What are the issues? Why should such unity be rejected?
Early Church History: Who Were the Two Major Groups Professed Christ in the Second and Third Centuries? Did you know that many in the second and third centuries felt that there were two major, and separate, professing Christian groups in the second century, but that those in the majority churches tend to now blend the groups together and claim "saints" from both? "Saints" that condemn some of their current beliefs. Who are the two groups?
The History of Early Christianity Are you aware that what most people believe is not what truly happened to the true Christian church? Do you know where the early church was based? Do you know what were the doctrines of the early church? Is your faith really based upon the truth or compromise?
Which Is Faithful: The Roman Catholic Church or the Living Church of God? Do you know that both groups shared a lot of the earliest teachings? Do you know which church changed? Do you know which group is most faithful to the teachings of the apostolic church? Which group best represents true Christianity? This documented article answers those questions. Português: Qual é fiel: A igreja católica romana ou a igreja viva do deus? Tambien Español: Cuál es fiel: ¿La iglesia católica romana o La Iglesia del Dios Viviente? Auch: Deutsch: Welches zuverlässig ist: Die Römisch-katholische Kirche oder die lebende Kirche von Gott?