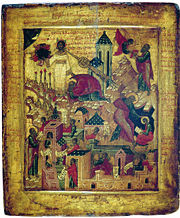 "Orthodox" 16th Century Representation of the "Apocalypse"
COGwriter

The Indian press repeated the following today:
Why 'Doomsday' may not be too far

Agence France-Presse
Washington, January 11, 2012

Global uncertainty on how to deal with the threats of nuclear weapons and climate change have forced the "Doomsday clock" one minute closer to midnight, leading international scientists said on Tuesday.

"It is now five minutes to midnight," said Allison Macfarlan, chair of the Bulletin of Atomic Scientists, which created the Doomsday clock in 1947 as a barometer of how close the world is to an apocalyptic end…

Increasing nuclear tensions, refusal to engage in global action on climate change, and a growing tendency to reject science when it comes to major world concerns were cited as key reasons for the latest tick on the clock.
While we are getting closer, the end is NOT yet (Matthew 24:1-8).  We seem to be in the time warned of by Jesus as the beginning of sorrows.
Wars and rumors of wars are one of the sorrows that Jesus warned of.  The world seems to think we are closer to war and there are now many rumors of war in the Middle East (such as involving Iran) and elsewhere.
If Iran does what it hints, a regional war involving Iran and Israel and possibly nuclear weapons could happen in the next year or so.
Some articles of related interest may include the following:
Can the Great Tribulation Begin in 2012, 2013, or 2014?
Can the Great Tribulation begin today? What happens before in the "beginning of sorrows"? What happens in the Great Tribulation and the Day of the Lord? When is the earliest that the Great Tribulation can begin? What is the Day of the Lord?
End of Mayan Calendar 2012–Might 2012 Mean Something?
Are there Mayan calendar predictions for change in 2012? Changes were centuries ago predicted by the Hopi Native Americans. Do Mayan/Hindu/Hopi/Buddhist/New Age/Nostradamus prophecies have any value here? Why might Satan have inspired this date? Does the Dresden codex show destruction of the earth by flood? Can the great tribulation start before 2012? How might Barack Obama be involved in 2012?
India, Its Biblical Past and Future: Any Witness?
The Bible discusses the origins of those of Indian heritage and discusses some of the witness to them (including those in Bangladesh, Pakistan, and Sri Lanka).
The Arab and Islamic World In the Bible, History, and Prophecy
The Bible discusses the origins of the Arab world and discusses the Middle East in prophecy. What is ahead for the Middle East and those who follow Islam? What about the Imam Mahdi? What lies ahead for Turkey, Iran, and the other non-Arabic Muslims?