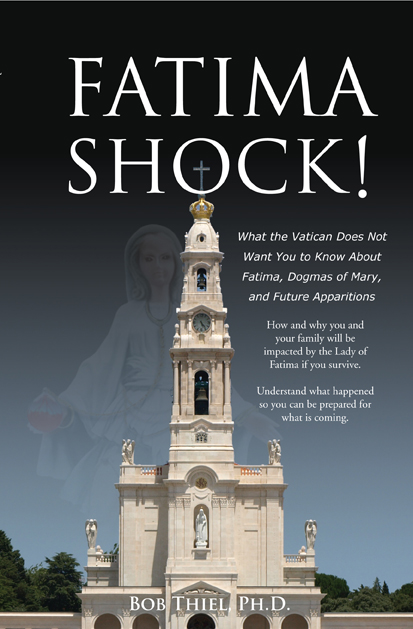 May 13th is known as 'Fatima Day.' Thousands have traveled to Fatima to celebrate it (https://news.abs-cbn.com/overseas/multimedia/photo/05/10/23/pilgrims-head-to-fatima).
Why?
Well, many improperly believe that Jesus' mother Mary appeared there over a century ago.
On May 13, 1917, three young children claimed to see a female wearing a short skirt near Fatima, Portugal that many LATER declared was Mary, the mother of Jesus (though the apparition never referred to itself as Mary).
Years back, per Pope Francis' request, Cardinal Policarpo consecrated the pontificate of Francis to the Lady of Fatima on this date after becoming pontiff (the following item was machine-translated from Portuguese):
May 13, 2013

D. José Policarpo maintained that the Church has to assert itself as a "place of conversion and forgiveness, because it expresses the truth always in charity."

"So you consecrate Lady, you who are the Mother of the Church, the ministry of the new Pope: fill your heart the tenderness of God, that you have experienced as anyone, so that it can embrace all men and women of this time with the love of your Son Jesus Christ, "he said…

After the moment of consecration of the pontificate, at the end of Mass, the bishop of Leiria-Fatima, D. António Marto, read a message sent by the Apostolic Nunciature in Portugal.

"The Holy Father expressed his satisfaction for the initiative and deep appreciation for the satisfaction of his desire in union of prayer with all the pilgrims of Fatima, which, at heart, gives apostolic blessing as a pledge of all goods," referring text. http://www.agencia.ecclesia.pt/cgi-bin/noticia.pl?id=95487
Pope Francis has taken this even further as he consecrated the world before a statue that was flown to the Vatican from Fatima in October of 2013 (see Francis consecrated world to the 'immaculate heart' of an alleged 'Fatima' statue). Pope Francis takes this Fatima matter seriously and it is part of his ecumenical agenda. Since Pope Francis values this day so highly, his actions will affect many, not just now, but later. He has mentioned Fatima throughout his papacy.
In 2017, Pope Francis flew to Fatima, Portugal to celebrate the 100th anniversary of Fatima Day.
On March 25, 2022, he 'consecrated' Russia and Ukraine to the 'immaculate heart of Mary' in a manner similar to that which one of the children who saw the Marian apparition said the 'Lady of Fatima' said to do.
It should be noted that although many Catholics believe that Mary, the mother of Jesus, appeared in Fatima, the "Lady" that appeared did not call herself Mary, and according to the only physical descriptions of the three witnesses, could not have possibly been Mary of the Bible.
I wrote a book titled Fatima Shock! to warn people that in the future, apparitions that most people will think are Mary, will likely be part of the signs and lying wonders that the Bible warns will deceive the world (it also gives more information of what the Fatimists really think of their previous pope as well as their view of the so-called undisclosed portion of the "third secret").
Although most non-Roman Catholics do not think that Fatima can affect them, if they live long enough this century, they will find that this is not the case. Fatima is a much bigger deal than people realize and seems to tie into a variety of prophecies throughout the Bible (e.g. Isaiah 47, Matthew 24, 2 Thessalonians 2, Revelation 17). How apparitions are likely to affect the world at the end seems to be a missing dimension in understanding prophecy by most who profess Christ (see also the video Marian Apparitions May Fulfill Prophecy).
Pope Francis has personally taken several steps since becoming pope in March 2013 to direct people to Mary (see, for example, Pope Francis continues to direct his followers towards "Mary"). A lot of Catholic prophecy indicates that "Mary" will be a major factor in bringing people to the Catholic faith–which will be a changed faith. This changed faith is warned against in the Bible, yet steps are being taken to implement it.
The 'Lady of Fatima' reminds me of the woman warned about in Isaiah 47.
The late Herbert Armstrong wrote the following related to Isaiah 47:
But WHO is the Power that will lay this YOKE of slavery upon, Britain and America? We begin to find this answer in the 47th chapter of Isaiah. Notice!

"Come down, and sit in the dust, 0 virgin daughter of Babylon," is the salutation of this chapter, verse 1. It is addressed, not to the ancient Babylon of King Nebuchadnezzar. It is addressed to a descendant, or successor, of the ancient Chaldean Empire. It is addressed to a WOMAN. And in prophetic symbol the term "woman" represents a CHURCH (Eph. 5:23, 27, 32; II Cor. ll: 1-2; Rev. 19:6-9; Rev. 12:13-17, etc.). This "lady of Kingdoms" of Isaiah 47 is the same CHURCH pictured in Revelation 17 and 18. But let's understand as we go along "… there is no throne, O daughter of the Chaldeans: for thou shalt no more be called tender and delicate." (Verse 1).

This "lady" is no longer a virgin! She is a prostitute. She is to LOSE her throne over political kingdoms. Notice her moral and spiritual fall: "Thy nakedness shall be uncovered , yea, thy shame shall be seen: I will take vengeance … " (verse 3 ).

God Almighty Himself is going to take vengeance on her. This can result only from spirirual harlotry, which is sin.

Continue: "Sit thou silent, and get thee into darkness, O daughter of the Chaldeans; for thou shall no more be called The Lady of Kingdoms." (Verse 5 ) . The Moffatt translation is more plain: "Sit thou silent in the dark." Light represents TRUTH. Darkness represents error and SIN. She is a fallen woman. She has reigned over KINGDOMS of NATIONS. But, from the time of the conclusion of this prophecy, she shall no longer be called "The Lady of Kingdoms"- that is, the CHURCH that had a kingdom over the political civil kingdoms…

God will give the House of Israel of today-Britain and America-into the hand of this "Lady of Kingdoms." She, through the armies and secret police of the nations she shall sit upon and rule, will very heavily lay HER YOKE of slavery, torture, and martyrdom on our peoples! (Armstrong HW. BRITAIN'S DOOM Prophesied for Common Market Seeking Membership! Plain Truth, July 1962; he also said something similar in his Sermon dated November 27, 1982)
Here are some items from the late Radio/Worldwide Church of God evangelist Raymond McNair:
Fatima Portugal

THE Pope's pilgrimage to Portugal is the biggest event ever to occur in this country!" an elated Portuguese exclaimed to me. This momentous occasion is the 50th anniversary of the first Fatima vision. It was on May 13, 1917 that three poor, uneducated Portuguese peasant children believed the Virgin Mary appeared to them, It is also the 25th anniversary of Pope Pius XII's consecration of the world to the Immaculate Heart of Mary! …

The Pope had come to Fatima to lead all Catholics worldwide in prayer for peace – peace within the Church, and peace in the whole world. …

"The first intention is for the Church …. We want to pray, as we have said, for its intemal peace." Then the Pope gave a solemn warning to the ecclesiastical princes of the Catholic Church who do not agree with the official teachings of the Church." What terrible damage could be provoked by arbitrary interpretations, not authorized by the teaching of the Church, disrupting its traditional and constitutional structure … " …

The Pontiff then pointed to that great part of humanity which lives in hunger and in dire need." Therefore, we say, the world is in DANGER. For this reason WE HAVE COME TO THE FEET OF THE QUEEN OF PEACE to ask her for the gift, which only God can give, of peace." …

In the German Suddeutsche Zeitung there was an article in which it was revealed that Pope Paul VI had received a message in Fatima through the only remaining shepherd girl (who is now a nun). They were seen quite some time together and it appeared as if she had something to say to him. When asked in Rome, after his return, if his visit to Fatima was a success, Pope Paul said: " I went to Fatima to pray for peace to the Virgin Mary and I received the answer how to, achieve this peace."

There are many rumors that he did receive a message, but he has not wanted to divulge it.

Since the pilgrimage to Fatima, the Pope has spoken out on Jerusalem- demanding it become an international city. What most do not know is that there is evidence the Vatican has plans to move from Rome to Jerusalem … This event will stir the world! It will be the Pope 's final effort as the world's peacemaker! (McNair R. The Real Meaning Behind POPE PAUL'S PILGRIMAGE TO PORTUGAL. Plain Truth, June 1967, pp. 3, 47)

Jerusalem will become increasingly important to Catholics in the near future. The Papacy will, as previously reported in The PLAIN TRUTH, be moved from Rome to Jerusalem … Bible prophecy is very explicit on this point. Furthermore, according to a recent report in a leading German newspaper, the Third Fatima Message is reported (by inside, informed Vatican sources) to reveal that there will be a terrible World War III, during which (according to this Fatima Vision) both Rome and the Vatican will be destroyed! Could this possibly explain why the Vatican will be moved to Jerusalem? (McNair R. POPE MEETS PATRIARCH. Plain Truth, October 1967)
For even more information on Isaiah 47 as well as Fatima and other apparitions, please check out the book Fatima Shock!
The "Lady of Fatima" is NOT the answer to humanity's ills, despite many Catholics believing otherwise. We need the return of Jesus Christ and the establishment of His kingdom to eliminate war, implement peace, and bring in true prosperity. Pope Francis' emphasis on his version of Mary is a deviation from scripture.
Having visited Fatima, it is and has been a major reason for tourism in Portugal and especially the region it is in. This is one reason why it is hard to find books in Fatima that tell the full truth about it (and my wife and I searched all the book stores we could find there about it–and they all sold pro-apparition books, and none we found sold books warning against believing it).
While I agree that something appeared there, what appeared was NOT Jesus' mother Mary nor was it sent by God.
Some items of related interest may include:
Why Learn About Fatima? Fatima was the name of Muhammed's favorite daughter as well as the location of a town in Portugual that had six monthly visits from a 'Lady' in 1917. What was really seen at Fatima? Why is Fatima important? What really appeared in Fatima, Portugal. Are their ecumenical plans and concerns related to this? How does any of this tie in with biblical and other prophecy? What type of sign or wonder was Fatima? Why do Christians need to know about this? This is a video sermon.
Fatima and Pope Francis Could end time prophecies be fulfilled by apparitions? May 13, 2017 marks the 100th anniversary of a 'Lady' that appeared before three shepherd children in Fatima, Portugal. The Vatican announced that Pope Francis will declare them Catholic saints on the 100th anniversary–how did the children describe what they saw? Is it possible that Jesus' mother Mary appeared at Fatima? Could signs and lying wonders come from apparitions? How could the Fatima hype be setting the world up for the end? Did the old Radio Church of God teach about Fatima? Dr. Thiel addresses these issues and more. This is a video sermonette.
The Gospel of the Kingdom of God This free online pdf booklet has answers many questions people have about the Gospel of the Kingdom of God and explains why it is the solution to the issues the world is facing. Here are links to four related sermons:  The Fantastic Gospel of the Kingdom of God!, The World's False Gospel, The Gospel of the Kingdom: From the New and Old Testaments, and The Kingdom of God is the Solution.
The 'Lady' of Guadalupe: Any Future Ramifications? It is claimed that a female apparition appeared near Mexico City on December 12, 1531. How has it affected the world? What might it suggest about the future? A video of related interest is titled: The 'Lady of Guadalupe' and Prophecy.
Pope Francis: Could this Marian Focused Pontiff be Fulfilling Prophecy? Pope Francis has taken many steps to turn people more towards his version of 'Mary.' Could this be consistent with biblical and Catholic prophecies? This article documents what has been happening. There is also a video version titled Pope Francis: Could this Marian Focused Pontiff be Fulfilling Prophecy?
The Last Pope: Do Biblical and Catholic Prophecies Point to Pope Francis? Kindle This electronic version of a new 186 page book (in the print version). And you do not need an actual Kindle device to read it. Why? Amazon will allow you to download it to almost any device: Please click HERE to download one of Amazon s Free Reader Apps. After you go to for your free Kindle reader and then go to The Last Pope: Do Biblical and Catholic Prophecies Point to Pope Francis? Kindle.
The Last Pope: Do Biblical and Catholic Prophecies Point to Pope Francis? What does the Bible say about a pope near this time? Is the final pope to be an antipope and antichrist? Does Catholic prophecy point to Pope Francis as being the dreaded "Peter the Roma"? This 186 page book provides information and answers. This book is available for USD$9.98 in printed form The Last Pope: Do Biblical and Catholic Prophecies Point to Pope Francis.
The Malachy Prophecies and "Peter the Roman" An Irish bishop allegedly predicted something about 112 popes in the 12th century. Pope Benedict XVI was number 111. Francis would seem to be number 112–if he is that one–and if so, he is to reign until Rome is destroyed. May he be an antipope/final Antichrist?
Why Should American Roman Catholics Fear Unity with the Orthodox? Are the current ecumenical meetings a good thing or will they result in disaster? Is doctrinal compromise good? Here is a link to a related video Should you be concerned about the ecumenical movement?
Will the Interfaith Movement Lead to Peace or Sudden Destruction? Is the interfaith movement going to lead to lasting peace or is it warned against? A video of related interest could be Do You Know That Babylon is Forming?
Mary, the Mother of Jesus and the Apparitions Do you know much about Mary? Are the apparitions real? What happened at Fatima? What might they mean for the rise of the ecumenical religion of Antichrist? Are Protestants moving towards Mary? How do the Eastern/Greek Orthodox view Mary? How might Mary view her adorers? See also the video Marian Apparitions May Fulfill Prophecy.
Feast of the Immaculate Conception? Did early Christians teach Mary had an immaculate conception and led a sinless life?
Origin of the Marian Dogmas: Where Do Catholic Scholars Say The Four Dogmas of Mary Came From?
Assumption of Mary Did Mary die? Was she taken to heaven on August 15th? What is known? What does the Bible show?
Will You Be Deceived by Antichrist? 1964 article by David Jon Hill, originally published in the old Good News magazine.
Could Pope Francis be the Last Pope and Antichrist? According to some interpretations of the prophecies of the popes by the Catholic saint and Bishop Malachy, Pope Francis I is in the position of "Peter the Roman," the pontiff who reigns during tribulations until around the time of the destruction of Rome. Do biblical prophecies warn of someone that sounds like Peter the Roman? Could Francis I be the heretical antipope of Catholic private prophecies and the final Antichrist of Bible prophecy? This is a YouTube video.
Fatima Shock! What the Vatican Does Not Want You to Know About Fatima, Dogmas of Mary, and Future Apparitions. Whether or not you believe anything happened at Fatima, if you live long enough, you will be affected by its ramifications (cf. Isaiah 47; Revelation 17). Fatima Shock! is a highly documented book by Bob Thiel for those interested in the real truth about Fatima and how future apparitions may affect the future. In addition to the print version, there is a Kindle version of Fatima Shock! which you can acquire in seconds.