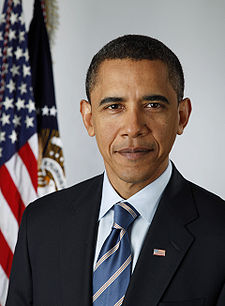 Although he and his family attended church until he was elected USA president, Barack Obama no longer intends to join any particular church.  Nicole Neroulias reported:
Monday April 5, 2010

The First Family has decided not to join a church — President Obama says they decided their presence, and the security required, is too disruptive and distracting to the others on a weekly basis — but they did attend Easter Sunday services again, this time choosing a historically black Methodist Church in Southeast Washington, a neighborhood struggling with poverty and crime…

http://blog.beliefnet.com/beliefbeat/2010/04/obama-family-finds-a-church-for-easter.html
Now, I personally never did not consider that Barack Obama was particularly dedicated to Christianity.  And his latest decisions simply confirm what I have long suspected.
If he is, as one of his websites claimed, " a committed Christian", he may wish to consider more of what the Bible says.  The Apostle Paul warned Christians:
23 Let us hold fast the confession of our hope without wavering, for He who promised is faithful. 24 And let us consider one another in order to stir up love and good works, 25 not forsaking the assembling of ourselves together, as is the manner of some, but exhorting one another, and so much the more as you see the Day approaching. (Hebrews 10:23-25)
Dedicated Christians would heed the warnings about not attending with believers in these end times.  But the USA President does not apparently believe that applies to him.
Of course, I am not the only one who doubted the depth of USA President Obama's commitment to Christianity.
One named Kim Clement allegedly "prophesied" the following in Memphis, Tennessee on October 26, 2009:
"For there has been a scheme and a plan against the President of this nation, to suffocate him." God says, "The enemy has planned in 2010 to bring shame to the first African President. So that they will say, 'Never again shall an African American be the President of the United States.' This will not happen," says the Lord. "This will not happen. This will not happen.

"There shall come a change in the early part of 2010 and many will say, 'Look, things are not quite as bad as what it seemed,' and those who have murmured and those who have spoken evil, those who have spread words out to bring shame to this race will not be satisfied."…

God says, "Your President shall have a great conversion in 2010 which will bring about changes to this nation and because I have spoken.

"Your prayers and your praise shall bring about a change in the atmosphere; your praise and your shouts bring about a change, for you don't understand the significance of these sounds. I'm not listening to the journalists or the prognosticators. I'm not listening to CBS or NBC or ABC or FOX." God says, "I'm not listening!…

God says, "I will honor the prayer in the Easter of 2010. I will break the cycle.

"For they have predicted another one shall die in office. It shall not be so. For this President shall leave this office bringing honor to the African American people."  Source: http://www.elijahlist.com/words/display_word/8184
Now, while it is always possible that the USA President could convert, I absolutely never did not accept the aforementioned "prophecy" as true for many reasons.  So, once again I will go on record and state in advance that I do not believe that the one who made this claim is God's prophet.  And since no notable "conversion" occurred with Barack Obama yesterday, we should all be able to conclude that the "conversion" aspect of the above "prophecy" was false.
Again attending an Easter service, like he did last year, simply shows that Barack Obama is into photo ops related to religion and demonstrates that he is not intending to pursue biblical Christianity.  And while anyone can repent, I will not hold my breath.  But, I will continue to pray for him.
For more information, please check out the following:
Prophecies of Barack Obama? Are there biblical and non-biblical prophecies about Barack Obama. Did Nostradamus predict Barack Obama dealing with the Antichrist?  This is a lengthy article with many prophecies that Barack Obama may end up fulfilling.
Barack Obama, Prophecy, and the Destruction of the United States Some claim that Barack Obama is the prophesied "son of Kenya". Might Bible prophecy be fulfilled by him?
Barack Obama in Islamic Prophecy? There is actually a 17th century Shiite prophecy that some believe that Barack Obama will fulfill that will lead to a rising up of Islam.
End of Mayan Calendar 2012–Might 2012 Mean Something? Are there Mayan calendar predictions for change in 2012? Changes were centuries ago predicted by the Hopi Native Americans. Do Mayan/Hindu/Hopi/Buddhist/New Age/Nostradamus prophecies have any value here? Why might Satan have inspired this date? Does the Dresden codex show destruction of the earth by flood? Can the great tribulation start before 2012? How might Barack Obama be involved in 2012?