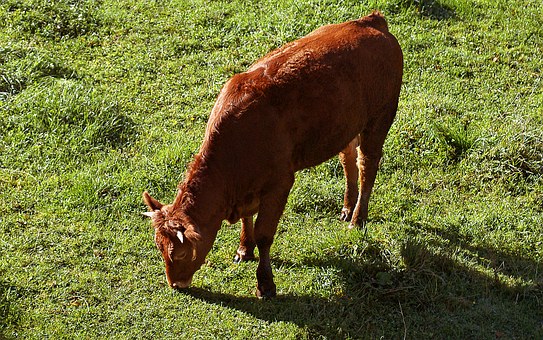 'Red Heifer' grazing (Pixabay)
Breaking Israel News reported the following:
May 27, 2019

Rabbinic experts traveled this week from Jerusalem to two separate locations in Israel where a small number of red heifer candidates are being raised, as part of the Temple Institute's Raise a Red Heifer in Israel program, initiated four years ago. Three of the most recent candidates were checked to determine whether they bore suitably red coats, as required by halacha (Jewish law) to render them eligible as red heifer candidates. One bore a small patch of white hairs, rendering it ineligible. One bore a few very light red hairs, which will require further inspection. A third candidate is currently eligible, and will also require follow up. https://www.breakingisraelnews.com/130138/ten-day-old-red-heifer-candidate-checked-for-eligibility/
There are also other red heifer candidates. Basically, groups like the Temple Institute believe that the blood of a red heifer will provide the way for the Messiah:
The Tenth Red Heifer Will be Prepared by the Messiah

In recounting this historical record in his commentary to the Mishna, the great Maimonides ends with the enigmatic statement: "… and the tenth red heifer will be accomplished by the king, the Messiah; may he be revealed speedily, Amen, May it be God's will."

With this amazing statement, Maimonides recounts an ancient tradition – that the tenth red heifer is associated with the Messianic era. Does this perhaps mean that the appearance of a red heifer in these waning end times is an indication, a forerunner of the appearance of the Messiah himself, who will officiate at its preparation?

If there has been no red heifer for the past 2,000 years, perhaps it is because the time was not right; Israel was far from being ready. But now… what could it mean for the times we live in, to have the means for purification so close at hand? With the words of Maimonides in mind, we cannot help but wonder and pray: If there are now red heifers… is ours the era that will need them? https://www.templeinstitute.org/red_heifer/tenth_red_heifer.htm
Some believe, instead, that the tenth red heifer came prior to the destruction of the last temple. Whether it did or not, the Bible simply does not mention ten red heifers.
Plus, Jesus was the Messiah. Jews (and others) who do not accept that should study the free online book: Proof Jesus is the Messiah. It not only has hundreds of scriptures, it shows from Jewish writings, as well as historical prophetic fulfilments, why those interested in the truth must conclude that Jesus is the Messiah.
There is also some political news from Israel:
JERUSALEM (Reuters) – Israeli Prime Minister Benjamin Netanyahu embarked on Sunday on what he termed a "final effort" to break a deadlock on forming a governing coalition ahead of a Wednesday deadline for a deal.

In power for the past decade, Netanyahu has unexpectedly struggled to seal an agreement with a clutch of right-wing, far-right and ultra-Orthodox Jewish parties that would align with his Likud party and ensure him a fifth term following Israel's April 9 election.

Divisions between former Defence Minister Avigdor Lieberman's ultranationalist Yisrael Beitenu party and United Torah Judaism over a military conscription bill governing exemptions for ultra-Orthodox Jewish seminary students have plunged the coalition talks into stalemate. …

Netanyahu said he had invited all of his negotiating partners to meet him in "a final attempt to form a right-wing government" and avoid "an unnecessary election".

A Likud source said the sessions would be held later in the day and on Monday.

Parallel to the negotiations, Likud announced preparations for a possible national ballot, with November already touted by political analysts as a likely date. 05/26/19  https://www.reuters.com/article/us-israel-politics/netanyahu-struggles-to-form-government-amid-talk-of-new-election-idUSKCN1SW0LT
Whether or not a coalition will be formed by Wednesday to prevent another election, Israel's political system is often fragmented and some very small parties can have a lot of influence.
One day, the "ultra-Orthodox" will likely be a factor in getting animal sacrifices approved (in order to get their political support), which is something that will happen before the start of the coming Great Tribulation. And having a 'suitable' red heifer may also be involved in that.
Actually, if they determine that they do have a suitable 'red heifer,' some religious Jews will likely point to that as a reason that their desire for regular animal sacrifices must be approved.
We seem to be getting closer to that day!
Some items of possibly related interest may include:
The Red Heifer, Jewish Beliefs, and the End of the World The Temple Institute is watching a 'red heifer.' Why might this be important in the sequence of end time events? Here is a related link in the Spanish language Novilla roja descubierta en EE.UU. e Instituto del Templo está interesado en ella. Here are two related videos in English: Red Heifers and the Fate of the World and The Red Heifer and the End of the World.
Why is a Jewish Temple in Jerusalem Not Required? Although people like Timothy LaHaye teach a third Jewish temple is required, who is 'the temple of God" in the New Testament? Does the Bible require a rebuilt Jewish Temple? Here is a related item in the Spanish language ¿Por qué no se requiere un templo judío en Jerusalén? Here is a link to a sermon titled The Temple, Prophecy, and the Work.
Nascent Sanhedrin structure and high priest: The plan is to start animal sacrifices this would fulfill prophecy! The reconstituted Sanhedrin wants the reimplementation of animal sacrifices. A related video is titled Sanhedrin pushing animal sacrifices.
Church of God on Jerusalem's Western Hill Could this building, often referred to as the Cenacle, which is located on a Mount Zion, possibly have been the oldest actual Christian church building? There is also a video titled Might the oldest church building have prophetic ramifications?
The 'Peace Deal' of Daniel 9:27 This prophecy could give up to 3 1/2 years advance notice of the coming Great Tribulation. Will most ignore or misunderstand its fulfillment? Here is a link to a related sermon video Daniel 9:27 and the Start of the Great Tribulation.
Does the 'Cenacle' deal have prophetic ramifications? After a 20 year negotiation, the Church of Rome has negotiated the right to have Catholic mass in the building known as the Cenacle. It is in the area where the Church of God on Jerusalem's Western Hill once stood. This is believed to be the location of the earliest Christian church building. How does the Bible define the 'temple of God' in the New Testament? Could this be the area where the 'man of sin' will sit in the "temple of God' that Bible prophecy discusses in 2 Thessalonians 2:3-4? This is a YouTube video.
Jerusalem: Past, Present, and Future What does the Bible say about Jerusalem and its future? Is Jerusalem going to be divided and eliminated? Is Jesus returning to the area of Jerusalem? There is also a related YouTube video you can watch titled Jerusalem To be divided and eliminated.
Evangelical support for Donald Trump's Jerusalem policy BBC asked, "Why do US evangelicals support Trump's Jerusalem policy?" BBC provided quotes from some believing it has to do with the 'last days' while others saying that is not the reason. Hal Lindsey's book, 'The Late Great Planet Earth' is one of the sources pointed to. In this video, Dr. Thiel addresses scriptures related to Jerusalem as well as prophetic ones. He goes over the common 'fig tree' interpretation, belief about a 'Third Temple,' and statements about animal sacrifices. He explains biblical statements on those subjects as well as the views of certain modern Jewish organizations. This is a video.
Jerusalem, Donald Trump, and Prophecy On December 6, 2017, US President Donald Trump fulfilled a campaign promise related to the recognition of Jerusalem as Israel's capital. This brought anger, protests, and rockets from some Palestinians. It also brought condemnation from European allies–it has been claimed to be disruptive and even catastrophic. The Palestinian President (Mahmoud Abbas) said that this pronouncement eliminated the USA as being a fair mediator for a peace deal. Others have claimed that Donald Trump is an end time Cyrus and his pronouncement will lead to a Third Temple in Jerusalem. Is there ever going to be a peace deal? If so, will Europeans be part of it? Is Donald Trump a 'Cyrus.' Do the Jews require a Third Temple for sacrifices? Dr. Thiel answer those questions and more in this video.
Who is the Man of Sin of 2 Thessalonians 2? Is this the King of the North, the ten-horned beast of Revelation 13:1-11, or the two-horned Beast of Revelation 13:12-16? Some rely on traditions, but what does the Bible teach? Here is a related link in Spanish/español: ¿Quién es el Hombre de Pecado de 2 Tesalonicenses 2? Here is a version in Mandarin: N;ÿ Œf/'Y'jNº'ÿ Here is a link to a related English sermon video titled: The Man of Sin will deceive most 'Christians'.
Does God Have a 6,000 Year Plan? What Year Does the 6,000 Years End? Was a 6000 year time allowed for humans to rule followed by a literal thousand year reign of Christ on Earth taught by the early Christians? Does God have 7,000 year plan? What year may the six thousand years of human rule end? When will Jesus return? 2027 or 20xx? There is also a video titled 6000 Years: When will God's Kingdom Come? Here is a link to the article in Spanish: ¿Tiene Dios un plan de 6,000 años?
When Will the Great Tribulation Begin? 2019, 2020, or 2021? Can the Great Tribulation begin today? What happens before the Great Tribulation in the "beginning of sorrows"? What happens in the Great Tribulation and the Day of the Lord? Is this the time of the Gentiles? When is the earliest that the Great Tribulation can begin? What is the Day of the Lord? Who are the 144,000? Here is a version of the article in the Spanish language: ¿Puede comenzar la Gran Tribulación en 2018 o 2019? ¿Es el Tiempo de los Gentiles? You can also see the English language sermon videos: The Great Tribulation from the Mount of Olives and Can the Great Tribulation begin before 2020? A shorter and newer video is: Might the Great Tribulation start in 2019?
Proof Jesus is the Messiah This free book has over 200 Hebrew prophecies were fulfilled by Jesus. Plus, His arrival was consistent with specific prophecies and even Jewish interpretations of prophecy. Here are links to seven related sermons: Proof Jesus is the Messiah, Prophecies of Jesus' birth, timing, and death, Jesus' prophesied divinity, 200+ OT prophecies Jesus filled; Plus prophecies He made, Why Don't Jews Accept Jesus?, Daniel 9, Jews, and Jesus, and Facts and Atheists' Delusions About Jesus. Plus the links to two sermonettes: Luke's census: Any historical evidence? and Muslims believe Jesus is the Messiah, but … These videos cover nearly all of the book, plus have some information not in the book.