"Free Yeshua" has been among protesters' chants so far.

This demonstration started at the Dane County Jail a few hours ago in part because of the arrest of a Black activist earlier today. Background on that incident here: https://t.co/czNZDjyBiB

— Emily Hamer (@ehamer7) June 24, 2020
Protests erupted in Wisconsin after a bat wielding man was arrested:
June 24, 2020

Turmoil unfolded outside the Wisconsin State Capitol on Tuesday night as protesters allegedly attacked a state senator, smashed windows and toppled two historic statues.

Demonstrations began in downtown Madison earlier Tuesday following the arrest of a Black protest organizer, who police say walked into a restaurant while speaking through a bullhorn and holding a baseball bat. Devonere Johnson, 28, was taken into custody Tuesday afternoon but allegedly broke free from the back of a squad car. He was tackled to the ground as he attempted to escape, according to the incident report from the Madison Police Department.

Two officers suffered minor injuries during the alleged incident, …

That night, protesters chanting for Johnson's release tore down the "Forward" statue and dragged it away from its base at the steps of the Wisconsin State Capitol, according to Madison ABC affiliate WKOW. The bronze allegorical statue, which is more than 100 years old, depicts a female figure standing on the prow of a boat, with her right hand stretched out while her left clasps the American flag.

A short time later, the same group pulled down a statue of Col. Hans Christian Heg and threw it into a nearby lake, according to WKOW. Heg was a Norwegian immigrant and abolitionist who served in the Union Army during the American Civil War. He led the predominately-Scandinavian 15th Wisconsin Volunteer Infantry Regiment into battle against the Confederate Army until his death at Chickamauga in 1863. https://abcnews.go.com/US/protesters-allegedly-attack-senator-topple-statues-wisconsin-state/story?id=71421766
It seems odd that protesters would knock over a statue of a man who fought against slavery. But angry people do not always act logically. Sometimes they engage in violent and terroristic acts.
Such are prophesied for those who will not heed the Bible:
25 Because you disdained all my counsel, And would have none of my rebuke, 26 I also will laugh at your calamity; I will mock when your terror comes, 27 When your terror comes like a storm, And your destruction comes like a whirlwind, When distress and anguish come upon you. (Proverbs 1:25-27)

5 Also they are afraid of height, And of terrors in the way (Ecclesiastes 12:5).

6 You have forsaken Me," says the Lord,
"You have gone backward.
Therefore I will stretch out My hand against you and destroy you;
I am weary of relenting!
7 And I will winnow them with a winnowing fan in the gates of the land;
I will bereave them of children;
I will destroy My people,
Since they do not return from their ways.
8 Their widows will be increased to Me more than the sand of the seas;
I will bring against them,
Against the mother of the young men,
A plunderer at noonday;
I will cause anguish and terror to fall on them suddenly. (Jeremiah 15:6-8)
For more on prophesied terrorism, check out the article: Why Terrorism? Is Terrorism Prophesied?
As far as destruction of various symbols go, notice also the following:
June 24, 2020

The ongoing racial tensions in the US have been characterized by tearing down statues of historical figures with racist associations but this has expanded to include other historical figures with no racial associations. Shaun King, a controversial leader in the Black Lives Matter (BLM) movement, called for expanding the destruction of statues of historical figures to include churches and the Christian figure of Jesus …

Yes, I think the statues of the white European they claim is Jesus should also come down.

They are a form of white supremacy.

Always have been.

In the Bible, when the family of Jesus wanted to hide, and blend in, guess where they went?

EGYPT!

Not Denmark.

Tear them down.

— Shaun King (@shaunking) June 22, 2020

King tweeted again. calling for the destruction of stained glass windows, murals, and other parts of churches and buildings that depict Biblical figures as white. https://www.breakingisraelnews.com/153621/blm-leader-calls-to-destroy-churches/
Now, we in the Continuing Church of God do not use statues or icons supposedly of Jesus.
Early Christians did not as well (see also What Did the Early Church Teach About Idols and Icons?).
As far as what Jesus looked like, that is not entirely certain. Below is the earliest surviving paintings claimed to be of Jesus, from a church at the ruined city of Dura-Europos on the Euphrates (dating from first half of the 3rd Century AD):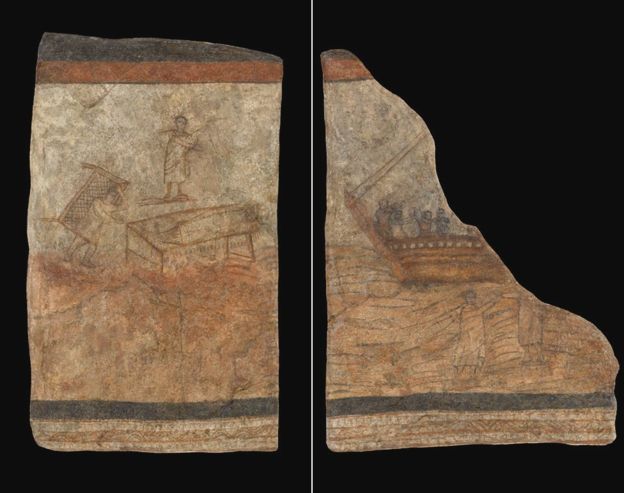 While the picture is not easy to fully make out, it does not portray Jesus as looking like most claimed pictures on Him appear.
As far as racial appearance goes, some have tried to claim that the Jews were black, hence Jesus was black. Because of that claim, I also located some photos of 1st century A.D. coins–the century Jesus was executed in. After General Titus conquered Jerusalem in 70 A.D., Emperor Vespasian issued coins–the back side of which shows conquered Jews: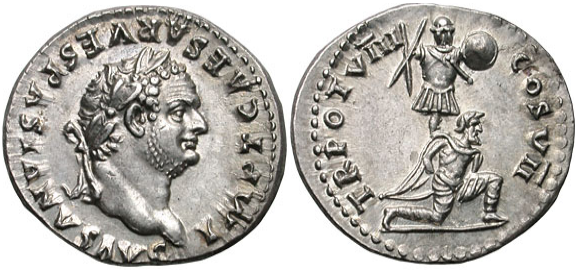 Titus on left, Jewish man on bottom right (CNG coins)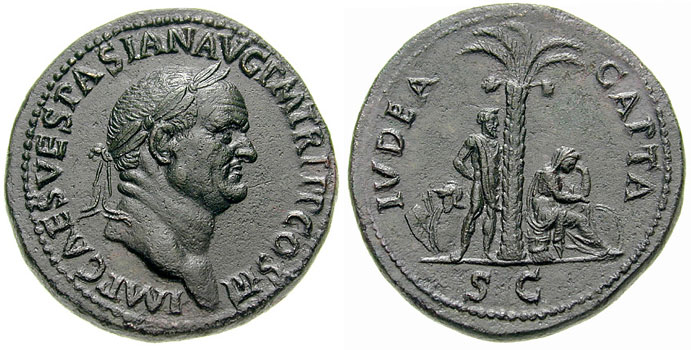 Vespasian on left, captured Jewish soldiers on right, 71 A.D. (CNG coins)
Notice the the Jews were not African (which is clear from the hair of the man on the first coin as well as the hair of the man to the left of the second coin). The second coin inscription in Latin Ivdea means Judea. These coins are clear evidence that the Jews of the first century–like Jesus–were not black Africans.
If most Jews of Jesus' time were black, the coins would have been expected to portray that–but they do not. The issue is whether the ancient Jews of Jesus' time were predominantly black–the Roman coins prove that they were not.
Related to this, we also put together the following sermon:
Were the ancient Hebrews black as asserted by Frank Cherry and William Crowdy? Was Jesus black? Was Jesus a Jew? What about the ancient Egyptians? What about the descendants of Noah: Ham, Japheth, and Shem? What does the word Egypt mean? Does Cush mean black? What do hieroglyphics, statues, coins, Fayum mummy paintings, the Mereneptah Stele, the Black Obelisk of Shalmaneser III, ostraca, coins, and mosaics show? What about the mummy of Ramesses II? What about Prince Ra-Hotep and Princess Nofret? What about DNA? What about Cleopatra VII? Where the ancient children of Israel mainly Negroid, Mongoloid, or Caucasoid? Do Jews have genetics consistent with Mediterranean peoples like the Arabs of the Middle East? Are the bulk of the descendants of the tribe of Judah Negroes? Were the bulk of the ancient Egyptians black? Must Joseph's wife Asenath have been black? Could British-Israelism be true or does the identity of Puerto Rico and Cuba make more sense? Which nations best represent the tribes of Israel based upon what Jacob said in Genesis 48 and 49? What does the Bible teach on these matters? How did Roman Emperor Vespasian depict conquered Jews on coins with himself and General Titus in 70 A.D.? How have the Jews portrayed themselves? What do we learn from the Song of Solomon and Job? What about the Khazars of the 8th century? Does any of this have to do with salvation? Does properly understanding this aid in understanding biblical prophecies? Dr. Thiel addresses these issues and more.
Here is a link to the sermon video: Were Ancient Hebrews Black? What About Jesus?
Anyway, irrespective of what color Jesus was (and He likely looked like a highly tanned Caucasian), mobs should not be going around tearing down statues and causing destruction.
This is not good and can lead to worse issues. Notice also the following:
Just in the past few weeks, demonstrators — mobs, really — have destroyed or defaced the following statues across the United States. Or, unelected bodies have decided to remove them with no input from the public. …

This young Venezuelan woman says she has seen all of this before and is warning Americans where it leads. …

She points to several steps Venezuela went through on its way from being one of the most prosperous countries in the Americas to a socialist police state and economic disaster:

Statues came down because socialist dictator Hugo Chavez wanted the history erased.
He changed street names for the same reason.
He changed the educational curriculum to erase history and substitute his version.
Some movies were banned, presumably for the same reason.

We've seen all of these happen in America just in the past few weeks, with statue destruction happening in blue cities and states from coast to coast, as city leaders choose not to defend them. https://pjmedia.com/news-and-politics/bryan-preston/2020/06/22/video-young-venezuelan-woman-warns-america-where-destroying-statues-leads-n564632
As Jesus said:
17 Every kingdom divided against itself is brought to desolation, and a house divided against a house falls. (Luke 11:17)
The divide in the USA is growing as many of its sins (including hypocrisy) become more blatant.
This will not end well (cf. Matthew 12:25; Daniel 11:39; Habakkuk 2:6-8).
Some items of possibly related interest may include:
Why Terrorism? Is Terrorism Prophesied? What does the Bible teach? Which nations may be affected? Here is a link to a related sermon: Terrorism, Christianity, and Islam.
What Did the Early Church Teach About Idols and Icons? Did Catholic and Orthodox "saints" endorse or condemn idols and icons for Christians? A related sermon is available: The Second Commandment, Idols, and Icons.
Were the Ancient Tribes of Israel Black? Was Jesus Black? Some claim this is so. But what do the Bible and ancient artifacts show? Here is a link to a related sermon video: Were Ancient Hebrews Black? What About Jesus?
God's Grace is For All Is being Jewish a hindrance to salvation? What about not being a descendant of Israel? What does the Bible really teach? Here is a link to a related sermon titled Race and Grace; Do you view race as God does?
Spiritual Samaritans: Old and New Who were the Samaritans? Do the represent true Christianity or something else? Here is a link to a related sermon: USA in Prophecy: Samaria.
Anglo – America in Prophecy & the Lost Tribes of Israel Are the Americans, Canadians, English, Scottish, Welsh, Australians, Anglo-Saxon (non-Dutch) Southern Africans, and New Zealanders descendants of Joseph? Where are the lost ten-tribes of Israel? Who are the lost tribes of Israel? Were the ancient Hebrews black? What will happen to Jerusalem and the Jews in Israel? Will God punish the U.S.A., Canada, United Kingdom, and other Anglo-Saxon nations? Why might God allow them to be punished first? Here is a link to the Spanish version of this article: Anglo-América & las Tribus Perdidas de Israel. Information is also in the YouTube sermons titled Where are the Ten Lost Tribes? Why does it matter? and British are the Covenant People. A short YouTube of prophetic interest may be: Are Chinese threats against Australia for real?
Will the Anglo-Saxon-Celtic Nations be Divided and Have People Taken as Slaves? Will the lands of the United States, United Kingdom, Canada, Australia, and New Zealand be divided? What about Jerusalem? What does Bible prophecy teach? Are there non-biblical prophecies that support this idea? Who will divide those lands? Who will end up with the lands and the people? Here is a link to a video titled Will the USA and other Anglo-nations be Divided and Their People Made Slaves? Here is a related item in the Spanish language ¿Serán divididas las naciones anglosajonas?
Canada in Prophecy: What Does Bible Prophecy, Catholic Prophecy, and other Predictions Suggest About the Future of Canada? There are prophecies that suggest involvement with Canada. And many are not positive about its future. A sermon of related interest is also available: Canada in Prophecy.
Australia and New Zealand in Prophecy Do biblical prophecies help explain the wealth blessings for Australia and New Zealand? Might cursings from disobedience come in the 21st century? Here is a link to a related sermon: Australia and New Zealand: Origins and Prophecy.
Protestant and Church of God views of the United States in Bible Prophecy Is the USA mentioned in Bible prophecy? Some Protestants say yes, while others say no. What does the Bible really teach? Learn the truth about this. There is also a video available: Is The United States Mentioned In Bible Prophecy?
Who is the King of the West? Why is there no Final End-Time King of the West in Bible Prophecy? Is the United States the King of the West? Here is a version in the Spanish language: ¿Quién es el Rey del Occidente? ¿Por qué no hay un Rey del Occidente en la profecía del tiempo del fin? A related sermon is also available: The Bible, the USA, and the King of the West.
USA in Prophecy: The Strongest Fortresses Can you point to scriptures, like Daniel 11:39, that point to the USA in the 21st century? This article does. Two related sermon are available: Identifying the USA and its Destruction in Prophecy and Do these 7 prophesies point to the end of the USA?
What About Romans 11:25 and the Full Number of the Gentiles? Some in the West discount God's calling of Gentiles, but the Apostle Paul wrote about the need for them to come to the truth before Jesus returns.
What is the Ezekiel Warning? Should the end-time descendants of Israel and Joseph be warned? What should the watchman warn about?
Does God Have a 6,000 Year Plan? What Year Does the 6,000 Years End? Was a 6000 year time allowed for humans to rule followed by a literal thousand year reign of Christ on Earth taught by the early Christians? Does God have 7,000 year plan? What year may the six thousand years of human rule end? When will Jesus return? 2027 or 20xx? There is also a video titled 6000 Years: When will God's Kingdom Come? Here is a link to the article in Spanish: ¿Tiene Dios un plan de 6,000 años?
When Will the Great Tribulation Begin? 2020, 2021, or 2022? Can the Great Tribulation begin today? What happens before the Great Tribulation in the "beginning of sorrows"? What happens in the Great Tribulation and the Day of the Lord? Is this the time of the Gentiles? When is the earliest that the Great Tribulation can begin? What is the Day of the Lord? Who are the 144,000? Here is a version of the article in the Spanish language: ¿Puede la Gran Tribulación comenzar en el 2020 o 2021? ¿Es el Tiempo de los Gentiles? You can also see the English language sermon videos: The Great Tribulation from the Mount of Olives and Can the Great Tribulation begin before 2020? A shorter and newer video is: Could the Great Tribulation Begin in 2020? Here is a link to the Spanish version of that video: ¿Podría la Gran Tribulación comenzar en 2020?
The Times of the Gentiles Has there been more than one time of the Gentiles? Are we in it now or in the time of Anglo-America? What will the final time of the Gentiles be like? A related sermon is available and is titled: The Times of the Gentiles.
Armageddon Who is involved and when will this gathering happen? Here is also a video from Dr. Thiel, from Tel Megiddo in Israel: Armageddon. Other videos include: Armageddon Will it come on Trump's watch?, Iraq, Armageddon, & Prophecy, Freemasonry, Armageddon, and Rome, Is China paving roads to Armageddon?, and Jordan, Petra, and Armageddon.
Universal OFFER of Salvation, Apokatastasis: Can God save the lost in an age to come? Hundreds of scriptures reveal God's plan of salvation Will all get a fair chance at salvation? This free book is packed with scriptures showing that God does intend to offer salvation to all who ever lived–the elect in this age, and the rest in the age to come. Here is a link to a related sermon series: Universal Offer of Salvation 1: Apocatastasis, Universal Offer of Salvation 2: Jesus Desires All to be Saved, Mysteries of the Great White Throne Judgment (Universal Offer of Salvation part 3), Is God Fair, Will God Pardon the Ignorant?, Can God Save Your Relatives?, Babies, Limbo, Purgatory and God's Plan, and 'By the Mouth of All His Holy Prophets'.
Hope of Salvation: How the Continuing Church of God differs from Protestantism The CCOG is NOT Protestant. This free online book explains how the real Church of God differs from mainstream/traditional Protestants. Several sermons related to the free book are also available: Protestant, Baptist, and CCOG History; The First Protestant, God's Command, Grace, & Character; The New Testament, Martin Luther, and the Canon; Eucharist, Passover, and Easter; Views of Jews, Lost Tribes, Warfare, & Baptism; Scripture vs. Tradition, Sabbath vs. Sunday; Church Services, Sunday, Heaven, and God's Plan; Seventh Day Baptists/Adventists/Messianics: Protestant or COG?; Millennial Kingdom of God and God's Plan of Salvation; Crosses, Trees, Tithes, and Unclean Meats; The Godhead and the Trinity; Fleeing or Rapture?; and How Does the Church of God Differ from Protestantism? These sermons also cover materials not in the book. As far as some changes affecting Protestantism, watch the video Charismatic Kenneth Copeland and Anglican Tony Palmer: Protestants Beware! [Português: Esperança do salvação: Como a igreja do deus difere da maioria de protestantes].
Beware: Protestants Going Towards Ecumenical Destruction! What is going on in the Protestant world? Are Protestants turning back to their 'mother church' in Rome? Does the Bible warn about this? What are Catholic plans and prophecies related to this? Is Protestantism doomed? See also World Council of Churches Peace Plan.
Is God Calling You? This booklet discusses topics including calling, election, and selection. If God is calling you, how will you respond? Here is a link to a related sermon: Could God be Calling You?
Christians: Ambassadors for the Kingdom of God, Biblical instructions on living as a Christian This is a scripture-filled booklet for those wishing to live as a real Christian. A related sermon is also available: Christians are Ambassadors for the Kingdom of God.
The Ten Commandments: The Decalogue, Christianity, and the Beast This is a free pdf book explaining the what the Ten Commandments are, where they came from, how early professors of Christ viewed them, and how various ones, including the Beast of Revelation, will oppose them. A related sermon is titled: The Ten Commandments and the Beast of Revelation.