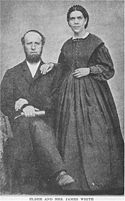 James and Ellen White

Last night, I happened to see a request for money from an SDA organization called the North American Religious Liberty Association (NARLA).  Essentially, NARLA claims that the campaign to legalize same-sex marriage will affect religious liberty.
NARLA cites various recent legal decisions in the USA and Canada as proof of its position.  Partially to deal with it, the SDAs plan a conference October 15-17th entitled Marriage, Homosexuality and the Church.
Additionally it seems that they primarily want their members to support a bill that titled The Workplace Religious Freedom Act.  Here is what they said about it:
The Act will protect the more than 1,000 Adventists who lose their jobs every year for their Sabbath convictions.  Ironically, the biggest opponent of this bill is the gay rights lobby.  We must continue our efforts to protect religious freedom.
The thrust of the letter seems to be that NARLA hopes that it needs to get the American legal system to be changed and it hopes to do this through legislation and prayer.
The letter ended with the following as a P.S.:
P.S. In The Great Controversy, Ellen White cites Sir Walter Scott about the attack on traditional marriage in the French Revolution.  It is just as timely today: "Intimately connected with these laws affecting religion, was that which reduced the union of marriage…to the state of a mere civil contract of a transitory character, which any two persons might engage in and cast loose at pleasure.  If fiends had set themselves to work to discover a mode of most effectually destroying whatever is venerable, graceful, or permanent in domestic life, and of obtaining at the same time an assurance that the mischief…should be perpetuated from one generation to another, they could not have invented a more effectual plan that the degradation of marriage." G.C. 270.
The Apostle Paul warned:
1 But know this, that in the last days perilous times will come: 2 For men will be lovers of themselves, lovers of money, boasters, proud, blasphemers, disobedient to parents, unthankful, unholy, 3 unloving, unforgiving, slanderers, without self-control, brutal, despisers of good, 4 traitors, headstrong, haughty, lovers of pleasure rather than lovers of God, 5 having a form of godliness but denying its power. And from such people turn away! (2 Timothy 3:1-5)
We in the Living Church of God believe that Jesus clearly defined marriage as between a man and a woman (Matthew 19:4-6).
We also believe that we are to pray for the political leaders (1 Timothy 2:1-4).
A few articles of possibly related interest may include:
The Ten Commandments Reflect Love, Breaking them is Evil Some feel that the ten commandments are a burden. Is that what Jesus, Paul, Peter, James, and John taught?
Should a Christian Vote? This article gives some of the Biblical rationale on this subject. Would Jesus vote for president? Is voting in the Bible? This is a subject Christians need to understand.
The Sardis Church Era was predominant circa 1600 A.D. to circa 1933 A.D. Discusses early history of the Seventh Day Baptists, Seventh-day Adventists, and COG-7th Day.
SDA/LCG Differences: Two Horned Beast of Revelation and 666 The Living Church of God is NOT part of the Seventh-day Adventists. This article explains two prophetic differences, the trinity, differences in approaching doctrine, including Ellen White.