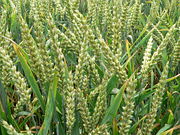 Wheat
Russia continues to have problems with its wheat production:
World food prices hit record high: UN agency
AFP – Feb 3, 2011
World food prices reached their highest level ever recorded in January and are set to keep rising for months, the UN food agency said on Thursday, warning that the hardest-hit countries could face turmoil. Rising food prices have been cited among the driving forces behind recent popular revolts in north Africa, including the uprising in Egypt and the toppling of Tunisia's long-time president Zine El Abidine Ben Ali.

And in its latest survey, the Food and Agriculture Organisation said its index which monitors monthly price changes for a variety of staples averaged 231 points in January — the highest level since records began in 1990.

"The new figures clearly show that the upward pressure on world food prices is not abating. These high prices are likely to persist in the months to come," FAO economist and grains expert Abdolreza Abbassian said in a statement.

In Africa, Somalia has been particularly hard hit by a rise in prices for red sorghum and maize due to a poor 2010 crop, while Uganda has seen a rise in the price of maize because of strong demand from neighbouring countries.

Meanwhile ongoing unrest in Ivory Coast had helped push up prices in West Africa as a whole because of its status as a key transport hub, it said.

But the most dramatic rises were seen in Asia and in particular in Bangladesh, China, India, Indonesia and China, it added. http://www.breitbart.com/article.php?id=CNG.0bcf7660807b5b8e782fa73f510af552.471&show_article=1
Food prices are rising and are expected to rise further.
Jesus foretold on a time of famines as part of "the beginning of sorrows" (Matthew 24:7-8), and the Book of Revelation (16:8-11) tells of a time of even greater disturbances during "the Day of the Lord". These will go beyond what normally have occurred in the past century. World events are aligning towards the fulfillment of biblical prophecies.
The price of wheat, which has already raised substantially, will ultimately raise even more:
5 When He opened the third seal, I heard the third living creature say, "Come and see." So I looked, and behold, a black horse, and he who sat on it had a pair of scales in his hand. 6 And I heard a voice in the midst of the four living creatures saying, "A quart of wheat for a denarius, and three quarts of barley for a denarius; and do not harm the oil and the wine."  (Revelation 6:5-6, NKJV)
The above scripture is indicating that a man will only make enough in a day of work to pay for a quart of wheat.  While that may be enough for him, it really will not be enough for his family, the elderly, and others.  That is how bad things are expected to get.
Now there is good news as ultimately, God's kingdom will come and those issues will be gone (Revelation 7:16). But a terrible hour of trial is coming first (Revelation 3:10).
As Jesus said:
37 And what I say to you, I say to all: Watch! (Mark 13:36-37)
Food shortages are something to watch.
Tougher times are coming. And for some parts of the world these tougher time may be here now. People who can prepare, should. Both spiritually and physically. And this will not only affect people in places like Africa, Asia, and the Middle East–the Anglo-descended nations of the West will themselves suffer hunger and famine.
Some articles of possibly related interest may include:
Can the Great Tribulation Begin in 2011 or 2012? Can the Great Tribulation begin today? What is the "beginning of sorrows"? When is the earliest that the Great Tribulation can begin? What is the Day of the Lord?
Physical Preparation Scriptures for Christians. We all know the Bible prophecies famines. Should we do something?
The Gospel of the Kingdom of God was the Emphasis of Jesus and the Early Church Did you know that? Do you even know what the gospel of the kingdom is all about? True religion should be based upon the true gospel.
Did The Early Church Teach Millenarianism? Was the millennium (sometimes called chiliasm) taught by early Christians? Who condemned it. Will Jesus literally reign for 1000 years on the earth? Is this time near?
Does God Have a 6,000 Year Plan? What Year Does the 6,000 Years End? Was a 6000 year time allowed for humans to rule followed by a literal thousand year reign of Christ on Earth taught by the early Christians? What year may the six thousand years of human rule end? When will Jesus return? 2018 or 2019?