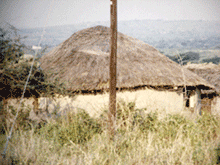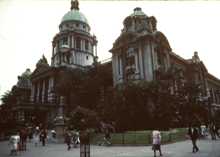 Hut in South Africa  — Modern building was location of Feast of Tabernacles in Durban, South Africa, 1985
Ken Treybig sent out the following about Church of God, a Worldwide Association (COGWA)'s Les McCullough:
12-18-12

From Ken Treybig:

Good evening,

I just heard from Kim Mabry about her dad's surgery. Here's the update I just sent to the HQ office to send out about Mr. McCullough.

The family of Les McCullough wants to thank everyone for their prayers. His quadruple bypass surgery did not start until around noon today, but he came through it well and is now resting in ICU. They expect him to be in the hospital for about a week and your continued prayers for his full recovery would be appreciated.

Les McCullough
RR 2 Box 451
Big Sandy, TX 75755

–Ken Treybig
Back in the old Worldwide Church of God days, I met Les McCullough in South Africa at the Feast of Tabernacles.  He was a regional director (or at least held a similar position to that) back then (1985).
For a time, Les McCullough was also president of the United Church of God (UCG).
Nearly all of the ministry in COGWA came from the United Church of God. COGWA officially formed two years ago this month, and was a split from the United Church of God (UCG).