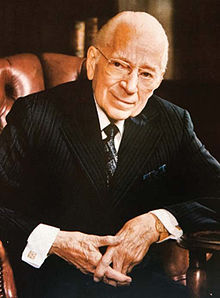 Herbert W. Armstrong
A reader tipped me off a few hours ago that the HWA Library website has the following posts:
YouTube Channel has been Deactivated

This afternoon around 2:00 PM on April 15, 2015 we noticed a few videos were missing. After checking, we found that "Grace Communion International" (formally the "Worldwide Church of God") had filed several copyright notices with YouTube concerning the Telecast section of HWALibrary.com. YouTube stated we were not to upload any more videos which we did not. The notice from YouTube also stated we needed to file a counter notification through a YouTube form they provided. After checking into the matter to make sure we could legally file a counter notification we did so around 5:30 PM just hours after receiving the first notice from YouTube. At around 7:00 PM after we did exactly what YouTube asked us, they (YouTube) deactivated our HWALibrary.com account.

We are not sure why YouTube gave us no time even though the counter notification we filed stated it would take 10 days, but they did and we are checking as to why.

HWALibrary.com spent years building the YouTube channel, we want everyone to know we have all material archived and are looking at all our options of getting all audio/video files back up as soon as possible. …

Update: April 16, 2015
Today we called YouTube and was told we had to send an email to their "Copyright" email address, which we sent.

Also today we uploaded 111 Sermons back to HWALibrary.com (hosted on HWALibrary.com servers)
Copyright issues can be tricky.  The photograph shown at the beginning of this post came from directly here from Wikipedia.  Wikipedia that claims that it is 'fair use' to display it.  And one issue that has involved Grace Communion International in the past is 'fair use' related to materials associated with the late Herbert W. Armstrong.
While I do not know if HWA Library ever contacted Grace Communion International (the legal owner of the copyrights once owned by the Worldwide Church of God) to ask permission to use or pay to use copyrighted materials, I personally have.
Let me simply state that I believe fair use is broader than some at Grace Communion International tend to think and perhaps less broad than some others tend to think.
Some items of possibly related interest may include:
Who Was Herbert W. Armstrong? How is He Viewed Today? Includes quotes from the 1973 edition of The Autobiography of Herbert W. Armstrong and explains who he was and how he should be viewed today.
15 Accusations and Truthful Responses About Herbert W. Armstrong He, even after his death, keeps being improperly maligned–here is the truth on these matters.
Should the Church Still Try to Place its Top Priority on Proclaiming the Gospel or Did Herbert W. Armstrong Change that Priority for the Work? Some say the Church should mainly feed the flock now as that is what Herbert W. Armstrong reportedly said. Is that what he said? Is that what the Bible says? What did Paul and Herbert W. Armstrong expect from lower level leaders? A related sermon is available titled Priority of the Philadelphia Work.
The Final Phase of the Work What is the final phase of the work? Who will lead it? Do you have the courage to support it? Here is a related YouTube video titled The Final Phase of the Work. The written article has been translated into Spanish La Fase Final de la Obra.
Leading the Final Phase of the Work Matthew 24:14 teaches "And this gospel of the kingdom will be preached in all the world as a witness to all the nations, and then the end will come " will be fulfilled and RCG is not the group doing this. Who is leading the final phase of the work? What did Herbert Armstrong and the old WCG teach about that and about prophets? Does Bob Thiel meet the criteria that the Bible and the old WCG set? What is the proof? What has the Continuing Church of God been doing? This is a sermonette length video.