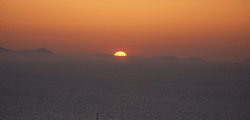 Reginald Killingley sent the following:
In Memory of Kayte Wolverton

After a long and courageous battle with ovarian cancer Kayte (Youngblood) Wolverton, 64, passed peacefully on Saturday morning, July 21, in Vancouver, Washington. Almost two years ago Kayte and her husband Monte, board member of Plain Truth Ministries and Associate Editor of The Plain Truth magazine, relocated from southern California to the peaceful and serene countryside just outside of Vancouver. Anticipating Monte's semi-retirement, and wishing to live near their daughter Monika, their son-in-law Simon and granddaughter Annika, Kayte and Monte planned and built their retirement home in a beautiful valley on the banks of the Lewis River.

Following a Wolverton family tradition, Kayte served for several years as a full time employee of Plain Truth Ministries and later as a part-time proofreader. Monte's father Basil started the Wolverton history with The Plain Truth in the 1950s as he wrote and illustrated the serialized "Bible Story." In later decades of the 20th century Monte continued the Wolverton Plain Truth legacy with his writing and art, and then in the 1990s with the transformation of the message and mission of Plain Truth Ministries, Monte, Kayte and their daughter Monika continued to grace the pages of the new Plain Truth with their editing and creative contributions.

Kayte is survived by her husband Monte, her mother Esther, stepfather John Livingston, her daughter Monika Spykerman, son-in-law Simon, granddaughter Annika, foster daughter Gadiela Gallant, her husband Daniel, their children Kate and Matthew and by her two beloved Rat Terriers, Meg and Kirby.

Memorial services for Kayte will take place at Evergreen Memorial Gardens, 1101 NE 112th Avenue, Vancouver, Washington, 98684, on Sunday, July 29, at 12:30…

Cards may be sent to:

Monte Wolverton

18907 NE Cole Witter Road

Battle Ground, WA 98604
I did not know Kayte.  Like most in the old WCG, I was familiar with the artwork of Basil Wolverton, Monte's father (and some of Monte's).