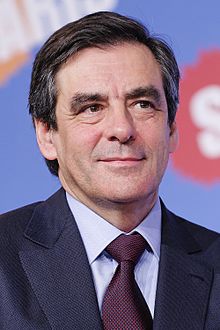 François Fillon (photo by Marie-Lan Nguyen)

Another primary election did not go the way that many in the mainstream thought it would.  This time, in France:
François Fillon Wins French Conservative Primary, Upsetting Race for President

In a year of Brexit and Trump, Fillon shocks those who saw him a sure loser earlier this month

November 28, 2016

PARIS—François Fillon, a free-market social conservative, won France's center-right primary by a landslide, positioning him as the leading mainstream candidate to take on National Front leader Marine Le Pen in the presidential election this spring.

Mr. Fillon, a former prime minister who compares himself to Ronald Reagan and Margaret Thatcher, resoundingly defeated Bordeaux Mayor Alain Juppé in the runoff of the Républicains' primary late Sunday, garnering 66.5% of votes according to counts from 96% of polling stations. …

Mr. Fillon's commanding victory capped a tumultuous week that nixed long-established predictions. Just two weeks ago polls had shown Mr. Juppé, a centrist with bipartisan appeal, with a comfortable lead.

"I gradually felt this wave that smashed all the scenarios written ahead of time," Mr. Fillon said. …

The upset forces France's mainstream parties to rethink their approach to Ms. Le Pen, an anti-immigrant euroskeptic who polls show would easily reach the second-round runoff of the presidential election in May. With the more staunchly conservative Mr. Fillon as the center-right's standard-bearer, the party will come under more pressure to drive turnout among right-leaning voters. http://www.wsj.com/articles/francois-fillon-leads-in-partial-vote-count-in-frances-conservative-primary-1480275874
So, the mainstream media and its polling got it wrong again. The mainstream media has been talking a lot about 'fake news' in the past month, but seems to overlook the fact that a lot of its interpretation of polls could have been considered to be a type of fake news.
What about this election in France?
Obviously, the mainstream media got it wrong again.
The reality is that many of the people in Europe want a strong leader and they want one who will stand up against real and perceived encroachments by Muslims. While Marine Le Pen is considered too extreme by many, now even she may have a chance.
Here are some of the positions that François Fillon has held:
Minister of Higher Education and Research : 1993–1995;
Minister of Information Technologies and Posts : May–November 1995;
Minister responsible for Posts, Telecommunications and Space : 1995–1997;
Minister of Social Affairs, Labour and Solidarity : 2002–2004;
Minister of National Education, Higher Education and Research : 2004–2005;
Prime minister : 2007-2012.
February to May 2012 : he assumed the functions of the Minister of Ecology, Sustainable Development, Transport and Housing, after the resignation of Nathalie Kosciusko-Morizet who became spokeswoman of Nicolas Sarkozy's presidential campaign. (François Fillon, WIkipedia, accessed 11/28/16)
There is something else that may be of interest that the Wall Street Journal reported about François Fillon:
During the primary campaign, he went to lengths to show his attachment to conservative family values. Mr. Fillon, who voted against gay marriage in 2013, says he would roll back parts of the law related to same-sex couples' right to adopt and said he would lead an international campaign against surrogacy. http://www.wsj.com/articles/francois-fillon-leads-in-partial-vote-count-in-frances-conservative-primary-1480275874
So, there are some, even in European leadership who will sometimes take stands against the LGBTQ agenda.
The stands that François Fillon has taken are controversial in various quarters. While standing up for biblical morality is good, many do not like that.
If François Fillon actually does become the next President of France and does implement pro-family and/or anti-immigrant policies, expect civil unrest in France.
The Bible shows that terrors of various types are prophesied:
14 'But if you do not obey Me, and do not observe all these commandments, 15 and if you despise My statutes, or if your soul abhors My judgments, so that you do not perform all My commandments, but break My covenant, 16 I also will do this to you: I will even appoint terror over you, wasting disease and fever which shall consume the eyes and cause sorrow of heart. And you shall sow your seed in vain, for your enemies shall eat it. 17 I will set My face against you, and you shall be defeated by your enemies. Those who hate you shall reign over you, and you shall flee when no one pursues you. (Leviticus 26:14-17)

25 The sword shall destroy outside; There shall be terror within (Deuteronomy 32:25)

12 "Cry and wail, son of man; For it will be against My people, Against all the princes of Israel. Terrors including the sword will be against My people; Therefore strike your thigh. (Ezekiel 21:12)

12 Behold, these are the ungodly,Who are always at ease; They increase in riches…19 Oh, how they are brought to desolation, as in a moment! They are utterly consumed with terrors. (Psalms 73:12,19)

25 Because you disdained all my counsel, And would have none of my rebuke, 26 I also will laugh at your calamity; I will mock when your terror comes, 27 When your terror comes like a storm, And your destruction comes like a whirlwind, When distress and anguish come upon you. (Proverbs 1:25-27)

5 Also they are afraid of height, And of terrors in the way (Ecclesiastes 12:5).
More terrorism is expected in France, as well as other parts of Europe and the USA and Canada, etc. (see also Why Terrorism? Is Terrorism Prophesied?).
For more of what is prophesied to happen to France, check out the article The 'Lost Tribe' of Reuben: France in Prophecy?
Some items of possibly related interest may include:
The 'Lost Tribe' of Reuben: France in Prophecy? What is the origin of this in France? What is prophesied to happen to them? A two-part sermon related to history and prophecy is available online: The 'Lost Tribe' of Reuben and France and Prophecy.
Ten clues tying Belgium and Luxembourg with the tribe of Asher Who did some in Belgium and Luxembourg descend from?
Ten clues tying Zebulun with the Dutch Who did some in the Netherlands descend from?
Post Brexit Prophecy On June 23, 2016, the voters of the United Kingdom of Great Britain and Northern Ireland (UK) chose to leave the European Union. Now with this BRitish EXIT (Brexit) vote, what is prophesied to happen to the UK? Will the UK do well or be taken over and made slaves? Dr. Thiel explains from biblical prophecies what is ahead for the UK, Europe, and even the USA, Canada, Australia, and New Zealand.
Donald Trump in Prophecy Prophecy, Donald Trump? Are there prophecies that Donald Trump may fulfill? Are there any prophecies that he has already helped fulfill? Could a Donald Trump presidency be apocalyptic? A related video is titled: 13 Ways President-Elect Trump is Apocalyptic.
Does God Have a 6,000 Year Plan? What Year Does the 6,000 Years End? Was a 6000 year time allowed for humans to rule followed by a literal thousand year reign of Christ on Earth taught by the early Christians? Does God have 7,000 year plan? What year may the six thousand years of human rule end? When will Jesus return? 2023 or 20xx? There is also a video titled The 6000 Year Plan: Is the end of humanity's reign almost up? Here is a link to the article in Spanish: ¿Tiene Dios un plan de 6,000 años?
Cross-dressing and other assaults against your children.  What should you do? Is there an agenda to turn your children and/or grandchildren away from biblical morality and towards practices promoted by homosexuals? What does the Bible teach about cross-dressing? What should parents do? If there is an agenda, what has been going on?  There are also three YouTube videos related to this, titled Transgender 'Woe to those who call evil good' and Cross dressing and Other Assaults Against Your Children and USA pushing gender confusion.
The Bible Condemns Homosexuality "Same-sex marriage" for "gays" and lesbians is becoming more acceptable to many. What does the Bible teach about homosexuality?  Can homosexuals change? A related video sermon is titled: What Does the Bible Really Teach about Homosexuality?