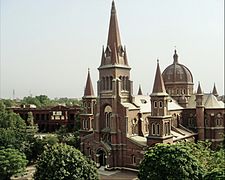 Sacred Heart Cathedral, Lahore, Pakistan

Islamists in Pakistan bombed and killed professing Christians yesterday:
March 28, 2016

ISLAMABAD—Pakistan is mourning the deaths of at least 70 people in Sunday's Taliban suicide bombing in the eastern city of Lahore targeting Christians. Hospital officials say up to 30 children were among the dead.

The blast occurred in a crowded public park and wounded more than 300 people. Many of the victims are from the minority Christian community who were in the park celebrating Easter.

A military spokesman said Monday security agencies have conducted several operations based on initial leads and arrested "a number of suspect terrorists and facilitators" from areas in the provincial capital and two other cities, Multan and Faisalabad, of Punjab, the country's most populous province. He shared no other details.

A spokesman for a breakaway faction of the Pakistani Taliban claimed responsibility for the deadly bombing, saying it was aimed at Christians. http://www.voanews.com/content/pakistan-mourns-deadly-suicide-bombing/3257537.html
I would add that the Catholic cathedral in Lahore, Pakistan shown at the beginning of this post was affected by a suicide bomber on March 11, 2008. Pakistan also got hit last March by Islamic terrorists (see Islamists kill Catholics and Protestants in Pakistan).
This type of violence is senseless, brutal, and mean. The Apostle Paul was inspired to warn:
1 But know this, that in the last days perilous times will come: 2 For men will be lovers of themselves, lovers of money, boasters, proud, blasphemers, disobedient to parents, unthankful, unholy, 3 unloving, unforgiving, slanderers, without self-control, brutal, despisers of good, 4 traitors, headstrong, haughty, lovers of pleasure rather than lovers of God, 5 having a form of godliness but denying its power. And from such people turn away! (2 Timothy 3:1-5)
Islamic terrorists claim to have a form of godliness, but do not believe in the God of the Bible.
Because of actions by Islamic terrorists, many in the West as well as in many of the Islam-dominated countries will decide that a coalition of nations in North Africa and the Middle East is what is needed for 'peace.' But this, according to the Bible, will not truly bring peace (Daniel 11:40-43), though it may well lead to a temporary peace (Daniel 9:27; see also The 'Peace Deal' of Daniel 9:27).
The Bible tells of a time of even more terror. And that terror will NOT be limited to the Middle East nor Asia. Notice the following prophecies:
14 'But if you do not obey Me, and do not observe all these commandments, 15 and if you despise My statutes, or if your soul abhors My judgments, so that you do not perform all My commandments, but break My covenant, 16 I also will do this to you: I will even appoint terror over you, wasting disease and fever which shall consume the eyes and cause sorrow of heart. And you shall sow your seed in vain, for your enemies shall eat it. 17 I will set My face against you, and you shall be defeated by your enemies. Those who hate you shall reign over you, and you shall flee when no one pursues you. (Leviticus 26:14-17)

25 The sword shall destroy outside; There shall be terror within (Deuteronomy 32:25)

12 "Cry and wail, son of man; For it will be against My people, Against all the princes of Israel. Terrors including the sword will be against My people; Therefore strike your thigh. (Ezekiel 21:12)

12 Behold, these are the ungodly,Who are always at ease; They increase in riches…19 Oh, how they are brought to desolation, as in a moment! They are utterly consumed with terrors. (Psalms 73:12,19)

25 Because you disdained all my counsel, And would have none of my rebuke, 26 I also will laugh at your calamity; I will mock when your terror comes, 27 When your terror comes like a storm, And your destruction comes like a whirlwind, When distress and anguish come upon you. (Proverbs 1:25-27)

5 Also they are afraid of height, And of terrors in the way (Ecclesiastes 12:5).
Jihadist gains in various parts of the world are a prelude to more terrorism and change. A confederation against the USA, its Anglo-Saxon allies, and Israel involving Arab and European forces is coming. And I have long believed that terrorism will have to be part of this based not only upon the "terror" prophecies, but those that discuss an arrangement between what is now mainly Islamic dominated lands and Europe in Psalm 83. It may be that Pakistan could possibly support that and/or perhaps more likely the coming King of the South (Daniel 11:40-43; see also India & Pakistan, their Biblical Past and Future).
How a 'religious' organization can engage in suicide bombing is not justifiable. The wounded and families of the victims are in my prayers.
Additionally, we all need to pray, as Jesus said, 'Thy kingdom come' (Matthew 6:10, KJV).
Some items of possibly related interest may include:
Why Terrorism? Is Terrorism Prophesied? What does the Bible teach? Which nations may be affected? Here is a link to a related sermon: Terrorism, Christianity, and Islam.
India, Its Biblical Past and Future: Any Witness? The Bible discusses the origins of those of Indian heritage. This article quotes the Bible and also discusses some of the witness to India throughout history and what is happening in the 21st century (including those in Bangladesh, Pakistan, and Sri Lanka).
India and the Beast of Revelation 13 Do biblical, Catholic, and even Hindu prophecies suggest that many in India will follow, for a while, the Beast and False Prophet/Antichrist? Here is link to a related YouTube video Will People in India Worship the Beast of Revelation 13?
The Prophesied 'Islamic' Confederation Where is an Islamic caliphate prophesied? Will one happen? Should you be concerned about it? Here is a link to a related video video: Will an Arabic Calphiphate Destroy the West?
The Arab and Islamic World In the Bible, History, and Prophecy The Bible discusses the origins of the Arab world and discusses the Middle East in prophecy. What is ahead for the Middle East and those who follow Islam? What about the Imam Mahdi? What lies ahead for Turkey, Iran, and the other non-Arabic Muslims? An item of possibly related interest in the Spanish language would be: Líderes iraníes condenan la hipocresía de Occidente y declaran que ahora es tiempo para prepararse para el Armagedón, la guerra, y el Imán Mahdi.
The 'Peace Deal' of Daniel 9:27 This prophecy could give up to 3 1/2 years advance notice of the coming Great Tribulation. Will most ignore or misunderstand its fulfillment? Here is a link to a related sermon video Daniel 9:27 and the Start of the Great Tribulation.
How Will Middle East Peace be Brought About? Can humans bring peace to the Middle East? Here is a link to a related video: Middle East Peace? When?
Is the Future King of the South Rising Up? Some no longer believe there needs to be a future King of the South. Might Egypt, Islam, Iran, Arabs, or Ethiopia be involved? Might this King be called the Mahdi or Caliph? What does the Bible say? A YouTube video of related interest may be: The Future King of the South is Rising.
When Will the Great Tribulation Begin? 2016, 2017, or 2018? Can the Great Tribulation begin today? What happens before the Great Tribulation in the "beginning of sorrows"? What happens in the Great Tribulation and the Day of the Lord? Is this the time of the Gentiles? When is the earliest that the Great Tribulation can begin? What is the Day of the Lord? Who are the 144,000? Here is a version of the article in the Spanish language: ¿Puede comenzar la Gran Tribulación en 2016 o 2017? ¿Es el Tiempo de los Gentiles? You can also see the English language sermon video: The Great Tribulation from the Mount of Olives. A shorter video is: Can the Great Tribulation Start in 2016?
World War III: Steps in Progress Are there surprising actions going on now that are leading to WWIII? Might a nuclear attack be expected? Does the Bible promise protection to all or only some Christians? How can you be part of those that will be protected? A related video would be Is World War III About to Begin? Can You Escape?
Wars, rumors of wars, and the Apocalypse Jesus foretold a time before the end where there would be wars and rumors of wars. The Apocalypse (the Book of Revelation) warns of the red horseman of war. Now, even secular writers, like Larry Edelson, are worried that wars and rumors of war are the most menacing problem that now haunts the earth? Are they right? What is the solution? This is a sermonette-length video.
The Gospel of the Kingdom of God This free online pdf booklet has answers many questions people have about the Gospel of the Kingdom of God and explains why it is the solution to the issues the world is facing.
The Gospel of the Kingdom of God was the Emphasis of Jesus and the Early Church Did you know that? Do you even know what the gospel of the kingdom is all about? You can also see a YouTube video sermon The Gospel of the Kingdom.
Persecutions by Church and State This article documents some that have occurred against those associated with the COGs and some prophesied to occur. Will those with the cross be the persecutors or the persecuted–this article has the shocking answer. There is also a YouTube video sermon you can watch: The Coming Persecution of the Church. Here is information in the Spanish language: Persecuciones de la Iglesia y el Estado.