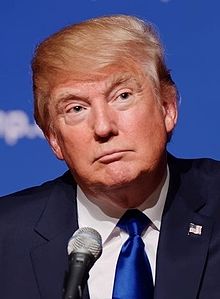 Donald Trump and Hillary Clinton

Now that 'Super Tuesday II' (others called it 'Super Tuesday 3') is over, we have seen the two front-runners, in terms of delegates, remaining as Hillary Clinton and Donald Trump. Voice of America reported the following:
March 16, 2016

MIAMI—

Donald Trump and Hillary Clinton moved closer toward securing their parties' presidential nominations Tuesday, easily winning a series of crucial votes that further clarified the direction of what has been an unlikely primary election campaign.

By winning the delegate-rich states of Florida, Ohio, Illinois and North Carolina, ex-Secretary of State Clinton was able to reverse the momentum of her opponent, Vermont Senator Bernie Sanders, who had come away with a surprise win in Michigan last week.

More importantly, it gives Clinton a commanding, and some say now almost insurmountable, lead in the count of delegates needed to win the Democratic nomination. …

Trump, the billionaire businessman, won big in Florida, North Carolina and Illinois, further cementing his status as the Republican front-runner.

Ohio roadblock

However, Trump hit a roadblock in Ohio, where the state's governor, John Kasich, secured a big win.

If Trump had won both Florida and Ohio, his path to the nomination would have likely been unstoppable, according to many analysts, because those states award all their delegates to the winner, rather than assign them proportionally.

Trump's loss in the Buckeye State now makes it possible that Trump will not win the nomination outright, forcing a dramatic showdown at the Republican convention in July, said Paul Beck, professor emeritus at Ohio State University.
So, Voice of America believe that Hillary Clinton's lead to become the Democratic party nominee is almost insurmountable, but that Donald Trump, though the leading Republican, is likely to have a fight to get his party's nomination. Republican candidate Marco Rubio suspended his campaign last night after it was clear he would not win his home state of Florida.
I watched several candidates speak last night. As far as the front-runners go, Hillary Clinton promoted class-warfare and said she would fight for LGBT rights.  Donald Trump promoted nationalism and said he would fight for himself and others.
Are either what the USA needs?
Notice something a couple of days ago from Thomas Sowell.
March 14, 2016

Either could spell our doom

A third consecutive term of such policies, with Hillary Clinton in the White House, can be suicidal.

Internally, Hillary Clinton's whole political career has been based on polarizing the American population by race, sex, class and any other way that will serve her political interests. This kind of cynical political exploitation can take the "United" out of the United States, and Balkanize us into an internal war of each against all. That is a war in which we can all lose.

As for the Republicans' front-runner, what is there left to say about Donald Trump? Almost daily he demonstrates that he lacks the maturity, the depth and the character required to lead a nation facing a complex range of dangers.

It is not a question of his having flaws, which we all have. But what kind of warped character does someone have at his core who can mock a prisoner of war who was tortured for years by our enemies, mock someone else with a physical defect, reply to questions with gutter-level insults and offer childish boasts about what he is going to do, instead of specifics about how?

These are not subtle nuances. They are blatant revelations about something fundamentally wrong. Too many people missed similar revelations about Barack Obama. For that we have already paid a price, and we will continue to pay a price, even after he is gone. … putting Hillary Clinton in the White House – and the country on the ruinous road to a point of no return. http://www.wnd.com/2016/03/2-front-runners-either-could-spell-our-doom/#pjVCyOuFEwMI93hY.99
This is the strangest presidential primary cycle I have ever seen. I agree that either Donald Trump or Hillary Clinton would help lead to doom and the end of the USA.
Many people recognize that something is terribly wrong with the direction of the USA. Yet, the answer is not Donald Trump nor Hillary Clinton. The answer is national repentance, which is something neither of those candidates has spoken about.
Consider the following:
14 if My people who are called by My name will humble themselves, and pray and seek My face, and turn from their wicked ways, then I will hear from heaven, and will forgive their sin and heal their land. (2 Chronicles 7:14)
National repentance and prayer is what the USA needs or it is biblically-doomed (cf. Habakkuk 2:6-8; Daniel 11:39). The same holds true for its Anglo-Saxon descended allies such as the UK, Canada, Australia, and New Zealand.
Irrespective of who becomes the next president, by virtue of timing, that leader will be in a sense, apocalyptic. Meaning that steps will be taken that will lead to the end of the USA by the next president.
Donald Trump's siren song is basically that foreigners, migrants, and Wall Street have taken advantage of the USA, and Americans would be better off if he renegotiates treaties and changes laws. This would bring Americans prosperity, etc. according to Donald Trump.
On the Democratic side, their siren song is that corporations, rich straight white men, and Wall Street have taken advantage of many in the USA and Americans would be better off if laws are changed to increase taxes on the rich and force corporations to give more to women, minorities, and migrants, while also changing society's laws related to gender matters. This would basically bring prosperity and equity to those who have been unfairly treated according to both Bernie Sanders and Hillary Clinton.
Both sides employ greed and envy as motivators. Jesus warned against covetousness (Luke 12:15).
Neither Donald Trump's nor the Democrat's siren songs are the solution.
Of course, despite the election results so far on the Republican side, we could still see a battle in November between Hillary Clinton and one of the establishment Republicans. A 'contested convention' has been suggested to try to stop Donald Trump.
So much for democracy in the USA.
The presidential candidates also do not seem to realize the national identity of the USA according to the Bible (see Anglo – America in Prophecy & the Lost Tribes of Israel), that God has a 6,000 year plan, and that national repentance is needed or the USA is doomed (Habakkuk 2:6-8; Daniel 11:39).
Time is running out for the USA. We are getting closer to the end of the 6,000 years that God is allowing humans to rule themselves, prior to the return of Jesus Christ and the beginning of the millennial reign (see Does God Have a 6,000 Year Plan? What Year Does the 6,000 Years End? and Did The Early Church Teach Millenarianism?). This is something that none of the presidential candidates has discussed publicly as far as I can tell.
And the end of the USA will come (cf. Daniel 11:39) whether they believe it or not.
Although many sincerely believe that it is their "Christian duty" to vote (even though that "duty" is not specified in the Bible, see Should a Christian Vote? and/or watch Should Christians Vote?), some seem to have overlooked some prophecies related to political leaders in the end times:
12 As for My people, children are their oppressors, And women rule over them. O My people! Those who lead you cause you to err, And destroy the way of your paths." (Isaiah 3:12)

43 The alien who is among you shall rise higher and higher above you, and you shall come down lower and lower (Deuteronomy 28:43).

16 For the leaders of this people cause them to err, And those who are led by them are destroyed (Isaiah 9:16).
It should be clear that Isaiah prophesied that there would be end time leaders that cause people to err. This is what many politicians, directly and indirectly do.
Notice a secular view related to the 2012 USA presidential election as it has some ideas to ponder related to the 2016 campaign as well:
When confronted with the false dilemma of the democratic political process, many individuals settle for the "less of two evils" as a kind of compromise. But one suspects (or hopes) they do so with a certain degree of moral discomfort. Ask a disciple of the Elephant Party, for example, if he agrees with the murderous drone attacks this moment underway in Pakistan and you will likely offend a delicate delusion of "Democrats for Peace." Similarly, press any Donkey Party advocate on the issue of economic freedom and watch them squirm under close scrutiny of their own candidate's position vis-à-vis the IRS, the Federal Reserve, the indigestible, 75,000- page tax code, etc., etc., etc….

Contrary to the popular snipe that "only those who vote have the right to complain," common sense leads us to quite the opposite conclusion. It is only those who have not aggressed against others who have the right to complain when they are aggressed against. Those who, to invert a phrase, "feed the mouth that bites them," may stand firmly, but do so on shaky ground.

A vote for either evil is nonetheless a vote for evil. (Daily Reckoning, October 19, 2012)
It is interesting to see a secular coming to similar conclusions regarding the 'democratic system' and the US presidential election. I documented some other evils that both major USA presidential candidates espoused in the 2012 campaign (see Romney and Obama on 'Social Issues').  As well as some in the 2016 campaign (see, for example, Hillary Clinton in Prophecy and Donald Trump in Prophecy).
Of course, many professing Christians believe that they need to vote even though that concept is not endorsed in the Bible.  But notice two concepts that are:
20 Woe to those who call evil good, and good evil (Isaiah 5:20).

2 You shall not follow a crowd to do evil (Exodus 23:2)
The "lesser of two evils" is still not good.
While it is true, that like the King of Ninevah (Jonah 3:5-6), political leaders could call for national repentance after enough people begin a fast, the reality is that this simply is not something that many of them ever seriously consider, let alone do. It seems that this will not happen (unless perhaps after the prophesied destruction).
God will decide who He wants in various offices:
17 'This decision is by the decree of the watchers, And the sentence by the word of the holy ones, In order that the living may know That the Most High rules in the kingdom of men, Gives it to whomever He will, And sets over it the lowest of men.' (Daniel 4:17)
We are seeing many running for office that do not have godly character. And God will take steps to put in office whosoever He feels should lead the USA.
If Christians are not supposed to vote, what should we do about leaders?
Pray for them!
Notice what Paul wrote:
Therefore I exhort first of all that supplications, prayers, intercessions, and giving of thanks be made for all men, for kings and all who are in authority, that we may lead a quiet and peaceable life in all godliness and reverence. For this is good and acceptable in the sight of God our Savior (1 Tim 2:1-3).
Notice that we are to pray for worldly leaders and those that have authority over us so that we may lead a quiet and peaceful life. Nothing like this is said for voting that many falsely claim is their "Christian" duty–prayer for leaders is.
Those who believe that Bernie Sanders or Donald Trump or Hillary Clinton can save the USA are misleading themselves and overlooking a lot of what the Bible teaches. Their moral views are not consistent with what the Bible teaches.
The USA needs national repentance and the Kingdom of God.
Some items of possibly related interest may include:
Should a Christian Vote? This article gives some of the Biblical rationale on this subject. Would Jesus vote for president/prime minister? Is voting in the Bible? This is a subject Christians need to understand. A video of related interest is available titled: Should Christians Vote?
Donald Trump in Prophecy Prophecy, Donald Trump? Are there prophecies that Donald Trump may fulfill? Are there any prophecies that he has already helped fulfill? Could a Donald Trump presidency be apocalyptic? A related video is titled Could Donald Trump be Apocalyptic?
Abortion, the Bible, and a Woman's Right to Choose Do you know what the Bible teaches on this? Has the Roman Catholic Church allowed abortions? What about the real Church of God? Some may also, or instead, wish to view the YouTube video Abortion, the Bible, and US Debt.
Cross-dressing and other assaults against your children. What should you do? Is there an agenda to turn your children and/or grandchildren away from biblical morality and towards practices promoted by homosexuals? What does the Bible teach about cross-dressing? What should parents do? If there is an agenda, what has been going on? There are also two YouTube videos related to this, titled Transgender 'Woe to those who call evil good' and Cross dressing and Other Assaults Against Your Children.
The Bible Condemns Homosexuality "Same-sex marriage" for "gays" and lesbians is becoming more acceptable to many. What does the Bible teach about homosexuality? Can homosexuals change? A related video sermon is titled: What Does the Bible Really Teach about Homosexuality?
Does God Have a 6,000 Year Plan? What Year Does the 6,000 Years End? Was a 6000 year time allowed for humans to rule followed by a literal thousand year reign of Christ on Earth taught by the early Christians? Does God have 7,000 year plan? What year may the six thousand years of human rule end? When will Jesus return? 2023 or 20xx? There is also a video titled The 6000 Year Plan: Is the end of humanity's reign almost up? Here is a link to the article in Spanish: ¿Tiene Dios un plan de 6,000 años?
When Will the Great Tribulation Begin? 2016, 2017, or 2018? Can the Great Tribulation begin today? What happens before the Great Tribulation in the "beginning of sorrows"? What happens in the Great Tribulation and the Day of the Lord? Is this the time of the Gentiles? When is the earliest that the Great Tribulation can begin? What is the Day of the Lord? Who are the 144,000? Here is a version of the article in the Spanish language: ¿Puede comenzar la Gran Tribulación en 2016 o 2017? ¿Es el Tiempo de los Gentiles? You can also see the English language sermon video: The Great Tribulation from the Mount of Olives. A shorter video is: Can the Great Tribulation Start in 2016?
Just What Do You Mean — Repentance? Do you know what repentance is? Have you truly repented? Repented of what? Herbert W. Armstrong wrote this as a booklet on this important subject.
When You Sin: Do You Really Repent? This is an article by Charles F. Hunting. A related sermon is Confess to God and truly repent.
WTO/TTIP and the Babylonian Beast Will international trade agreements like WTO/TTIP/CETA lead to the fulfillment of end time prophecies concerning the Babylonian Beast power that the Book of Revelation warns against? What does the Bible teach? A related video would be WTO Trade Deal and the Rise of the European Beast Power.
Hillary Clinton in Prophecy Prophecy, Hillary Clinton? Are there prophecies that Hillary Clinton may fulfill? Are there any prophecies that she has already helped fulfill? Could Hillary Clinton be apocalyptic? Could Hillary Clinton be the final Antichrist? A video of related interest is titled Hillary Clinton and Bible Prophecy.
The Gospel of the Kingdom of God was the Emphasis of Jesus and the Early Church Did you know that? Do you even know what the gospel of the kingdom is all about? You can also see a YouTube video sermon The Gospel of the Kingdom.
Women and the New Testament Church What roles did women play in the ministry of Jesus and the apostles? Did Jesus and the Apostle Paul violate Jewish traditions regarding their dealings with women? Do women have any biblical limitations on their role in the Church? Were there female prophets? Do women have any special responsibilities in terms of how they dress? What does the New Testament really teach about women? Here is a related sermon titled: New Testament Women.
Anglo – America in Prophecy & the Lost Tribes of Israel Are the Americans, Canadians, English, Scottish, Welsh, Australians, Anglo-Saxon (non-Dutch) Southern Africans, and New Zealanders descendants of Joseph? Where are the lost ten-tribes of Israel? Who are the lost tribes of Israel? What will happen to Jerusalem and the Jews in Israel? Will God punish the U.S.A., Canada, United Kingdom, and other Anglo-Saxon nations? Why might God allow them to be punished first? Here is a link to the Spanish version of this article: Anglo-América & las Tribus Perdidas de Israel. Information is also in the YouTube sermons titled Where are the Ten Lost Tribes? Why does it matter? and British are the Covenant People. A short YouTube of prophetic interest may be Barack Obama and the State of the Apocalypse.
Will the Anglo-Saxon Nations be Divided and Have People Taken as Slaves? Will the lands of the United States, United Kingdom, Canada, Australia, and New Zealand be divided? What about Jerusalem? What does Bible prophecy teach? Are there non-biblical prophecies that support this idea? Who will divide those lands? Who will end up with the lands and the people? Here is a link to a video titled Will the USA and other Anglo-nations be Divided and Their People Made Slaves? Here is a related item in the Spanish language ¿Serán divididas las naciones anglosajonas?
Hillary Clinton, Prophecy, and the Destruction of the United States This is a 188 page book for people truly interested in prophecies related to Hillary Clinton and the United States, including learning about many that have already been fulfilled and those that will be fulfilled in the future. It also discusses Republicans. The physical book can be purchased at Amazon from the following link: Hillary Clinton, Prophecy, and the Destruction of the United States: Is Hillary Clinton Fulfilling Biblical, Islamic Catholic, Hopi, and other America-Related Prophecies? $11.99.
Hillary Clinton, Prophecy, and the Destruction of the United States-Amazon Kindle edition. This electronic version of the 188 page print edition is available for only US$3.99. And you do not need an actual Kindle device to read it. Why? Amazon will allow you to download it to almost any device: Please click HERE to download one of Amazon s Free Reader Apps. After you go to for your free Kindle reader and then go to Hillary Clinton, Prophecy, and the Destruction of the United States-Amazon Kindle edition.