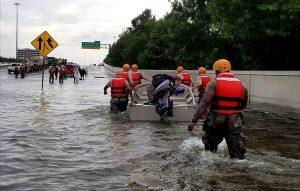 Hurricane Harvey Flooding

Flooding associated with Hurricane Harvey is massive and is continuing:
August 30, 2017

HOUSTON — The devastating storm once known as Hurricane Harvey, already the biggest rainstorm in the history of the continental United States, delivering another punishing wave of rain Wednesday to Texas and Louisiana.

Five days after roaring ashore in Texas — leaving behind more than 24 trillion gallons of water, disastrous flooding across Houston and a mounting death toll that had grown to at least 37 people — Harvey made landfall before dawn Wednesday near tiny Cameron, La., and began grinding its way northeast. https://www.washingtonpost.com/news/post-nation/wp/2017/08/30/harvey-again-makes-landfall-this-time-as-a-tropical-storm-near-cameron-la/?utm_term=.31970703ac8b

August 30, 2017

Texas Governor Greg Abbott has said that "the worst is not yet over" for the south-east of the US state, after devastating Tropical Storm Harvey.

He said rain continues to fall and flooding in certain areas may last another week.

More than 20 people are reported dead, and large parts of the city of Houston are under water.

The storm has now moved on to neighbouring Louisiana, where flash-flood warnings have been issued. …

The storm, which previously reached hurricane status, has dumped record rainfall in the region. …

in Louisiana, the storm landed in the south-west corner of the state, around Cameron, in the early hours of Wednesday. It is predicted to travel in a north-easterly direction, weakening as it goes.

The National Weather Service said heavy rainfall was expected from Louisiana to Kentucky over the next three days.

Flash-flood warnings remain in effect for parts of southern Louisiana and southern Mississippi. http://www.bbc.com/news/world-us-canada-41096565

August 30, 2017

Tropical Storm Harvey broke all records for rainfall from a single storm in the continental United States, and its consequences are likely to be felt for years. While the worst of the storm has cleared out of the Houston area, know that this story is not yet over.

It's just beginning. Tens of thousands are displaced from their homes, search and rescue operations are still underway, flood waters have not yet receded, and the total cost of the storm has yet to be fully tallied. Cleanup and rebuilding efforts will likely take years.

And the storm itself continues to dump rain over East Texas and Louisiana.

"While the threat of heavy rains has ended in the Houston/Galveston area, catastrophic and life-threatening flooding will continue in and around Houston eastward into southwest Louisiana for the rest of the week," the National Hurricane Center writes in a Wednesday morning forecast. "The expected heavy rains spreading northeastward from Louisiana into western Kentucky may also lead to flash flooding and increased river and small stream flooding." https://www.vox.com/science-and-health/2017/8/30/16225778/tropical-storm-harvey-houston-beaumont-port-arthur
Those affected by Hurricane Harvey are in my prayers.
The "broke all records" report should show us that we cannot be complacent and that things, including weather, can change beyond what it ever has before.
Storms like Hurricane Harvey show us that the world can quickly and dramatically change.
While many humans often seem to think otherwise, God is in charge and controls the weather:
Notice the following:
The Bible makes plain who is in control of the weather! "Fire and hail, snow and clouds; stormy wind, fulfilling His word" (Ps . 148:8 , RAV).

God intervenes in weather to work out his purposes among nations…

Plagues of disastrous weather are a warning to humanity. Weather for the most part operates according to natural laws. Damaging weather patterns sometimes develop. God simply may not choose to intervene to stop them because of nations' various sins and idolatry.

The Bible reveals God also directly intervenes to cause weather plagues to warn certain nations. "I have smitten you with blasting and mildew . .. yet have ye not returned unto me, saith the Lord" (Amos 4:9). He, in his great purpose, may also allow Satan-the god of this world (II Cor. 4:4)-to have a role in producing calamitous weather, for man's ultimate learning (see Job, chapter 1). (Schroeder D. CHAOTIC WEATHER Return of the dust bowl? Plain Truth. 1984, pp. 19-20)
As the above shows, the Bible teaches that God uses weather to warn people and to get their attention, especially if they have left Him.
(A couple of days ago, I quoted scriptures related to God controlling heavy rainfall, those are in the news post: Harvey's "Unprecedented" Devastation, "No Parallel To Any Rainstorm In US History.") God's word also say He can bring floods (see Weather Blessings and Sorrows).
Weather is not as random as most seem to want to believe.
In the Bible, God also tells of weather blessings for obedience:
3 'If you walk in My statutes and keep My commandments, and perform them,
4 then I will give you rain in its season, the land shall yield its produce, and the trees of the field shall yield their fruit.
5 Your threshing shall last till the time of vintage, and the vintage shall last till the time of sowing;
you shall eat your bread to the full, and dwell in your land safely. (Leviticus 26:3-5)

1 Now it shall come to pass, if you diligently obey the voice of the Lord your God, to observe carefully all His commandments which I command you today, that the Lord your God will set you high above all nations of the earth. 2 And all these blessings shall come upon you and overtake you, because you obey the voice of the Lord your God:

3 "Blessed shall you be in the city, and blessed shall you be in the country.

4 "Blessed shall be the fruit of your body, the produce of your ground and the increase of your herds, the increase of your cattle and the offspring of your flocks.

5 "Blessed shall be your basket and your kneading bowl…

11 And the Lord will grant you plenty of goods, in the fruit of your body, in the increase of your livestock, and in the produce of your ground, in the land of which the Lord swore to your fathers to give you. 12 The Lord will open to you His good treasure, the heavens, to give the rain to your land in its season, and to bless all the work of your hand. (Deuteronomy 28:1-5, 11-12)
And while there has never been a human society with perfect obedience, nations like the USA, who once had more respect for the Bible, at least used to make more of an effort to obey more laws of God than we now see.
Bad weather can come upon the disobedient:
15 "But it shall come to pass, if you do not obey the voice of the Lord your God, to observe carefully all His commandments and His statutes which I command you today, that all these curses will come upon you and overtake you: 16 "Cursed shall you be in the city, and cursed shall you be in the country. 17 "Cursed shall be your basket and your kneading bowl. 18 "Cursed shall be the fruit of your body and the produce of your land, the increase of your cattle and the offspring of your flocks. 19 "Cursed shall you be when you come in, and cursed shall you be when you go out. 20 "The Lord will send on you cursing, confusion, and rebuke in all that you set your hand to do, until you are destroyed and until you perish quickly, because of the wickedness of your doings in which you have forsaken Me. 21 The Lord will make the plague cling to you until He has consumed you from the land which you are going to possess. 22 The Lord will strike you with consumption, with fever, with inflammation, with severe burning fever, with the sword, with scorching, and with mildew; they shall pursue you until you perish. 23 And your heavens which are over your head shall be bronze, and the earth which is under you shall be iron. 24 The Lord will change the rain of your land to powder and dust; from the heaven it shall come down on you until you are destroyed. (Deuteronomy 28:15-24)

9 "I blasted you with blight and mildew.
When your gardens increased,
Your vineyards,
Your fig trees,
And your olive trees,
The locust devoured them;
Yet you have not returned to Me,"
Says the Lord. (Amos 4:7-9)
Expect more weather problems, including blight and mildew, in the unrepentant USA.
As far as God controlling the weather goes, in my view, weather was one of the reasons that Mitt Romney lost against Barack Obama in 2012 (cf. Daniel 4:17). There was a major storm, 'superstorm Sandy' that hit the north-east and that seemed to be the time more polls started to reduce Mitt Romney's chances. Here is something I posted about that November 10, 2012:
I believe, for example, that God allowed superstorm Sandy which likely affected the election, in the favor of Barack Obama.  Others may disagree, but for the past 2-3 years I felt that something would occur within a week or so of the 2012  US presidential election.  And while superstorm Sandy was still going on, I discussed this with some I work with prior to the election, and mentioned that I felt that the superstorm would affect the election.

The Bible clearly teaches, "the Most High rules in the kingdom of men, and gives it to whomever He chooses" (Daniel 4:25).
God controls the weather.
Weather events should serve as a wake-up call.
Things in the USA will not remain as they have been.
Sadly, many will be complacent and not really think that disaster will happen, but that will be a mistake:
9 Rise up, you women who are at ease, Hear my voice; You complacent daughters, Give ear to my speech. 10 In a year and some days You will be troubled, you complacent women; For the vintage will fail, The gathering will not come. 11 Tremble, you women who are at ease; Be troubled, you complacent ones; Strip yourselves, make yourselves bare, And gird sackcloth on your waists. 12 People shall mourn upon their breasts For the pleasant fields, for the fruitful vine. 13 On the land of my people will come up thorns and briers, Yes, on all the happy homes in the joyous city; 14 Because the palaces will be forsaken, The bustling city will be deserted. The forts and towers will become lairs forever, A joy of wild donkeys, a pasture of flocks — (Isaiah 32:9-14)

14 The sinners in Zion are afraid;
Fearfulness has seized the hypocrites:
"Who among us shall dwell with the devouring fire?
Who among us shall dwell with everlasting burnings? (Isaiah 33:14)
Expect worse weather incidents to come. Do not be complacent or lukewarm (cf. Revelation 3:14-18).
Change will happen. Much more so than most believe.
Expect that the time will come when the USA is no more (cf. Daniel 11:39; see also USA in Prophecy: The Strongest Fortresses).
Some items of possibly related interest may include:
Weather Blessings and Sorrows Are weather problems a warning? What should be done? What does the Bible teach about weather? What about floods, droughts, heat, earthquakes, tornadoes, and solar storms? Here is a related YouTube video Does God Use Weather? A related item in the Spanish language would be Bendiciones y maldiciones del clima.
The 'Unpardonable Sin' and 'Climate Change'? On September 7, 2016, Olav Fykse Tveit, Church of Norway Pastor, and the General Secretary of the World Council of Churches, essentially declared that those who ignore 'climate change' are committing the 'unpardonable sin' against the Holy Spirit. Are those two even related? In this video, Dr. Thiel answers that and explains from the Bible what the 'unpardonable sin' is and how you can avoid it. He also discusses aspects of Christianity and the environment.
The Bible, Christians, and the Environment How should Christians view the environment? Does the Bible give any clues? What are some of the effects of air, water, and land pollution? Is environmental pollution a factor in autism and death? Do pollutants seem to double the autism risk? What will Jesus do? A YouTube video is available titled Air Pollution, Autism, and Prophecy.
USA in Prophecy: The Strongest Fortresses Can you point to scriptures, like Daniel 11:39, that point to the USA in the 21st century? This article does. A related sermon is titled: Do these 7 prophesies point to the end of the USA?
United Nations: Humankind's Last Hope or New World Order? Is the UN the last hope for humanity? Or might its goals end up with sinister results? Two related videos include UN's 'New Universal Agenda' is a False Gospel! and United Nations and Vatican Are Planning the New World Order.
Laudato Si: Pope's Agenda or Kingdom of God? Pope Francis' 2nd encyclical is titled 'Laudato Si.' In it, he goes over his views related to environmental, economic, social, moral, agricultural, and spiritual issues. He advocates international cooperation to solve various problems he believes are affecting humanity. Is that Pope's agenda the solution? What about the Kingdom of God? does the Bible teach? Two related articles include Laudato Si: Will Pope Francis' economic actions match his words? and Laudato Si: A call for a one-world government?
Christian Repentance Do you know what repentance is? Is it really necessary for salvation? A related sermon is also available titled: Real Christian Repentance.
The Bible Condemns Homosexuality "Same-sex marriage" for "gays" and lesbians is becoming more acceptable to many. What does the Bible teach about homosexuality? Can homosexuals change? A related video sermon is titled: What Does the Bible Really Teach about Homosexuality?
Pornography: A scourge on society Is pornography harmless fun? Does the Bible teach anything about it? What are the views of some involved with it? Here is a link to a YouTube video Pornography: Harmless Fun or a Scourge on Society?
Anglo – America in Prophecy & the Lost Tribes of Israel Are the Americans, Canadians, English, Scottish, Welsh, Australians, Anglo-Saxon (non-Dutch) Southern Africans, and New Zealanders descendants of Joseph? Where are the lost ten-tribes of Israel? Who are the lost tribes of Israel? What will happen to Jerusalem and the Jews in Israel? Will God punish the U.S.A., Canada, United Kingdom, and other Anglo-Saxon nations? Why might God allow them to be punished first? Here is a link to the Spanish version of this article: Anglo-América & las Tribus Perdidas de Israel. Information is also in the YouTube sermons titled Where are the Ten Lost Tribes? Why does it matter? and British are the Covenant People. A short YouTube of prophetic interest may be Barack Obama and the State of the Apocalypse.
Will the Anglo-Saxon Nations be Divided and Have People Taken as Slaves? Will the lands of the United States, United Kingdom, Canada, Australia, and New Zealand be divided? What about Jerusalem? What does Bible prophecy teach? Are there non-biblical prophecies that support this idea? Who will divide those lands? Who will end up with the lands and the people? Here is a link to a video titled Will the USA and other Anglo-nations be Divided and Their People Made Slaves? Here is a related item in the Spanish language ¿Serán divididas las naciones anglosajonas?
British are the Covenant People What do 'British' and 'Britain' mean in Hebrew? Are the descendants of the Anglo-Saxons people of the covenant? Does the British royal family connect to the throne of David? What does the Bible teach? What does history show us? Is there any DNA evidence related to British-Israelism? When did Christianity make it to the British Isles? Could Jeremiah have made it to the British Isles? What type of Christians made it to the British Isles? Did the last King of England believe in British Israelism?Donald Trump in Prophecy Prophecy, Donald Trump? Are there prophecies that Donald Trump may fulfill? Are there any prophecies that he has already helped fulfill? Could a Donald Trump presidency be apocalyptic? A related video is titled: Donald: 'Trump of God' or Apocalyptic?
Trump Presidency Magic 8 Ball or Bible Prophecy? BBC reported that one might as well use a 'Magic Eight-Ball' to try to predict what will happen in the remaining time of Donald Trump's presidency. What is a 'Magic Eight-Ball'? Dr. Thiel not only explains that, but also briefly goes over 10 biblically-based warnings he wrote would happen if Donald Trump were elected that have already began to come to pass. He also goes over something he wrote back in 2008 that the Trump presidency is also helping lead to fulfillment. Should you trust Bible prophecy or not? Dr. Thiel says that Bible prophecy can be trusted, despite the view of skeptics and others that either overlook or despise the Bible. This is a video.
Donald Trump and America's Apocalypse This 188 page book is for people truly interested in prophecies related to Donald Trump and the United States, including learning about several that have already been fulfilled and those that will be fulfilled in the future. The physical book can be purchased at Amazon for $12.99 from the following link: Donald Trump and America's Apocalypse.
Donald Trump and America's Apocalypse-Kindle Edition This electronic version of the 188 page print edition is available for only US$3.99. And you do not need an actual Kindle device to read it. Why? Amazon will allow you to download it to almost any device: Please click HERE to download one of Amazon s Free Reader Apps. After you go to for your free Kindle reader and then go to Donald Trump and America's Apocalypse-Kindle Edition.