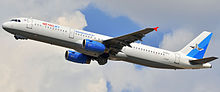 Plane that was bombed 10/31/15 (photo by Sergey Korovkin 84 )

Russia has stated that is has concluded that a homemade terrorist bombed downed its plane in Egypt:
November 17, 2015

The head of Russia's security service said Tuesday that last month's deadly plane crash in Egypt's Sinai region was a terrorist act and that explosives were found on both the wreckage and luggage from the aircraft.

Federal Security Service (FSB) chief Alexander Bortnikov said the blast came from an improvised explosive device made with up to 1 kilogram of TNT. The FSB also announced a $50 million reward for information leading to the arrest of those responsible.

Russian President Vladimir Putin vowed to find and punish whoever was responsible and called on the country's partners to help identify the culprits.

The Metrojet A-321 flight from the Egyptian resort of Sharm el-Sheikh was headed to St. Petersburg on October 31 when it crashed in the northern part of the Sinai peninsula, killing all 224 people on board.

Militants claiming links to the Islamic State group said they carried out the attack, and a number of foreign governments have expressed their belief that it involved an explosive device.  http://www.voanews.com/content/russia-says-terrorist-act-brought-down-plane-in-sinai/3061348.html
Russia's President Vladimir Putin has vowed to take action against the perpetrators:
November 17, 2015

President Vladimir Putin vowed to hunt down those responsible for blowing up a Russian airliner over Egypt and intensify air strikes against Islamists in Syria, after the Kremlin concluded a bomb had destroyed the plane last month, killing 224 people.

"We will find them anywhere on the planet and punish them," Putin said at a somber Kremlin meeting broadcast on Tuesday. The FSB security service swiftly announced a $50 million bounty on the bombers. …

Egyptian authorities have detained two employees of Sharm al-Sheikh airport for questioning in connection with the downing of the Russian jet, two security officials and an airport employee said on Tuesday.

"Seventeen people are being held, two of them are suspected of helping whoever planted the bomb on the plane at Sharm al-Sheikh airport," said one of the security officials who both declined to be named.

The Airbus A321, operated by Metrojet, had been returning Russian holiday makers from Sharm al-Sheikh in Egypt to St Petersburg when it broke up over the Sinai Peninsula, killing all on board. A group affiliated with Islamic State claimed responsibility, but until Tuesday Russia had said terrorism was just one possible scenario.

RETRIBUTION

Putin, wearing a dark suit, presided over a minute of silence in memory of the victims at the Kremlin meeting, before telling security and military chiefs the incident was one of the bloodiest crimes in modern Russian history and ordering the air force to intensify its air strikes in Syria in response.

"Our air force's military work in Syria must not simply be continued," he said. "It must be intensified in such a way that the criminals understand that retribution is inevitable."  http://www.reuters.com/article/2015/11/17/us-egypt-crash-russia-blast-idUSKCN0T60PS20151117
Russia and France did some bombing today:
November 17, 2015

Russian planes and missiles attacked Islamic State of Iraq and Syria (ISIS) positions in Raqqa, a U.S. defense official told CBS News.

It is unknown if that is retaliation for the recent terror attacks in Paris or last month's Russian passenger jet crash, which Moscow now says was definitely caused by a bomb, reports CBS News' national security correspondent David Martin.

France, which already hit the capital with the biggest French air bombing yet over the weekend responding to the Paris terror attacks, launched fresh airstrikes in Syria overnight. http://www.cbsnews.com/news/russia-france-pound-isis-targets-in-syria-sec-of-state-john-kerry-says-tougher-response-needed/
Presuming that Vladimir Putin believes the Islamic State was behind the downing of a plane, between his response, Frances' response, and other responses, the Islamic State may not fare well.
Yet, what has been going on with Russia in the Middle East and North Africa is NOT the immediate prelude to Ezekiel 38 as some suggest.
Notice the following from a 'letter to the editor' of the Victoria Advocate:
Russia is now in Syria and on the move worldwide once again. What is going on? When you look at the countries that the prophet Ezekiel prophesies about – and look at your world map, the old world map and the current one give the names of the countries involved with Russia to come together to try and destroy the nation of Israel. But God will intervene.

In Ezekiel 38:2, we see Gog and Magog or Russia. Then in verse 3 we see Rosh or Armenia, Georgia, Azerbasian, Kazakhstan, Uzbekistan, Turkmenistan, Tajikistan – mostly Islamic people. And we see Meshach and Tubal, which is mostly Turkey. In verse 5, we see Persia or Iran; Cush is Sudan and Ethiopia; Put is Libya. Then in verse 6, Gomer is part of Turkey and the Ukraine; Beth Togarmah is part of Turkey and Syria.

In Ezekiel 38 and 39, we see the invasion of Israel takes place. …

Matthew 24:44 – "Therefore, be ye also ready, for in such an hour as ye think not, the Son of man cometh."

John R. Fisher, pastor of the First Baptist Church, Point Comfort

https://www.victoriaadvocate.com/news/2015/nov/07/according-to-biblical-prophecy-can-america-be-defe/
People like John R. Fisher are looking at nations (most of which he has misidentified), but are clearly missing the timeframe that Ezekiel 38 is referring to.  There is NO WAY Jesus is about to come for several years and the fulfillment of Ezekiel 38 is a long way off.
What does the Bible actually teach? Notice the first 6 verses from Ezekiel 38:
1 Now the word of the Lord came to me, saying, 2 "Son of man, set your face against Gog, of the land of Magog, the prince of Rosh, Meshech, and Tubal, and prophesy against him, 3 and say, 'Thus says the Lord God: "Behold, I am against you, O Gog, the prince of Rosh, Meshech, and Tubal. 4 I will turn you around, put hooks into your jaws, and lead you out, with all your army, horses, and horsemen, all splendidly clothed, a great company with bucklers and shields, all of them handling swords. 5 Persia, Ethiopia, and Libya are with them, all of them with shield and helmet; 6 Gomer and all its troops; the house of Togarmah from the far north and all its troops — many people are with you.

7 "Prepare yourself and be ready, you and all your companies that are gathered about you; and be a guard for them.
Verses 1-7 talk about a group getting ready to battle. Various nations such as Russia, Iran, Asians, and others are included here (Rosh is Russia for one example).
What does the Bible actually teach as far as the timeframe? Notice the next two verses from Ezekiel 38:
8 After many days you will be visited. In the latter years you will come into the land of those brought back from the sword and gathered from many people on the mountains of Israel, which had long been desolate; they were brought out of the nations, and now all of them dwell safely. 9 You will ascend, coming like a storm, covering the land like a cloud, you and all your troops and many peoples with you."
Verses 8-9 refer to a regathering of Israel. Why do certain prophecy watchers say that it is for now?
Because certain Protestants believe that the creation of the nation of Israel in 1948 fulfills verse 8.
Yet, this is not really the fulfillment for several reasons (watch also the video Israel, 1948, and Prophecy).
One is that even today most Jews do not live in the nation of Israel. The Jewish diaspora is scattered throughout the world. But the other problem is that many do not realize that there are multiple millions of the descendants of Israel that are not of the tribe of Judah. The Bible shows that Israel split into the kingdoms of Judah and Israel after the reign of Solomon and that later the ten tribes that were part of Israel (cf. 1 Kings 11:31,35; 12:16-17; 12:20-23) were carried into captivity (2 Kings 17:21-23). Those tribes represent hundreds of millions of people currently alive, and as there are less than 6,000,000 Jews in Israel, most simply have not been regathered (more information on the tribes of Israel is in the article Anglo – America in Prophecy & the Lost Tribes of Israel).
Furthermore, notice the part of verse 8 about people dwelling safely. That is NOT the case in Israel today.
Additionally, notice verses 10-13:
10 'Thus says the Lord God: "On that day it shall come to pass that thoughts will arise in your mind, and you will make an evil plan: 11 You will say, 'I will go up against a land of unwalled villages; I will go to a peaceful people, who dwell safely, all of them dwelling without walls, and having neither bars nor gates' —  12 to take plunder and to take booty, to stretch out your hand against the waste places that are again inhabited, and against a people gathered from the nations, who have acquired livestock and goods, who dwell in the midst of the land. 13 Sheba, Dedan, the merchants of Tarshish, and all their young lions will say to you, 'Have you come to take plunder? Have you gathered your army to take booty, to carry away silver and gold, to take away livestock and goods, to take great plunder?'"'
Israel has its walls and "iron dome" and military weaponry. Notice that it is against a 'peaceful people' in unarmed villages that the prince of Rosh is going against. This cannot happen until AFTER the return of Jesus. Furthermore, there simply is not a plan to take a lot of gold and silver out of Israel right now by the power of the far north, nor does the current nation of Israel have enough of it to likely justify an attack for that purpose (unless perhaps some hidden gold/silver mines or remaining treasure of David).
Notice the following:
Israel holds no gold reserves at all, according to a Bank of Israel spokesman. (Kopf S. Jerusalem of Gold. Jerusalem Post, February 16, 2011. http://www.jpost.com/Jerusalem-Report/Israel/Jerusalem-of-Gold viewed 07/21/14)
According to Index Mundi, the nation of Israel was not amongt the top 48 producers of silver in the world, so its supply of this would also seem to be limited–it also confirmed that Israel does not have gold reserves (though there is some gold and silver in coins, etc. in Israel). Israel in the early 21st century is NOT the target of Ezekiel 38.
Ezekiel was further inspired to write:
14 "Therefore, son of man, prophesy and say to Gog, 'Thus says the Lord God: "On that day when My people Israel dwell safely, will you not know it?  15 Then you will come from your place out of the far north, you and many peoples with you, all of them riding on horses, a great company and a mighty army. 16 You will come up against My people Israel like a cloud, to cover the land. It will be in the latter days that I will bring you against My land, so that the nations may know Me, when I am hallowed in you, O Gog, before their eyes." (Ezekiel 38:1-17)
So, a power from the far north, which would seem to have to be Russian-led as it is the only major military power in the far north now, and may be the only one also in the future, will come. But again, notice that this happens when Israel is dwelling safely.
Notice the following observation by the old Worldwide Church of God:
The events of Ezekiel 38 and 39 are without question still future – for the "latter days" (38: 16) and "latter years" (38:8). Moreover, Ezekiel 38:14 describes the time setting as being "in that day when my people of Israel dwelleth safely." This is certainly not the situation in the State of Israel to- day! The Israel described by Ezekiel is a nation that dwells in security, in unwalled villages, totally unprepared for war (38:8, 11, 14). (Southeast Asia in Prophecy. Ambassador College Press, 1985)
And while Ezekiel 38 does mention Russia and Iran, the tiny nation of Israel is not now a "land of unwalled villages" with "a peaceful people who dwell safely" (Ezekiel 38:10-11).  We are not particularly close to the fulfillment of Ezekiel 38. Those who believe otherwise are in error.
As far as timing goes, here are some positions from the old Radio Church of God (bold italics mine):
Perhaps no prophecy has received more widespread interest and attention than that of Ezekiel 38 and 39. As usual there are various interpretations. Those most popularly believed and expressed are: I) That the prophecy pictures "Armageddon"-with Russia the aggressor in this final "Armageddon" battle…The word "Armageddon," believe it or not occurs only once in all he Bible. It is in Rev. 16:13-16: "ARMAGGEDON is the place of the "BATTLE" of that Great Day of God Almighty, which is "the Day of the Lord." This is the coming time of God's WRATH, climaxing in the seven last plagues and the Second Coming of Christ. The Battle at Armageddon is pictured in Rev. 20:19-20 and Rev.17:14. It is a battle in which European AXIS powers, symbolically represented as "The BEAST" and ten federated European dictatorships wive the Roman Empire, which fight against Christ and His Angels, contesting IS right to rule the world. But Ezekiel 38 speaks of a different power altogether-"GOG' in the land of 'MAGOG', numerous Allies – all descendants of JAPETH, father of the yellow races…

And now we come to chapter 38!…The TIME of this prophecy is AFTER–not before, but AFTER–the second coming of Christ. (What's Prophesied About RUSSIA! The Plain Truth. November-December 1943, pp. 5, 7, 12)

(Ez. 38: 12). It is now, after the second coming of Christ, with Israel obeying God in the land of Palestine, that Russia and her oriental hordes come to take a prey from defenseless cities. (Does Ezekiel 38 and 39 Mean An Invasion of Canada and the United States by Russia? Good News, June 1951, p. 11)
Protestant prophecy watchers suspect that now with the involvement of Russia in the Middle East and the increased willingness of the West to fight Islamic terrorists that WWIII is about to start. Some have concluded that the 'Bible Code' is showing this is about to happen (watch Russia, Iran, Syria, & the Bible (Code)).
That is NOT the case.
However, what is happening is that the Europeans are getting a wake-up call that they have to develop their own military–and the Bible shows that they will (Revelation 13:4; Daniel 11:39-43).
If Russia provides more direct assistance now (which it might since it is believed by many that somehow with ties to the Islamic State placed the bomb on the Russia plane in Egypt a couple of weeks ago), this may help open the door for more cooperation, at a critical time in the future, between Russia and Europe.
While the Bible does show that Russia and those allied with it will eventually turn against Europe (Daniel 11:44; Jeremiah 50:41-43), it also shows that they will cooperate before then (Ezekiel 27:13-14; cf. Revelation 18).
Some items of possibly related interest may include:
Russia and Ukraine: Their Origins and Prophesied Future Russia in prophecy. Where do the Russians come from? What about those in the Ukraine? What is prophesied for Russia and its allies? What will they do to the Europeans that supported the Beast in the end? There is also a video sermon available: Russia in the Bible and in Prophecy and a video sermonette available: Ukraine in Prophecy?
Is Russia the King of the North? Some claim it is. But what does the Bible teach? Here is a link to a video, also titled Is Russia the King of the North?
Ezekiel 38: For Russia & Iran in Our Day? Is Ezekiel 38 about to be fulfilled? A related video is available titled Ezekiel 38: For Russia, Ukraine, & Iran Now? Another could be Russia, Iran, Syria, & the Bible (Code).
World War III: Steps in Progress Are there surprising actions going on now that are leading to WWIII? Might a nuclear attack be expected? Does the Bible promise protection to all or only some Christians? How can you be part of those that will be protected? A related video would be Is World War III About to Begin? Can You Escape?
Terror: Will Paris be Destroyed? This is a new video. The Paris office of Charlie Hebdo were attacked in January 2015 and the City of Paris was hit with multiple terrorist attacks in November 2015. Will Paris be destroyed? Is more terrorism prophesied? Will a successful militaristic leader arise in Europe? What do biblical and Catholic prophecies teach? Could any non-biblical prophecies be devices of Satan that will deceive people about what will happen? Dr. Thiel answers these questions and more through scriptures and other writings.
The 'Lost Tribe' of Reuben: France in Prophecy? What is the origin of this in France? What is prophesied to happen to them? A two-part sermon related to history and prophecy is available online: The 'Lost Tribe' of Reuben and France and Prophecy.
The Prophesied 'Islamic' Confederation Where is an Islamic caliphate prophesied? Will one happen? Should you be concerned about it? A related video is Will an Arabic Calphiphate Destroy the West?
Obama Administration Pushing for an Islamic Empire? Because of the rise of groups such as the Islamic State, the Obama Administration and others are pushing for a coalition of Arab nations along with Turkey. Does this resemble the final King of the South of Bible prophecy? Is there an Islamic antichrist? Does the Bible teach that terrorism and the sword will affect the USA and some of its allies? What does the Bible teach in Ezekiel about a confederation involving Egypt? Will an Arabic confederation end in destruction for those who strongly support it? Are the 10 nations in the Arab coalition the ten kings of Revelation 17:12-13? Are the 10 nations including the USA and Turkey the ten nations of Revelation 17:12-13? Who is? Was the pushing of the Obama Administration to do this predicted by in 2009 in a writing by Dr. Thiel? What does the Bible show?
Differences Between Islam and the Continuing Church of God What are some of the main differences? Are there any similarities? A video of related interest is titled: Islam: Any Christian Concerns or Similarities?
Who is the King of the North? Is there one? Do biblical and Roman Catholic prophecies for the Great Monarch point to the same leader? Should he be followed? Who will be the King of the North discussed in Daniel 11? Is a nuclear attack prophesied to happen to the English-speaking peoples of the United States, Great Britain, Canada, Australia, and New Zealand? When do the 1335 days, 1290 days, and 1260 days (the time, times, and half a time) of Daniel 12 begin? When does the Bible show that economic collapse will affect the United States? In the Spanish language check out ¿Quién es el Rey del Norte? Here is a link to a video titled: The Future King of the North.
When Will the Great Tribulation Begin? 2016, 2017, or 2018? Can the Great Tribulation begin today? What happens before the Great Tribulation in the "beginning of sorrows"? What happens in the Great Tribulation and the Day of the Lord? Is this the time of the Gentiles? When is the earliest that the Great Tribulation can begin? What is the Day of the Lord? Who are the 144,000? Here is a version of the article in the Spanish language: ¿Puede comenzar la Gran Tribulación en 2016 o 2017? ¿Es el Tiempo de los Gentiles? You can also see the English language sermon video: The Great Tribulation from the Mount of Olives.