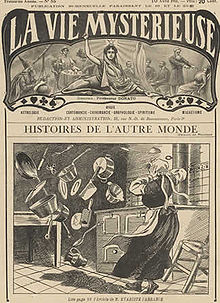 1911 Report of 'Poltergeist'

A reader sent me a link to the first of the following two related items:
August 15, 2016

THE MUM at the centre of Scotland's incredible "poltergeist" case broke her silence yesterday.

Catherine Shreenan told of the stress the whole affair had placed her under – but insisted she didn't want to discuss the bizarre occurrences at her home.

The Record revealed on Saturday how police who went to the Rutherglen house where Ms Shreenan lives with her teenage son had themselves witnessed a series of unexplained happenings.

Called by the frantic mum to deal with what was described as a "disturbance" officers saw clothes flying across a room, lights going off and when they went back on the lampshades were upside down and oven doors opening and closing.

A chihuahua dog which was playing in the garden was then discovered sitting on top of a seven-foot hedge.

Yesterday Ms Shreenan said: "It's placed enormous stress on the family. I've had people, teenagers, going past my home singing Ghostbusters." …

Police were called to the house on Monday and Tuesday last week.

The situation has been discussed at high levels within Police Scotland, with senior officers perplexed as to how they best handle the incidents.

Police sources said officers with 20 years experience at the force had witnessed the strange events and nobody knew how to proceed.

The source said: "One problem we've got is where we go from here as no crime has been established, so what else can we do but deal with any reports of disturbances."

A priest has been to the house in Stonelaw Road and performed what has been described as a 'blessing' at the property. http://www.dailyrecord.co.uk/news/scottish-news/poltergeist-case-mum-speaks-enormous-8630255

August 15, 2016

Police officers who called to the house, near Glasgow, last week reportedly saw the family's pet Chihuahua levitating and clothes flying across rooms.The mother and teenager contacted officers after being left "extremely distressed" by the "violent and unexplained circumstances", according to insiders.A baffled source said: "These were incidents that were witnessed by our own officers. Incidents that are not easily explained.

"But officers with more than 20 years' service are saying they've never seen anything like this."It really is something that down-to-earth police officers are having trouble getting their heads round."How do you handle what, despite us liking to use the word, has been described as a poltergeist."

Another insider said: "The officers witnessed the lights going off, clothes flying across the room and the dog sitting on top of the hedge."The officers called their superiors who also attended thinking the cops were perhaps being a bit silly but it's being taken very seriously."The fact it was witnessed by our officers has lent itself to a very different but active inquiry." http://www.express.co.uk/news/uk/700059/ghost-poltergeist-Scotland-South-Lanarkshire
The fact that the reports say that this was witnessed by police officers, indicates that this is not just a delusional report, but that something, apparently demonic, was witnessed.
Yet publicly claiming something came from demons is not what most modern government officials will do. So, they are at a loss on this.
Here is how Dictionary.com defines poltergeist:
1.

a ghost or spirit supposed to manifest its presence by noises, knockings, etc.
The 'spirit' doing what has been described in Scotland certainly sounds as if it is demonic.
We should expect to see increases in such demonic 'paranormal' activity.
Why?
Notice the following prophecy written by the Apostle Paul:
3 Let no one deceive you by any means; for that Day will not come unless the falling away comes first, and the man of sin is revealed, the son of perdition, 4 who opposes and exalts himself above all that is called God or that is worshiped, so that he sits as God in the temple of God, showing himself that he is God.

5 Do you not remember that when I was still with you I told you these things? 6 And now you know what is restraining, that he may be revealed in his own time. 7 For the mystery of lawlessness is already at work; only He who now restrains will do so until He is taken out of the way. (2 Thessalonians 2:3-7)
So, the restrainer will be taken out of the way before the end. (For information on who the restrainer seems to be, check out the article What is Restrained and Who is Restraining in 2 Thessalonians 2:7?)
After the restrainer is out of the way, we will see more signs and lying wonders:
8 And then the lawless one will be revealed, whom the Lord will consume with the breath of His mouth and destroy with the brightness of His coming. 9 The coming of the lawless one is according to the working of Satan, with all power, signs, and lying wonders, 10 and with all unrighteous deception among those who perish, because they did not receive the love of the truth, that they might be saved. 11 And for this reason God will send them strong delusion, that they should believe the lie, 12 that they all may be condemned who did not believe the truth but had pleasure in unrighteousness. (2 Thessalonians 2:8-12)
Thus we see that, in the New Testament, the Apostle Paul warned that towards the end, almost all would be deceived by signs and lying wonders.
Deception must be clever to work, and would need some type of 'verification' to be believed by the masses.
Throughout history multitudes have already been deceived by signs and wonders coming from statues and alleged apparitions of Jesus and Mary, as well as other demonic manifestations. They have felt that this was 'proof' that some false religion was true. But Christians are supposed to walk by faith and not sight (2 Corinthians 5:7). Also notice something that the Apostle John was inspired to write:
1 Beloved, do not believe every spirit, but test the spirits, whether they are of God; (1 John 4:1)
While most, incorrectly, feel that they can properly test/discern the spirits, that is not the case. Even most real Christians in these end times are not doing that correctly (cf. Revelation 3:14-19; see also How To Determine If Someone is a True Prophet of God). However, the 'Laodicean Christians' will not be deceived like the non-Christians will be–but they will have problems because of their improper priorities (consider also the video 17 Laodicean Errors in Prophecy).
In the future, the "interfaith movement" will likely employ "Mary," signs, and other ideas as tools for improper unity for those who are not true, biblical, Christians (see Will the Interfaith Movement Lead to Peace or Sudden Destruction?).
Satan has a plan, and deceit, signs, and lying wonders are part of it (see also Satan's Plan).
Having 'verified' paranormal activity will condition people to accept as real, improper manifestations in the future.
The Book of Revelation shows that a massive deceit, in the form of wrong worship, will affect the world:
7 It was granted to him to make war with the saints and to overcome them. And authority was given him over every tribe, tongue, and nation. 8 All who dwell on the earth will worship him, whose names have not been written in the Book of Life of the Lamb slain from the foundation of the world.

9 If anyone has an ear, let him hear. 10 He who leads into captivity shall go into captivity; he who kills with the sword must be killed with the sword. Here is the patience and the faith of the saints.

11 Then I saw another beast coming up out of the earth, and he had two horns like a lamb and spoke like a dragon. 12 And he exercises all the authority of the first beast in his presence, and causes the earth and those who dwell in it to worship the first beast, whose deadly wound was healed. 13 He performs great signs, so that he even makes fire come down from heaven on the earth in the sight of men. 14 And he deceives those who dwell on the earth by those signs which he was granted to do in the sight of the beast, telling those who dwell on the earth to make an image to the beast who was wounded by the sword and lived. (Revelation 13:7-14)
We are getting closer to the fulfillment of these verses in Revelation. Likely within the next decade or two.
Expect to see more 'verified' 'paranormal' activity.
Here are some links to items of possibly related interest:
Satan's Plan Does Satan have a plan? What is it? Has it already been successful? Will it be successful in the future? Here are links to a two-part sermon series: What are Some of the Parts of Satan's Plan? and Satan's Plan is More Dramatic than Many Realize.
What is Restrained and Who is Restraining in 2 Thessalonians 2:7? Are sorceries being restrained until the future? What is the mystery of lawlessness? Here is a related article in Spanish: ¿Qué es lo que se restringe y quién lo está restringiendo en 2 Tesalonicenses 2:7?
The Falling Away: The Bible and WCG Teachings Who is 2 Thessalonians 2:3 referring to? Are there multiple falling aways? Here is a related link in Spanish/español: La Apostasía: Enseñanzas de la Biblia y de la WCG. There are also two YouTube videos on the subject that you can watch The Falling Away Part 1: From the Bible and Church History and The Falling Away Part 2: Positions Presented by Others.
Who is the Man of Sin of 2 Thessalonians 2? Is this the King of the North, the ten-horned beast of Revelation 13:1-11, or the two-horned Beast of Revelation 13:12-16? Some rely on traditions, but what does the Bible teach? Here is a related link in Spanish/español: ¿Quién es el Hombre de Pecado de 2 Tesalonicenses 2? Here is a version in Mandarin: 主编: 谁是'大罪人'?Here is a link to a related YouTube video, in English, titled Who is the Man of Sin?
How To Determine If Someone is a True Prophet of God There are many false prophets. How can Christians determine who is a true prophet? There is also a sermon-length video titled How to determine if someone is a true prophet of God. Here is a related link in Spanish/español: ¿Cómo determinar si alguien es un verdadero profeta de Dios?
Jesus: The Son of God and Saviour Who was Jesus? Why did He come to earth? What message did He bring? Is there evidence outside the Bible that He existed? Here is a YouTube sermon titled Jesus: Son of God and Saviour.
The Laodicean Church Era has been predominant circa 1986 A.D. to present. The Laodiceans are non-Philadelphians who mainly descended from the old WCG or its offshoots.  They do not properly understand the work or biblical prophecies and will face the Great Tribulation if they do not repent. One video of related interest is 17 Laodicean Errors in Prophecy.
Did God Create a Devil? If not, what happened? Herbert W. Armstrong wrote this as a booklet.
The Bible and Astrology Should Christians avoid participating in astrology or did God inspire it? Does the Bible encourage astrology? What does the Bible actually teach? What is astrology? How does astrology differ from astronomy? Should Christians Be Involved In Astrology?
OMENS? DIVINATION? HOROSCOPES? THE ORIGIN OF ASTROLOGY Where did astrology come from? Should you read your horoscope?
Does Astrology Work? Many believe and follow astrology–but does it work? Here is a link to the article in Mandarin Chinese: 占星术准确吗? .
Close Encounters of a 'Spirit' Kind discusses some experiences I believe were (demon) 'spirit' related.
Angels, Cherubim, and Seraphim This is information about various types of angelic beings.
Mary, the Mother of Jesus and the Apparitions Do you know much about Mary? Are the apparitions real? What happened at Fatima? What might they mean for the rise of the ecumenical religion of Antichrist? Are Protestants moving towards Mary? How do the Eastern/Greek Orthodox view Mary? How might Mary view her adorers? Here is a link to a YouTube video Marian Apparitions May Fulfill Prophecy.
Satan's Plan A Brief Introduction This is a short video dealing with Satan's plan.
Does God Have a 6,000 Year Plan? What Year Does the 6,000 Years End? Was a 6000 year time allowed for humans to rule followed by a literal thousand year reign of Christ on Earth taught by the early Christians? Does God have 7,000 year plan? What year may the six thousand years of human rule end? When will Jesus return? 2023 or 20xx? There is also a video titled The 6000 Year Plan: Is the end of humanity's reign almost up? Here is a link to the article in Spanish: ¿Tiene Dios un plan de 6,000 años?
When Will the Great Tribulation Begin? 2016, 2017, or 2018? Can the Great Tribulation begin today? What happens before the Great Tribulation in the "beginning of sorrows"? What happens in the Great Tribulation and the Day of the Lord? Is this the time of the Gentiles? When is the earliest that the Great Tribulation can begin? What is the Day of the Lord? Who are the 144,000? Here is a version of the article in the Spanish language: ¿Puede comenzar la Gran Tribulación en 2016 o 2017? ¿Es el Tiempo de los Gentiles? You can also see the English language sermon videos: The Great Tribulation from the Mount of Olives and Can the Great Tribulation begin before 2020? A shorter video is: Can the Great Tribulation Start in 2016?
Will the Interfaith Movement Lead to Peace or Sudden Destruction? Is the interfaith movement going to lead to lasting peace or is it warned against? A video sermon of related interest is: Will the Interfaith Movement lead to World War III? and a video sermon is also available: Do You Know That Babylon is Forming?
Pope Francis: Could this Marian Focused Pontiff be Fulfilling Prophecy? Pope Francis has taken many steps to turn people more towards his version of 'Mary.' Could this be consistent with biblical and Catholic prophecies? This article documents what has been happening. There is also a video version titled Pope Francis: Could this Marian Focused Pontiff be Fulfilling Prophecy?
Feast of the Immaculate Conception? Did early Christians teach Mary had an immaculate conception and led a sinless life?
Origin of the Marian Dogmas: Where Do Catholic Scholars Say The Four Dogmas of Mary Came From?
Assumption of Mary Did Mary die? Was she taken to heaven on August 15th? What is known? What does the Bible show?
Do you understand the ramifications of the 'Lady of Guadalupe'? It is claimed that a female apparition appeared near Mexico City on December 12, 1531. How has it affected the world? What might it suggest about the future?
What Did the Early Church Teach About Idols and Icons? Did Catholic and Orthodox "saints" endorse or condemn idols and icons for Christians?
Fatima Shock! What the Vatican Does Not Want You to Know About Fatima, Dogmas of Mary, and Future Apparitions. Whether or not you believe anything happened at Fatima, if you live long enough, you will be affected by its ramifications (cf. Isaiah 47; Revelation 17). Fatima Shock! provides concerned Christians with enough Catholic-documented facts to effectively counter every false Marian argument. In addition to the print version, there is a Kindle version of Fatima Shock! which you can acquire in seconds.
Which Is Faithful: The Roman Catholic Church or the Continuing Church of God? Do you know that both groups shared a lot of the earliest teachings? Do you know which church changed? Do you know which group is most faithful to the teachings of the apostolic church? Which group best represents true Christianity? This documented article answers those questions.
The History of Early Christianity Are you aware that what most people believe is not what truly happened to the true Christian church? Do you know where the early church was based? Do you know what were the doctrines of the early church? Is your faith really based upon the truth or compromise?
Where is the True Christian Church Today? This free online pdf booklet answers that question and includes 18 proofs, clues, and signs to identify the true vs. false Christian church. Plus 7 proofs, clues, and signs to help identify Laodicean churches. A related sermon is also available: Where is the True Christian Church? Here is a link to the booklet in the Spanish language: ¿Dónde está la verdadera Iglesia cristiana de hoy? Here is a link in the German language: WO IST DIE WAHRE CHRISTLICHE KIRCHE HEUTE? Here is a link in the French language: Où est la vraie Église Chrétienne aujourd'hui?
Continuing History of the Church of God This pdf booklet is a historical overview of the true Church of God and some of its main opponents from Acts 2 to the 21st century. Related sermon links include Continuing History of the Church of God: c. 31 to c. 300 A.D. and Continuing History of the Church of God: 4th-16th Centuries. The booklet is available in Spanish: Continuación de la Historia de la Iglesia de Dios, German: Kontinuierliche Geschichte der Kirche Gottes, and Ekegusii Omogano Bw'ekanisa Ya Nyasae Egendererete.