Friday, February 26th, 2016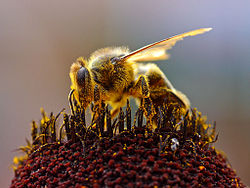 Honey Bee (Apis mellifera)

The United Nations (UN) is realizing that there are massive declines in the bee and butterfly populations:
February 26, 2016

WASHINGTON (AP) — Many species of wild bees, butterflies and other critters that pollinate plants are shrinking toward extinction, and the world needs to do something about it before our food supply suffers, a new United Nations scientific mega-report warns.

The 20,000 or so species of pollinators are key to hundreds of billions of dollars' worth of crops each year – from fruits and vegetables to coffee and chocolate. Yet 2 out of 5 species of invertebrate pollinators, such as bees and butterflies, are on the path toward extinction, said the first-of-its-kind report. Pollinators with backbones, such as hummingbirds and bats, are only slightly better off, with 1 in 6 species facing extinction.

"We are in a period of decline and there are going to be increasing consequences," said report lead author Simon Potts, director of the Centre for Agri-Environmental Research at the University of Reading in England.

And it's not just honeybees. In some aspects they're doing better than many of their wild counterparts, like the bumblebee, despite dramatic long-term declines in the United States and a mysterious disorder that has waned.

The trouble is the report can't point to a single villain. Among the culprits: the way farming has changed so there's not enough diversity and wild flowers for pollinators to use as food; pesticide use, including a controversial one, neonicotinoid, that attacks the nervous system; habitat loss to cities; disease, parasites and pathogens; and global warming.

The report is the result of more than two years of work by scientists across the globe who got together under several different U.N. agencies to come up with an assessment of Earth's biodiversity, starting with the pollinators. It's an effort similar to what the United Nations has done with global warming, putting together an encyclopedic report to tell world leaders what's happening and give them options for what can be done.

The report, which draws from many scientific studies but no new research, was approved by a congress of 124 nations meeting in Kuala Lumpur on Friday.

"The variety and multiplicity of threats to pollinators and pollination generate risks to people and livelihoods," the report stated. "These risks are largely driven by changes in land cover and agricultural management systems, including pesticide use." http://hosted.ap.org/dynamic/stories/U/US_SCI_POLLINATOR_DECLINE?SITE=AP&SECTION=HOME&TEMPLATE=DEFAULT&CTIME=2016-02-26-03-36-29
The pesticide "RoundUp" by Monsanto is believed to be implicated, at least for the loss of butterfly populations.
Last year, the government of the USA said it hoped to reverse the massive devastation of bees and butterflies :
May 19, 2015
WASHINGTON – The federal government hopes to reverse America's declining honeybee and monarch butterfly populations by making more federal land bee-friendly, spending more money on research and considering the use of less pesticides.

Scientists say bees — crucial to pollinate many crops — have been hurt by a combination of declining nutrition, mites, disease, and pesticides. The federal plan is an "all hands on deck" strategy that calls on everyone from federal bureaucrats to citizens to do what they can to save bees, which provide more than $15 billion in value to the U.S. economy, according to White House science adviser John Holdren.

"Pollinators are struggling," Holdren said in a blog post, citing a new federal survey that found beekeepers lost more than 40 percent of their colonies last year, although they later recovered by dividing surviving hives. He also said the number of monarch butterflies that spend the winter in Mexico's forests is down by 90 percent or more over the past two decades, so the U.S. government is working with Mexico to expand monarch habitat in the southern part of that country. http://www.foxnews.com/science/2015/05/19/federal-government-announces-plan-to-bolster-honeybee-butterfly-populations/
I have written about bees (see Bees seem to get addicted to pesticide that may be devastating their population) and butterflies (see Monarch butterflies becoming endangered because of GMOs) before. The precise cause can be debated, but it appears that pesticides and items related to genetically-modified crops are factors. Bees are needed to improve the pollination of many foods and losses of bees can affect the food supply. Some day, real hunger will come to the USA (cf. Ezekiel 5: 5:16).
The USA, UK, and other parts of the world are at risk of food shortages if the bee situation gets much worse. The effects of GMOs, pesticides, and agricultural chemicals are more complicated than many realize. It is good that the US federal government is looking into this, but the reality is that the USA government has basically protected Monsanto from negative affects of its GMO projects (see H.R. 933 includes pro-GMO provision that some call 'Monsanto Protection Act' and Thousands worldwide march against Monsanto).
Some have called the decimation of bees a 'bee apocalypse'–and that could very well be a step towards the real apocalypse and the start of the Great Tribulation of Matthew 24:21.
But, why be so concerned about bees? Basically because bees are necessary for the pollenization of many plants that humans eat. Losing bees could be devastating.
Overall, humans need bees much more that bees physically need humans.
Jesus warned that one of the "signs" of the end of the age would be famine:
7…And there will be famines, pestilences, and earthquakes in various places. 8 All these are the beginning of sorrows. (Matthew 24:6-8)
We seem to be in the time Jesus called "the beginning of sorrows." The United Nations will not stop this.
Between the widespread and growing use of genetically modified (GMO) "foods," pesticides, herbicides, and synthesized sweeteners, countries like the USA and UK are putting themselves at risk for the famines which are certain to come. Losing bees perhaps should be a sign that things are beginning to worsen.
At some time, famine will come to the USA and UK and many will die from it:
15 'So it shall be a reproach, a taunt, a lesson, and an astonishment to the nations that are all around you, when I execute judgments among you in anger and in fury and in furious rebukes. I, the Lord, have spoken. 16 When I send against them the terrible arrows of famine which shall be for destruction, which I will send to destroy you, I will increase the famine upon you and cut off your supply of bread. 17 So I will send against you famine and wild beasts, and they will bereave you. Pestilence and blood shall pass through you, and I will bring the sword against you. I, the Lord, have spoken.' (Ezekiel 5:15-17)
As Jesus said:
37 And what I say to you, I say to all: Watch! (Mark 13:36-37)
Some items of related interest may include:
GMOs and Bible Prophecy What are GMOs? Since they were not in the food supply until 1994, how could they possibly relate to Bible prophecy? Do GMOs put the USA and others at risk? Here is a related YouTube video GMO Risks and the Bible.
Chimeras: Has Science Crossed the Line? What are chimeras? Has science crossed the line? Does the Bible give any clues?
United Nations: Humankind's Last Hope or New World Order? Is the UN the last hope for humanity? Or might its goals end up with sinister results? Two related videos include UN's 'New Universal Agenda' is a False Gospel! and United Nations and Vatican Are Planning the New World Order.
Four Horsemen of the Apocalypse What do each of the four horseman of the Apocalypse represent? Have they began their ride? Did Jesus discuss the any of this? Might their rides coincide with the "beginning of sorrows? Do they start their ride prior to the Great Tribulation? Did Nostradamus or any other 'private prophets' write predictions that may mislead people so that they may not understand the truth of one or more of the four horseman? There is also a related YouTube video titled The Four Horsemen of the Apocalypse.
Anglo – America in Prophecy & the Lost Tribes of Israel Are the Americans, Canadians, English, Scottish, Welsh, Australians, Anglo-Saxon (non-Dutch) Southern Africans, and New Zealanders descendants of Joseph? Where are the lost ten-tribes of Israel? Who are the lost tribes of Israel? What will happen to Jerusalem and the Jews in Israel? Will God punish the U.S.A., Canada, United Kingdom, and other Anglo-Saxon nations? Why might God allow them to be punished first? Here is a link to the Spanish version of this article: Anglo-América & las Tribus Perdidas de Israel. Information is also in the YouTube sermons titled Where are the Ten Lost Tribes? Why does it matter? and British are the Covenant People. A short YouTube of prophetic interest may be Barack Obama and the State of the Apocalypse.
Will the Anglo-Saxon Nations be Divided and Have People Taken as Slaves? Will the lands of the United States, United Kingdom, Canada, Australia, and New Zealand be divided? What about Jerusalem? What does Bible prophecy teach? Are there non-biblical prophecies that support this idea? Who will divide those lands? Who will end up with the lands and the people? Here is a link to a video titled Will the USA and other Anglo-nations be Divided and Their People Made Slaves? Here is a related item in the Spanish language ¿Serán divididas las naciones anglosajonas?
British are the Covenant People What do 'British' and 'Britain' mean in Hebrew? Are the descendants of the Anglo-Saxons people of the covenant? Does the British royal family connect to the throne of David? What does the Bible teach? What does history show us? Is there any DNA evidence related to British-Israelism? When did Christianity make it to the British Isles? Could Jeremiah have made it to the British Isles? What type of Christians made it to the British Isles? Did the last King of England believe in British Israelism?
When Will the Great Tribulation Begin? 2016, 2017, or 2018? Can the Great Tribulation begin today? What happens before the Great Tribulation in the "beginning of sorrows"? What happens in the Great Tribulation and the Day of the Lord? Is this the time of the Gentiles? When is the earliest that the Great Tribulation can begin? What is the Day of the Lord? Who are the 144,000? Here is a version of the article in the Spanish language: ¿Puede comenzar la Gran Tribulación en 2016 o 2017? ¿Es el Tiempo de los Gentiles? You can also see the English language sermon video: The Great Tribulation from the Mount of Olives. A shorter video is: Can the Great Tribulation Start in 2016?
Barack Obama, Prophecy, and the Destruction of the United States-Second Edition for Second Obama Term This is a 160 page book for people truly interested in prophecies related to Barack Obama and the United States, including learning about many that have already been fulfilled (which the book documents in detail) and those that will be fulfilled in the future. It also has a chapter about a Republican choice. This book is available to order at www.barackobamaprophecy.com. The physical book can also be purchased at Amazon from the following link: Barack Obama, Prophecy, and the Destruction of the United States: Is Barack Obama Fulfilling Biblical, Islamic Catholic, Kenyan, and other America-Related Prophecies? What About Republican Leaders? Second Edition for Second Obama Term.
Barack Obama, Prophecy, and the Destruction of the United States-Second Term-Amazon Kindle edition. This electronic version is available for only US$2.99. And you do not need an actual Kindle device to read it. Why? Amazon will allow you to download it to almost any device: Please click HERE to download one of Amazon s Free Reader Apps. After you go to for your free Kindle reader and then go to Barack Obama, Prophecy, and the Destruction of the United States-Second Term-Amazon Kindle edition.