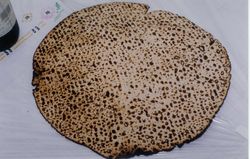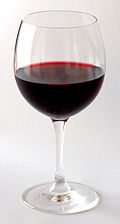 Unleavened Bread and Red Wine

World News daily sent me an email with the subject line: Everything you need to know about Passover. The email, instead, was actually just an advertisement for a book by Mark Biltz on the Holy Days.
While I am glad that Mark Biltz believes Christians should keep the biblical Holy Days, he is not one I have much theological confidence in.
Regular readers of this page likely remember him as I often denounced his position on 'blood moons.'  Here is some information about his views on those:
September 5, 2015

In Biltz's opinion, the current sequence of four blood moons — a tetrad — "is a sign for today's Christians as judgment always begins in the house of God."

"I believe the current blood moons also signal the end of an era," he said.

And Biltz notes there's something else unique about this tetrad: it's convergence with biblical holy days.

The April 15 event in 2014, for example, happened during Passover. On Oct. 8, 2014, the blood moon occurred during the Feast of Tabernacles, or Sukkot. Another of the blood moon's occurred during Passover on April 4, 2015. The last will happen on Sept. 28, 2015, another Feast of the Tabernacles.

The following chapter excerpted from Biltz's "Blood Moons" details the stunning science behind the signs.

"Blood Moons" chapter 6: The Science of the Signs
By Mark Biltz

The Jewish calendar is more complicated than our Gregorian calendar, but God has a reason for everything He does. …

From Joel 2:31, we understand that the sun shall be turned into darkness and the moon into blood before the great and the terrible day of the LORD come. This is an exciting correlation between the signs in the heavens that God said He would use and His calendar that He created for us to use as His decoder! This way we know it is not a random occurrence but a godly appointment!
…

The total solar eclipse—March 20, 2015—is on Nisan 1; the very beginning of the religious year and the very day the fire fell from heaven and lit the altar at the dedication of Moses' tabernacle! Following that, there will be a partial solar eclipse on September 13, 2015, which is on Rosh Hashanah. After that, just two weeks later, there will be a total lunar eclipse on Sukkot! This just rocks!
…

This is what is going to happen on the Feast of Tabernacles in 2015. Can you imagine what it will be like for the Jewish people in Israel sitting in their sukkahs on the first night of the Feast of Tabernacles and there is this super blood moon overhead? Don't you think God is trying to speak to us? This is equivalent to a prophetic grand slam homerun. The heavens are shouting, "Hello! Is anybody paying attention?"

http://www.wnd.com/2015/09/blood-moons-adding-up-the-evidence/#tvfXpddymiBhkQ1t.99
Much of the above is nonsense. While Mark Biltz did publicize the 2014 & 2015 blood moons and can chose to believe what he wants, he  placed significance on matters that do not have the type of significance he and others claim about them. While there were 4 blood moons from April 15, 2014 to  September 28, 2015, these four blood moons were not a biblical sign. They were NOT signs that Jesus listed in Matthew 24, Mark 13, or Luke 21 when Jesus told His disciples what to look out for.
Furthermore, Mark Biltz has claimed that Jesus would come to 'rapture' the church either before or shortly after a red moon:
Around 2008, Biltz began predicting that the Second Coming of Jesus would occur in the fall of 2015 with the seven years of the great tribulation beginning in the fall of 2008. He said he had "discovered" an astronomical pattern that predicted the next tetrad would coincide with the end times. When the prediction failed, he pulled the article from his website, but continued to teach on the "significance" of the tetrad. (Bloom Moon Prophecy. Wikipedia, accessed 08/23/15)

A minister who promotes the Old Testament roots of Christianity suggests a rare string of lunar and solar eclipses said to fall on God's annual holy days seven years from now could herald what's come to be known as the "Second Coming" of Jesus.

"God wants us to look at the biblical calendar," says Mark Biltz, pastor of El Shaddai Ministries in Bonney Lake, Wash. "The reason we need to be watching is [because] He will signal His appearance. But we have to know what to be watching as well. So we need to be watching the biblical holidays."

In a video interview on the Prophecy in the News website, Biltz said he's been studying prophecies that focus on the sun and moon, even going back to the book of Genesis where it states the lights in the sky would be "be for signs, and for seasons."

"It means a signal, kind of like 'one if by land, two if by sea.' It's like God wants to signal us," he said. "The Hebrew word implies … not only is it a signal, but it's a signal for coming. (Blood moon eclipses: 2nd Coming in 2015? Minister uses NASA forecasting to study signals of Jesus' return (WorldNetDaily – April 30, 2008. http://www.worldnetdaily.com/index.php?fa=PAGE.view&pageId=63076).
There was NO pre-tribulation rapture that month and Jesus did not return in September 2015.
Mark Biltz has proven to be a false prophet (see also How To Determine If Someone is a True Prophet of God).
So, why bring anything up about Mark Biltz now?
Well, basically because of two reasons.
First, many falsely believe that if someone promotes the Sabbath or the biblical Holy Days, they are credible leaders.  That is simply not the case. So-called Messianic Jews like Mark Biltz misunderstand much about church history, doctrine, and prophecy (see Messianic Judaism Beliefs Differ from the Continuing Church of God).
The second, however, is that Mark Biltz is correct that Christians should keep the Passover and biblical Holy Days, though I do not believe him to be an actual expert on those subjects. Here is something World News Daily's email had about that:
Biltz emphasizes that these feasts, described in Leviticus, were not intended for the Jewish people alone. They are repeatedly referred to in the Bible as "the Lord's feasts" – meaning they are for all people. They are meant to be observed as well as to serve as signs of the times in which we live – reminders of the greatest events of the past and foreshadowings of the future to come.

Biltz says much of the church is asleep – unaware of the significance of the feasts in God's holy time clock. The feasts were not intended to be abandoned by believers after the coming of Jesus. His followers observed them in the First Century. It's time to rediscover them again as the hour of His return approaches.
It is true that the biblical Holy Days should be kept by Christians, that early Christians kept them, and they do have lessons for us.  Though Mark Biltz does not know them all (more information on them can be found in the article Should You Observe God's Holy Days or Demonic Holidays?).
As far as the Passover goes, Jesus and His disciples kept it, as did all real early Christians.  Protestants and Catholics somewhat claim to keep it, but they do not keep it the same way or time that early Christians did. To learn more about its history, see the article Passover and the Early Church .
As far as when Passover is, for 2016 it will be observed after sunset on the Roman calendar date of April 21st, which is a Thursday evening.
Some items of possibly related interest may include:
Should You Observe God's Holy Days or Demonic Holidays? This is a draft of an article that is planned to be made into a booklet.
Blood Moons and Prophecy There are four 'blood moons' expected in 2014 and 2015. Do they signal the Day of the Lord or the return of Jesus Christ? A related YouTube video is also available: Blood Moons, Prophecy, 2014, and 2015.
Messianic Judaism Beliefs Differ from the Continuing Church of God Both groups keep the seventh-day Sabbath, but have important differences in doctrines and practices. Here is a link to a related sermon: Messianic Jewish Beliefs.
How To Determine If Someone is a True Prophet of God There are many false prophets. How can Christians determine who is a true prophet? There is also a sermon-length video titled How to determine if someone is a true prophet of God. Here is a related link in Spanish/español: ¿Cómo determinar si alguien es un verdadero profeta de Dios?
Is There "An Annual Worship Calendar" In the Bible? This paper provides a biblical and historical critique of several articles, including one by the Tkach WCG which states that this should be a local decision. What do the Holy Days mean? Also you can click here for the calendar of Holy Days. (Here is a related link in Spanish/español: Calendario Anual de Adoración –Una crítica basada en la Biblia y en la Historia: ¿Hay un Calendario Anual de Adoración en la Biblia?
How to Keep God's Festivals Many have heard of God's Holy Days and wonder how they are kept in the 21st century. This is an overview article. A related sermon is also available titled: How to Keep God's Feasts.
How often should we partake of THE LORD'S SUPPER? Herbert Armstrong answers that question.
Keeping Passover and the Days of Unleavened Bread How should Christians keep Passover, especially if they are by themselves. Why does the Church of God not require lambs for Passover? How does one keep the Days of Unleavened Bread? For a step-by-step video for Christians to keep it, check out CCOG Passover Service. Here is a link to a related article in the Spanish language: Guardando la Pascua y los Días de los Panes sin Levadura.
Preparing for Passover The Apostle Paul taught that Christians should examine themselves prior to taking Passover. This YouTube video sermon gives suggestions on how to prepare.
Passover and the Early Church Did the early Christians observe Passover? What did Jesus and Paul teach? Why did Jesus die for our sins? There is also a detailed YouTube video available titled History of the Christian Passover.
The Passover Plot What was the first Passover plot? Which plots have Islam and the Greco-Roman faiths perpetuated about Passover? A sermon video of related interest is The Passover Plots, Including Easter.
Melito's Homily on the Passover This is one of the earliest Christian writings about the Passover. This also includes what Apollinaris wrote on the Passover as well. Here is a related sermon, also titled Melito's Homily on the Passover.
TPM: Passover on the 14th or 15th? While the real COG observes Passover on the 14th, some observe it on the 15th. Why is the 14th correct? A related sermon is titled Is Passover on the 14th or 15th for Christians?
The Night to Be Observed What is the night to be much observed? When is it? Why do Jews keep Passover twice and emphasize the wrong date? A related video is available and is titled The Night to Be Much Observed.
Should Christians Keep the Days of Unleavened Bread? Do they have any use or meaning now? What is leaven? This article supplies some biblical answers. Here is a YouTube video intended to be viewed for the first day of unleavened bread: Christians and the Days of Unleavened Bread.
Holy Day Calendar This is a listing of the biblical holy days through 2024, with their Roman calendar dates. They are really hard to observe if you do not know when they occur 🙂 In the Spanish/Español/Castellano language: Calendario de los Días Santos. In Mandarin Chinese: 何日是神的圣日? 这里是一份神的圣日日历从2013年至2024年。.
Where is the True Christian Church Today? This free online pdf booklet answers that question and includes 18 proofs, clues, and signs to identify the true vs. false Christian church. Plus 7 proofs, clues, and signs to help identify Laodicean churches. A related sermon is also available: Where is the True Christian Church? Here is a link to the booklet in the Spanish language: ¿Dónde está la verdadera Iglesia cristiana de hoy? Here is a link in the German language: WO IST DIE WAHRE CHRISTLICHE KIRCHE HEUTE? Here is a link in the French language: Où est la vraie Église Chrétienne aujourd'hui?
Continuing History of the Church of God This pdf booklet is a historical overview of the true Church of God and some of its main opponents from c. 31 A.D. to 2014. A related sermon link would be Continuing History of the Church of God: c. 31 to c. 300 A.D. Marque aquí para ver el pdf folleto: Continuación de la Historia de la Iglesia de Dios.
CCOG.ORG Continuing Church of God The group striving to be most faithful am