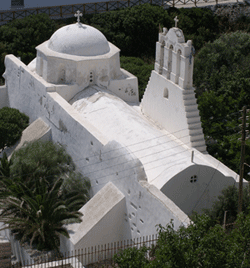 "Sunday Church" (Naxos, Greece)
Many who attend church in America state that they are not changed because of it:
Church is widely regarded as a regular action that can assist one in cultivating his or her faith, while subsequently experiencing personal benefits. While this characterization may hold validity for some, there's a new study out that shows that, for nearly half of attendees, church isn't doing anything to impact or change individuals' lives.

According to the Barna Group, an evangelical company that studies faith in America, nearly half (46 percent) of churchgoing Americans report that their lives have not changed at all as a result of attending church.  http://www.theblaze.com/stories/nearly-half-of-churchgoing-americans-say-church-doesnt-have-an-effect-on-their-lives/
This approach to "Christianity" differs from those of the original Christians.
Notice the following from the Book of Acts:
6 But when they did not find them, they dragged Jason and some brethren to the rulers of the city, crying out, "These who have turned the world upside down have come here too. 7 Jason has harbored them, and these are all acting contrary to the decrees of Caesar, saying there is another king — Jesus." (Acts 17:6-7)

10 Then Paul, after the governor had nodded to him to speak, answered: "… But this I confess to you, that according to the Way which they call a sect, so I worship the God of my fathers, believing all things which are written in the Law and in the Prophets…" (Acts 24:10,14)

22 But when Felix heard these things, having more accurate knowledge of the Way, he adjourned the proceedings…(Acts 24:22)
Two major points in the above is that Christianity was a different " way" of life that differed from others and those that practiced it changed so much that some were afraid that they would change the whole world.
This differs from how many view compromised "Christianity."
Also notice what the Apostle Peter was inspired to write:
…grow in the grace and knowledge of our Lord and Savior Jesus Christ. (2 Peter 3:18)
One does not GROW in grace and knowledge if one is not changed or affected by church.
And yes, according to the New Testament, one is supposed to attend:
24 And let us consider one another in order to stir up love and good works, 25 not forsaking the assembling of ourselves together, as is the manner of some, but exhorting one another, and so much the more as you see the Day approaching.  (Hebrews 10:24-25)
Sadly, what passes for Christianity by most in the world bears little resemblance to original Christianity.
Some articles of possibly related interest may include:
What is the Meaning of Life? Who does God say is happy? What is your ultimate destiny? Do you really know? Does God actually have a plan for YOU personally?
True vs. False Conversion Are you really converted or willing to be? What is true conversion? What is false conversion? What are the dangers of false conversion? Evangelist Roderick Meredith provides information on those important questions.
The History of Early Christianity Are you aware that what most people believe is not what truly happened to the true Christian church? Do you know where the early church was based? Do you know what were the doctrines of the early church? Is your faith really based upon the truth or compromise?
News Articles Related to Church History This link is to articles on Church history that were once published on the COG News Page.
The Churches of Revelation 2 & 3 Do they matter? Most say they must, but act like they do not. This article contains some history about the Church of God (sometimes referred to as the continuation of Primitive Christianity) over the past 2000 years. It also discusses the concept of church eras.
What Do Roman Catholic Scholars Actually Teach About Early Church History? Although most believe that the Roman Catholic Church history teaches an unbroken line of succession of bishops beginning with Peter, with stories about most of them, Roman Catholic scholars know the truth of this matter. This eye-opening article is a must-read for any who really wants to know what Roman Catholic history actually admits about the early church.
Nazarene Christianity: Were the Original Christians Nazarenes? Should Christians be Nazarenes today? What were the practices of the Nazarenes.
Location of the Early Church: Another Look at Ephesus, Smyrna, and Rome What actually happened to the primitive Church? And did the Bible tell about this in advance?