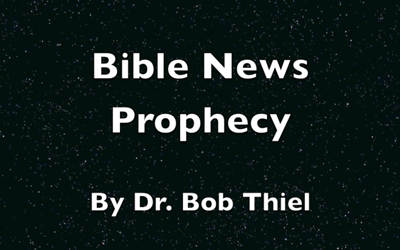 The Continuing Church of God is pleased to announce a new video about genetically-modified organisms and prophecy on our YouTube channel called Bible New Prophecy.
After a 20 year negotiation, the Church of Rome has negotiated the right to have Catholic mass in the building known as the Cenacle. It is in the area where the Church of God on Jerusalem's Western Hill once stood. This is believed to be the location of the earliest Christian church building. How does the Bible define the 'temple of God' in the New Testament? Could this be the area where the 'man of sin' will sit in the "temple of God' that Bible prophecy discusses in 2 Thessalonians 2:3-4?
This video answers those questions.
Some items of related interest may include:
Church of God on Jerusalem's Western Hill Could this building, often referred to as the Cenacle, possibly have been the oldest actual Christian church building?
Jerusalem: Past, Present, and Future What does the Bible say about Jerusalem and its future? Is Jerusalem going to be divided and eliminated? Is Jesus returning to the area of Jerusalem? There is also a related YouTube video you can watch titled Jerusalem To be divided and eliminated.
Why is a Jewish Temple in Jerusalem Not Required? Although people like Timothy LaHaye teach a third Jewish temple is required, who is 'the temple of God" in the New Testament? Does the Bible require a rebuilt Jewish Temple?
Who is the Man of Sin of 2 Thessalonians 2? Is this the King of the North, the ten-horned beast of Revelation 13:1-11, or the two-horned Beast of Revelation 13:12-16? Some rely on traditions, but what does the Bible teach? Here is a related link in Spanish/español: ¿Quién es el Hombre de Pecado de 2 Tesalonicenses 2? Here is a version in Mandarin: 主编: 谁是'大罪人'?Here is a link to a related YouTube video, in English, titled Who is the Man of Sin?