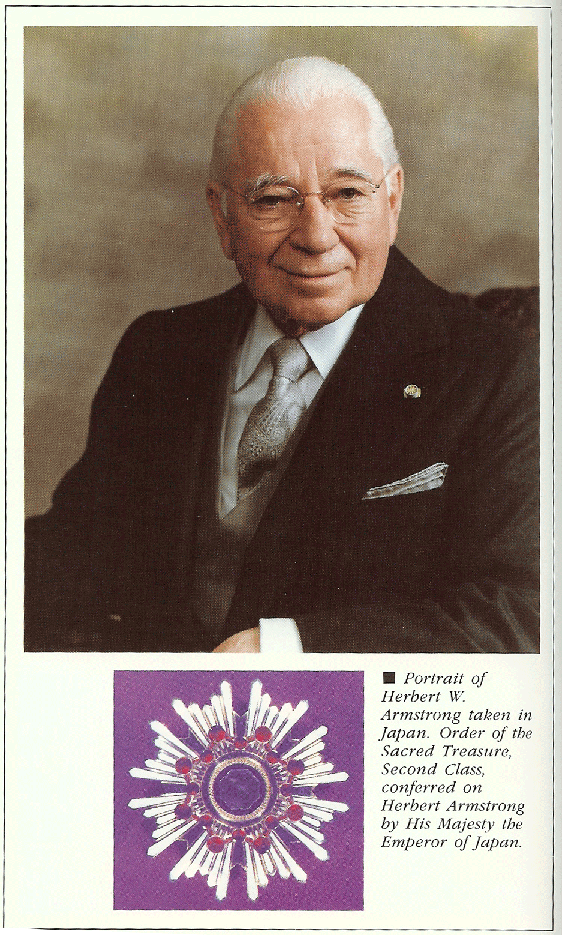 Decades ago, the late Pastor General of the old Worldwide Church of God, Hebert W. Armstrong, wrote a booklet on healing. Here are some excerpts:
Is the day of miracles PAST? We read in the New Testament that when Jesus Christ was on earth 1900 years ago, He HEALED THE SICK. It seems there are so MANY MORE sick today than there were then. Well, is the day of miracles past? WHAT ABOUT this thing we call divine healing?

I've encountered scores of folks who say, "Well, I know God can heal today if it's His will, but HOW CAN WE KNOW WHETHER IT'S HIS WILL?"

Others say, "Well, I think God helps them that help themselves. I believe God works thru medical science. We should always call the doctor, and take his drugs and medicines, or submit to his knives, and then pray that God will cause this human means to heal."

For OUR day, or Only for Time of Christ?

Some think Jesus Christ is like the professor Emeritus at the university — He USED to do great things, but now He's grown old and feeble and doesn't perform many miracles any more.

But, we read in I Corinthians 15:3-4: "For I delivered unto you first of all that which I also received, how that Christ died for our sins according to the scriptures; And that He was buried and that He rose again the third day according to the scriptures:" and again in Hebrews 13:8 — "Jesus Christ the same yesterday, and today, and forever," and in John 14:12 — "Verily, verily, I say unto you, He that believeth on me, the works that I do shall he do also; and greater works than these shall he do; because I go unto my Father."

Some think healing was only to prove JESUS was the CHRIST — the promised MESSIAH — but not for this day and age.

When Divine Healing Began

My friends, do you know when divine healing — healing direct by a miracle from ALMIGHTY GOD, as a result of believing PRAYER, really began? And incidentally, let me say I'm not referring to some modern MENTAL science, so called, or power or mind over matter, or hypnotism. I'm speaking only of physical healing performed directly by the Eternal Creator GOD, as a result of BELIEVING PRAYER. Do you know when this first began? Well, most of you are going to be surprised. It didn't begin with the ministry of Jesus of Nazareth at all. It began MANY CENTURIES BEFORE THAT!

It began WHEN the CHURCH began! Most people think the CHURCH was first started after the resurrection of Christ — on the Day of Pentecost. That was merely the NEW Testament Church. But the Church started long before that — it started way back in the days of MOSES. Of course, that was the OLD Testament Church, but it was God's CHURCH just the same.

Listen! Acts 7:28 — "This is He, that was in the church in the wilderness with the angel which spake to Him in the mount Sina, and with our fathers: who received the lively oracles to give unto us."

Now physical healing by faith in God is something the Eternal placed in that Old Testament church, way back in the days of Moses!

Let me read to you the first account in all history of direct divine healing. Exodus 15:23-26 — "And when they, [the children of Israel], came to Marah, they could not drink of the waters of Marah, for they were bitter: and therefore the name of it was called Marah. And the people murmured against Moses, saying, What shall we drink? And he cried unto the Eternal and the Eternal showed him a tree, which when he had cast into the waters, the waters were made sweet: there he made for them a statute and an ordinance, and there he proved them, And said, If thou wilt diligently hearken unto the voice of the Eternal thy God, and wilt do that which is right in His sight, and wilt give ear to His commandments, and keep all His statutes, I will put none of these diseases upon thee, which I have brought upon the Egyptians: for I am the Eternal that healeth thee.'"

And do you know, that the same conditions, "If you will obey and keep my commandments," etc. — apply today, and that's one reason why a lot of people who have a little light on divine healing and believe in it are not being healed!

Let me read that to you over in the NEW Testament, my friends, I John 3:22 — "And whatsoever we ask, we receive of Him," WHY? "because we keep His commandments, and do those things which are pleasing in His sight."

Well, with so many telling the people, and so many people believing, that Jesus Christ did away with the commandments, it's no wonder that many of us are not having prayers answered today! "Whatsoever we ask we receive of Him, because we keep His commandments and do those things that are pleasing in His sight."

Yes, God is the same yesterday, today and forever. He has not changed and the same conditions apply today that did back in the days of Moses. Obedience and faith. Jesus said, "According to your faith be it unto you."

God the ONLY Real Physician

You will notice that God said, "I am the Lord [or the Eternal] that heals you." He is a jealous God in a sense, so far as the prerogatives of God are concerned. And so, turn over to the 20th chapter of Exodus where God was giving the ten commandments to all the people. Moses didn't give the people the ten commandments. God gave the people the ten commandments, and He said, "I am the Eternal thy God . . . Thou shalt have no other gods before Me."

He had said, "I am the God that heals you," and now He says that you should have no other gods before Me.

You know, my friends, a doctor can't heal! And any honest doctor will admit it. None of his drugs, or medicines, or knives can heal. There is no healing in any of them. There is only one kind of healing, and that is healing directly by the Almighty God! There is no other healing!…
Leave the Way and Time to God
One word of caution! You can't dictate to God. He usually doesn't do things OUR way or always in OUR time. Leave that to Him! He PROMISES to heal you. Accept His promise. STAND ON THE PROMISES! Expect the answer! You KNOW you'll get it. Leave the "how" and the "when" to God. Let Him do it His way and in His time. Faith is the evidence of things NOT SEEN — not felt. Don't pay any attention to how you feel, or what you see, after you have called upon God for healing. Just KNOW you are to have it, and that's that!

In our many, many experiences, we have had healings in our own family and many other cases that were instantaneous. Then I'm thinking now of a woman who came to me and another minister for prayer for healing. After we noticed no change and she felt none. It was four days later that she was suddenly, instantly healed. I've known some to heal gradually. It was even so in Jesus' own ministry, one began to mend from that hour.

Leave the "how" and "when" to God. KNOW His promise is SURE!

The Scripture CANNOT BE BROKEN!

"Who forgiveth all thine iniquities; who healeth ALL thy diseases!"
Note: The old Worldwide Church of God no longer exists and the group that took it over would not make Herbert Armstrong's writings available, even when I offered to pay. So the above article is shown in the public interest and reflects the personal views of Herbert Armstrong and is shown as a public service. The most faithful remnant of his old church is the Continuing Church of God.
Several items of possibly related interest include:
Does God Heal Today? This historical article is by Herbert Armstrong and provides his views on healing circa 1952, which he seemed to later modify, at least to some degree.
Prayer: What Does the Bible Teach? This contains 28 biblically-baed tips on improving the effectiveness of your prayers. This is a pdf. A related two part sermon is available: What Does the Bible Teach About Prayer? and What does the Bible Teach About Prayer (& Healing)?
Who Was Herbert W. Armstrong? How is He Viewed Today? Includes quotes from the 1973 edition of The Autobiography of Herbert W. Armstrong and explains how he is and should be viewed today.
The Seven Laws of Success Are there tips that can help people become successful.
Living as a Christian: How and Why? In what ways do Christians live differently than others. What about praying, fasting, tithing, holy days, and the world? There is also a YouTube video related to that also called: Living as a Christian: How and Why?
Is Smoking a Sin? What does the Bible teach? What have COG leaders written? Can smokers change?
Binge Alcohol Drinking and the Bible Many college students and others overindulge in alcohol. Are there health risks? What does the Bible teach?
Obesity, processed foods, health risks, and the Bible Does the Bible warn about the consequences of being obese? Is overeating dangerous? Is gluttony condemned? What diseases are associated with eating too much refined foods? A related video would be Eating Right, Eating Too Much, and Prophecy.
Ten Simple Rules that Lead to Health Herbert Armstrong gives his opinions on this.
Why so much mental illness? Article by E.M. Walter goes into several of the causes of this.
ADHD diagnoses increasing Is diet a possible contributing factor in the increasing number of children diagnosed with attention deficit hyperactive disorder?
The Bible, Christians, and the Environment How should Christians view the environment? Does the Bible give any clues? What are some of the effects of air, water, and land pollution? Is environmental pollution a factor in autism and death? Do pollutants seem to double the autism risk? What will Jesus do? A YouTube video is available titled Air Pollution, Autism, and Prophecy.
UK Study Supports Daniel Diet Daniel and his companions looked better eating more vegetables and avoiding strange meats. Has modern science confirmed this?
Continuing Church of God The group striving to be most faithful amongst all real Christian groups to the word of God.