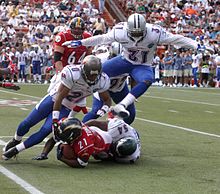 This coming Sunday is known as "Super Bowl Sunday" in the USA. Most years, the American football (which is not the same as the sport called soccer in the USA) contest known as the Superbowl is the most watched television program in the USA. Between 100,000,000-150,000,000 are expected to intentionally (as opposed to perhaps seeing a news item about it) watch at least some of it this year according to various reports.
Should Philadelphian Christians, those who are to have love for others, watch the Super Bowl?
Tackle football is dangerous and many people are still getting severely hurt:
February 3, 2017

A concussion protocol was first introduced in 2009 by the NFL's Head, Neck and Spine Committee in an effort to improve concussion detection. …

Prior to the 2016-2017 season, the NFL added additional elements to its concussion policy to ensure enforcement of the protocol, namely disciplining those teams that violate the required procedures. …

Enhancing the protocol to strengthen enforcement seemed like a wise move from the NFL. However, if teams are not going to face penalties for poor concussion management, it raises serious questions about the League's intentions in making these changes.

The League's history with concussion management is already so fraught, and while the NFL has appeared to make positive efforts in their handling of concussions, these situations only suggest the League has regressed. The protocol should have been enforced since its institution, but it wasn't. It should have been followed since disciplinary action was put in place to avoid these situations, but it wasn't. And the League should have disciplined teams for violating the protocol to set a precedent and strengthen their policy, but they didn't.

The NFL has released injury data from the 2016-2017 pre-season and regular season. Combining this data, the number of reported concussions decreased by 11.3 percent from last season. While this may appear on its face to be a marked improvement, this is a decrease against the previous season, which saw the highest number of diagnosed concussions (275) in the past five years.

Having a loosely followed concussion protocol clearly is not enough. http://www.sporttechie.com/2017/02/03/sports/nfl/nfl-concussion-protocol-still-inadequate-after-enhancements-this-season/
Should Christians, who are part of Jesus' church of brotherly love, encourage people causing themselves and others great bodily harm? Notice something from this year:
January 18, 2018

We live in an age of heightened awareness about concussions. From battlefields around the world to football fields in the U.S., we've heard about the dangers caused when the brain rattles around inside the skull and the possible link between concussions and the degenerative brain disease chronic traumatic encephalopathy.

A number of high-profile NFL stars have developed CTE, and parents are increasingly worried about how concussions may affect their children who play sports. …

A study published online Thursday in Brain, a journal of neurology, presents the strongest case yet that repetitive hits to the head that don't lead to concussions —meaning no loss of consciousness or other symptoms that can include headaches, dizziness, vision problems or confusion — cause CTE.

"We've had an inkling that subconcussive hits — the ones that don't [show] neurological signs and symptoms — may be associated with CTE," says Dr. Lee Goldstein, an associate professor of psychiatry at the Boston University School of Medicine and the lead investigator on the study. "We now have solid scientific evidence to say that is so."

And this evidence, he says, leaves researchers "terrifically concerned."

"The concussions we see on the ballfield or the battlefield or wherever — those people are going to get attention," Goldstein says, "because it's obvious they've had some sort of injury. We're really worried about the many more people who are getting hit and getting hurt — their brain is getting hurt — but are not getting help because we can't see the evidence on the outside that their brain is actually hurt. It's a silent injury."

Translating Goldstein's concern to the football field, Chris Nowinski, who heads the Concussion Legacy Foundation, says, "We see the hard hits all the time, where a guy pops up and smiles and [signals] a first down, and [we think], 'OK, that hit was fine.' But what this study says is: No, that hit probably wasn't fine, and that poor guy can't feel the damage that's happening in his brain right now." https://www.npr.org/sections/health-shots/2018/01/18/578355877/repeated-head-hits-not-concussions-may-be-behind-a-type-of-chronic-brain-damage
Thus, sports like American tackle football are not safe.
There is NO DOUBT among those interested in the truth that American tackle football is violent and causes harm to the players–much of which is permanent.
Consider also something about Joe Namath:
One of the most legendary figures in NFL history will deliver a sobering message to football fans on the morning of Super Bowl XLVIII. Former New York Jets quarterback Joe Namath, who famously guaranteed a win for his underdog squad in Super Bowl III, revealed the toll that football has taken on him in an interview with CBS scheduled to air on Sunday.

"I've been through some things medically. I've seen some things on my brain," Namath told Rita Braver of CBS Sunday Morning in a brief preview of the interview released in advance. "But I've had treatment, and I've improved. None of the body was designed to play football. Excuse me, you know, football, we're just not designed for it." http://www.huffingtonpost.com/2014/02/01/joe-namath-brain-damage-nfl_n_4709018.html

Football causes great harm. No one has excuses anymore to pretend otherwise.
Since most people in the USA have, at one time or another, made some hint of professing following Jesus, a relevant question may be:
Would Jesus want you to watch the Super Bowl?
Jesus, of course, taught "You shall love your neighbor as yourself" (Matthew 22:39), while the Apostle Paul wrote "no one ever hated his own flesh, but nourishes and cherishes it" (Ephesians 5:29).
The Bible teaches:
15 Do not love the world or the things in the world. If anyone loves the world, the love of the Father is not in him. 16 For all that is in the world — the lust of the flesh, the lust of the eyes, and the pride of life — is not of the Father but is of the world. 17 And the world is passing away, and the lust of it; but he who does the will of God abides forever. (1 John 2:15-17)
Tackle football is a lust of the flesh and eyes. Those who claim to be Christian and endorse it are letting the pride of life deceive them.
How many who are in the COGs love the worldly sport of American tackle football and really do not care that it causes irreparable harm to its participants? Is not another reason that some watch it because of their lust for violence and/or for social acceptance?
This is not what loving Christians should do.
Most violent sports advocates do not seem to realize that they are being influenced by the devil who is the prince of the power of the air:
1 And you He made alive, who were dead in trespasses and sins, 2 in which you once walked according to the course of this world, according to the prince of the power of the air, the spirit who now works in the sons of disobedience, 3 among whom also we all once conducted ourselves in the lusts of our flesh, fulfilling the desires of the flesh and of the mind, and were by nature children of wrath, just as the others.

4 But God, who is rich in mercy, because of His great love with which He loved us, 5 even when we were dead in trespasses, made us alive together with Christ (by grace you have been saved), 6 and raised us up together, and made us sit together in the heavenly places in Christ Jesus, 7 that in the ages to come He might show the exceeding riches of His grace in His kindness toward us in Christ Jesus. 8 For by grace you have been saved through faith, and that not of yourselves; it is the gift of God, 9 not of works, lest anyone should boast. 10 For we are His workmanship, created in Christ Jesus for good works, which God prepared beforehand that we should walk in them. (Ephesians 2:1-10)
Why would anyone feel that God Himself would condone encouraging violent sports as the type of 'good works' Christians should be involved in?
After seeing the injuries that some of my high school football-playing colleagues suffered, I could not reconcile the scriptures with American football. There are better ways for Christians to learn principles like teamwork from other sports or activities than watching actual violence such as occurs in American tackle football.
Also, notice what John the Baptist taught soldiers:
14 And the soldiers likewise demanded of him, saying, And what shall we do? And he said unto them, Do violence to no man, neither accuse any falsely; and be content with your wages. (Luke 3:14, KJV)
I could not reconcile loving my neighbor as myself and cherishing my flesh and not doing violence to any man by watching others do it in a football game. Nor could I reconcile it with the following:
9…You shall love your neighbor as yourself." 10 Love does no harm to a neighbor; therefore love is the fulfillment of the law. (Romans 13:9-10, NKJV)
The Super Bowl will do harm to participants in it.
The New Testament also warns Christians against being violent or approving of those that are (Romans 1:28-32), while history records that early Christians would not watch violent sports. Notice one such report from Theophilus of Antioch perhaps written about 180 A.D.:
Consider, therefore, whether those who teach such things can possibly live indifferently, and be commingled in unlawful intercourse, or, most impious of all, eat human flesh, especially when we are forbidden so much as to witness shows of gladiators, lest we become partakers and abettors of murders. But neither may we see the other spectacles, lest our eyes and ears be defiled, participating in the utterances there sung. (Theophilus of Antioch. To Autolycus, Book III, Chapter XV. Translated by Marcus Dods, A.M. Excerpted from Ante-Nicene Fathers, Volume 2. Edited by Alexander Roberts & James Donaldson. American Edition, 1885. Online Edition)
So, Christians did not believe that they were to watch the violent sports so popular in the second century.
In the 20th century, the late Herbert W. Armstrong wrote:
Competition and not cooperation, is the attitude which Satan inculcates human minds. But that does not mean that all sports are wrong or to be banned. The law of God is based on the way of righteousness…The basic law is love, out flowing toward God above all else, and secondarily, "Thou shalt love thy neighbor as thyself."

To harm the other fellow and to gain by doing so for self is a kind of competition that is wrong. Hostility toward the other is sin…

Wherever a game in sports involves antagonists–in hostile attitude to harm the other and/or to "get" from the other–to get the best of the other then a harmful, satanic and evil attitude enters in, and the sport is evil, not good…

Football (American football) is a violent body-contact sport. It is often played with an attitude of hostility and is dangerous and is fraught with physical injury…Soccer does not embody the same evils. (Plain Truth, July-August 1984)
CNN (01/29/2012) had a report that the average American high school football player received 650 sub-concussion hits per season which increased risk for brain damage of various types.
Since I do not actually watch American football, I do not know how many violent acts are likely at this year's Super Bowl, but the number is likely to be very high, and maybe even a lot more if thoughts of violence are included (cf. Matthew 5:21-22).
In my view, the tackle version of the sport of American football is evil (touch football I would not consider to be inherently evil–though attitude is still a possible factor there). Also, no Christian can really defend how professional football cheerleading females are publicly dressed and displayed–and presumably some of how they will be displayed at today's Super Bowl game.
Gambling, which is often a form of covetousness is also involved, WSPN had the following headline this week about this Superbowl:
For more on gambling, see the article Gambling and Sin: Is it a Sin for Christians to Gamble?
As far as violence goes, the Bible shows that God is against violence:
23 'Make a chain,
For the land is filled with crimes of blood,
And the city is full of violence.
24 Therefore I will bring the worst of the Gentiles,
And they will possess their houses;
I will cause the pomp of the strong to cease,
And their holy places shall be defiled. (Ezekiel 7:23-24)

28 And even as they did not like to retain God in their knowledge, God gave them over to a debased mind, to do those things which are not fitting; 29 being filled with all unrighteousness, sexual immorality…30…violent, proud, boasters,…31…unmerciful; 32 who, knowing the righteous judgment of God, that those who practice such things are deserving of death, not only do the same but also approve of those who practice them. (Romans 1:28-32)
Do you approve of those who practice violence?
Since American football games, like the Super Bowl, intentionally inflict various hurts, the following scripture supports the idea that American football will not be allowed in the Millennium:
9 They shall not hurt nor destroy in all My holy mountain,
For the earth shall be full of the knowledge of the Lord
As the waters cover the sea. (Isaiah 11:9, NKJV)
While "love does no harm to a neighbor" (Romans 13:9), what do sports like American football do?
A while back, on the night before the Super Bowl, I saw portions of TBN's Christian World News. Towards the end, they interviewed players on the teams in that scheduled Super Bowl game who professed Christ. The players, individually, basically stated that their faith was more important than winning the Super Bowl. But none said that they would renounce violence, not harm others, or not participate in the game because of its negative fruits.
Additionally, of the multitude of groups that profess Christ, it appears that only an actual or relative handful or so will tell their members that they should not be fans of American tackle football. Sometimes they will not denounce it because their leaders are fans, sometimes because they are afraid that they might lose members and/or money, and sometimes because of all of those reasons.
Would Jesus want you to watch the Superbowl? What about the Apostle Paul who warned against approving violence? The same Apostle Paul who said to imitate him as he imitated Christ (1 Corinthians 11:1). Would Jesus or the Apostle Paul watch the Superbowl as football fans rooting for one team to crush the other team?
"Perhaps", some might answer. And still others may ridicule and/or dismiss what I have written.
However, if Jesus Himself did watch the Superbowl, would He watch it and hope that one team would tackle and crash into members of the other team? Or might He watch it, if He did, so He could make social commentary against the violence and/or distorted priorities of the land?
Would Jesus take pleasure in humans damaging other humans for entertainment?
This is something that Christians, and others, should think about.
For more scriptures, as well as the position of early Christians and others on watching violent sports or participating in other violent pursuits, please see the following:
Is American Football Evil? Is the most popular spectator sport in the USA something that Christians should watch? What do the Bible and early writings show? There is also a YouTube video available titled Should Christians watch American football?
Military Service and the Churches of God: Do Real Christians Participate in Carnal Warfare or Encourage Violence? Here are current and historical perspectives on a matter which show the beliefs of the true church on military participation. Is war proper for Christians? A related sermon would be: Christians, Violence, and Military Service.
Continuing History of the Church of God This pdf booklet is a historical overview of the true Church of God and some of its main opponents from Acts 2 to the 21st century. Related sermon links include Continuing History of the Church of God: c. 31 to c. 300 A.D. and Continuing History of the Church of God: 4th-16th Centuries and Continuing History of the Church of God: 17th-20th Centuries. The booklet is available in Spanish: Continuación de la Historia de la Iglesia de Dios, German: Kontinuierliche Geschichte der Kirche Gottes, French: L Histoire Continue de l Église de Dieu and Ekegusii Omogano Bw'ekanisa Ya Nyasae Egendererete.
The Philadelphia Church Era was predominant circa 1933 A.D. to 1986 A.D. The old Radio Church of God and old Worldwide Church of God, now essentially the most faithful in the Church of God, which is best represented by the Continuing Church of God.
Gambling and Sin: Is it a Sin for Christians to Gamble? What does the Bible reveal? A related video is Gambling: A Covetous Sin?
Pornography: A scourge on society Is pornography harmless fun? Does the Bible teach anything about it? What are the views of some involved with it? Here is a link to a YouTube video Pornography: Harmless Fun or a Scourge on Society?