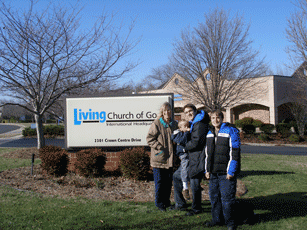 Living Church of God Sign & Family, In Charlotte, NC, January 2008
With all the dissent in UCG right now, I thought the following news item that came out on AOL today was of somewhat amusing interest:
Charlotte Ascends as Top Place to Live

Relocate-America.com ranks top 100 cities in its annual list

Marketwatch.com

CHICAGO (May 15) — Apparently, there's just something about North Carolina. For the second year in a row, America's best city in which to live lies within its borders, according to Relocate-America.com's annual list.

This year, Charlotte, N.C., is in the top spot, the site announced this week…

Areas need to be nominated on the site in order to be eligible for the list; more than 2,000 were nominated this year, Nickerson said. Special efforts are made to prevent spamming campaigns from influencing the results, he added.

But the site's editorial team also takes into account an area's growth, its educational and employment opportunities, crime rates and housing options before granting it a spot in the top 100. Environmental highlights also play a role, with a city gaining points for good air and water quality or the strength of its recycling efforts, Nickerson said.

Source: http://money.aol.com/news/articles/_a/charlotte-ascends-as-top-place-to-live/20080515160609990001?icid=1615984945x1202945870x1200307245
Charlotte is where the headquarters of the Living Church of God is located.
And while I doubt many with UCG are interested enough in Philadelphia-era governance, the few that are might want to reconsider where they fellowship.
Have YOU considered Charlotte?  If not, perhaps you may wish to consider the faithful, non-Laodicean,  church located there.
Several articles of possible related interest may include:
Herbert W. Armstrong and Roderick C. Meredith on Church Government Which form of governance would one expect to have in the Philadelphia remnant? The people decide and/or committee forms, odd dictatorships, or the same type that the Philadelphia era itself had?
What is a True Philadelphian? Many claim to be part of the Philadelphia era of the Church, but is claiming enough? This article has biblical and historical evidence about who really are the Philadelphians.
Attending the Church of Choice This article discusses whose choice is important to worship God; should you attend the church of your choice or the church of God's choice?
Unity: Which COG for You? Why so many groups? Why is there lack of unity in the Churches of God? Has it always been this way? What can/should be done about it?
18 Truths Restored to the Churches of God Herbert W. Armstrong wrote that he felt he had restored at least 18 lost truths to the Church, here is Herbert W. Armstrong's list given 12/17/83. This articles also has links to show that these truths were believed by professors of Christ in earlier times, hence they were not some invention of Herbert Armstrong.
Do You Believe God Used Herbert W. Armstrong to Raise Up the Philadelphia Era of the Church of God? Nearly everyone while in WCG used to believe this, most do not seem to anymore.
Differences between the Living Church of God and United Church of God This article provides quotes information from the two largest groups which had their origins in WCG as well as commentary.
There are Many COGs: Why Support the Living Church of God? This is an article for those who wish to easily sort out the different COGs. It really should be a MUST READ for current and former WCG members or any interested in supporting the faithful church. It also explains a lot of what the COGs are all about.