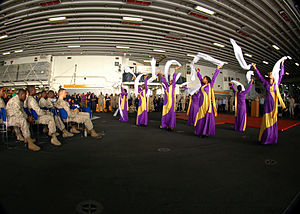 Celebration of Black History Month
February was designated as Black History Month in 1969 and observed since 1970 by various Americans. Its origins are even earlier:
February marks the launch of Black History Month, a time to recognize the central role and revolutionary work of black people in America.

Historian Carter G. Woodson created Negro History Week in 1926 and it officially evolved into a month-long celebration forty years later. 02/01/17 http://www.huffingtonpost.com/entry/this-black-history-month-we-declare-we-too-are-america_us_588fa515e4b0c90efeff4088
Throughout February, there will tend to be more documentaries and mainstream news articles related to 'Black History.'
Instead of focusing on secular history in the USA, this post will attempt to cover some of the history of Christianity in Africa as well as some African-related news, but will start with scripture.
The New Testament discusses in some detail the conversion of at least one influential African and shows that God intended him to receive the message:
6 Now an angel of the Lord spoke to Philip, saying, "Arise and go toward the south along the road which goes down from Jerusalem to Gaza." This is desert. 27 So he arose and went. And behold, a man of Ethiopia, a eunuch of great authority under Candace the queen of the Ethiopians, who had charge of all her treasury, and had come to Jerusalem to worship, 28 was returning. And sitting in his chariot, he was reading Isaiah the prophet. 29 Then the Spirit said to Philip, "Go near and overtake this chariot." 30 So Philip ran to him, and heard him reading the prophet Isaiah, and said, "Do you understand what you are reading?" 31 And he said, "How can I, unless someone guides me?" And he asked Philip to come up and sit with him. 32 The place in the Scripture which he read was this:

"He was led as a sheep to the slaughter;
And as a lamb before its shearer is silent,
So He opened not His mouth.
33 In His humiliation His justice was taken away,
And who will declare His generation?
For His life is taken from the earth."

34 So the eunuch answered Philip and said, "I ask you, of whom does the prophet say this, of himself or of some other man?"

35 Then Philip opened his mouth, and beginning at this Scripture, preached Jesus to him. 36 Now as they went down the road, they came to some water.

And the eunuch said, "See, here is water. What hinders me from being baptized?"

37 Then Philip said, "If you believe with all your heart, you may."

And he answered and said, "I believe that Jesus Christ is the Son of God."

38 So he commanded the chariot to stand still. And both Philip and the eunuch went down into the water, and he baptized him. 39 Now when they came up out of the water, the Spirit of the Lord caught Philip away, so that the eunuch saw him no more; and he went on his way rejoicing (Acts 8:26-39).
According to Fox's Book of Martyrs, at least one of the twelve apostles preached in Africa:
XV. Simon Surnamed Zelotes, preached the Gospel in Mauritania, Africa, and even in Britain, in which latter country he was crucified, A.D. 74. (Fox's Book of Martyrs. Edited by William Byron Forbush. Copyright 1926/1967. Zondervan, Publishing, Grand Rapids (MI), pp. 3-5).
Another source agrees that the apostles got to Africa (Ruffin C.B. The Twelve: The Lives of the Apostles After Calvary. Our Sunday Visitor, Huntington (IN), 1997, pp. 17-171).
Early church history shows that there were both true as well as false Christians in northern Africa (as well as other places).
In the third century, Origen noted in northern Africa that there were two groups that he considered to be "Ebionites," one who believed in the virgin birth (and that would be those who this paper suggests were also known as the Nazarenes) and those who did not:
Let it be admitted, moreover, that there are some who accept Jesus, and who boast on that account of being Christians, and yet would regulate their lives, like the Jewish multitude, in accordance with the Jewish law,—and these are the twofold sect of Ebionites, who either acknowledge with us that Jesus was born of a virgin, or deny this, and maintain that He was begotten like other human beings…(Origen. Contra Celsus, Book V, Chapter 61).
The true Christians in Africa were not those associated with Origen (please see what happened in Alexandria), nor those that denied the virgin birth. The true Christians were those who professed Jesus and had practices similar to those of the Jews.
Origen of Alexandria, however, was not a true Christian. Origen even appeared to recognize several non-canonical writings as scripture and had been influenced by some Gnostic teachings. Sadly, Origen, who referred to The Epistle of Barnabas like he does actual parts of the Bible (Origen. Contra Celsus, Book I, Chapter 63), seems to also do so with the falsely titled Gospel of Peter (Origen. Commentary on Matthew, Book X, Verse 17. ANF), and even calls what I consider to be the "demonically-influenced" Shepherd of Hermas as "divinely inspired" (Cited in Metzger, Bruce M. The Canon of the New Testament: Its Origin, Development, and Significance).
Antioch (which is now in present day Syria) probably resisted much of this Gnostic influence until some time into the early third century. And while Origen and some others recognized the falsely titled "Gospel of Peter" it was specifically condemned by Serapion, Bishop of Antioch. Serapion went to see a group that he thought was Christian in the seaside port of Rhossus, which is located southwest of Alexandria. When he got there he was disappointed to learn that they were reading this "Gospel of Peter" (Eusebius. The History of the Church, Book VI, Chapter XII, verse 1, p. 125 ) and thus he realized that they were not all part of the "true faith":
For we, brethren, receive both Peter and the other apostles as Christ; but we reject intelligently the writings falsely inscribed with them, knowing that such were not handed down to. When I visited you I supposed that all of you held the true faith…(Eusebius. The History of the Church, Book VI, Chapter XII, verses 3-4, p. 125-126).
Thus while there were some true Christians in northern Africa in the early part of the third century, Serapion ran into false ones. And like the rest of the world, sadly the majority of people in Africa (and elsewhere) who profess the religion of Christ, are not practicing the religion of the Christ of the Bible as the true church was only expected to be a "little flock" (for more information, please see the article The History of Early Christianity).
It probably should also be mentioned that around the time of Serapion, at least one African leader named Nepos stood up to allegorists like Origen. The Catholic Encyclopedia reported:
An Egyptian bishop, Nepos, taught the Chiliastic error that there would be a reign of Christ upon earth for a thousand years, a period of corporal delights; he founded this doctrine upon the Apocalypse in a book entitled "Refutation of the Allegorizers" (Chapman, John. "Dionysius of Alexandria." The Catholic Encyclopedia. Vol. 5. New York: Robert Appleton Company, 1909. 14 Aug. 2008 <http://www.newadvent.org/cathen/05011a.htm>.).
A nineteenth century anti-millennial scholar named Giovanni Battista Pagani went as far as to write the following about Nepos and those who supported the millennium:
…all those who teach a millennium framed according to Jewish ideas, saying that during the millennium, Mosaic law will be restored…These are called Judaical Millenarians, not as being Jews, but as having invented and upheld a millennium according to Jewish taste. The principal authors of this error were Nepos, an African Bishop, against whom St. Dionysius wrote his two books on Promises; and Apollinaris, whom St. Epiphanius confound in his work against heresies (Pagani, Giovanni Battista. Published by Charles Dolman, 1855. Original from Oxford University. Digitized Aug 15, 2006, pp. 252-253).
It should be of interest to note that neither Nepos nor Apollinaris were Jews, but were condemned for having a religion that had "Jewish" beliefs. And since Apollinaris is a Catholic saint (see article Apollinaris of Hierapolis), it should be clear that the respected and non-Jewish Christian leaders in the early third century clearly did hold to ideas that were condemned by the allegorists.
The following from Dionysius clearly shows that Nepos was still respected after he died (Nepos died prior to Dionysius' mid-third century writing of the following) and really did not refute him from a biblical perspective:
But as they produce a certain composition by Nepos, on which they insist very strongly, as if it demonstrated incontestably that there will be a (temporal) reign of Christ upon the earth, I have to say, that in many other respects I accept the opinion of Nepos, and love him at once for his faith, and his laboriousness, and his patient study in the Scriptures, as also for his great efforts in psalmody, by which even now many of the brethren are delighted. I hold the man, too, in deep respect still more, inasmuch as he has gone to his rest before us. Nevertheless the truth is to be prized and reverenced above all things else. And while it is indeed proper to praise and approve ungrudgingly anything that is said aright, it is no less proper to examine and correct anything which may appear to have been written unsoundly. If he had been present then himself, and had been stating his opinions orally, it would have been sufficient to discuss the question together without the use of writing, and to endeavour to convince the opponents, and carry them along by interrogation and reply. But the work is published, and is, as it seems to some, of a very persuasive character; and there are unquestionably some teachers, who hold that the law and the prophets are of no importance, and who decline to follow the Gospels, and who depreciate the epistles of the apostles, and who have also made large promises regarding the doctrine of this composition, as though it were some great and hidden mystery, and who, at the same time, do not allow that our simpler brethren have any sublime and elevated conceptions either of our Lord's appearing in His glory and His true divinity, or of our own resurrection from the dead, and of our being gathered together to Him, and assimilated to Him, but, on the contrary, endeavour to lead them to hope for things which are trivial and corruptible, and only such as what we find at present in the kingdom of God. And since this is the case, it becomes necessary for us to discuss this subject with our brother Nepos just as if he were present (Dionysius of Alexandria. From the Two Books on the Promises. Copyright © 2008 by Kevin Knight. Viewed 8/14/08).
In other words, Nepos knew his Bible, but did not hold to the same position that allegorists like Dionysius of Alexandria held. But those who held to Judaeo-Christian beliefs, while slightly chastised, simply were almost never condemned by the early allegorists during the Smyrna Church Era.
Mainly, because the early allegorists knew that the original Christians held to beliefs and practices that the allegorists considered to be Jewish–and at this stage, the allegorists simply did not have the ability to condemn the literalists because most who professed Christ at the time knew that the literalists had ties to the original apostolic church. (More information on faithful Christians in northern African locations can be found in the article Arabic Nazarenes May Have Kept Original Christian Practices.)
Africa has long had groups of people who have kept the seventh-day Sabbath. In the 21st century, there are Church of God groups throughout Africa.
The Continuing Church of God has many congregations in various African countries such as Ethiopia, Ghana, Kenya, Malawi, Mozambique, Zambia, and Tanzania. We also have members/tentative supporters that we know of in Uganda, South Africa, Sudan, and elsewhere. I personally visited Africa back in 1985 and was able to visit Africa again in 2014 (information related to a conference held there is in the post CCOG Letter and Nairobi Conference). I was also able to attend for the Continuing Church of God for leaders across Africa in 2017 (information related to a conference held there is in the post). Later this month, Terry Nelson and his sons are planning on visiting many of our congregations in Kenya, Malawi, and Mozambique to meet with them, teach, speak, distribute literature, see their situations, listen to their concerns, and attempt to assist with some of their needs on CCOG's behalf.
We must, of course, go through those doors that Jesus opens for us.
Jesus taught:
7 "And to the angel of the church in Philadelphia write,'These things says He who is holy, He who is true, "He who has the key of David, He who opens and no one shuts, and shuts and no one opens": 8 I know your works. See, I have set before you an open door, and no one can shut it; for you have a little strength, have kept My word, and have not denied My name. (Revelation 3:7-8)

37 "The harvest truly is plentiful, but the laborers are few. 38 Therefore pray the Lord of the harvest to send out laborers into His harvest." (Matthew 28:19-20)
Are more Gentiles going to be called in this age?
Yes.
In Romans 11, verse 25, the Apostle Paul wrote the following:
25 For I do not desire, brethren, that you should be ignorant of this mystery, lest you should be wise in your own opinion, that blindness in part has happened to Israel until the fullness of the Gentiles has come in. (Romans 11:25)
In the second century A.D., Irenaeus of Lyon, who claimed to have received some of his doctrines from Polycarp of Smyrna wrote:
God has made the Gentiles, whose salvation was despaired of, fellow-heirs (Against Heresies, Book I, Chapter X)

It is not possible to name the number of the gifts which the Church, [scattered] throughout the whole world, has received from God, in the name of Jesus Christ, who was crucified under Pontius Pilate, and which she exerts day by day for the benefit of the Gentiles (Against Heresies, Book II, Chapter XXXII)

God did purpose to take from among the Gentiles a people for His name (Against Heresies, Book III, Chapter XII)

God has justly rejected them, and given to the Gentiles outside the vineyard the fruits of its cultivation. (Against Heresies, Book IV, Chapter XXXVI)

God shall enlarge unto Japheth, and he shall dwell in the house of Shem, and Ham shall be his servant. That is to say: In the end of the ages he blossomed forth, at the appearing of the Lord, through the calling of the Gentiles, when God enlarged unto them the calling; and their sound went out into all the earth, and their words to the end of the world. The enlarging, then, is the calling from among the Gentiles, that is to say, the Church. (A Discourse on the Demonstration of Apostolic Preaching. Chapter 21)
So, the idea of reaching Gentiles did not die out after the writing of the New Testament.
Getting back to the Apostle Paul, he wrote:
26 And so all Israel will be saved, as it is written:

"The Deliverer will come out of Zion,
And He will turn away ungodliness from Jacob;
27 For this is My covenant with them,
When I take away their sins." (Romans 11:26-27)
So, in the sequence of Romans 11, we see the full number of the Gentiles will come into the faith (Romans 11:25), prior to Jesus' return (Romans 11:26).
The late Pastor General of the old Worldwide Church of God, Herbert W. Armstrong, taught the following about Romans 11:25:
Now I want you to study carefully one of the most wonderful, important chapters in all the Bible — the 11th of Romans. … Verse 23 says those who abide not still in unbelief shall YET receive salvation. … Now study carefully beginning verse 25: "Blindness in part is happened to Israel [HOW LONG? Forever? No — note it], UNTIL the fulness of the Gentiles be come in" — the end of this age during which God is calling a people from among the gentiles to bear His name (Acts 15:14). And so, says Romans 11:26, "all Israel SHALL BE SAVED [how?]: as it is written, There shall come out of Sion the Deliverer, and shall turn away ungodliness from Jacob." The Deliverer, Jesus Christ, is coming again!

When He comes, the gentile times will be over — the BLINDNESS will be removed from the Israelites — and their opportunity — their FIRST chance — of salvation will then come to those whom God had blinded! This is at the time when He comes to REIGN on HIS THRONE — the throne of David, with the saints made immortal reigning and ruling with Him — and the time is DURING THE THOUSAND YEARS!

Notice verse 31. These blinded Israelites have not now, in this age, received mercy, that through the mercy of the gentiles saved in this age, they MAY, THEN, obtain mercy and salvation. How? Because these saved gentiles will then be kings and priests, assisting in this wonderful Work! (Armstrong HW. Where Will The MILLENNIUM Be Spent? Tomorrow's Word magazine, September 1971, p. 5)

25: "Blindness in part is happened until Israel"-HOW LONG? Forever? No-note it-"UNTIL the fulness of the Gentiles be come in" -the end of this age during which God is calling a people from among the Gentiles to bear His name (Acts 15: 14). … These blinded Israelites have not now, in this age, received mercy, that thru the mercy of the Gentiles saved in this age, they MAY, THEN, obtain mercy and salvation. How? Because these saved Gentiles will then be kings and priests, assisting in this wonderful work! (Armstrong HW. Where Will The MILLENNIUM Be Spent? Plain Truth, February-March 1954 , pp. 4-5)

(25) For I would not, brethren, that ye should be ignorant of this mystery, lest ye should be wise in your own conceits; that blindness in part is happened to Israel [or that part of Israel, meaning the great part, the big part — all but a few, have been blinded. It's the big part actually] until the fulness of the Gentiles be come in. [Or the number of Gentiles to be converted becomes complete — as other translations have it] (Armstrong HW. Romans 11-13. Bible Study, June 27, 1980)
Clearly, we are much closer to the time when all the Gentiles are to come in to later be kings and priests than when those articles were published (see also: Christians are to Rule).
More of the Gentiles had to be called and converted– and that is happening now!
Sadly, many people are affected by prejudices and other factors which stop them from acting on the truth and supporting the reaching of the Gentiles.
Jesus taught that the end does NOT come until the 'Gospel of the Kingdom of God' reaches enough nations (Matthew 24:14) and, based on Paul's writings, we also see that  "the full number" (as the NIV, NLT, BSB, CEV, GNT, HCSV, ISV, and NET Bible, put Romans 11:25) of Gentiles God wants in this age come in.
In CCOG we are reaching Gentiles and non-Gentiles (cf. Romans 9:27; see also What is the Ezekiel Warning?).
And that is why we have been the fastest growing xWCG church in the 21st century.
The Continuing Church of God has sent songbooks, Bible News Prophecy magazines, other books, history booklets, literature, and other support (including laborers for the harvest) to those in Africa (including food for the hungry and support for widows and orphans). In addition to English, the Continuing Church of God has had literature, such as the Statement of Beliefs of the Continuing Church of God (see KATIKA LUGHA YA KISWAHILI) and our Study the Bible Course (see Somo 1 Katika Kiswahili), translated into Kiswahili which is the 'linga-Franca' in many nations in Africa.
While English is understood in many parts of Africa, it is often a second or third language. Right now, in addition to English and Kiswahili, we have produced literature in Ekegusii and Dholuo. We also have limited information in Chichewa and a few other African languages (to see a list go to: www.ccog.org).
We also now have a YouTube channel called CCOGAfrica. This channel features messages from ministers in Africa and mainly in African languages (see also CCOGAfrica YouTube channel now live!). Plus, we have a website CCOGAFRICA.ORG which is targeted towards those in Africa.
As ancient Nepos, for example, demonstrated, Africans are sometimes willing to stand up for what is right when others do not.
Some items of related interest may include:
Africa: Its Biblical Past and Prophesied Future What does the Bible teach about Africa and its future? Did the early Church reach Africa? Will God call all the Africans?
CCOGAfrica channel. This has messages from African pastors in African languages such as Kalenjin, Kiswahili, and Dholuo.
CCOGAFRICA.ORG This is a website targeted towards those in Africa.
The Smyrna Church Era was predominant circa 135 A.D. to circa 450 A.D. The Church led by Polycarp, Melito, Polycrates, etc.Here is a link to a related video sermon: The Smyrna Church Era.
What About Romans 11:25 and the Full Number of the Gentiles? Some in the West discount God's calling of Gentiles, but the Apostle Paul wrote about the need for them to come to the truth before Jesus returns.
What is the Ezekiel Warning? Should the end-time descendants of Israel and Joseph be warned? What should the watchman warn about?
Did The Early Church Teach Millenarianism? Was the millennium (sometimes called chiliasm) taught by early Christians? Who condemned it? Will Jesus literally reign for 1000 years on the earth? Is this time near? Two related sermons are available Millennial Utopia and The Millennium.
God's Grace is For All Is being Jewish a hindrance to salvation? What about not being a descendant of Israel? What does the Bible really teach? Here is a link to a related sermon titled Race and Grace; Do you view race as God does?
Where is the True Christian Church Today? This free online pdf booklet answers that question and includes 18 proofs, clues, and signs to identify the true vs. false Christian church. Plus 7 proofs, clues, and signs to help identify Laodicean churches. A related sermon is also available: Where is the True Christian Church? Here is a link to the booklet in the Spanish language: ¿Dónde está la verdadera Iglesia cristiana de hoy? Here is a link in the German language: WO IST DIE WAHRE CHRISTLICHE KIRCHE HEUTE? Here is a link in the French language: Où est la vraie Église Chrétienne aujourd'hui?
Continuing History of the Church of God This pdf booklet is a historical overview of the true Church of God and some of its main opponents from Acts 2 to the 21st century. Related sermon links include Continuing History of the Church of God: c. 31 to c. 300 A.D. and Continuing History of the Church of God: 4th-16th Centuries and Continuing History of the Church of God: 17th-20th Centuries. The booklet is available in Spanish: Continuación de la Historia de la Iglesia de Dios, German: Kontinuierliche Geschichte der Kirche Gottes, French: L'Histoire Continue de l'Église de Dieu and Ekegusii Omogano Bw'ekanisa Ya Nyasae Egendererete.