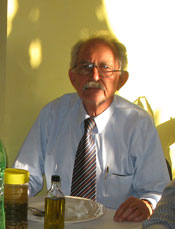 George Schaubeck
In its announcements yesterday, the Living Church of God (LCG) reported:
Spanish Update—Visit to El Salvador

Mr. and Mrs. George Schaubeck recently visited members and prospective members in the Central American country of El Salvador. On Friday evening, February 4, Mr. Schaubeck conducted a Bible Study and the following day double Sabbath services were held with an approximate attendance of 15. On Sunday, he baptized a new member. We now have for the first time in the Living Church of God a congregation in San Salvador, El Salvador!
Our family first met the Schaubecks at the Feast of Tabernacles in Guatemala.

Feast of Tabernacles in La Antigua, Guatemala, 2006
We also spent time with the Schaubecks and many others when we visited Costa Rica in January 2011 (which is when my wife Joyce took the photo of George Schaubeck shown in beginning of this post).  Although we do not speak Spanish, many member spoke English and David Lujan (someone else we also met at the Feast in Guatemala in 2006) graciously translated my two sermons there into Spanish.  Many in Costa Rica speak English, so people like my family find visiting there easier than it would otherwise be.
While in Costa Rica, George Schaubeck mentioned that there was interest in LCG from people in other Central American nations such as El Salvador and Panama.  It is great to finally have a group in El Salvador.
Articles of possibly related interest may include:
Mexico, Central America, South America, and Brazil in Prophecy [Español: México, America Central, Suramérica, y el Brasil en profecíal] [Português: México, América Central, Ámérica do Sul, e Brasil na profecia] What will happen to those of Latin America? Will they have prosperity? Will they cooperate with Europe? Will they suffer in the future? What rule might the various Caribbean nations/territories play?
There are Many COGs: Why Support the Living Church of God? This is an article for those who wish to more easily sort out the different COGs. It really should be a MUST READ for current and former WCG/GCI members or any interested in supporting the faithful church. It also explains a lot of what the COGs are all about.