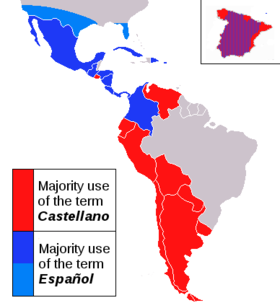 The Continuing Church of God continues to get additional materials translated into the Spanish language.
Having materials translated into various languages helps us to go through all the 'doors' (cf.2 Corinthians 2:12).
Also, in addition to getting every edition of its Bible News Prophecy magazine translated into Spanish, more and more articles have been as well. Here are links to some of them I was sent yesterday
The Continuing Church of God has a separate Spanish language website http://www.cdlidd.es. The term Continuing Church of God translates into La Continuación de la Iglesia de Dios in the Spanish language.
Spanish has the second highest number of native speakers of any other language (Mandarin Chinese is number one, and the Continuing Church of God has a website primarily focused on those speakers at www.ccog.asia; English is number 3).
The Continuing Church of God is reaching people around the world in multiple languages via the internet, printed literature, and human church leads around the world. We also reach people over the radio and through videos in the English language.
Some items of possibly related interest may include:
Mexico, Central America, South America, Brazil, and the Caribbean in Prophecy [Español: México, América central, Suramérica, Brasil y el Caribe en la profecía] [Português: México, América Central, Ámérica do Sul, e Brasil na profecia] What will happen to those of Latin America? Will they have prosperity? Will they cooperate with Europe? Will they suffer in the future? What role might the various Caribbean nations/territories play?
Continuing Church of God The group striving to be most faithful amongst all real Christian groups to the word of God. And the one that is leading the final phase of the work. That written article has also been translated into Spanish La Fase Final de la Obra.
CCOG.ASIA We in the Continuing Church of God also have the url www.ccog.asia which has a focus on Asia and has various articles in Mandarin Chinese as well as some in English, plus some items in other Asian languages. 我们在继续神的教会也提供此网址 www.ccog.asia, 关注于亚洲并且有各种各样的中英文文章,其中一些用菲律宾语翻译的文章也正在进行中,准备添加到这个网站中。 HHere is a link to our Statement of Beliefs in Mandarin Chinese 继续神的教会的信仰声明.
CCOG.IN This is a website targeted towards those of Indian heritage. It has a link to an edited Hindi translation of The Mystery of the Ages and is expected to have more non-English language materials in the future.
CCOG.EU This is a website targeted toward Europe. It has materials in more than one language (currently it has English, Dutch, and Serbian, with links also to Spanish) and it is intended to have additional language materials added.
PNIND.PH Patuloy na Iglesya ng Diyos. This is the Philippines website Continuing Church of God. It has information in English and Tagalog.
CDLIDD.ES La Continuación de la Iglesia de Dios. This is the Spanish language website for the Continuing Church of God.