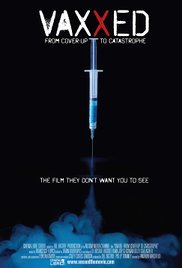 Barry Farber wrote the following
April 12, 2016

Can you believe our beloved America has degenerated into a place where media are perfectly free to write what follows – but nobody does? Or, better said, nobody did until a controversial film implicated Big Pharma and the Centers for Disease Control in lying and falsifying the figures that show shocking connections between the MMR vaccine (measles, mumps, rubella) administered to infants as young as 18 months – and autism! The documentary, "Vaxxed: From Coverup to Catastrophe," was viewed by Robert De Niro, who has an autistic child, praised repeatedly by Robert De Niro, and finally withdrawn from the prestigious Tribeca Film Festival by Robert De Niro under pressure from some very stupid tyrant-types, who are apparently too stupid to realize their censoring days are over thanks to a sleepless Freedom Fighter known as the Internet!

I was taken by my investigative-reporter-daughter Celia Farber to the New York premiere. You will have a chance to see "Vaxxed" despite the frantic efforts by Big Pharma and the Centers for Disease Control to make sure you don't. Children yet unborn will thank you.

Here's what's known, incontrovertible, stomp-down truth beyond contradiction. In the 1950s autism was almost unknown. There was a clinic in California with maybe half-a-dozen cases. Then along came one case of autism for every ten thousand children who'd undergone the MMR vaccine. Then came one such case out of every 250. The latest figure is one out of 50!

And the proud defenders of Big Pharma and the CDC still refuse to yield a centimeter. And that's what interests so many of us non-doctors and non-scientists. There's the pungent fragrance of "body-panic" as more and more anguished parents and alarmed Americans ask what's going on here. The CDC's cooking of the books has befouled the air thousands of kitchens away. Dr. Andrew Wakefield, distinguished research gastroenterologist, had his license revoked for the high crime of suggesting the MMR vaccine needed more study! CDC internal whistleblower Dr. William Thompson has more and more frightened onlookers hopeful that truth will prevail. The MMR loyalists, however, defend it like the fanatical war-time Japanese defended their Emperor Hirohito. The cause of this skyrocketing surge in autism, Big Pharma and the CDC assure us, "cannot be vaccinations, must not be vaccinations, will not be vaccinations!" http://www.wnd.com/2016/04/big-pharma-cdc-lie-on-vaccines/#iEHR6fY880Hw5023.99
There has been a push in the USA, Australia, and elsewhere to force parents to vaccinate their children.
Whether or not vaccines directly cause autism can be, and has been debated. My own view is that it is an accumulation of toxins that likely cause autism, and that vaccines are just one more toxin (though a powerful one).  Perhaps I should mention that I knew the late Dr. Bernard Rimland, who founded the Autism Research Institute many decades ago. He was one of the first to point out the possible connection between vaccines and autism.  Dr. Rimland allowed me to put some of his writings together in a book I wrote a decade or so ago (which came out with a new edition in 2016: Serious Nutrition: Incorporating Clinically Effective Nutrition Into Your Practice).
Years back, the fairly pro-vaccine publication Consumer Reports mentioned that vaccinations seem to increase the probability of developing asthma. As Barry Farber pointed out, we have seen massive increase in autism rates–though many have disputed that vaccines could have caused that, the reality is that the autism rates have gone way up.
California used to allow parents to not vaccinate their children, but now they are forcing the issue as are other governments. Let me state that having met with health officials in California, including giving testimony about two decades back before the Assembly Health committee, I have seen first hand how certain decisions appear to be made, and money and political considerations are normally more important than health and true public welfare.
Of course, vaccines per se are not a massive doctrinal issue, but the trend this year is to reduce rights of parents and others who have concerns about them. Much of the world is moving towards a more totalitarian government–and moving away from religious freedom.
One candidate for US President, Hillary Clinton, once stated that giving vaccinations was one of the three most important things needed to be a good parent (see also Hillary Clinton in Prophecy). Yet, teaching the word of God and being a proper example is what parents are biblically supposed to do (see also Five Rules for Effective Parenting), but Mrs. Clinton did not say that.
My wife and I did not vaccinate any of our three children. Nor have she or I had any vaccines in adulthood despite traveling to various countries around the world.
Am I saying that all vaccinations are necessarily wrong?
No.
But I also do not believe that one must intentionally expose oneself or ones' children to the pathogens and other elements involved with vaccines. Nor do I believe that vaccines should be mandated to parents. Vaccines are not going to save society. Decades ago, the late Ernest Martin wrote:
Leading doctors have warned that there is no substitute for clean living – that drugs cannot nullify the damage done by wanton breaking of all health laws – and that wholesale vaccinations can weaken man's overall natural resistance to disease. But as long as we appear to be well, almost no one gives these warnings a second thought.(Martin E. Will we ever learns? Plain Truth, August 1965)
Turning from sin, eating only what is good, and obeying sanitary principles in the Bible are more effective than vaccines. But most political leaders will not truly advocate all of that.
Various parts of the world are taking bigger risks mandating vaccines and reducing religious freedoms than the proponents realize. And increases in autism may be related in ways many do not realize.
Several items of possibly related interest may include:
The Bible, Christians, and the Environment How should Christians view the environment? Does the Bible give any clues? What are some of the effects of air, water, and land pollution? Is environmental pollution a factor in autism and death? Do pollutants seem to double the autism risk? What will Jesus do? A YouTube video is available titled Air Pollution, Autism, and Prophecy.
Fourth Horseman of the Apocalypse What is the pale horse of death and pestilences? What will it bring and when? Spanish: El cuarto jinete de Apocalipsis, el caballo pálido de muerte y pestilencia.
Five Rules for Effective Parenting Do you know that there are five simple rules that can make you a more effective parent? Here is a link to a version in Mandarin Chinese 五条简单有效的子女养育规则. There is also a 12 1/2 minute English language YouTube video on this, also titled Five Rules for Effective Parenting.
What Psychologists do not Know About Child Rearing This is an article by Herbert Armstrong that was used as the introduction to the pdf booklet The Plain Truth About Child Rearing.
The Plain Truth About Child Rearing This is a pdf booklet that the old WCG put out.
Hillary Clinton in Prophecy Prophecy, Hillary Clinton? Are there prophecies that Hillary Clinton may fulfill? Are there any prophecies that she has already helped fulfill? Could Hillary Clinton be apocalyptic? Could Hillary Clinton be the final Antichrist? A video of related interest is titled Hillary Clinton and Bible Prophecy.
Anglo – America in Prophecy & the Lost Tribes of Israel Are the Americans, Canadians, English, Scottish, Welsh, Australians, Anglo-Saxon (non-Dutch) Southern Africans, and New Zealanders descendants of Joseph? Where are the lost ten-tribes of Israel? Who are the lost tribes of Israel? What will happen to Jerusalem and the Jews in Israel? Will God punish the U.S.A., Canada, United Kingdom, and other Anglo-Saxon nations? Why might God allow them to be punished first? Here is a link to the Spanish version of this article: Anglo-América & las Tribus Perdidas de Israel. Information is also in the YouTube sermons titled Where are the Ten Lost Tribes? Why does it matter? and British are the Covenant People. A short YouTube of prophetic interest may be Barack Obama and the State of the Apocalypse.
Will the Anglo-Saxon Nations be Divided and Have People Taken as Slaves? Will the lands of the United States, United Kingdom, Canada, Australia, and New Zealand be divided? What about Jerusalem? What does Bible prophecy teach? Are there non-biblical prophecies that support this idea? Who will divide those lands? Who will end up with the lands and the people? Here is a link to a video titled Will the USA and other Anglo-nations be Divided and Their People Made Slaves? Here is a related item in the Spanish language ¿Serán divididas las naciones anglosajonas?
GMOs and Bible Prophecy What are GMOs? Since they were not in the food supply until 1994, how could they possibly relate to Bible prophecy? Do GMOs put the USA and others at risk? Here is a related YouTube video GMO Risks and the Bible.
Chimeras: Has Science Crossed the Line? What are chimeras? Has science crossed the line? Does the Bible give any clues?
When Will the Great Tribulation Begin? 2016, 2017, or 2018? Can the Great Tribulation begin today? What happens before the Great Tribulation in the "beginning of sorrows"? What happens in the Great Tribulation and the Day of the Lord? Is this the time of the Gentiles? When is the earliest that the Great Tribulation can begin? What is the Day of the Lord? Who are the 144,000? Here is a version of the article in the Spanish language: ¿Puede comenzar la Gran Tribulación en 2016 o 2017? ¿Es el Tiempo de los Gentiles? You can also see the English language sermon video: The Great Tribulation from the Mount of Olives. A shorter video is: Can the Great Tribulation Start in 2016?
Hillary Clinton, Prophecy, and the Destruction of the United States This is a 188 page book for people truly interested in prophecies related to Hillary Clinton and the United States, including learning about many that have already been fulfilled and those that will be fulfilled in the future. It also discusses Republicans. The physical book can be purchased at Amazon from the following link: Hillary Clinton, Prophecy, and the Destruction of the United States: Is Hillary Clinton Fulfilling Biblical, Islamic Catholic, Hopi, and other America-Related Prophecies? $11.99.